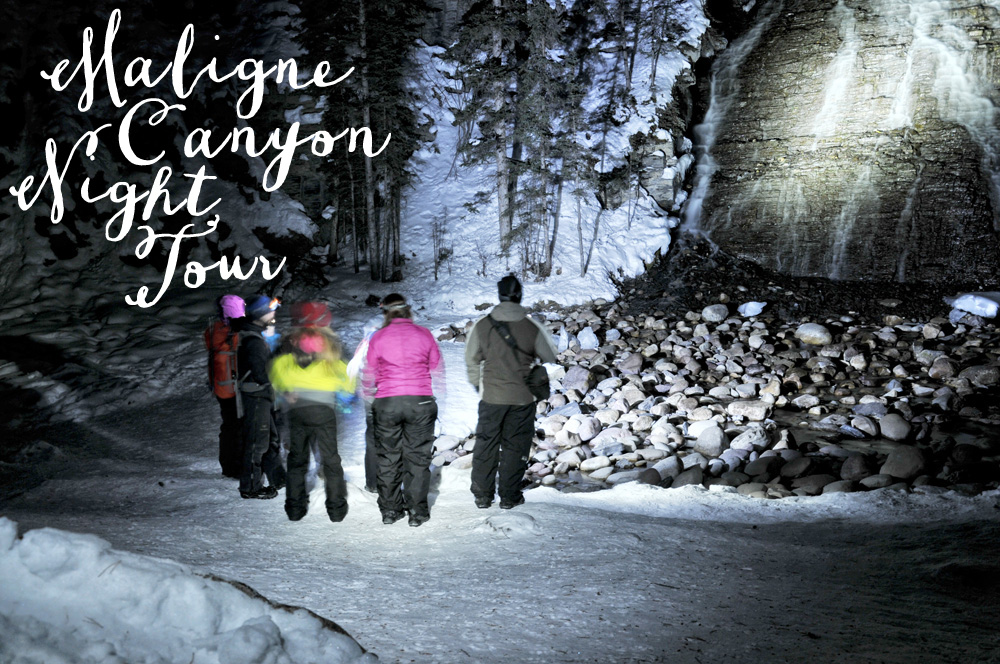 "Seth, don't play in the dirt".

"It's not dirt, Dad".

"Don't play in the shale".
I cracked up when I heard this conversation, but these kinds of exchanges aren't uncommon in the Maligne Canyon, where Mother Nature becomes your geology professor. Turns out–that was exactly the reasoning of the family of six that I would be spending the evening with, as they had taken their fours kids out of school for the day for "an experience they couldn't get in any class room".
We began our ascent through the tree-line and into the canyon by crossing a long suspension bridge across the rushing river below. I managed to cross without falling. We crunched our way through the snow and I began to realize that it was a pretty low key hike. If a group of kids all less than half my age could do it, then I could do it. We marched on.
Geo-Time:
Nowhere in Jasper Park is the array of geological features so vividly displayed as in Maligne Lake Valley and in the lower part of the Maligne River Valley The slot in the bedrock that is Maligne Canyon is up to 55 m deep and 1.2 km long, it is carved in Devonian limestone, and it is actually considered a gorge, not a canyon. The exact geological timeline is unknown, but it is thought that the waterfall that eroded the gorge was created after the last ice age, some 14,000 years ago. Another theory is that the gorge is too long to have been created so recently, so perhaps it started as an existent cave that had its roof removed by glaciation some 23,000 years ago. Which do you think is correct?
I was tempted to title this post A Trip to Mars, as it felt like I was on another planet all together. The canyon floors phased from solid rock to crunching ice to melting sink holes to running water and, of course, a whole lot of snow. I was thankful for the boots provided for me, otherwise I would have had some cold and wet feet. The added tread enhancing cleats kept me from sliding down some fairly angled terrain and I was able to stay upright for the entire tour, which is not always the case with my (un)graceful moves.
We all oohed and awed over the first frozen waterfall, mesmerized by the sparkling glass-like flares created by the shining lights. The kids may have been more excited about the fact that this meant snack time, as they snapped off the smaller icicles from the bottom and started biting them like ice cubes. I wasn't opposed to this type of snack, so I happily accepted when one of them offered an icicle to me.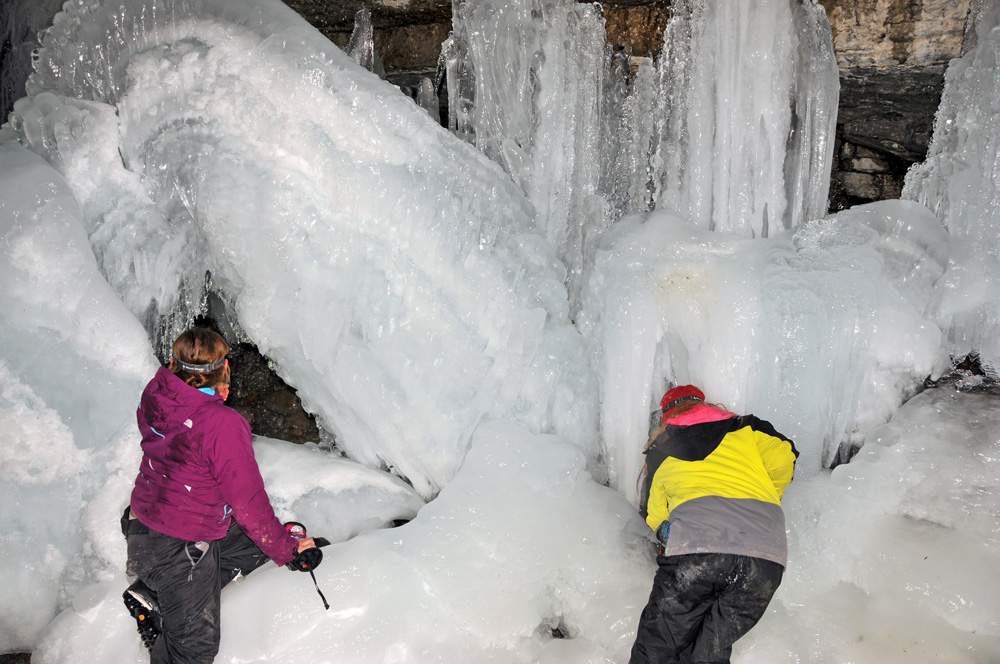 One of the most interesting parts of the tour was when we climbed inside of a cave. Yup, a real cave. Getting through the entrance itself involved a small amount of circus performer contortionism, but we all managed to make it through unscathed. Past the entrance, things started to go a little sideways.. literally. I had to lay flat on my stomach and do an army crawl through an area that must have only been a foot high. I squirmed my way to the end and emerged to a room that opened up with space to stand.
Then it went dark.
We were instructed to turn off all of our lights and be absolutely quiet. It was so dark that I could rely on nothing but feeling for the rock around me. For a few moments, I enjoyed the absolute silence and loss of senses. Until, one of the kids let out a ghost howl.
"OOooooOOOooooOOOoooo…"
Laughter erupted in the darkness. I half rolled my eyes, but laughed at their excitement. They were allowed to have their fun, and we had so much more to see. We crawled back out of the cave and continued on our way. We stopped several times for the kids to slide down some natural ice slides and I tried to take some long exposure shots during those breaks. The stars were shining brightly overhead and I regretted not having a tri-pod.
Here are some of my favourite shots that didn't turn out too blurry;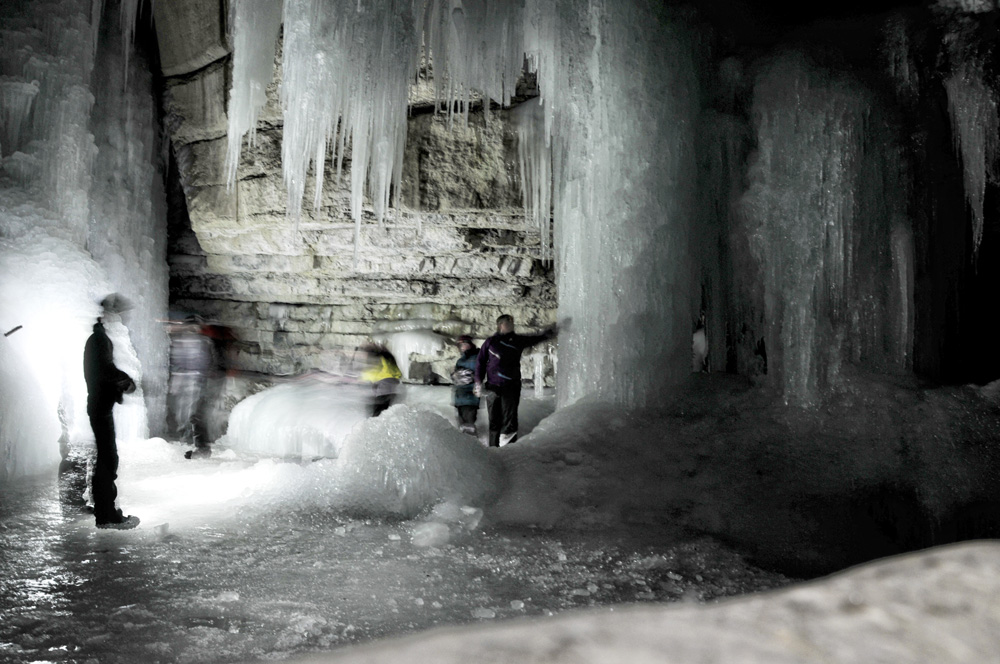 As we loaded up the van and pulled out of the Maligne Canyon parking lot, one of the parents said "Well, Seattle just got a good dose of birth control". I laughed for a good five minutes at that remark and still smirk at the thought now. While there may not be any mini-Seattle's, I certainly don't mind travelling with other people's kids, and this was a perfect tour for them.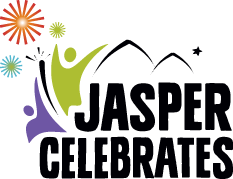 This trip was made possible by Jasper Tourism.
All thoughts and opinions are my own.
 Do you prefer day tours or night tours?