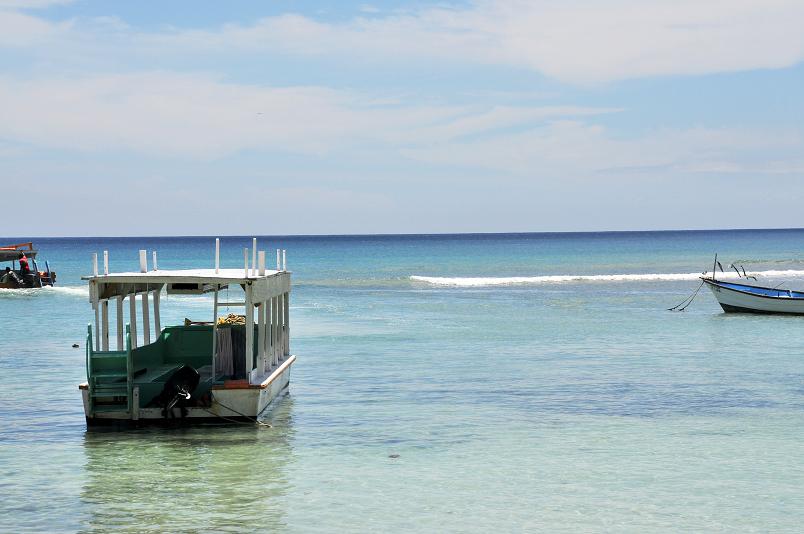 I've been to a lot of beautiful places, but most of the places that I travel to aren't the types of places that the general public might see as "paradise". I prefer unique destinations with unusual geologies, and these aren't often white sandy beaches.
When most people head to Trinidad and Tobago for a holiday vacation, they skip Trinidad and go straight to Tobago. Trinidad has plenty of amazing beaches, but they are little known among tourists. Tobago is more frequently advertised to the international masses, and therefore more frequently chosen for a vacation destination.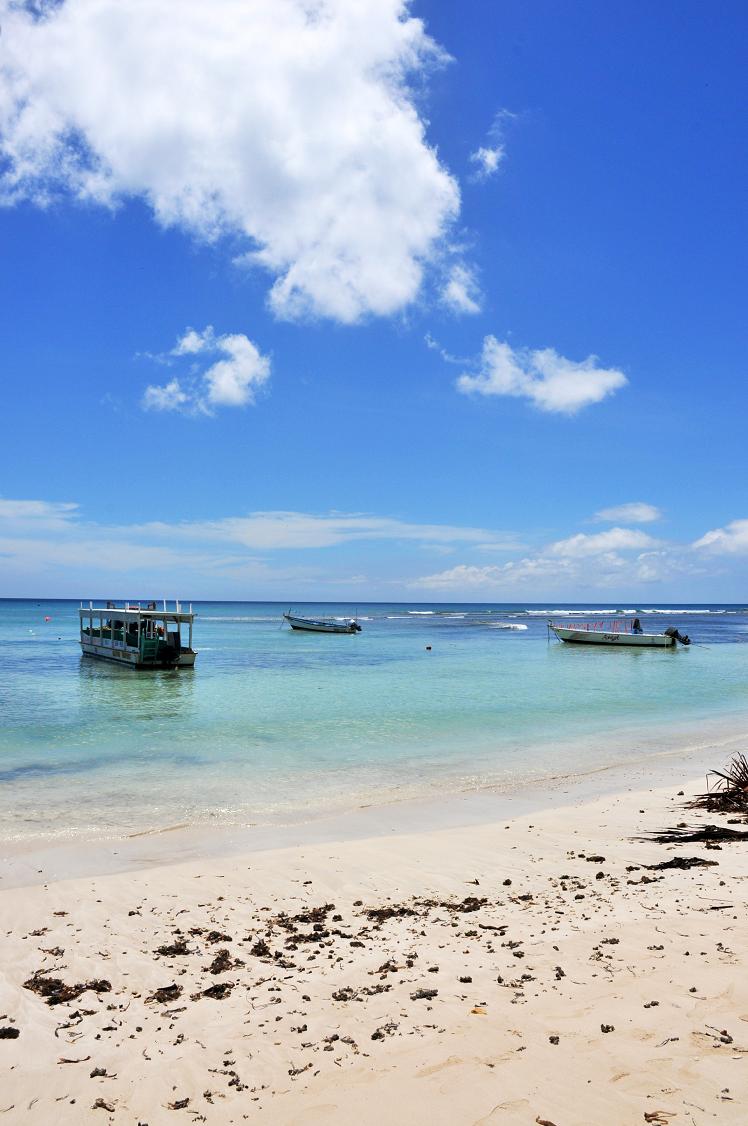 As I mentioned, I don't always choose the most obvious destination; I prefer fewer crowds, and less fuss. I enjoy a nice swim in the sea, but I don't want a bunch of locals pointing at the pasty redhead bobbing around in the waves.
It was my second time visiting Trinidad & Tobago, so I figured it was time to make the ferry ride up to Tobago.
To the residents of Trinidad, it is an inexpensive local getaway that provides the feeling of going to a new country. Tobago is still home, but it has more of a holiday-like atmosphere to it. When Pigeon Point Beach was suggested to me I wasn't entirely excited, but it was a free ride, and I had some time to spare.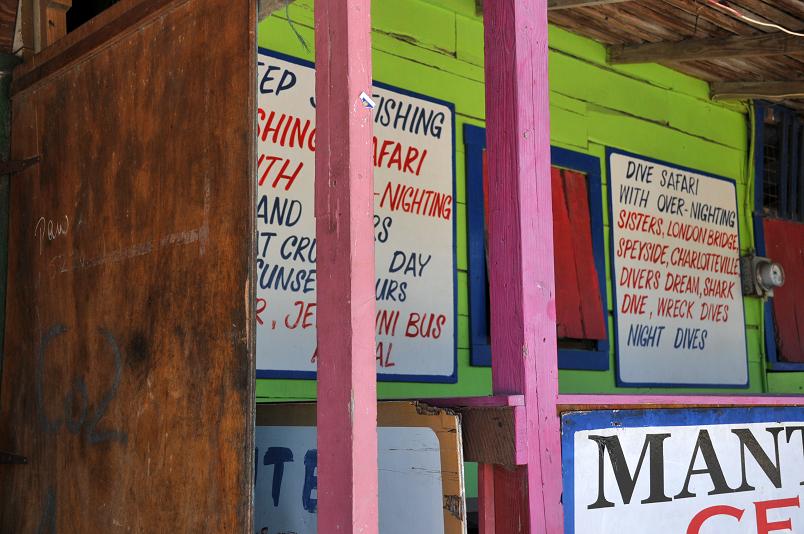 After bouncily driving through the partially paved streets of Bon Accord, we pulled onto the narrow, sandy Pigeon Point road. One side was lined with trees and the other was lined with colourful little beach shacks; all of them were open-front and full of things to buy. There were walls lined with hand-made jewellery, tables full of plump, fresh-picked mangoes, and shelves of other small trinkets. Each shop had its own unique personality, complete with an equally unique looking shop owner.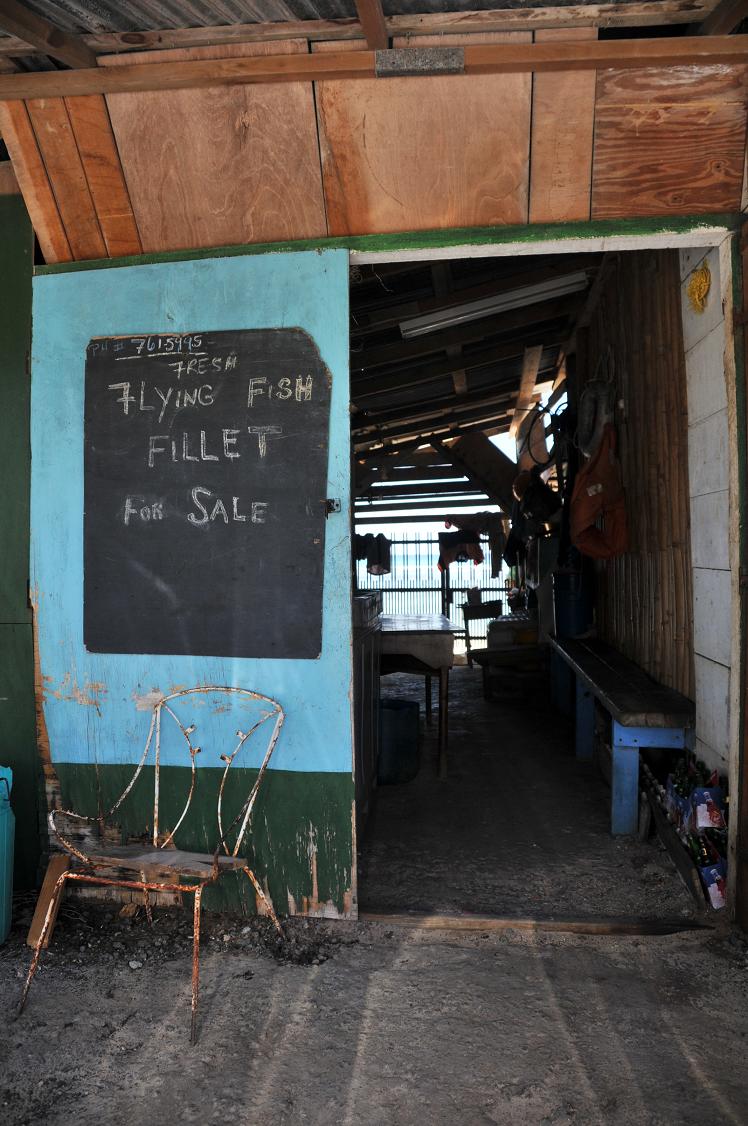 The person that was driving the car was planning to pick up some fish, while I took some photos on the beach. We stopped the car next to the tree-lined side of the road, and proceeded across to the other side. The driver walked over to his favourite fish shop and started to look around.
I walked over to the front of the neighbouring shack for a better look; it was made from different planks of wood that were nailed together and painted a light sky blue.
I peered inside to see that the tin roof was nearly falling in; it was supported by bamboo siding and had small sticks for the back wall. It was filled with many random objects; there were life jackets, clothes, buckets, boxes and empty beer bottles.
There was a sign on the front that read "Fresh Flying Fish Fillet for Sale", underneath there was an old rickety metal chair that hardly looked safe.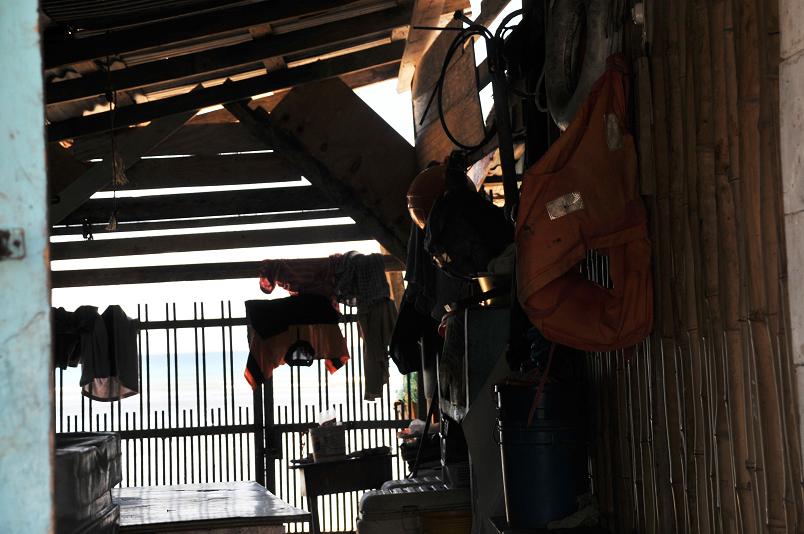 I rounded the corner of the shack to get my first real view of the beach and the sea. With low expectations, I was completely shocked at what I saw.
It was exactly like any photograph of paradise I had ever seen; I had never expected to see anything like this in real life, as I never planned on going to any tropical holiday islands.
The sand was so pristinely white, that it hurt my eyes. I pulled my sunglasses down from my head and took off my sandals. Standing under the shade of a thick, giant palm tree, I pulled my camera out of my bag and began snapping photos.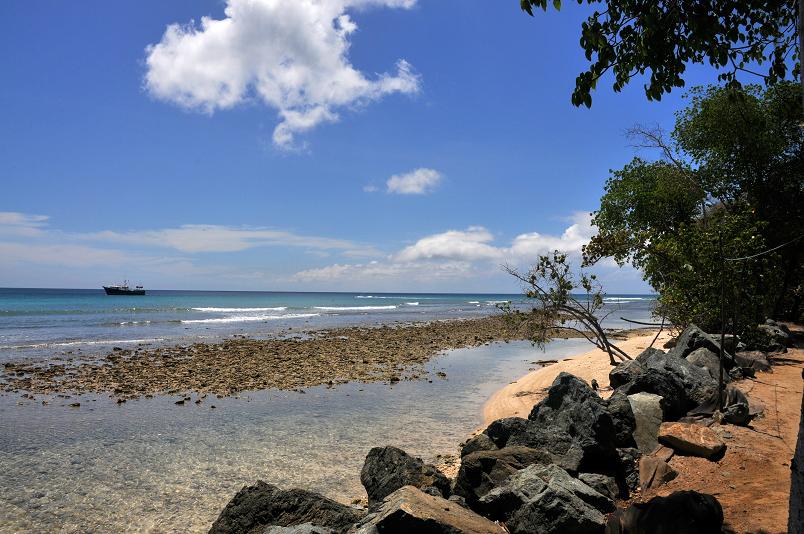 To my right, the beach rounded off and the trees blocked whatever was hidden around that corner. Closer to me, there was yet another small, vibrant beach shack that was engulfed in the trees. A few boats laid in the sand at the front, and a sign displayed that it was "The Cotton House".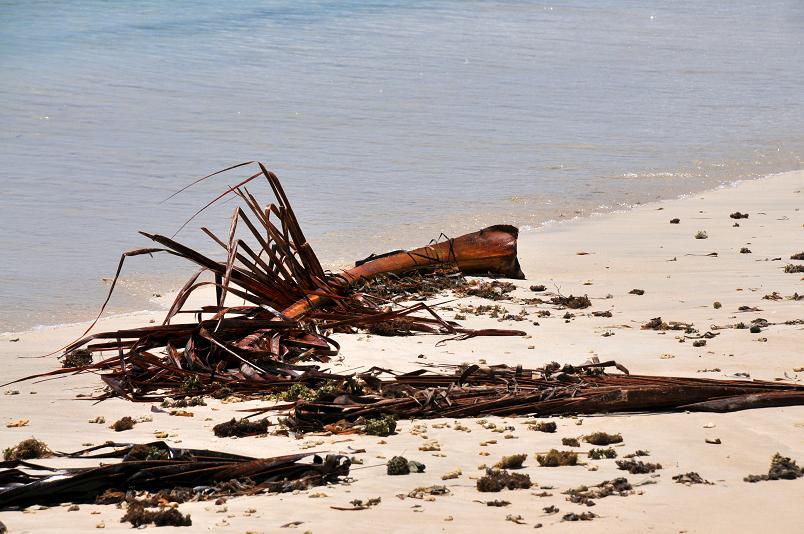 The beach itself was full of various tire tracks, and littered with palm scraps. The edge of the snowy beach blended together with the crystal clear water, which faded to an intensely blue, reflecting swirl of liquid.
It wasn't just blue; it was so much more. There were blues and greens and aquamarines. There were navies, ceruleans and cyans. There were mints, lazulies and teals. It is impossible to describe just how many colours were present in this equally impossible paradise beach.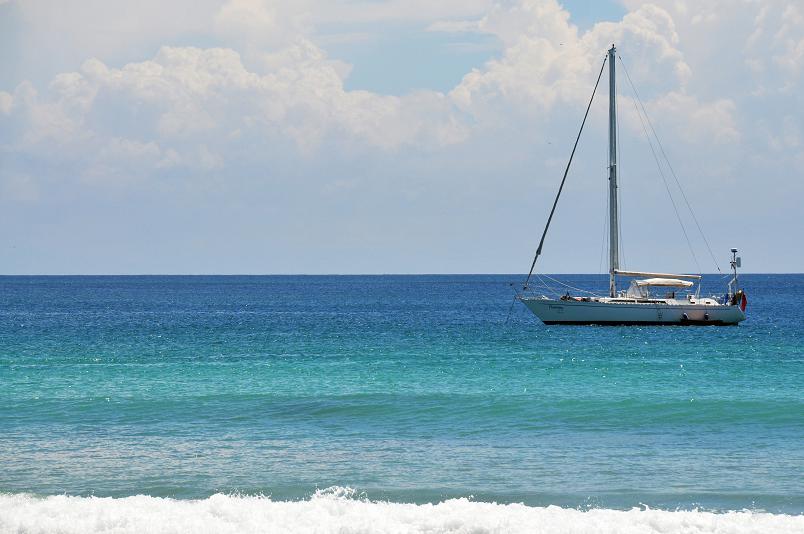 Not only was it beyond beautiful, but it was actually void of tourists. I couldn't believe what I saw when I looked down the beach. At the end, there was a small beach resort at which a few guests were swimming, but the majority of the beach was empty.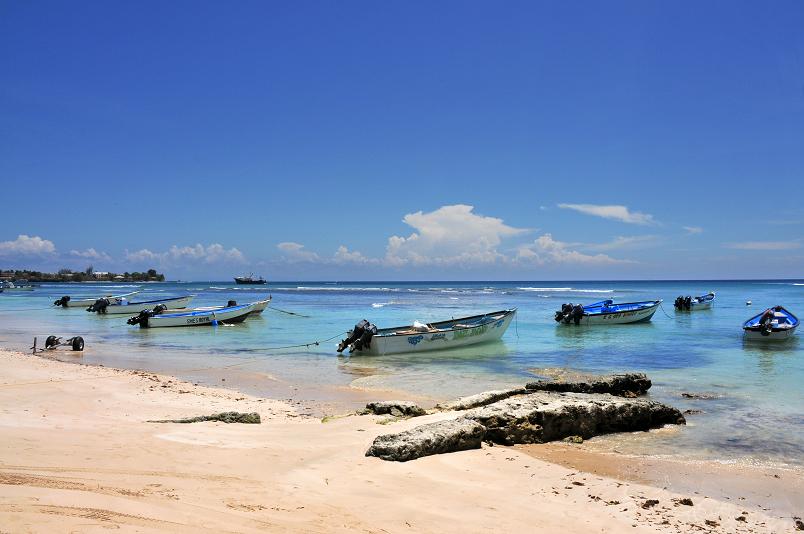 The sparkly rainbow-blue ocean was full of dozens of empty, bobbing boats; there were fishing boats, personal boats, and sight-seeing boats.
I had always heard of the great reef tours here; it would have been nice to get on one of those glass-bottomed boats for a few hours.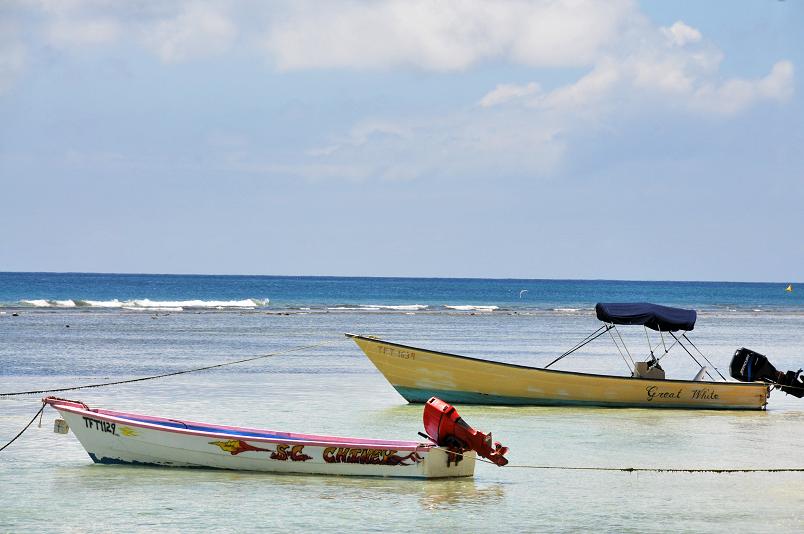 I walked up and down the beach for awhile, just taking in the view. I could smell fish frying from the nearby beach shacks, and began to get hungry. I knew that I should probably head back to the car, but I was entirely hesitant to leave this heavenly haven.
It was so calming that I could actually feel the stress melting away, like the sky melted into the sea. The palm fronds brustled in the light breeze, making a soft sound like long grass on a summer night, the boats bobbed in the waves, and quietly clunked together in unison.
The sun beat down on top of my head, until I decided that it was time to leave. I turned back toward the car and sighed with my last glimpse of the tropical paradise.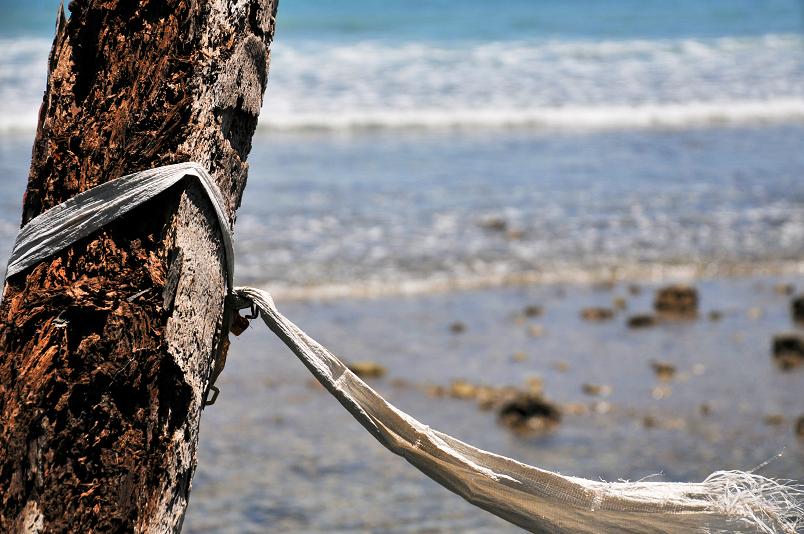 It was time to leave Pigeon Point Beach, for now; I am sure I will return again one day.