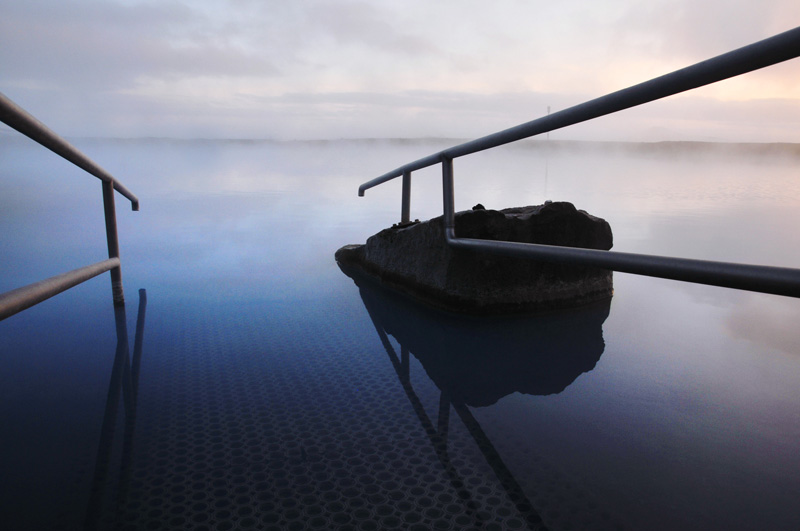 As I stepped outside the cold air bit me like a curious hamster. It's teeth weren't big enough to cause pain, but it stung my skin as I made a quick dash for the warm relief of the steaming milky blue water.
The water felt sublime as I submerged my body, up to my neck and began to float out to the centre of the pool. I kicked my feet, stretched my arms and swam around with ultimate satisfaction.
I was enjoying the soothing facilities of the Mývatn Nature Baths, a designated nature reserve developed in such a way as to cause as little disruption as possible to what is a unique and highly delicate ecosystem, amidst clouds of steam rising up from a fissure deep within the Earth´s surface.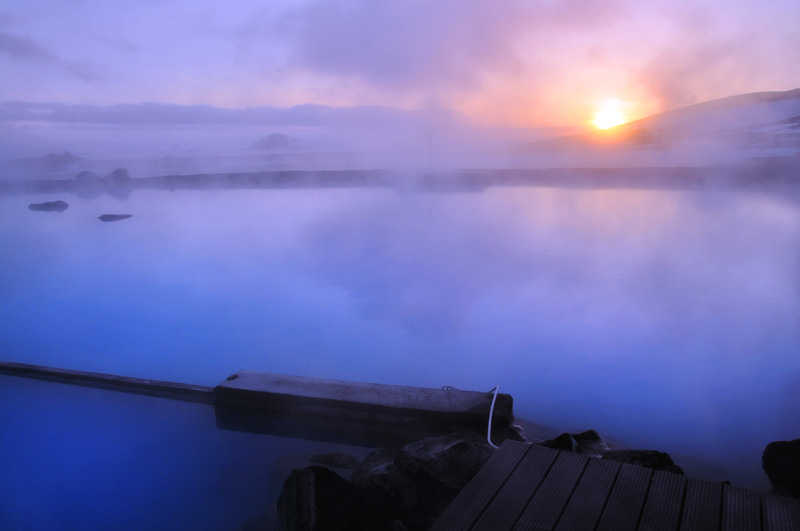 I blissfully soaked for at least ten minutes, occasionally shifting to find a new hot spot, before I even had a chance to take a good look at my surroundings.
Slowly raising my eye level, I realized that the entire pool only held about ten other people; there were the three girls that I was travelling with, a small group of men behind a wall of rocks and a young couple gushing over each other in the corner.
It was nothing like the Blue Lagoon.
It was quaint and personal. It was natural and non-commercialized. It was peaceful and relaxing. It was absolutely perfect.
I could have stayed there forever. I was tempted to take over the small building in the centre of the pool area, call it my home and have all my mail forwarded to the new address. I never wanted to leave.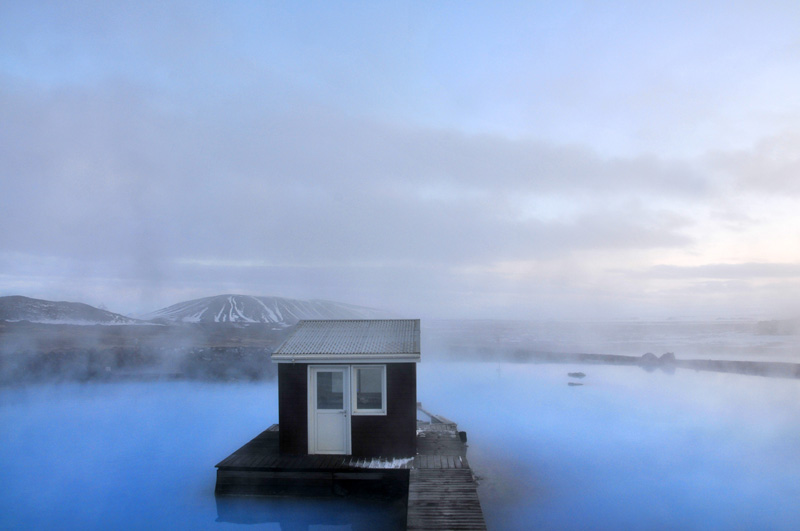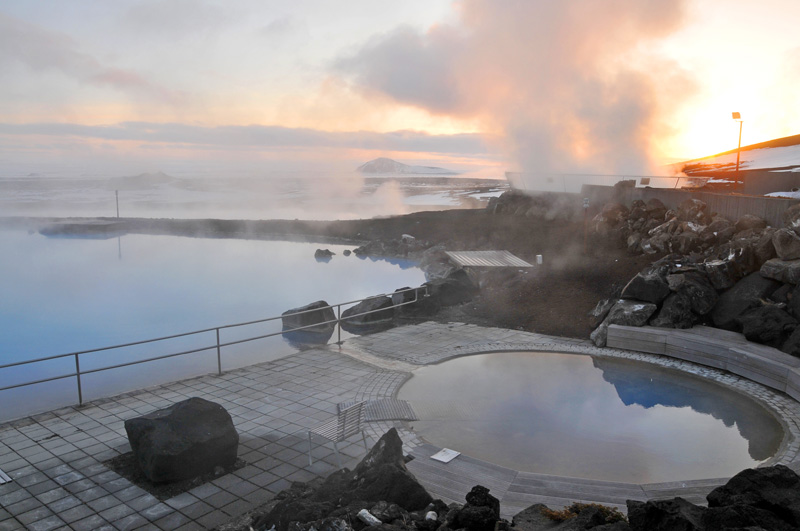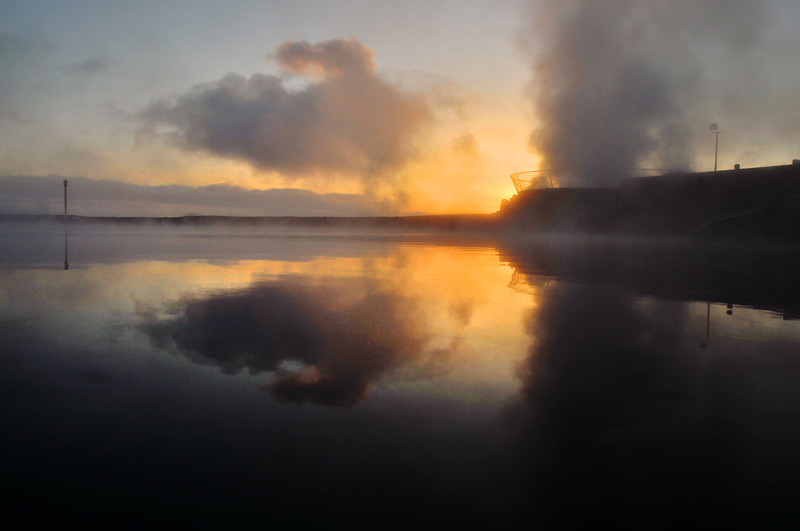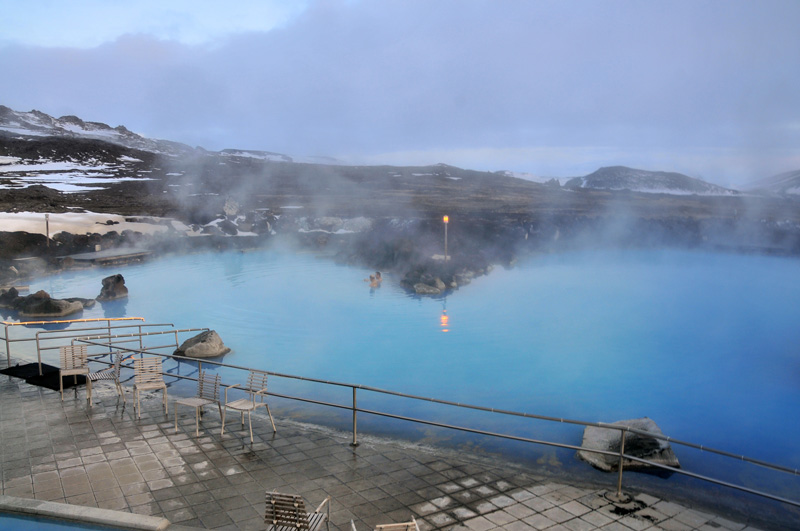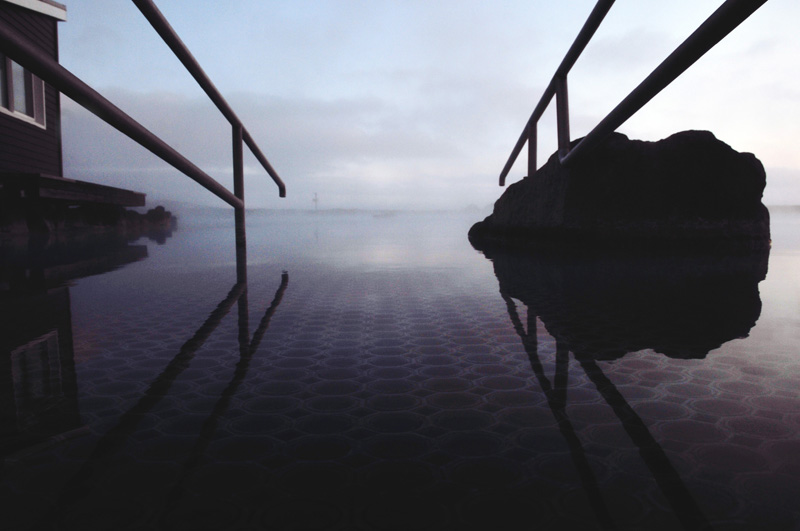 The Nature Baths may have been the highlight of the Mývatn area, but there was so much more to see and experience. Mývatn quickly became one of my new favourite regions of Iceland.
Here are a few of the other places we visited:
 Hverarönd
It was a bit difficult to tell with a layer of snow on the ground, but I had just started to notice a slight change in soil colouring (indicating geo thermal activity and sulphuric precipitation) when I saw the first cloud of steam.
It wasn't unexpected, I had been waiting for it. As we rounded the last stretches out of eastern Iceland, I eagerly searched for the first signs of  geothermal fields in which mudpots, steam vents, sulphur deposits, boiling springs and fumaroles co-exist.
Hverarönð had it all.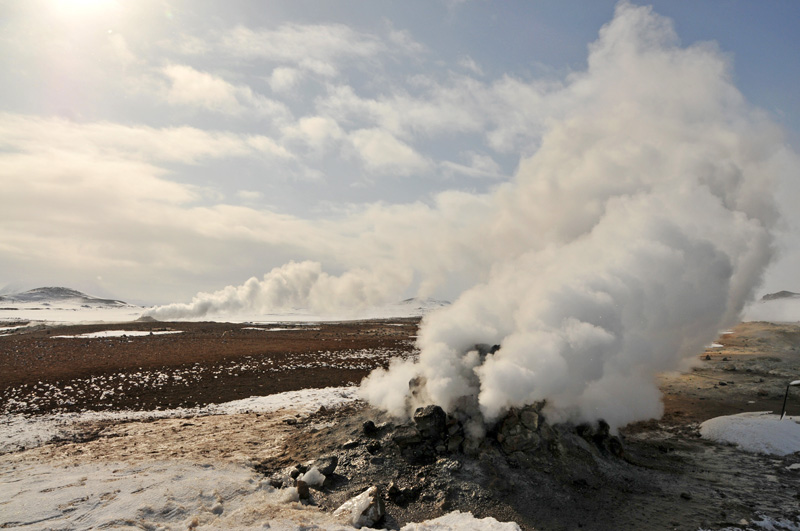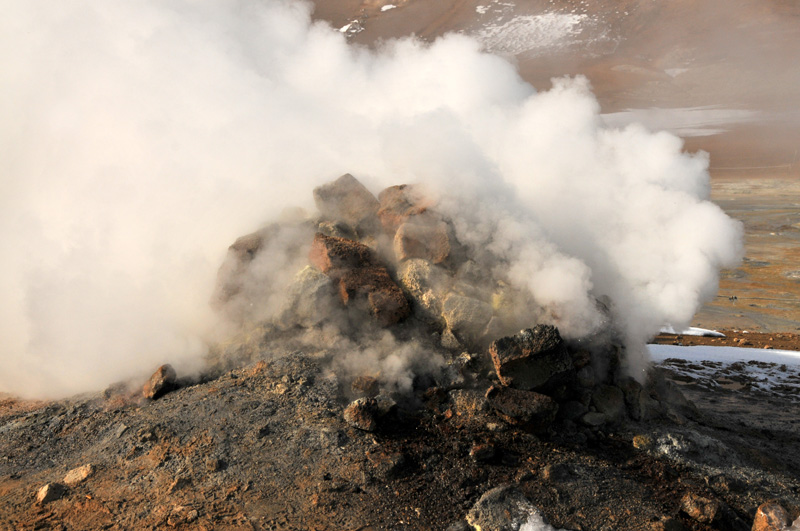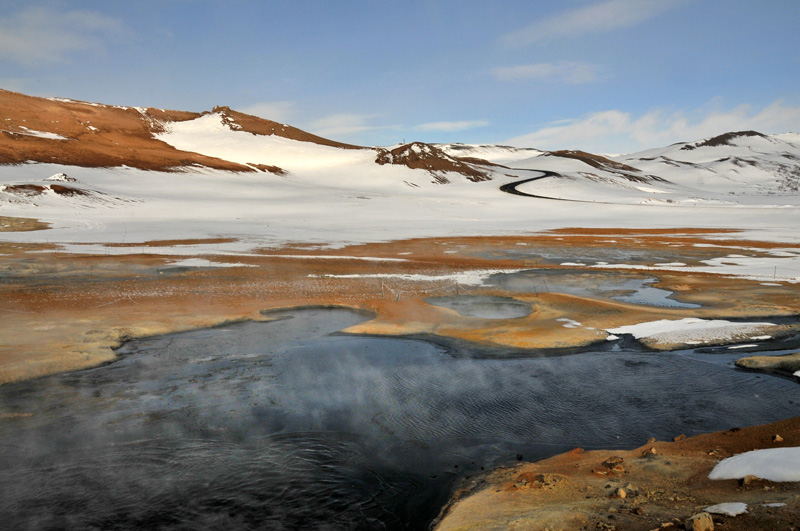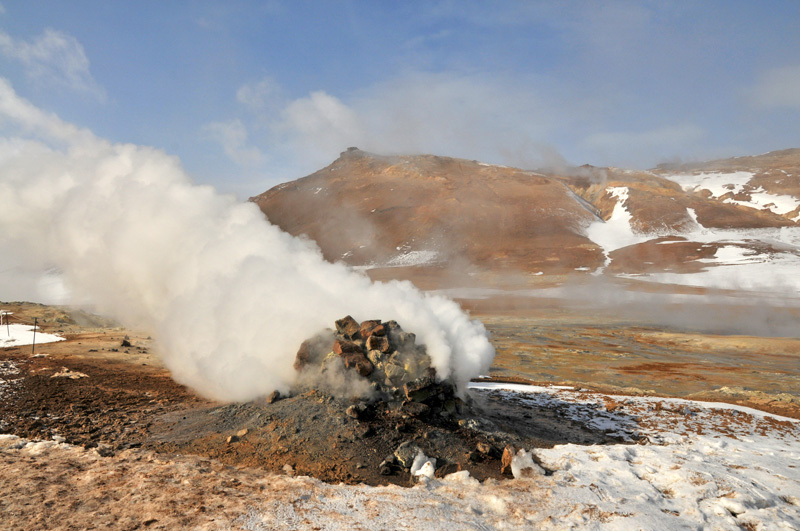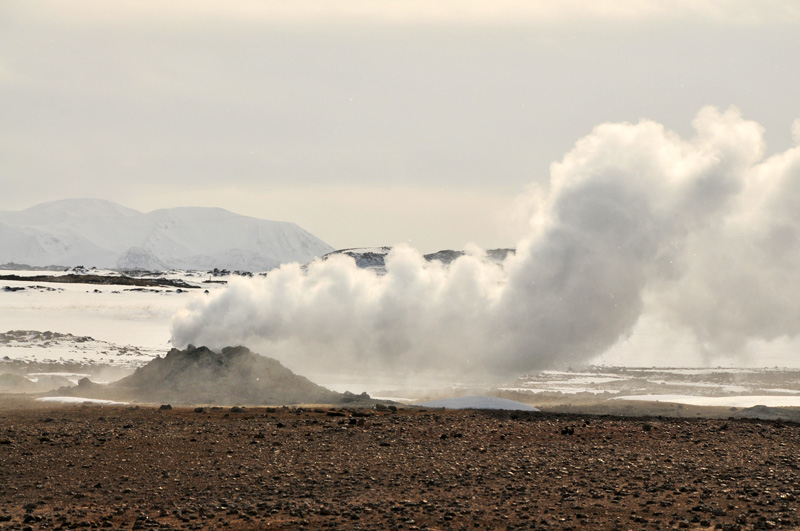 Grjótagjá
Grjótagjá is a small lava cave near lake Mývatn with a thermal spring inside. The water was incredibly hot to the touch and there was no way I was getting in.
After climbing down into a random hole in the lava, I was rewarded with a steamy dazzling blue cave. Light from above reflected through the water, causing the colours to dance on the ceiling of the cave.
I would have gladly spent some more time down there, and perhaps the water will be cooler the next time I return.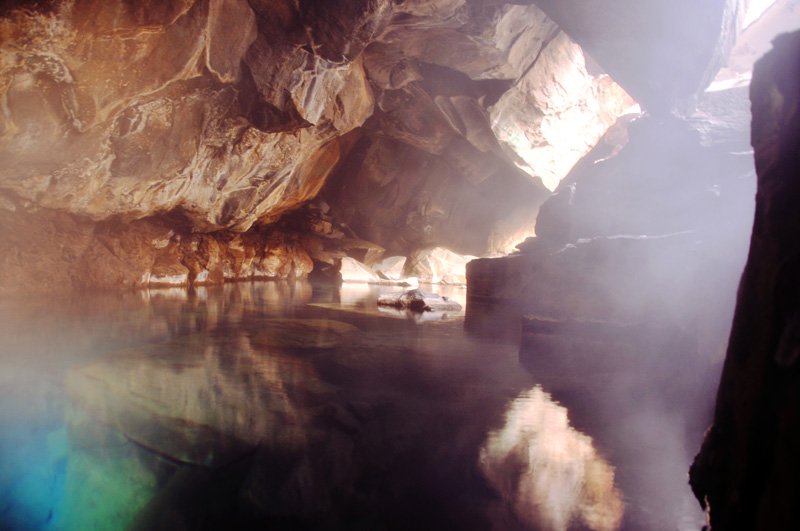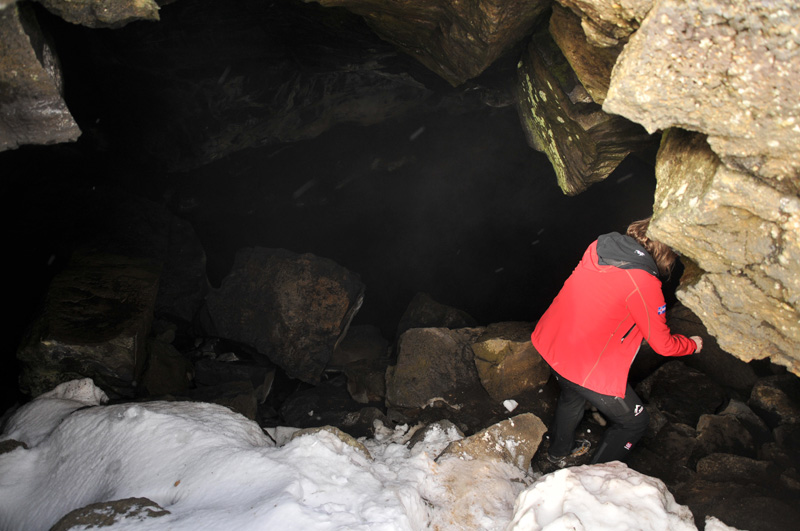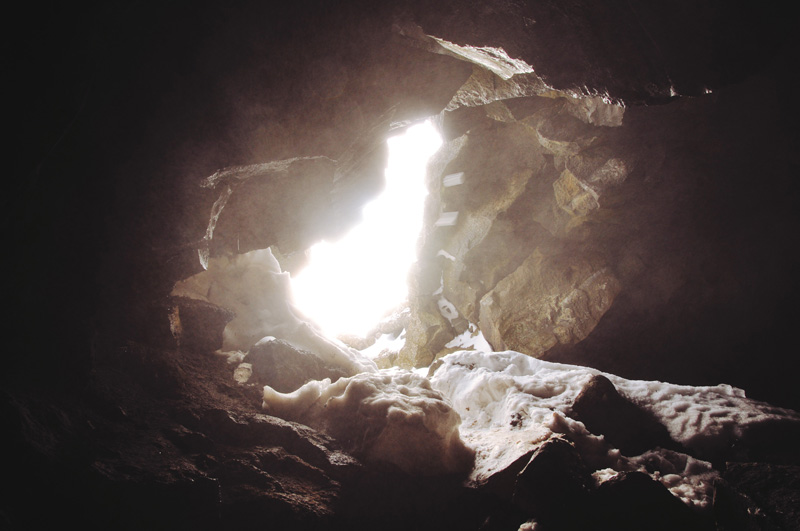 Dimmuborgir
I have to admit, the name had me intrigued before I even knew what the attraction was. I was half convinced that we were going to visit the home of Norwegian black metal artists Dimmu Borgir.
However, in reality, Dimmuborgir is a large area of uniquely shaped 2300 year-old rock formations composed of various volcanic caves, lava fields and collapsed lava tubes, resembling an ancient collapsed citadel (dimmu=dark, borgir=cities).
These were formed when hot lava flowed over a small lake, causing small steam explosions which built up the lava pillars which you see today.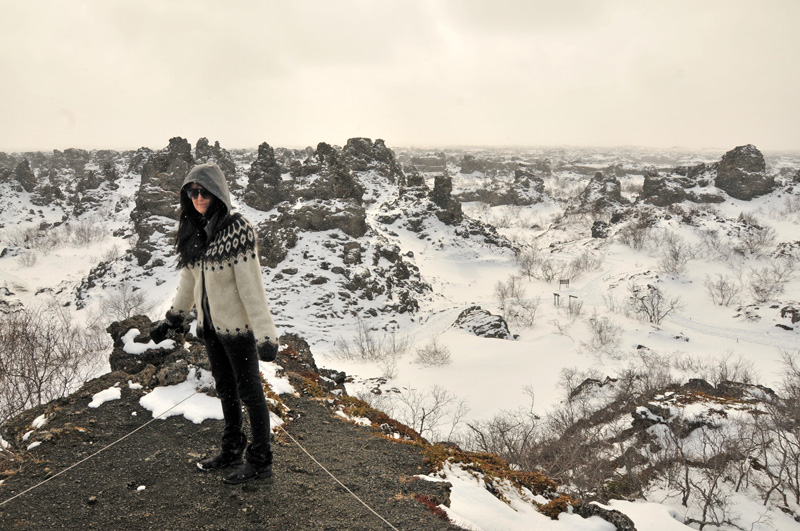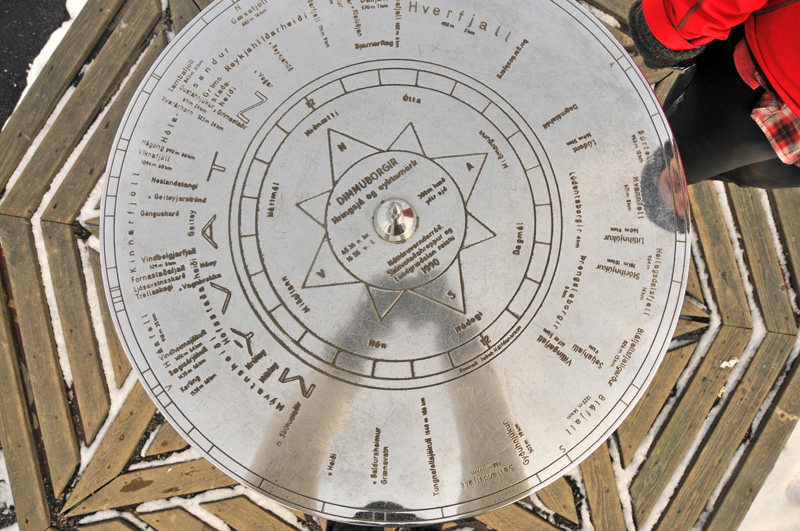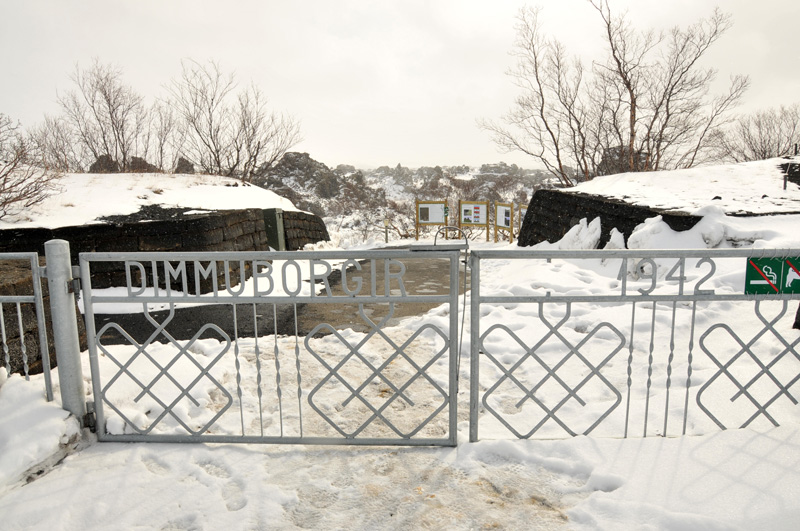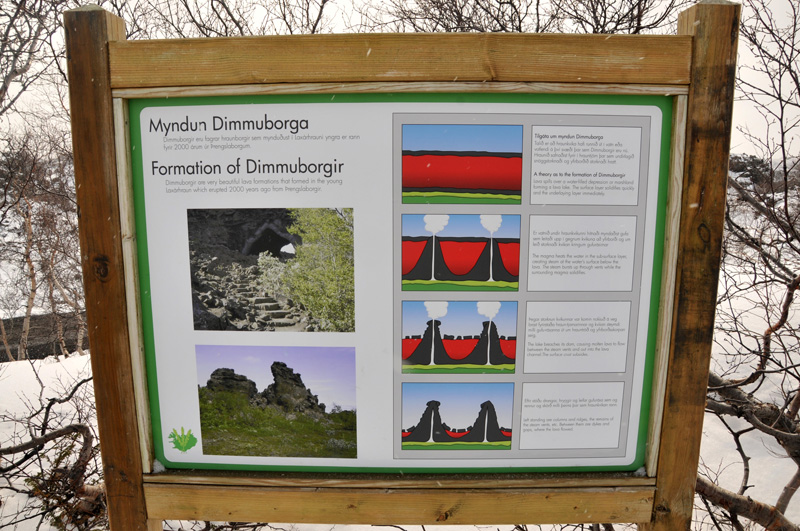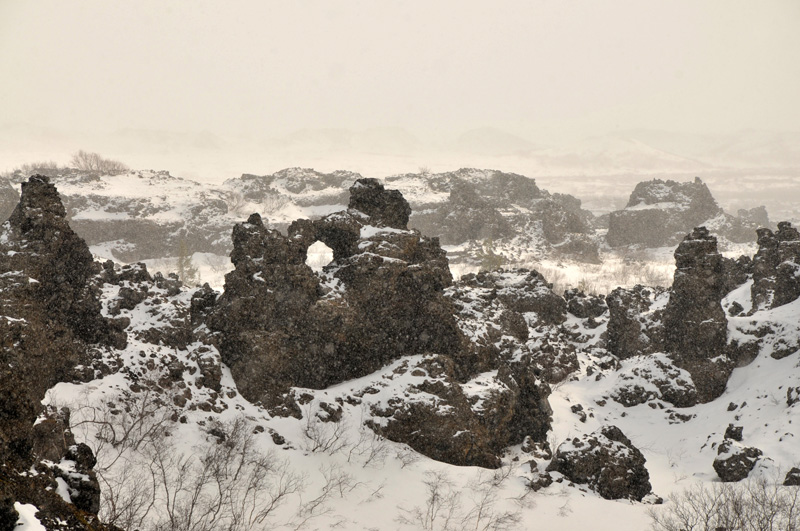 Vogafjos Cowshed-Café
I was totally thrown off by Vogafjos, as I had never heard of such a restaurant. I didn't even notice it right away.
I was browsing the small shop area near the reception desk, picking up wool gloves and sifting through jewellery when I caught a small movement out of the corner of my eye. What I had originally though to be wall, was in fact a window.
There, beside the tables of the restaurant, was a cow being milked. I did a double take.
The window to its right showcased a whole room full of cows.
Not only was it an incredibly unique concept in the dining industry, but the home made meal turned out to be even better. I highly recommend making a stop at the Cowshed-cafe if you are spending any amount of time in the Mývatn area.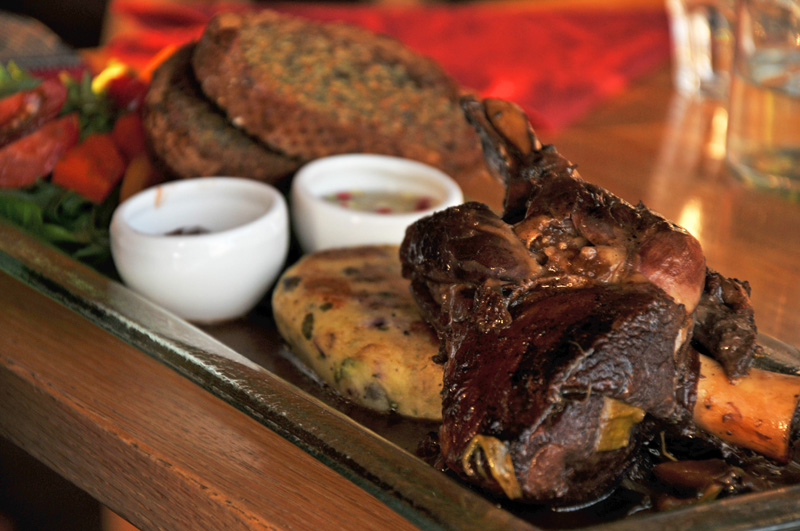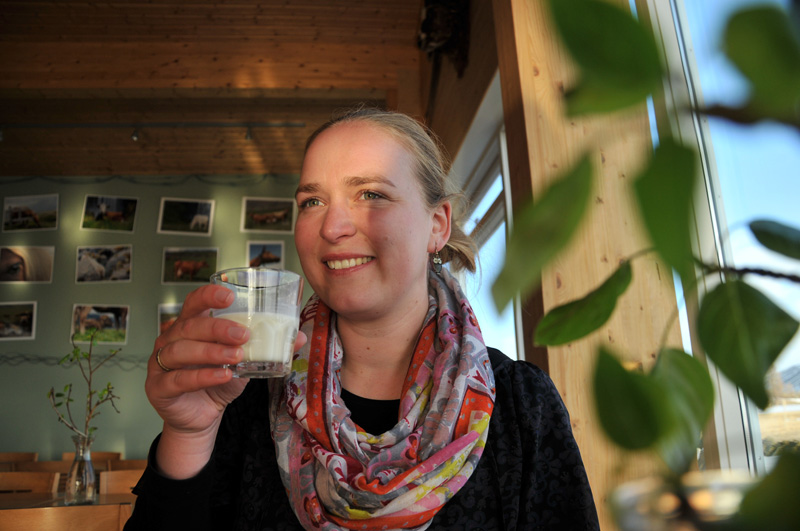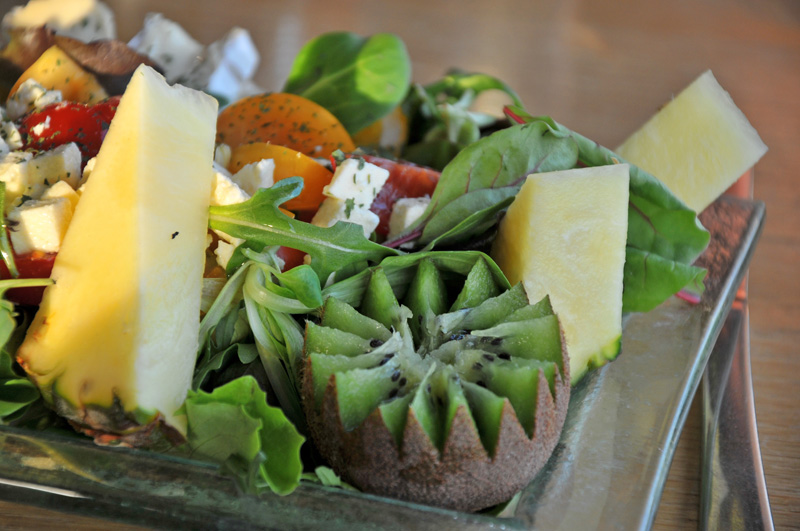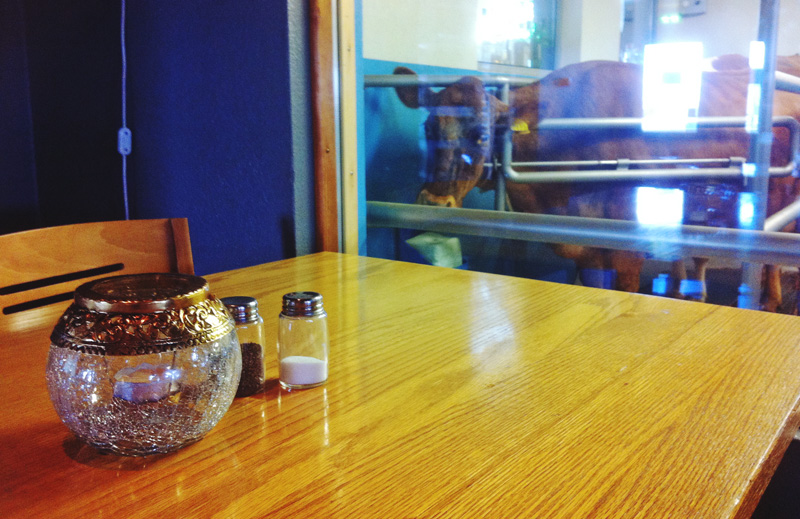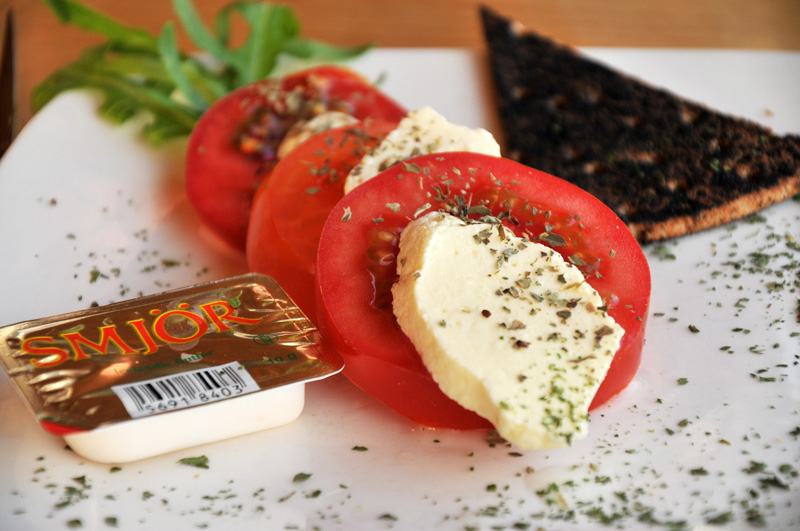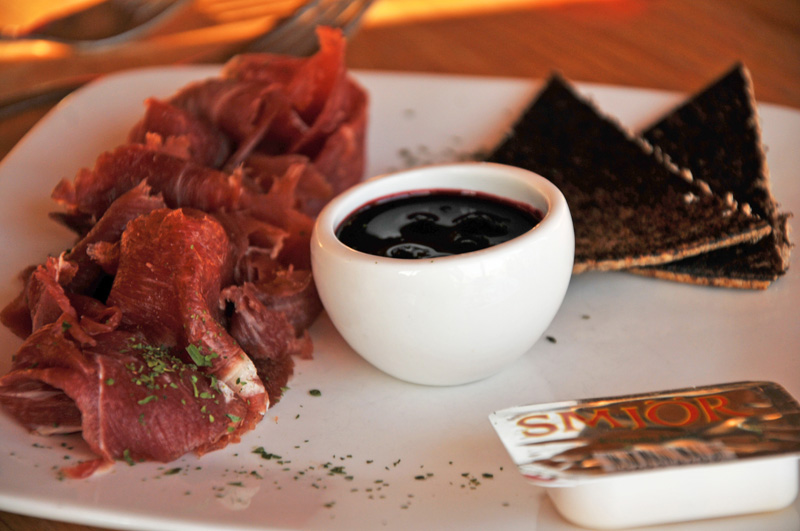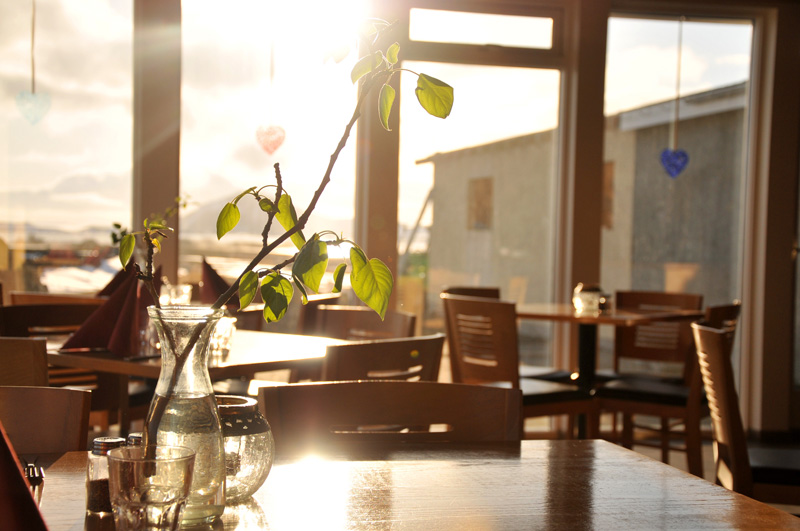 —
Mývatn was one of my favourite stops on the Express Iceland 8 day tour with Iceland Unlimited. It's an essential visit for any Ring Road trip, and I definitely plan to spend some more time here the next time I'm in Iceland (because, we all know I'll be back).
If you're spending the night in Mývatn, I would recommend the Stöng Guesthouses. The cabins are secluded, fully stocked and comfortable in any season.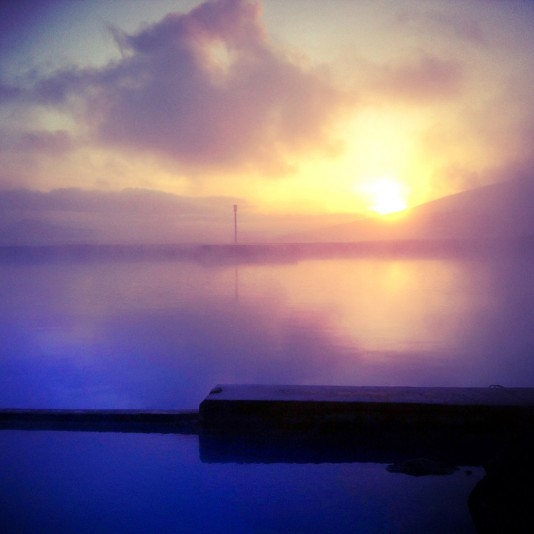 —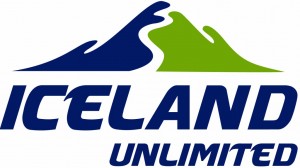 I was invited on the Express Iceland 8 Day Tour by Iceland Unlimited.
However, all thoughts and opinions are my own.