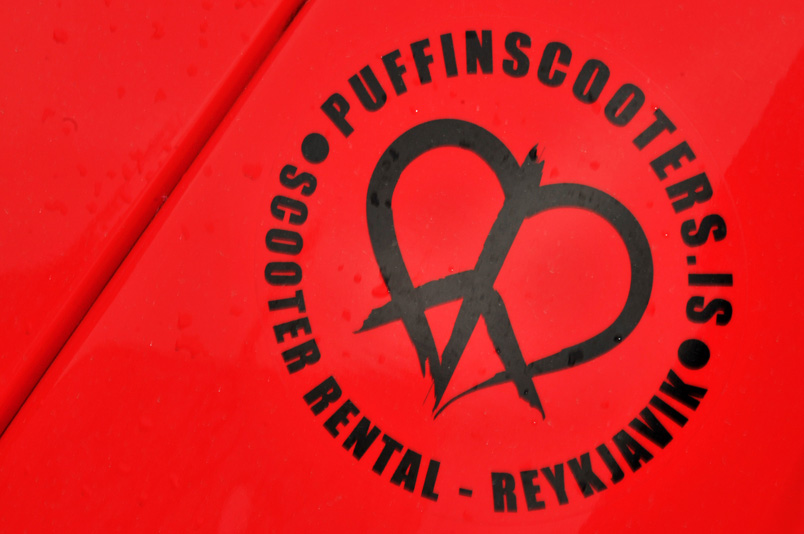 The best way to get the most out of Reykjavík is by Scooter. Driving a car around the city is a bit difficult, and parking can be a nightmare. Walking is great, but time-consuming and tiring with all of the big hills.
A scooter is perfect, because you can still access all of the small side streets, and parking is easier, plus you can get from point A to point B in record time. During our visit to Reykjavík, we took a tour with Puffin Scooters – Activity Rentals.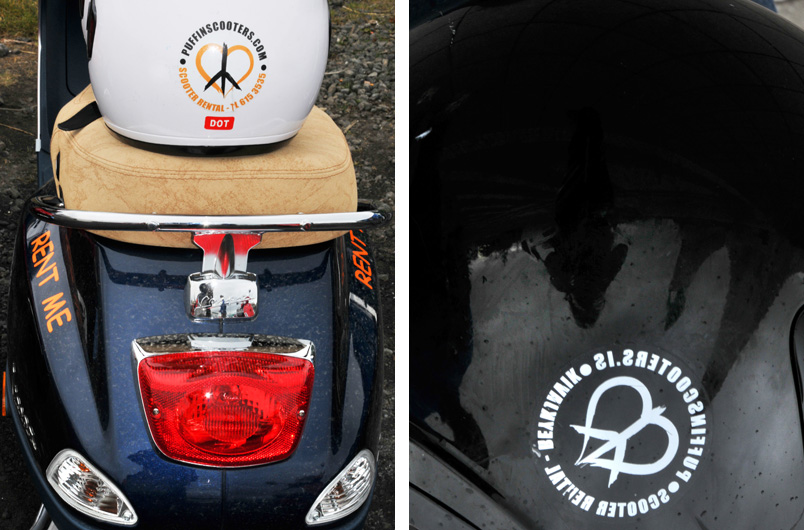 Having never driven a scooter before, it took me a few minutes to get the hang of it, but I was cruising in no time. Our initial stretch of road was a scenic drive along the shore on the outskirts of town. Traffic was sparse, and I immediately felt comfortable on the scooter. I was able to look around, while still keeping control of the steering.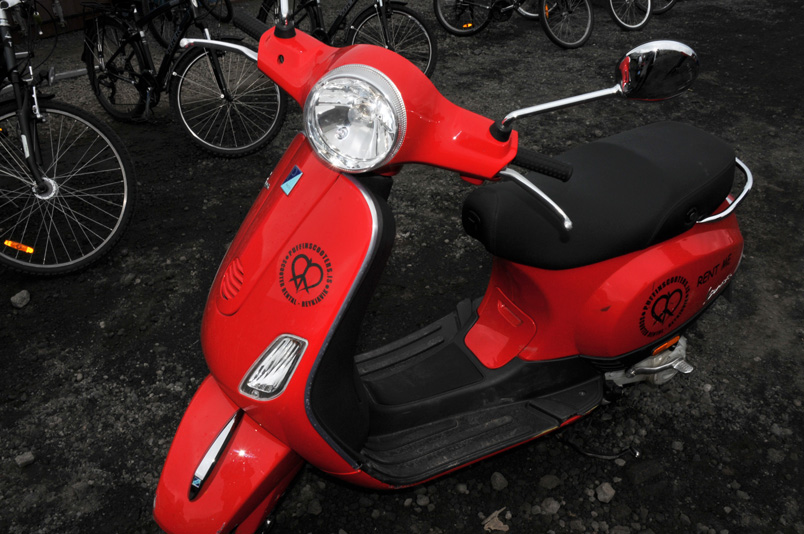 We drove our Puffin Scooters in a snake formation; two drivers on the shoulder and one next to the inner line, so cars could not overtake us. We wove around the city, keeping formation, and stopping at interesting attractions. Not only was it a great way to see the city–but it was actually really fun.
Hákarl Shack & Thermal Foot Pool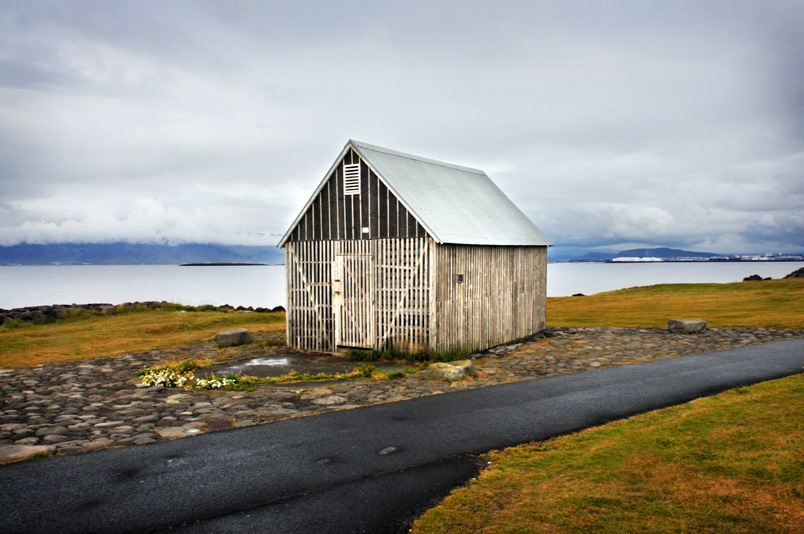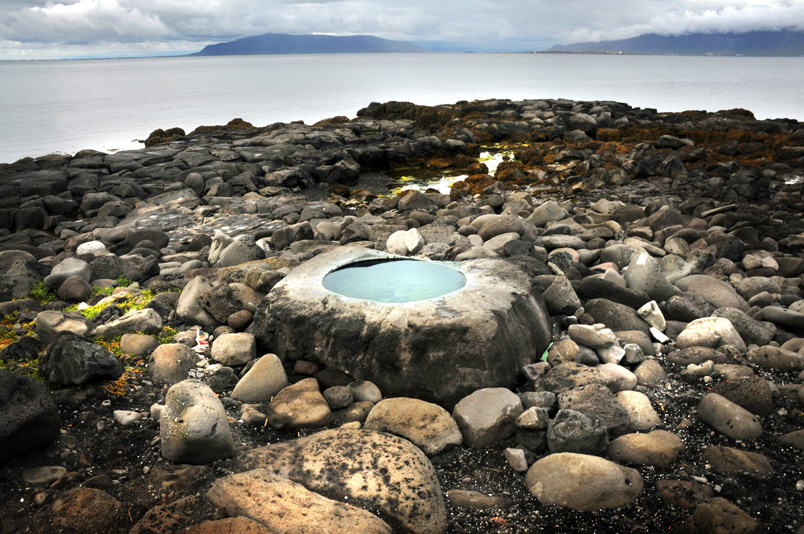 Hákarl is the popular Icelandic treat snack of fermented shark. The shark carcass is hung to dry and ferment in a shack, and eventually served in small squares, on a toothpick. Hákarl is not for the faint of heart, or the faint of stomach. It is usually served with Brennivín; an Icelandic Schnapps.
We rode our scooters up to one such shack, and took a peek inside. It was quite dark, but I could see some pieces hanging in the shadows.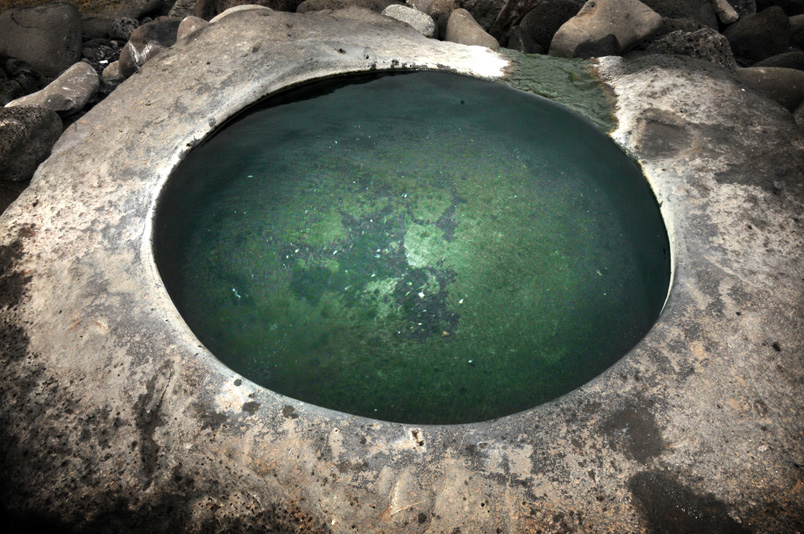 Next, we headed over to the rocky shore, where a geothermal foot bath was located amongst the stones. I tested the water with my fingers, and was surprised at how hot it was. We decided not to stick out feet in, but I had time for a few quick photos.
Imported Sand at Nauthólsvík Beach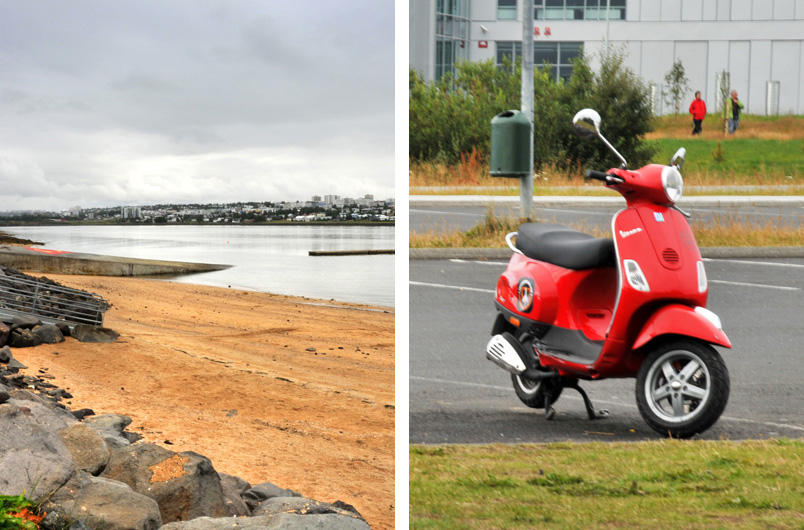 I certainly never expected to see golden-coloured sand in Iceland, so you can understand my surprise when we drove up to Nauthólsvík Beach.
The sands here have been imported directly from Morocco, and the Moroccan heat has been imitated in the nearby thermal pools. You can literally sit in the ocean, yet still feel the warm sensation of geothermal energy, thanks to the heated lagoon.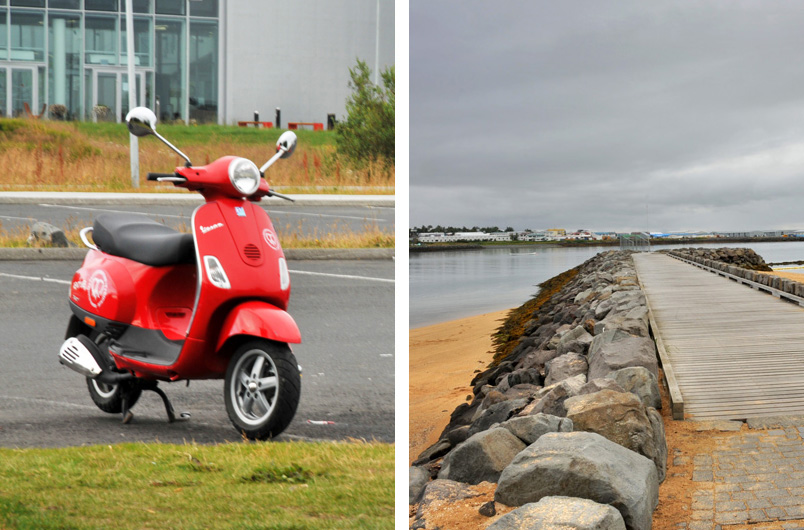 Geologic Impressions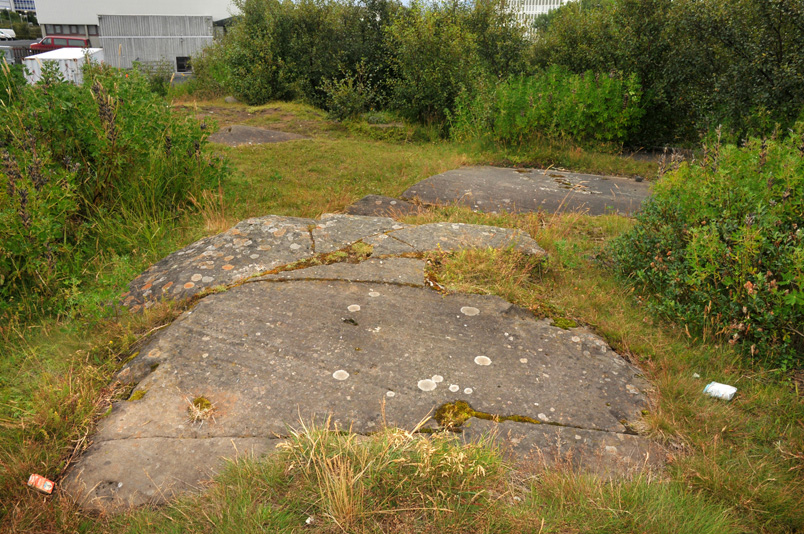 There is no better place to see geology in action, than Iceland. As a major in physical geography (with a love for geology) I was super interested in learning about how Reykjavík and the rest of Iceland was created. We made a stop at a random corner, where our guide led us into a bushy area.
At first, I was not really sure where we were going–but we emerged to a large flat rock. Our guide explained that here we could see geology at work, where the rock face had been scraped off by recent (in geologic-terms) glacial activity.
The lines in the rock had been created by larger than usual glacial till–say, a smaller rock–being dragged along with the glacier over time. The rock was wedged between the ground (the rock face) and the glacier, eventually scraping out the lines that we can see today.
Björk's House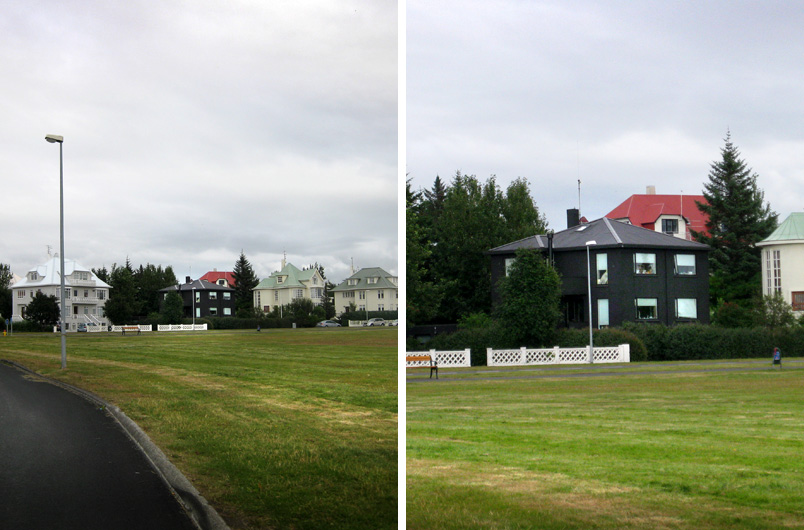 As a young Canadian girl, I grew up listening to Björk, and dreaming of the Icelandic way of life. In my early teens, my friends and I created (now embarrassing) music videos featuring outlandish skits and the most random of props. Eventually, I grew out of the Björk phase, but there would always be a soft spot in my heart for the quirky performer.
When we rounded the corner by the seaside, our guide announced "..and here is Björk's house", pointing at a simple black home ahead of us. I started to get excited. We rode closer, and I was able to get a better view inside the windows. It was a mess.
The bottom windows were lined with obscure white statues and strange designs. The upper windows were cluttered with papers and other junk, creating an overall chaos. I'm not sure what I was expecting (having not expected to see it at all!), but it certainly wasn't this. Either Björk is one messy lady, or she just likes to put up a crazy façade for the likely near-constant on-lookers.
Hallgrímskirkja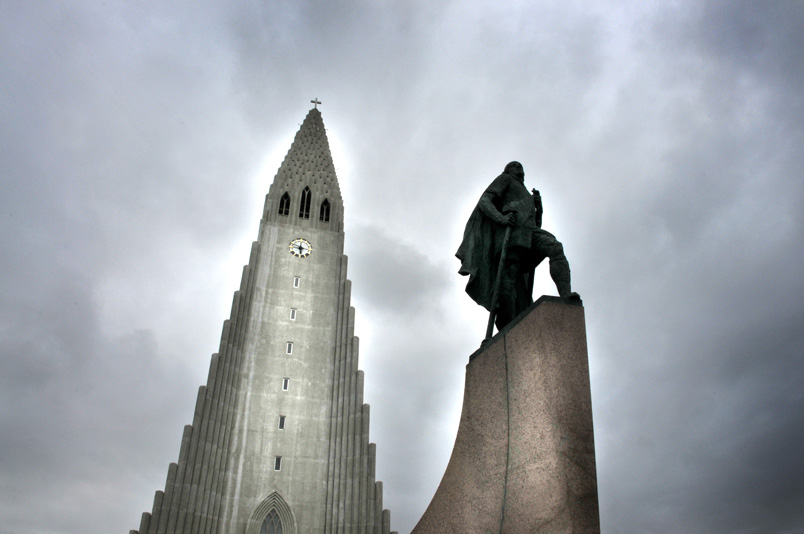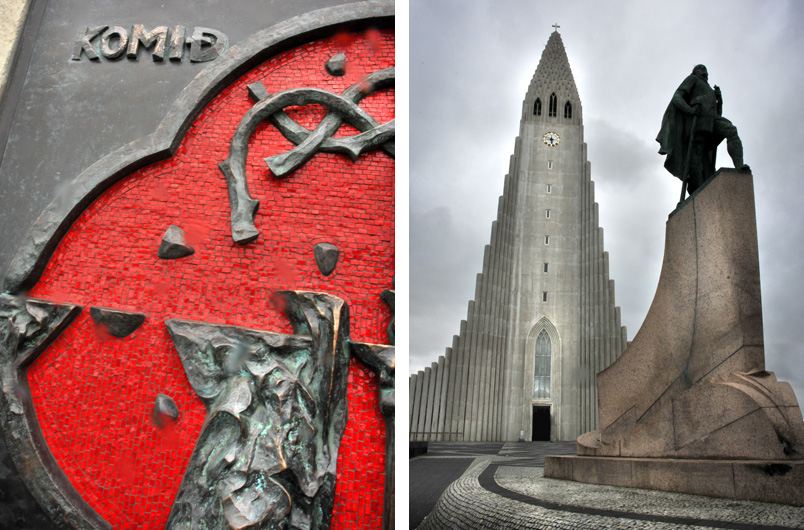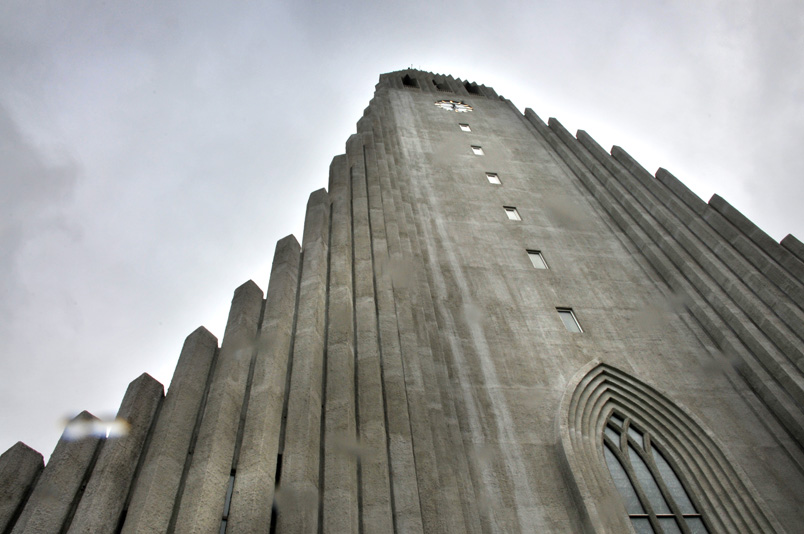 We made a quick stop at Hallgrímskirkja; the beautiful pyramidal church that overlooks all of Reykjavík. Hallgrímskirkja was designed after the Basalt Lava Columns, like the ones at Reynisfjara Beach, in Vik.
However, after watching the movie Thor, based on old Norse mythology; I can't help but wonder if it also resembles the large building in Asgard.
Alþingi (Parliament House)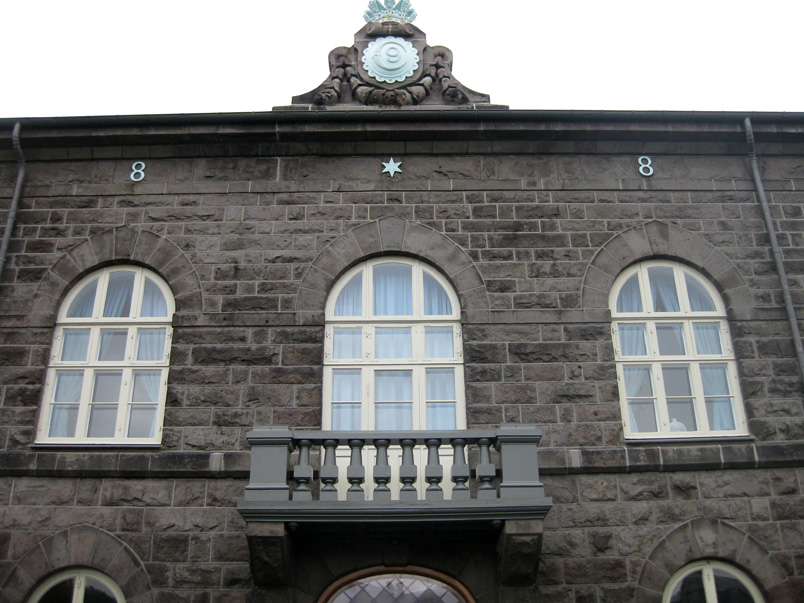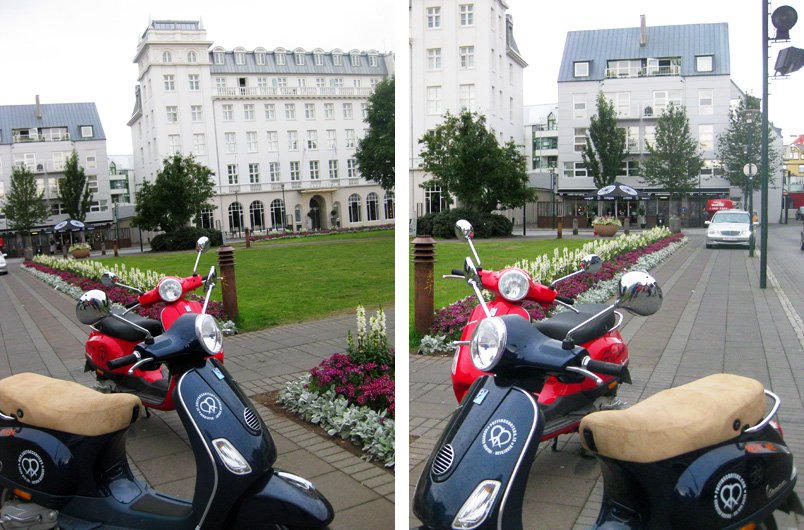 Upon returning back to the main streets of the city centre, we rolled into an interior street by Austurvöllur. We parked our Puffin Scooters on the side, and stepped off to look at the Parliament house, called Alþingi. Alþingi is one of the oldest buildings in Reykjavík, and the oldest parliamentary institution in the world still in existence.
It was founded in 930 at Þingvellir, (the "assembly fields" or "Parliament Plains"), situated approximately 45 km east of Reykjavík. It was restored in 1844 and moved to Reykjavík, where it has resided ever since. The present parliament building, the Alþingishús, was built in 1881, of hewn Icelandic stone.
—
After we finished our tour, we traded in our regular scooters for electric scooters. We had the use of these awesome environmentally friendly little scooters for the rest of our stay in Reykjavík. Stay tuned for more stories about them!
—