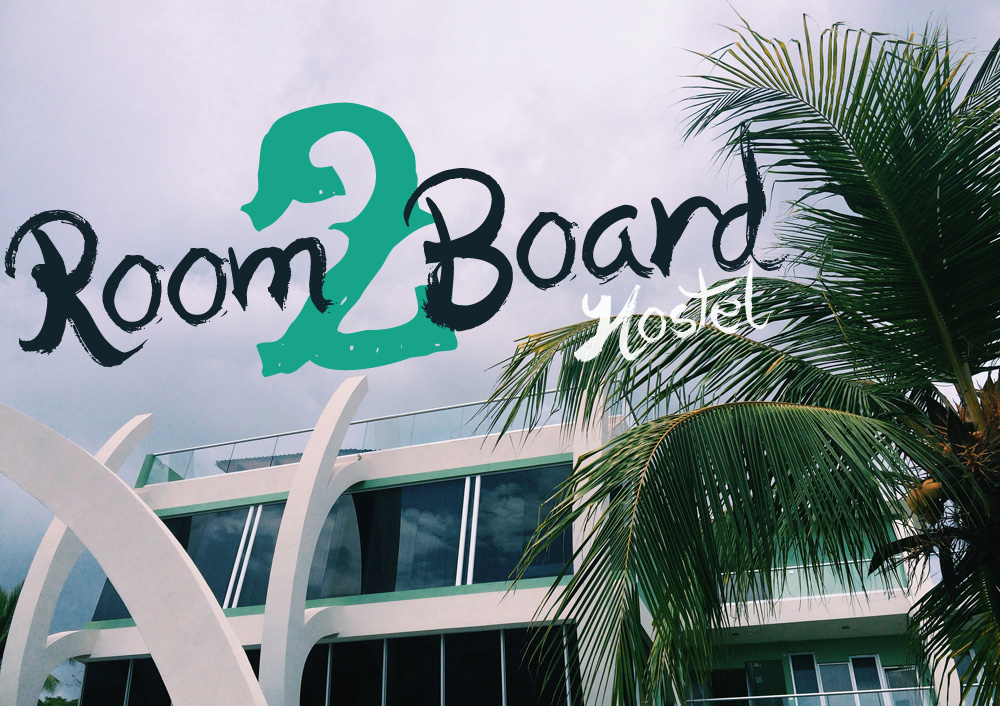 I found the world's most perfect hostel, and it exists on a magical strip of beach in the lazy surf town of Jaco, Costa Rica.
In all seriousness, I am officially claiming Room2Board as my new favourite hostel, which is a pretty big deal, considering the number of hostels I've been to.
From the moment I arrived, I knew that I was going to like the place a lot, but I pretty much fell in love when I checked into my private ocean-view room. After a week in the boutique hostel, I could barely bring myself to leave.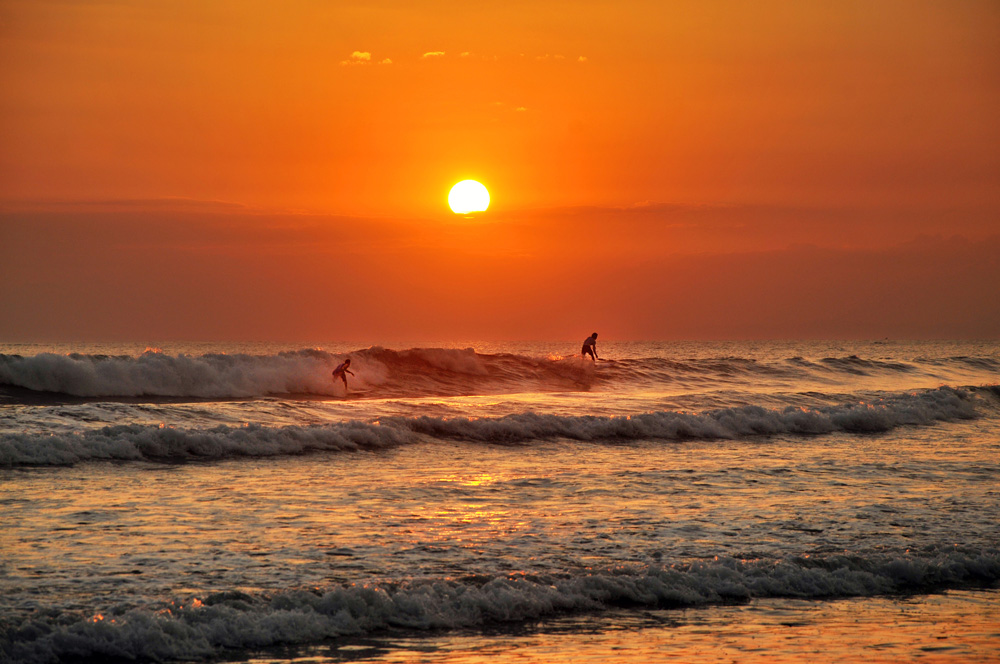 Room2Board is a very new hostel in Jaco, and I was lucky enough to visit in their early days. It had only been open a mere three weeks when I checked in and I fully expect it to become the most popular accommodation (hostel, or otherwise) in town.
Things have already improved since I left, starting with hammocks on the roof (worth checking in for alone, in my eyes), daily yoga classes, most kitchen tools, more furniture and other new awesome additions.
I look forward to returning in the next few years to see how things have progressed even further. Because, I will most definitely return to Room2Board.
Private Room
I thought my room was pretty nice when I walked in, there were two beds, a set of drawers, a closet and some bed side tables, but my jaw dropped when I pulled the curtains back.
Suddenly, I was standing in front of a two-walled wrap around floor to ceiling window, looking out over the Room2Board pool and Pacific Ocean. Not only was the view incredible, but my bed was placed right in the corner of the window, giving it THE best view in the hostel.
It was the perfect place to lay and watch the sunrise each morning and then keep an eye on the sunset in the evening to make it out to the beach on time.
My room also had a fan and air conditioning, as well as a really modern bathroom that I shared with only one other person.
I was able to get a peek at a few of the dorm and family rooms and they are by far better than other dorm rooms I've seen. Beds are made of a nice solid dark wood, each guest has a large wooden locker (with internal outlets!) and they are really well spaced.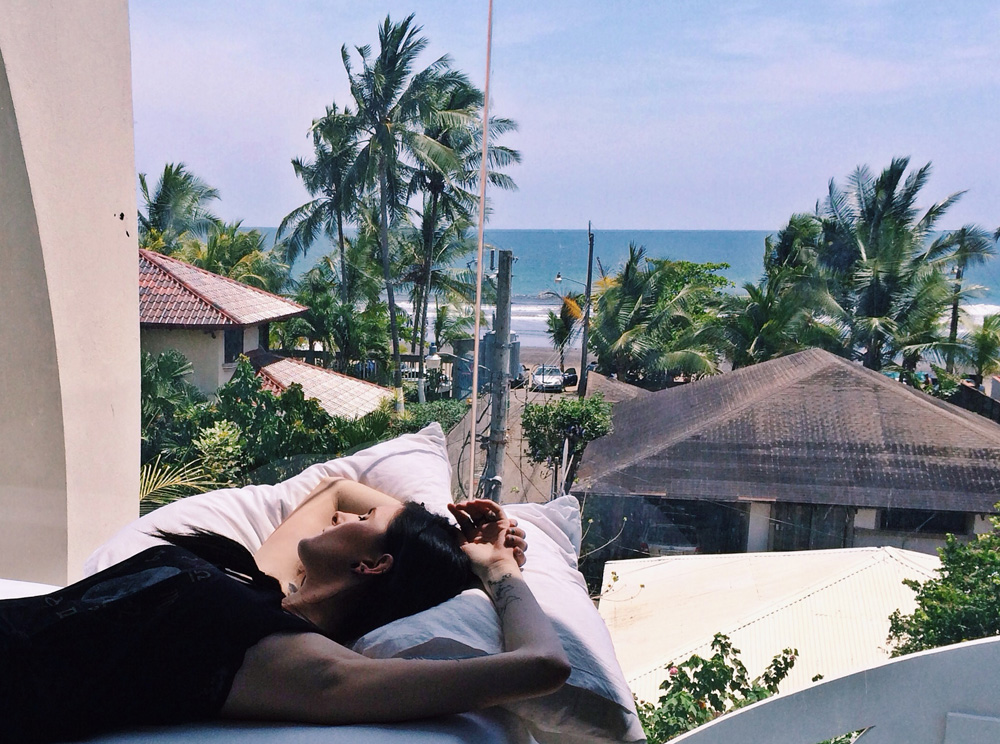 Rooftop Patio
The rooftop patio was my first visit as soon as I dropped my stuff into my room. I headed up the stairs (although, R2B has an elevator as well) and found a spot on the edge to take in the view.
The roof will have a working bar and is a great spot to hang out and listen to music. Or workout, as some guests seemed to do a lot while I was up there.
Even though I watched the sunset from the beach most nights, the rooftop had an amazing view over all of Jaco.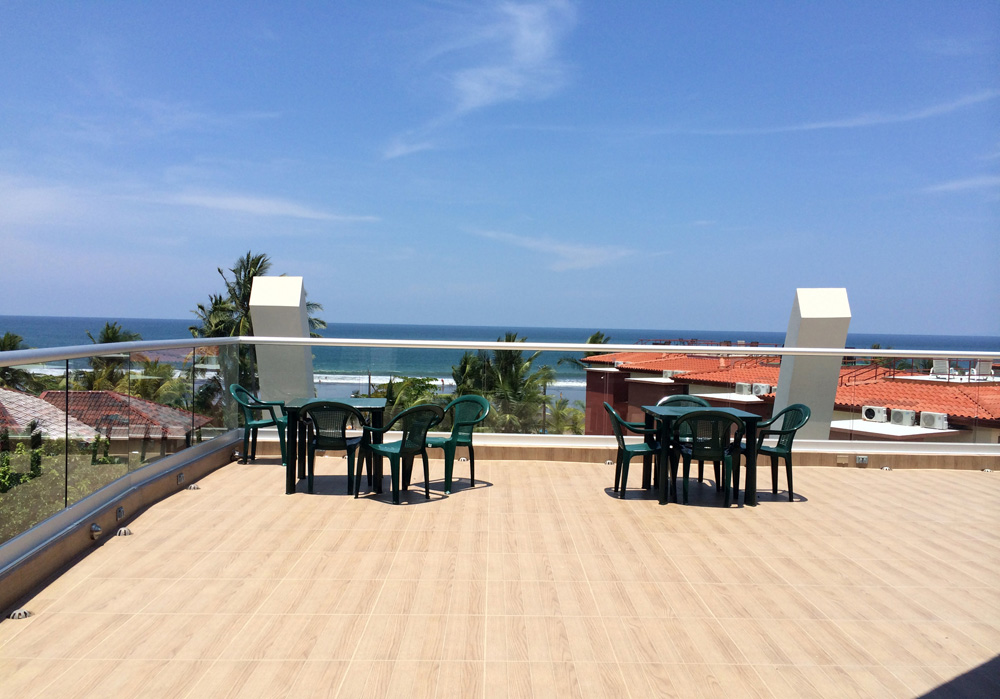 Pool & Bar
I never actually managed to get in the pool myself, but with a waterslide and wrap-around seating, it looked like an ideal place to hang out on a hot afternoon.
Next to the bar was a seating area, beer pong table and a small bar area that I did manage to hang out at during the night.
But, the best part of all? The giant wall-sized poolside movie screen. Yup, that big white square beside the pool turns into a movie screen at night, where a new film is played each night, along with current sporting events and YouTube videos. I couldn't believe that I could just sit in my bed, look down and watch the hockey game.
Amazing.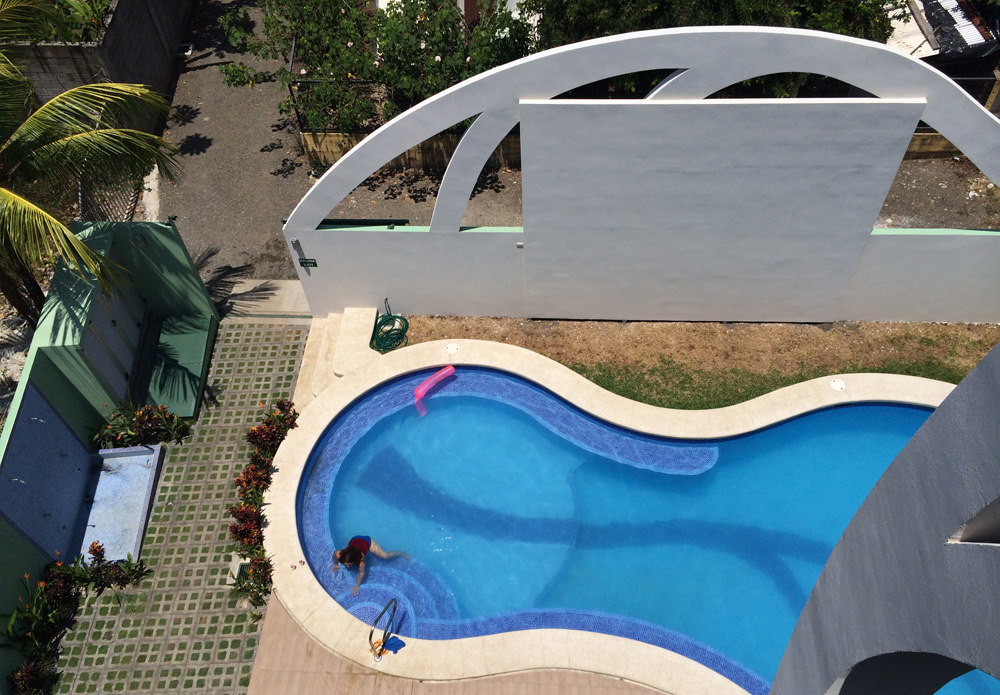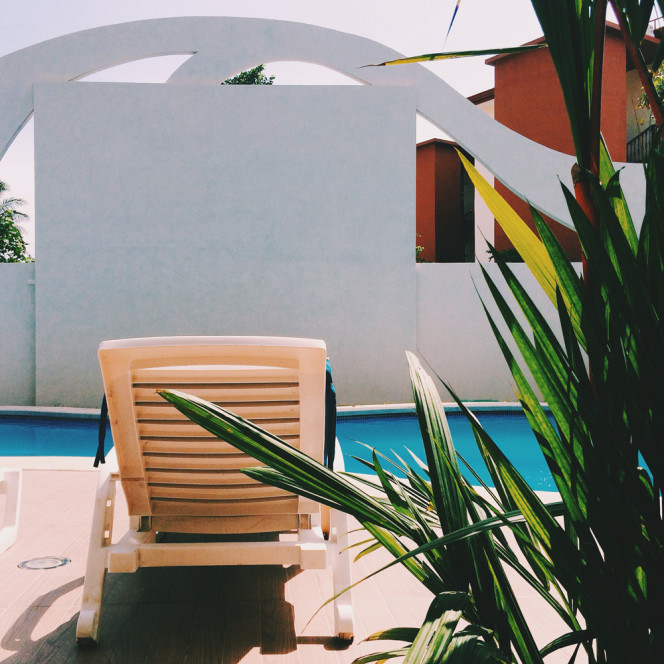 The Beach  
I was never impressed with the main section of Jaco beach, but there's just something about the far end of the beach, in front of Room2Board, that has a certain charm to it. It isn't as busy, there are more shady palm trees and it isn't close to the hustle and bustle of the tourist areas. It actually feels like a completely different town. And, I like that.
Room2Board has several chairs with umbrellas scattered around their area of the beach, and can set you up with surf lessons. And, from what I could see, the surfing is great in jaco.
I spent each and every night sitting on the beach watching the sunset, and it seemed that each night got better than the last.
There was one night that the sunset was just so incredible that I couldn't even bring myself to photograph it. I stared in awe, unable to grab my camera and watched it fade away, from scarlet red to brilliant orange and yellow to several shades of deep violet dribbled across a cotton candy pink, until it was nothing but a memory. That was the best sunset I have witnessed in my entire life.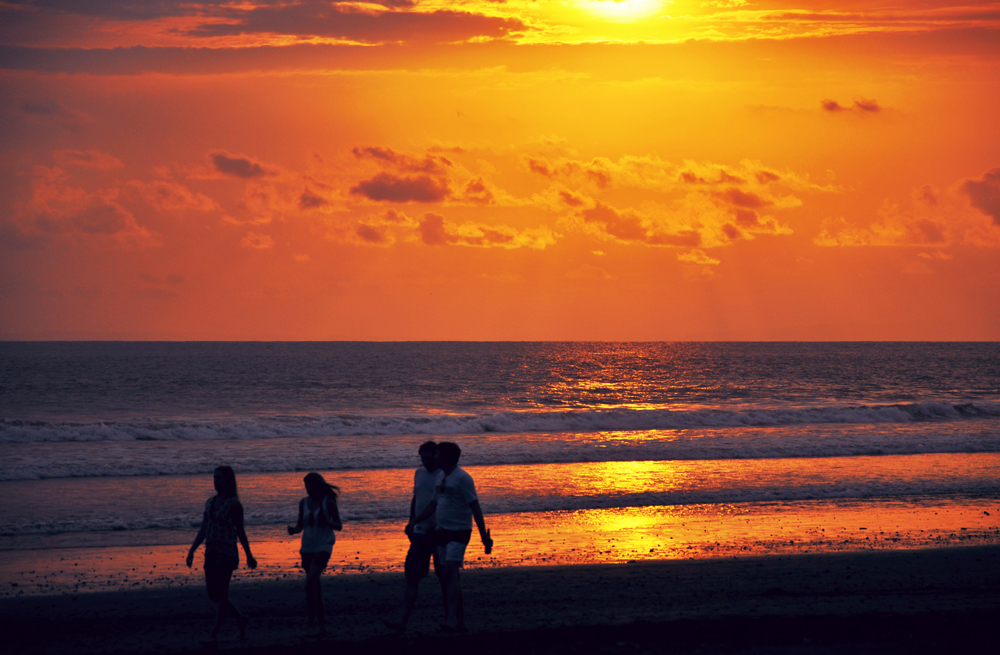 The Hostel
The hostel is also one of the best designed I've seen. Italian architect, Lorenzina Laera, was given pretty much free-reign to achieve something new and in concert with the Costa Rican pura vida way of living. The result is a nothing short of spectacular.
Lorenzia also incorporated eco-friendly design into the project. After all this is a Costa Rica hostel. They tap fresh well water from a deep aquifer, the building utilizes energy saving features such as lighting motion detectors, solar hot water heating, ceiling fans, a sophisticated cross ventilation design and super-efficient air conditioning.
It's also just super cool to look at.
The hostel has a community kitchen with sitting area, plenty or spacious common areas, tables and chairs for sitting along with some of the best WiFi I found in Costa Rica.
Jaco
Jaco itself was a little touristy for my solo travelling preferences, but it had it's charms. I also happened to visit during Semana Santa, which brought what seemed like the entire population of San Jose for a long weekend.
When things were a little quieter during the week, I enjoyed wandering through town on a regular basis, eating at some of the local restaurants, went out for dinner with some of the hostel crew and shopped at the supermarket to make my own meals.
The surf town is a great place for people looking to shop, with reasonable prices and an unlimited number of unique clothing shops along the main street.
Jaco also boasts the most recommended tattoo parlous in Costa Rica, and I just happened to go in for a little work during my stay at Room2Board.
More photos from my time at Room2Board;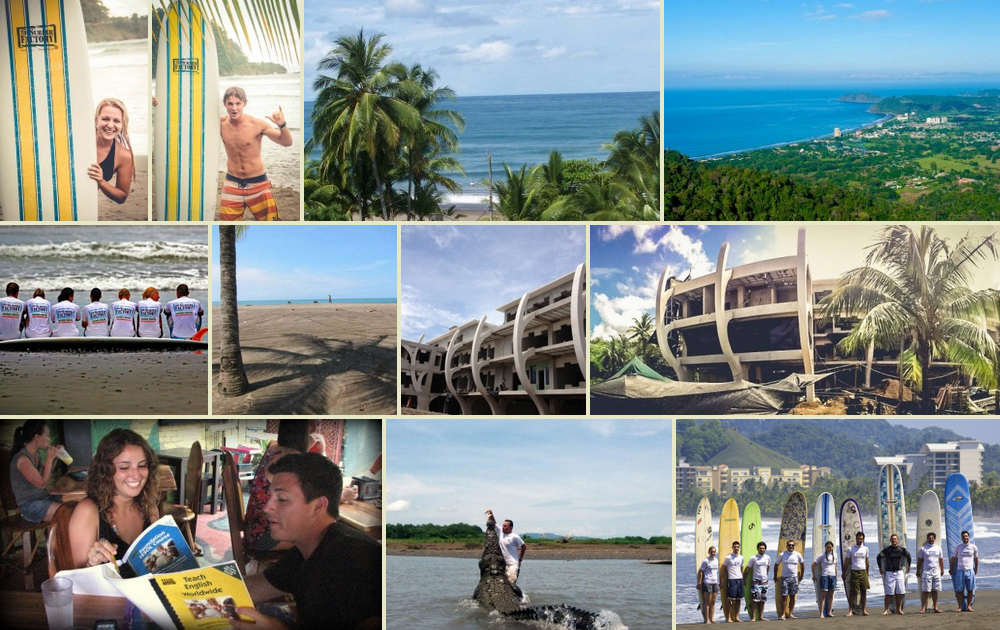 I was a guest of Room2Board.
All thoughts & opinions are my own.