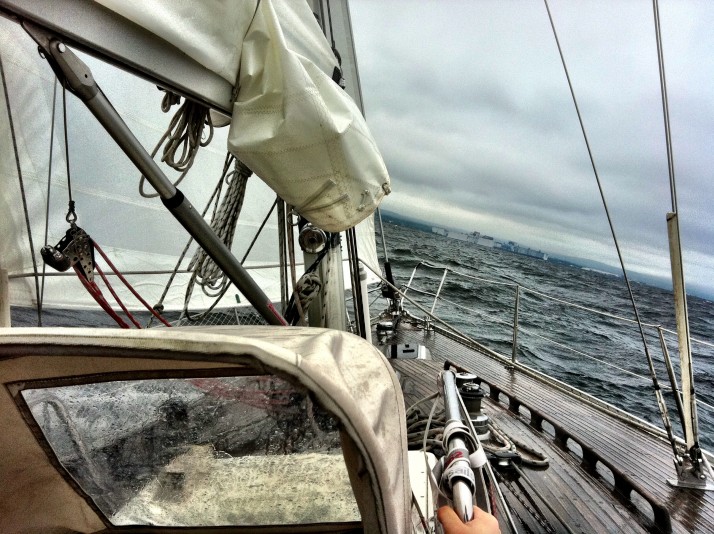 When I first learned that we were going to be doing a sailing tour of Thunder Bay, I thought it sounded nice, but I wasn't super pumped or anything. To make matters less thrilling, on the day that we arrived, it was all windy and grey. I shrugged it off and decided it could be something fun to do.
We loaded our stuff and ourselves onto the boat and prepared to leave the dock. We secured our things, were briefed on safety, and set sail toward the open waters.
When we first got going, I thought, well this is alright. It's not overly exciting, but I could get into it.
Then, our captain Greg asked if we wanted to head out past the break-water. Now I was interested—this could get exciting. We all agreed, and he swung the boat around toward the open lake.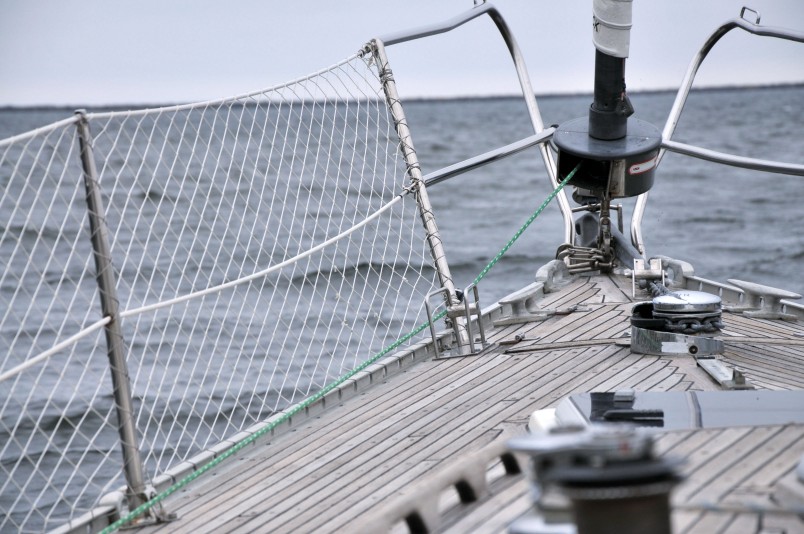 As we approached the wall, the water began to get a little more rough. Gradually, the waves started to produce white caps, and the entire boat was bobbing up and down about twice as more than it was before.
We passed through the break-water, and then the boat really began to move. The waves rolled in rapid succession, and the whole boat would move with them. We rose and fell, and swayed from side the side.
The wind picked up and caught the sails, tipping us in one direction, as the waves splashed up onboard. With each barrelling wave, we would be splashed from the same direction.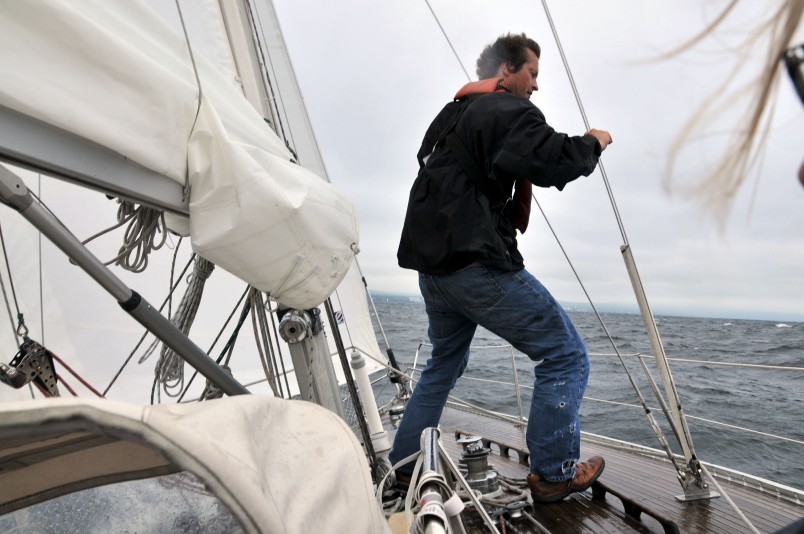 Then, we decided to change directions. Greg switched the boon, we ducked, and I happened to let go of what I was holding on to. Bad idea.
Suddenly we hit one of the biggest waves yet, and I was sitting free hand leaning in the direction of the tip. I lurched forward, with nothing to hold on to, and I was sure that I was going to go flying into the choppy waters. Luckily, Karin grabbed me around the waist, and managed to keep me in my spot.
This probably happened a few more times, because I kept getting distracted in my excitement, and forgot to hold on tight. I slid around in my seat, and had to hold myself up by my feet. At some points we tipped so far to one side, that I felt like I was literally standing on the vertical side of the seating area.
Enormous waves crashed up onto the side of the boat and spilled over onto the deck. With each wave, we received anything from a small splash of water, to a full soaking of what felt like the entire lake.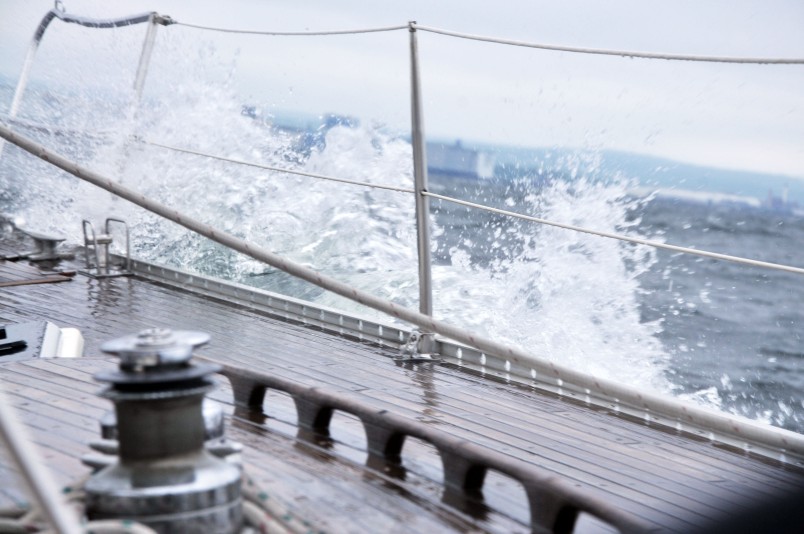 We lurched from front to back, and swung from side to side. I was completely soaked part way through, and eventually I didn't even care anymore. I was high from the adrenaline, and craved bigger and bigger waves.
I gripped onto the side, and leaned forward hoping for more. The wind whipped in my face, and I smiled as more waves crashed onto the boat.
It ended up being so much more than I expected, and I would totally do it again. I think I now have a new standard in sailing, in that I will only ever sail on choppy waters again. I love a good adventure, and this was definitely just that.
Sailing tours with Sail Superior are only $49 per person, and you will enjoy an hour and a half sailing around the waterfront area of Thunder Bay. I highly recommend it.