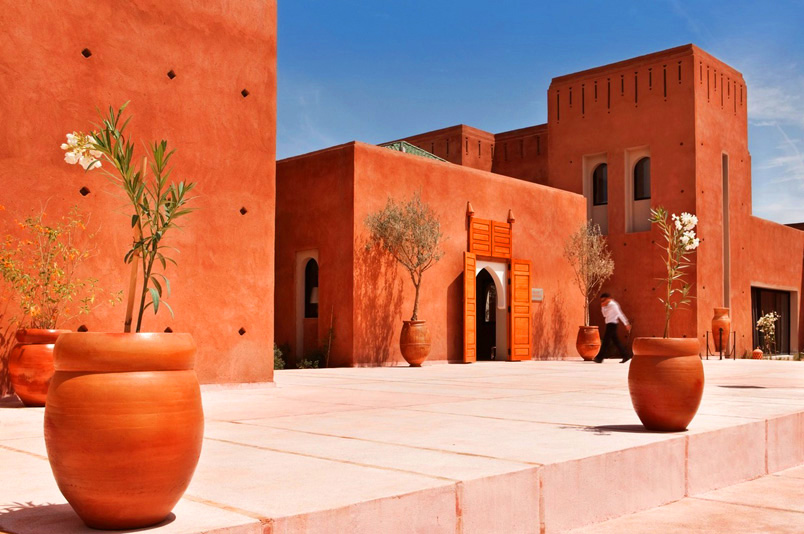 After ten days of full day bus rides and the constant movement of exploring Morocco, I was absolutely exhausted and looking to relax.
I had three requirements for my desired accommodation; it needed to be in Marrakesh, it needed to have delicious food, and it needed to have the most comfortable bed in the entire country.
No big deal, right? With my stipulations made, I discovered the Sentido Kenzi Club Agdal Medina.
First impressions count, and the Kenzi Club knocked me off my tired little feet. The staff greeted me in such a friendly manner that I couldn't help but be in a good mood. I could hardly keep my eyes open, and yet I wanted to sit and drink tea with them all afternoon.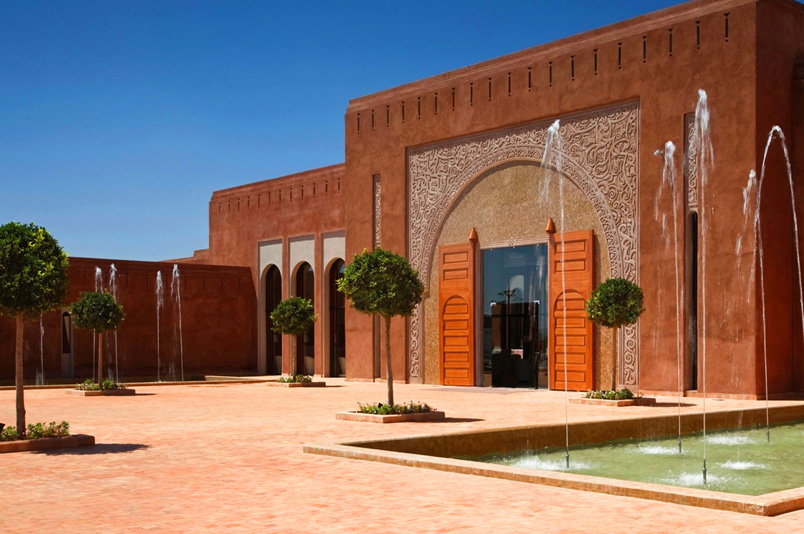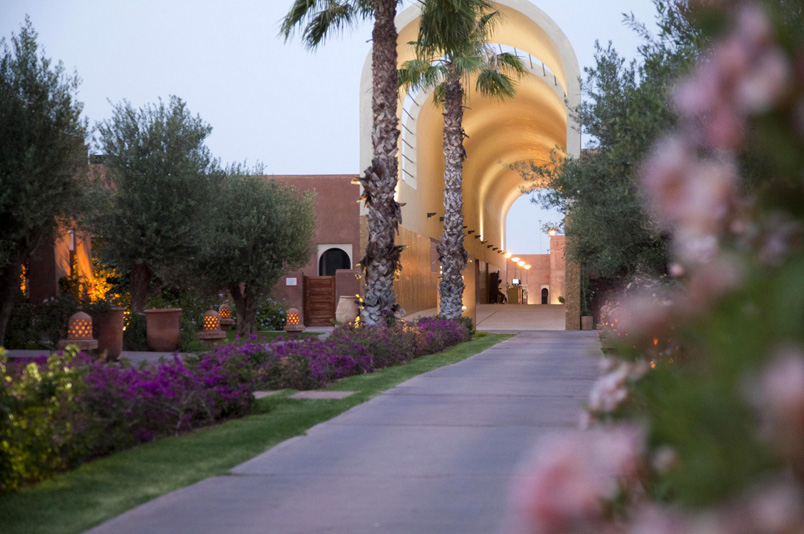 After a quick ride to my Riad (one of nine), via golf cart, I opened the door to my beautiful Moroccan-style dwelling. The entrance was arched in a traditional Moorish design, with the floral-scented bathroom to the left and a secondary arch leading into the main room.
The room was large with high ceilings and a back wall made entirely of glass, leading out to a personal garden. The curtains drew closed for privacy and a wide cushioned bench rested in front of the door.
The room oozed with elegance. From the dark mahogany furniture to the modern art framed on the walls, everything was designed with class. Even the design on the floor spoke of luxury.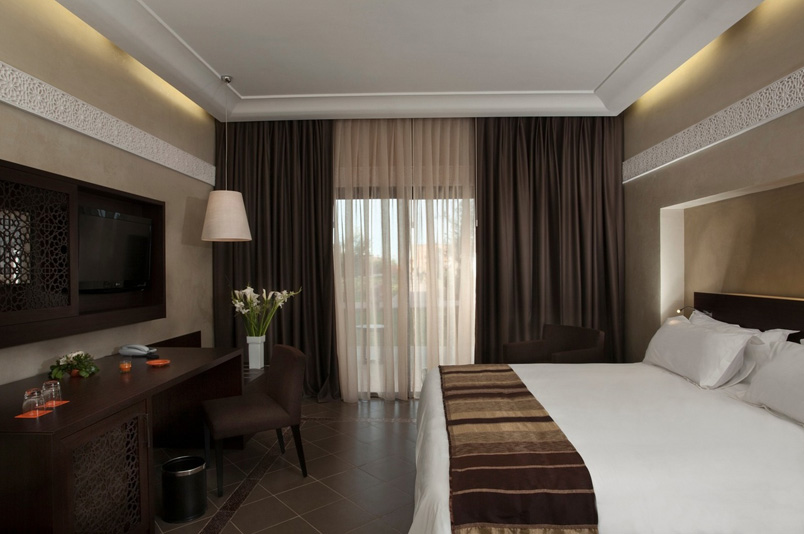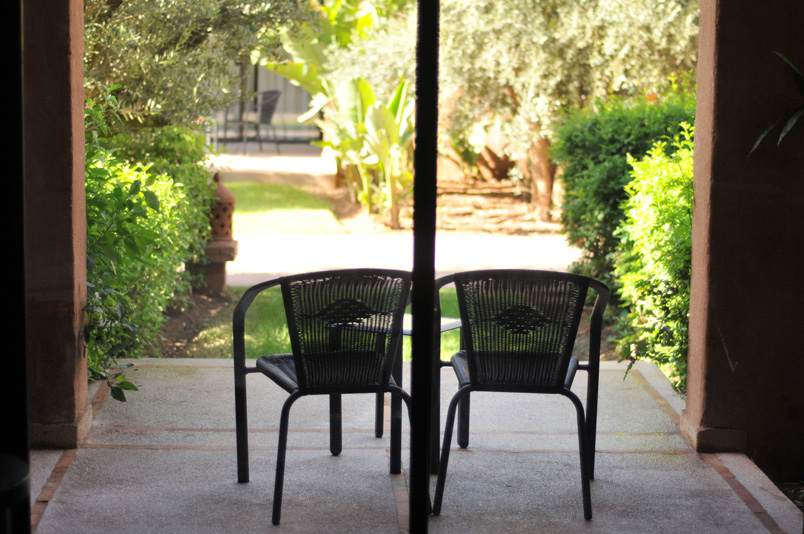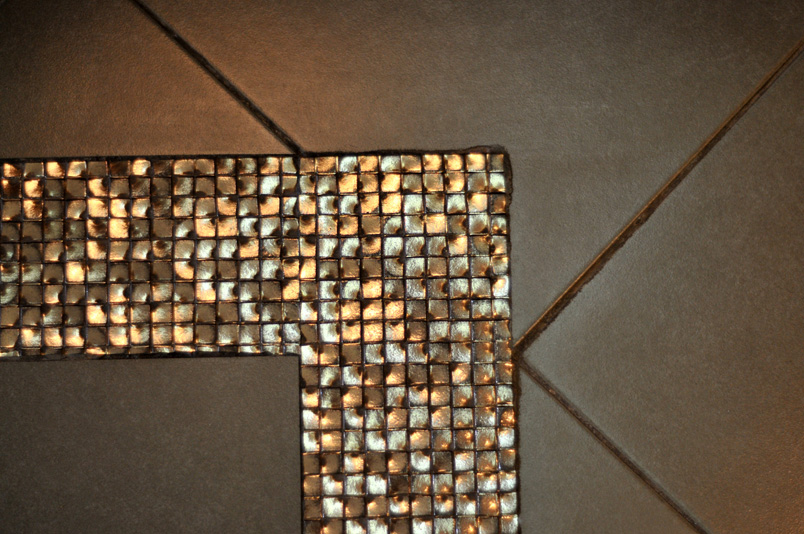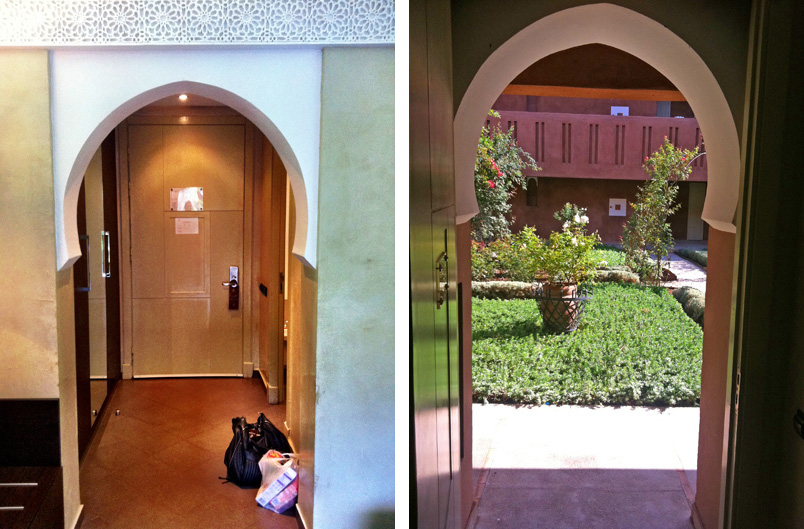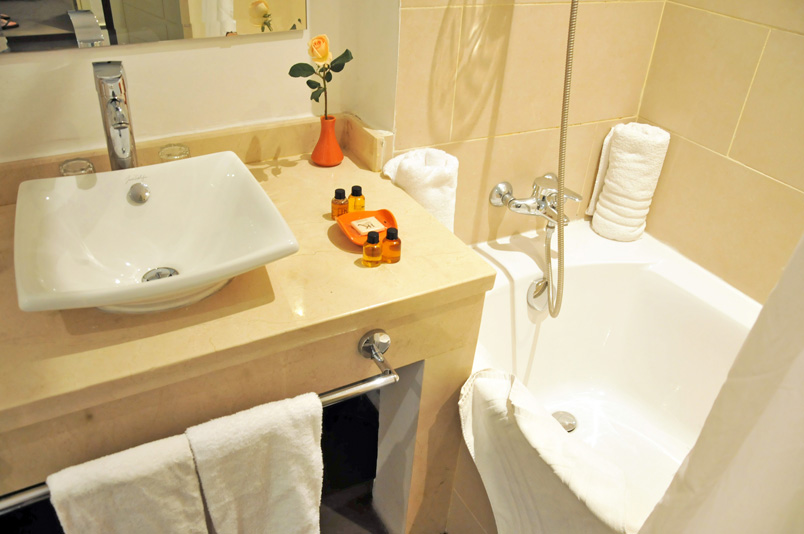 Before I could even begin to unpack, there was a knock at the door and the delivery of a gorgeous basket of fruit and plate of typical Moroccan desserts from the front desk. It really showed how much effort they put into making each guest feel at home.
It was time to test out the most important stipulation; would it be the most comfortable bed in all of Morocco? I stood in front of the bed, facing away from it. Kicking my feet off the floor and launching myself backward and landing on my back in the centre of the bed.
Conclusion: it most certainly was the most comfortable bed in all of Morocco. At least the most comfortable bed out of the six other beds that I had slept in during my trip around the country. It was slumber heaven.
Rose-petal-adorned-slumber-heaven.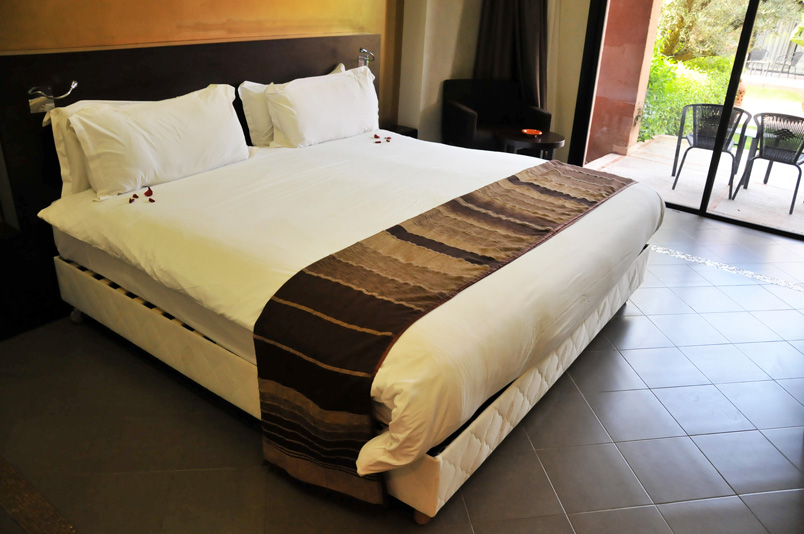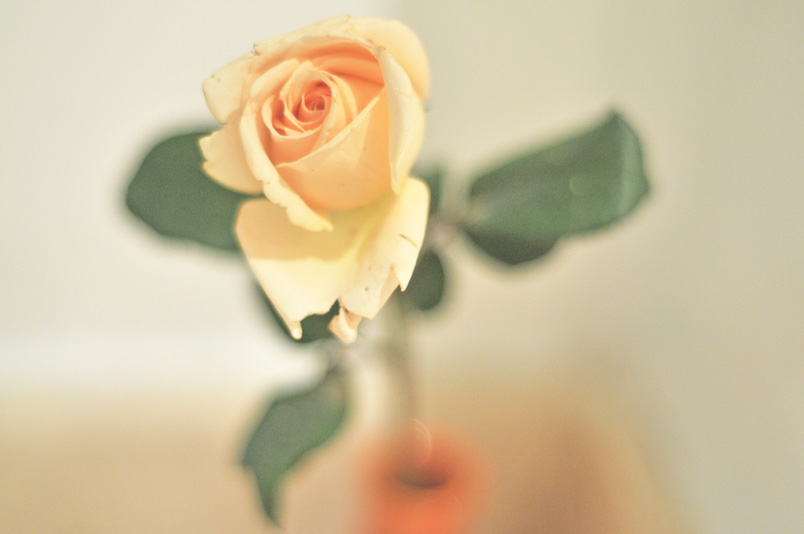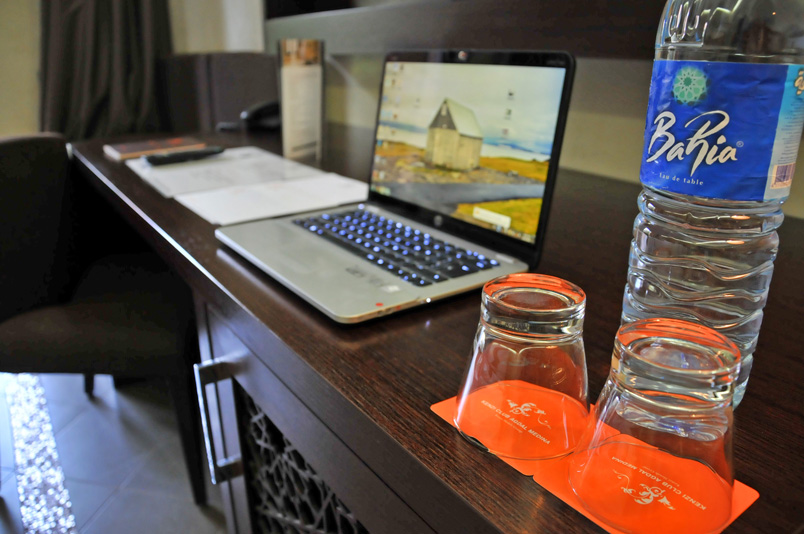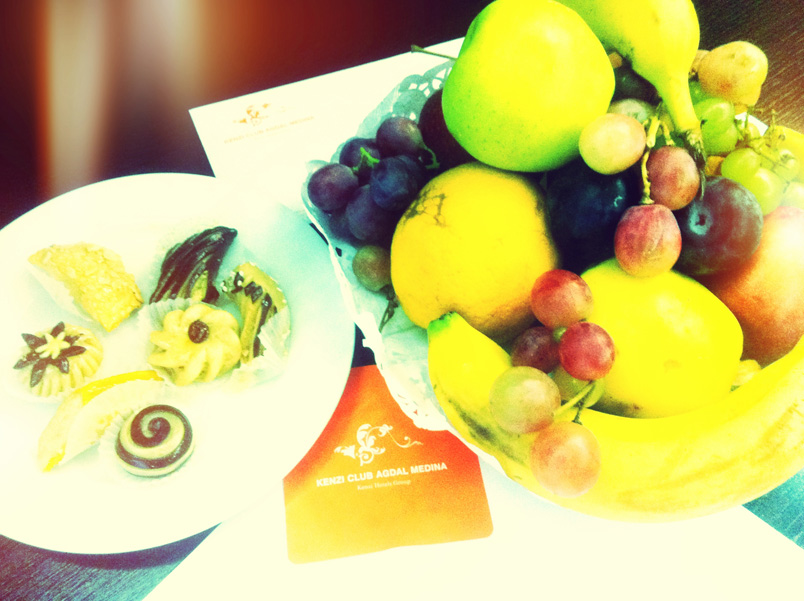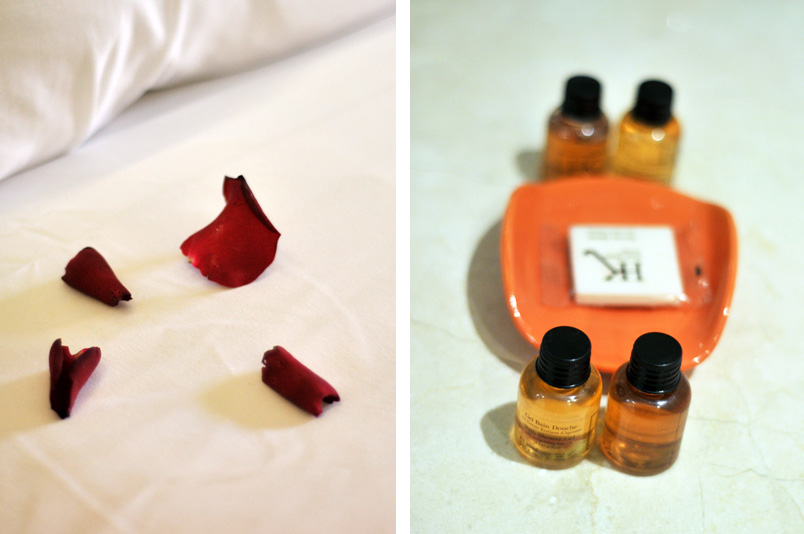 It didn't come as a surprise that I decided to shut out the world and spend the rest of the day in bed (with wifi, yay!), called it an early night and didn't manage to leave my room until the next day. Which also means that I still hadn't tested out my final stipulation; delicious food.
My stomach rumbled as I made my way to breakfast, not really sure of what to expect. As I entered the dining hall, my eyes nearly jumped out of their sockets and I could barely contain myself from literally running toward the food. It looked so good and smelled even better.
Each meal ended up being even better than the last. Just as I thought that they couldn't produce and even more mouth-watering dish, they proved me wrong. Everything was arranged in a series of buffet-style tables and cooking stations with more options than I could even count.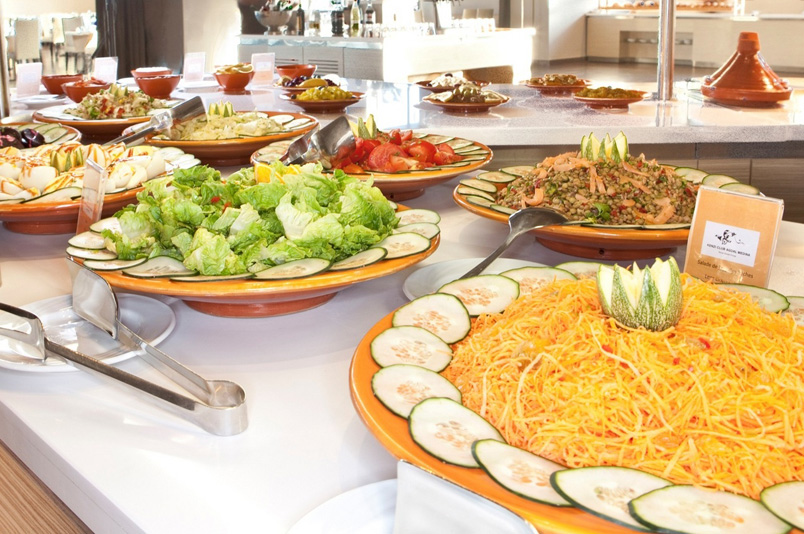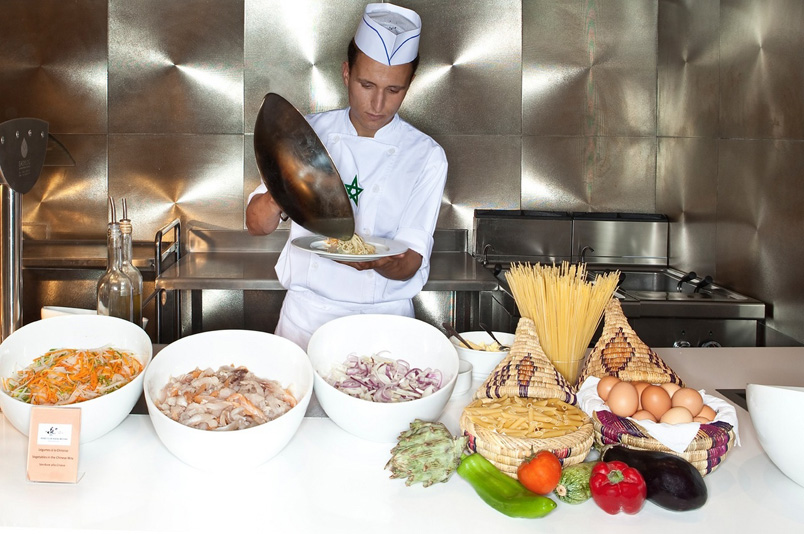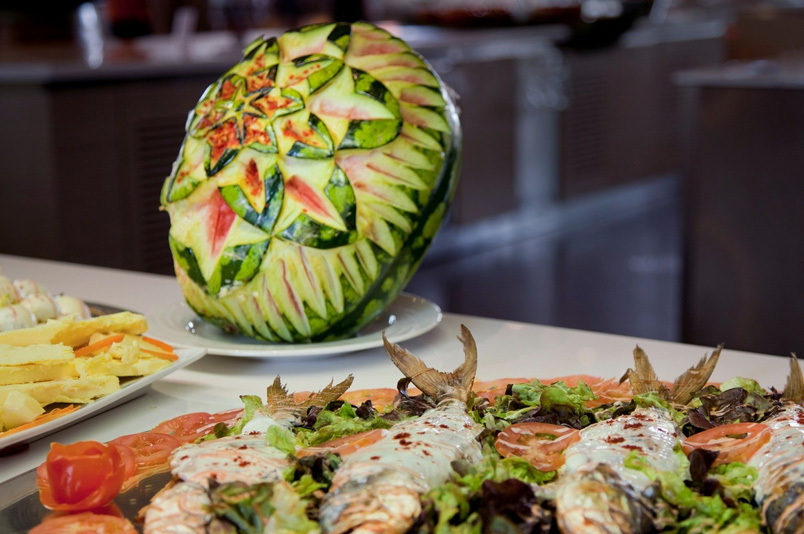 There are parts of the buffet that I never even saw because it was just so large and my plate always filled up before I made it there. Even after seconds and thirds, I never got to taste everything. From appetizers to main courses and desserts to drinks, I was scrumptiously satisfied with every meal.
My breakfasts consisted of steaming omelettes, bread, fried potatoes, fresh fruit along with a cold drink and hot tea. Lunches were often a hot Moroccan vegetable soup with rolls, cous-cous or rice with a crisp salad. My dinner plates usually held a large pile of pasta and french fries, matched with something green to make me feel less guilty about the carbs.
Needless to say, I spent a lot of time in the dining hall and likely put on a couple of pounds before I left. The Kenzi Club defintiely exceeded my expectations in the food department.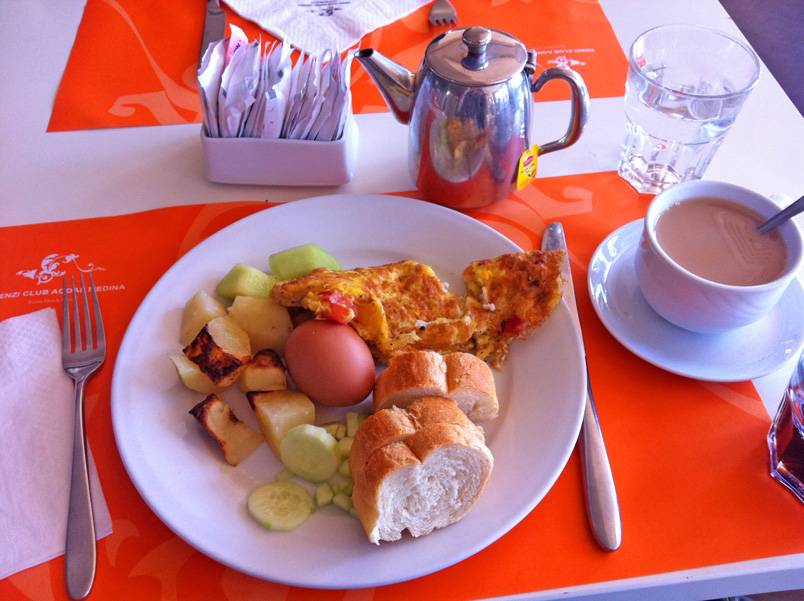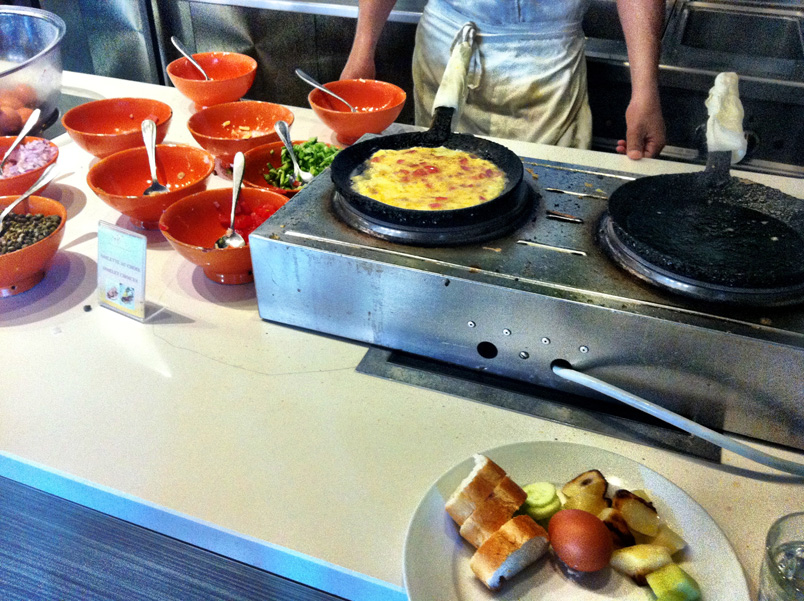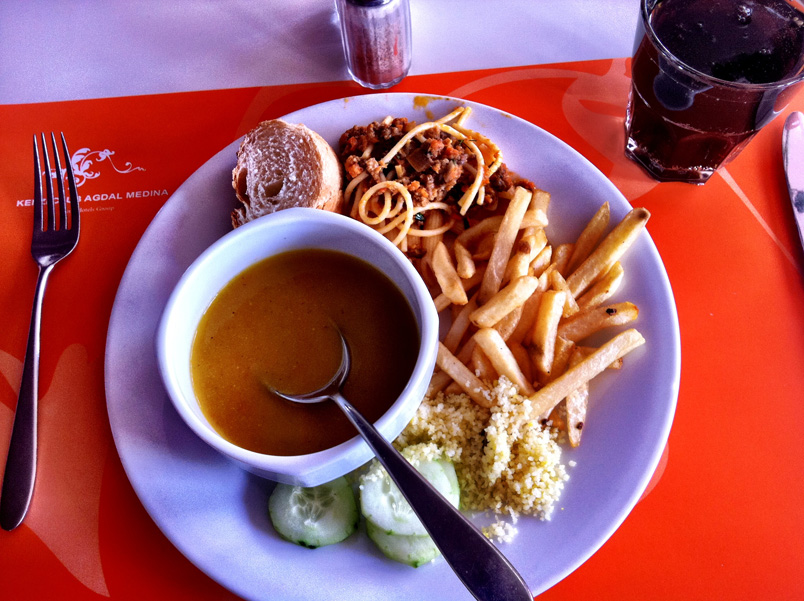 Another place that I set up camp was the pool-side cabanas. I decided to turn one into my office and do my work, while I drank fruity mixes and hid from the hot African sun.
Each day, I told myself that I would work as long as my laptop battery held out, and then I would be allowed to explore more of the hotel grounds.
Unfortunately, I develop a distraction problem when booze, snow-capped mountain views and turquoise-blue pool water is involved. I didn't get much work done.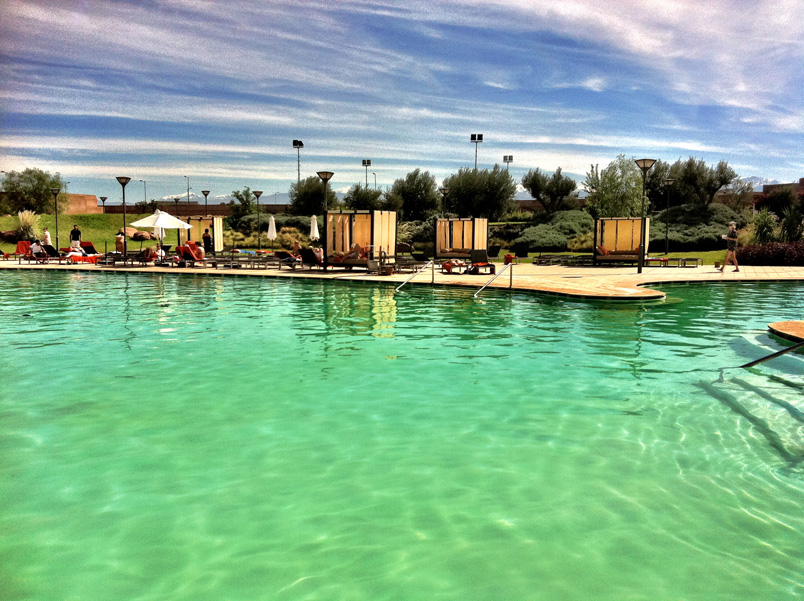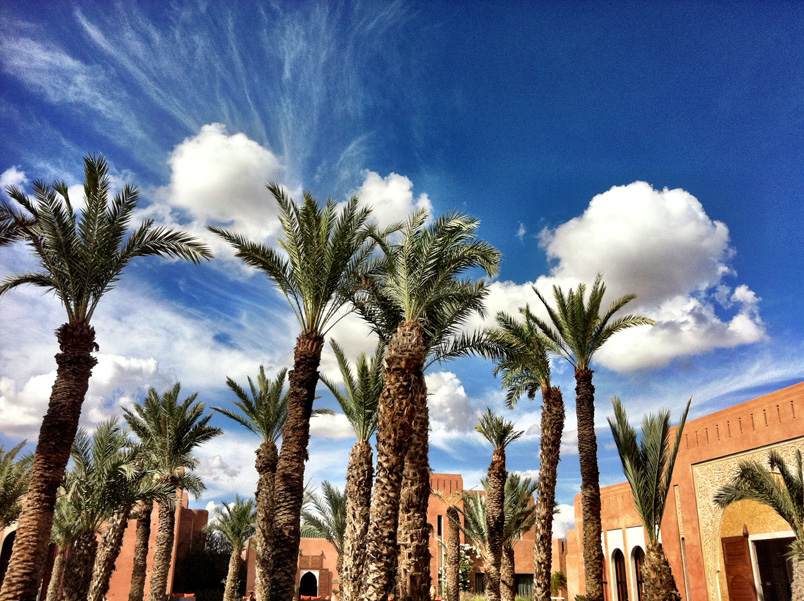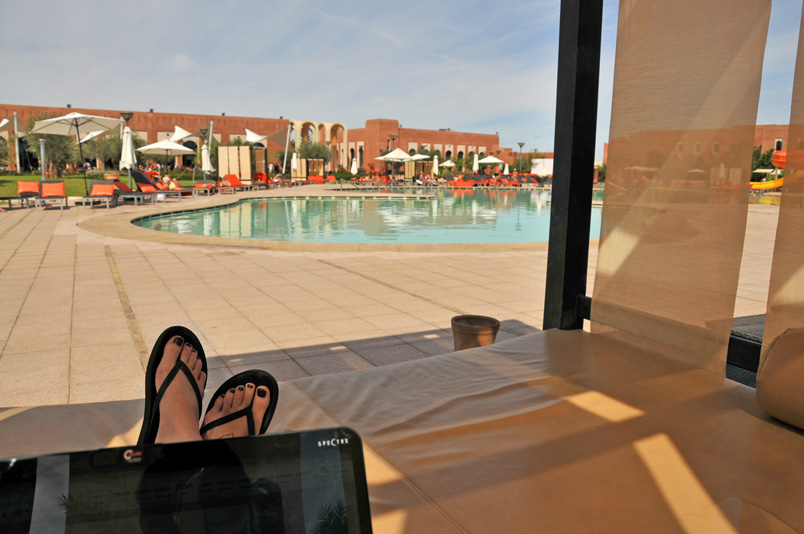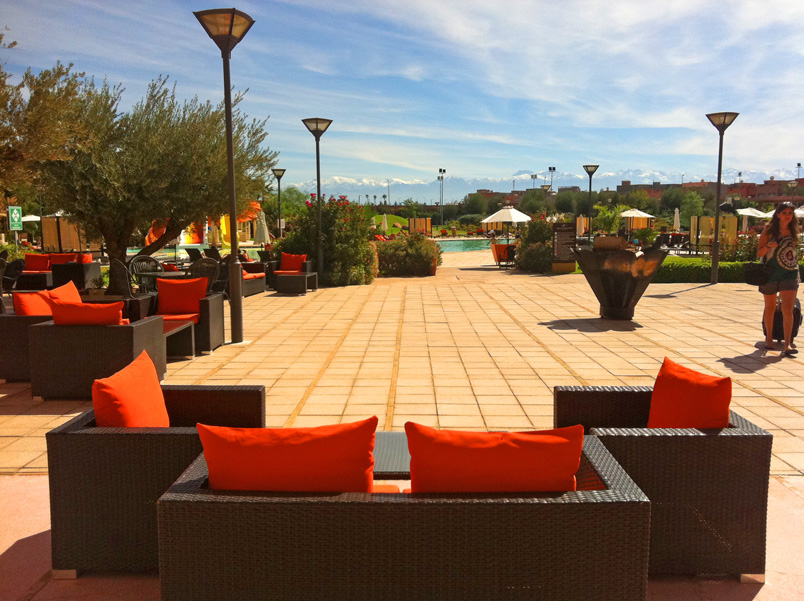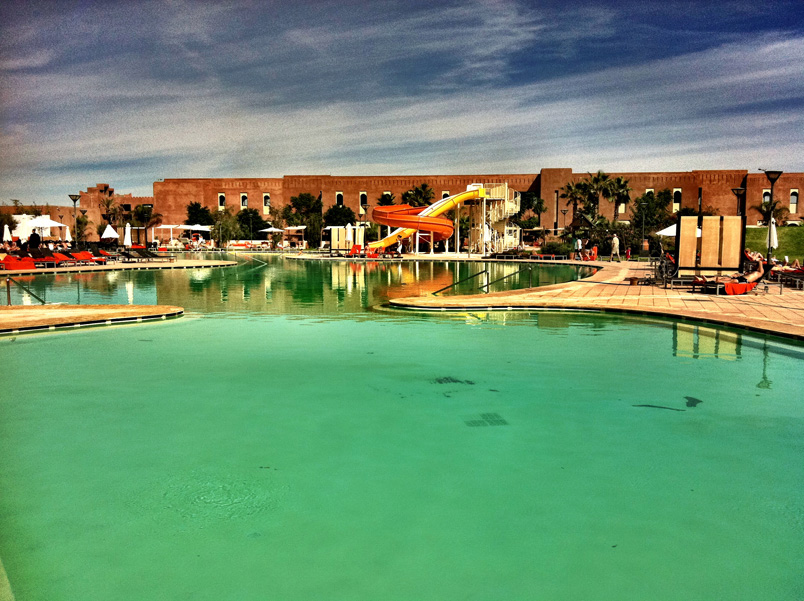 There is so much more to the Kenzi Club than I even got to see for myself–ten hectors worth of grounds to see, all nestled among the silver olive groves overlooking the breath-taking Atlas Mountains.
If I weren't so busy relaxing, I might have made my way to the O-spa, the other pool areas, the bars and various restaurants (aside from my beloved buffet), the boutique shops, theatre, conference rooms, sports centres and fitness room, or the archery area.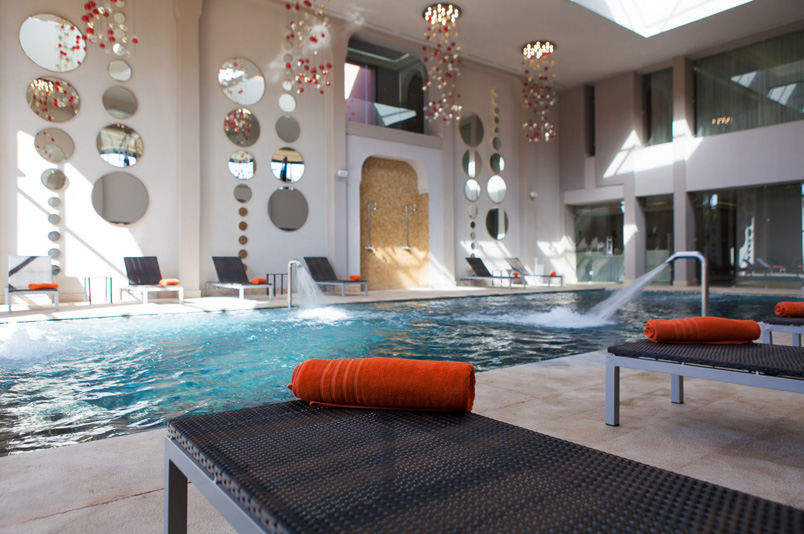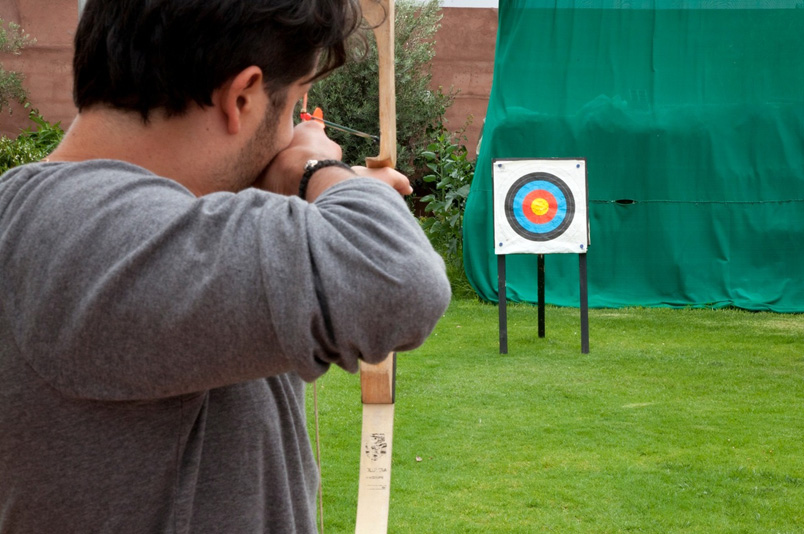 The rest of my stay was much the same. Luxuriously late mornings, phenomenally over-indulgent meals and ultimately relaxing days spent by the pool "working".
The Kenzi Club was my first taste of the all-inclusive lifestyle, with a twist, and I loved every minute of it. I was actually sad to leave, and will definitely stay there again next time I find myself in Marrakech.
—

Thanks to Sentido for having me as a guest.
All Thoughts and opinions are my own.