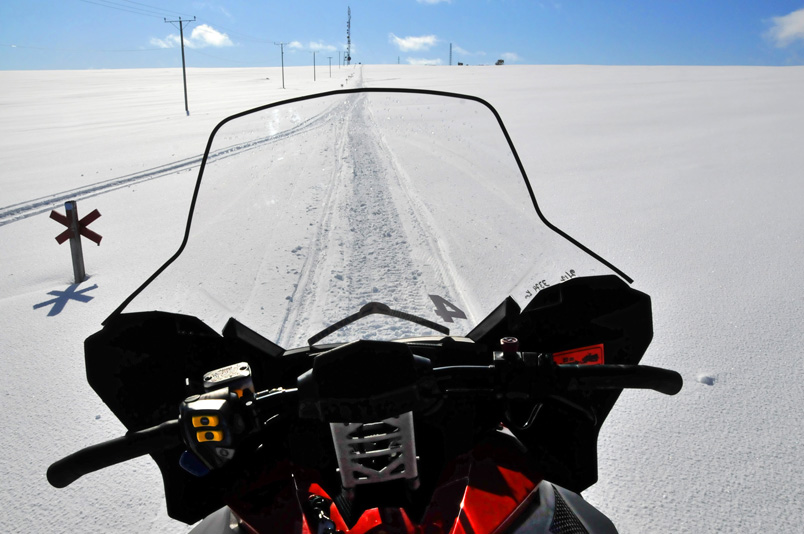 I recently went quad biking in sand dunes, which I went absolutely crazy over. I loved every minute of it, and didn't think that I would ever find anything quite like it. Until today.
Imagine quading, but driving over slippery, icy snow, on a machine that doesn't really care which way you tell it to go. You want to go straight? It will jerk in the opposite direction of the path, and toss you around while it's at it.
Snowmobiling in Saariselkä was definitely the most fun I had in Finland, and possibly even one of the best times I've ever had on my travels. It was exhilarating and, at times, heart-stopping; plus it was definitely the best way to get a real feel for Finnish Lapland.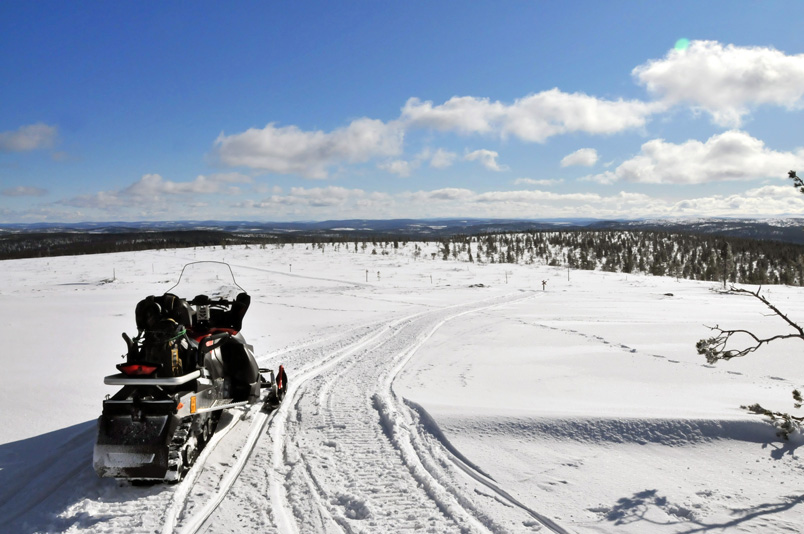 I was able to handle the ride, quite well. But, there were times that I actually thought I was going to go flying into a pile of snow. If I took a turn too sharply, the snowmobile would take that as a sign that I wanted to go for a dip, and swing me out to the opposite side.
On top of this, the snow is never smooth. The trails have been used by other drivers, as well as animals and people. The weather works against you, by creating stretches of what can only be described as continuous speed bumps made of snow, that toss you into the air with each rise. But, I can only tell you one thing… it's awesome.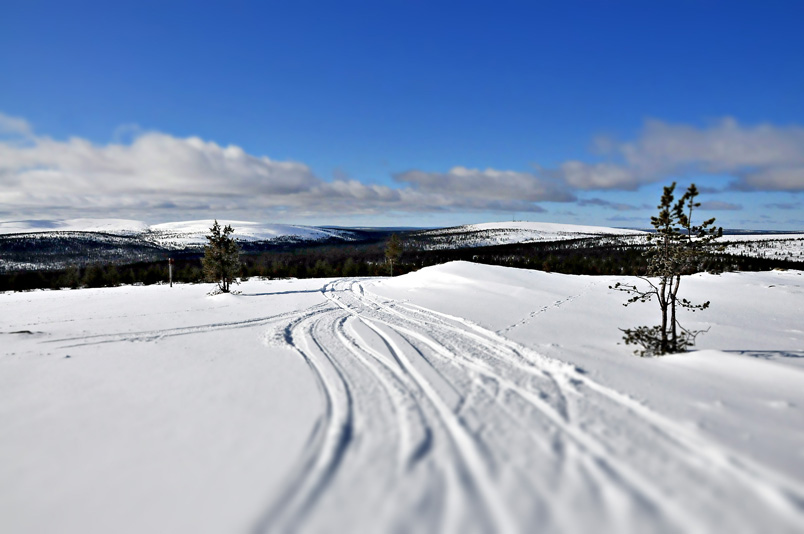 Being Canadian, I've gone snowmobiling before, but never to this extent. I'm pretty sure that I've found my newest passion, and will be seeking out every opportunity possible, next winter.
However, I doubt I'll ever get the same thrill driving in Canada, as I did here in Lapland. The landscape is completely different, and it just gives off the feeling of the unknown.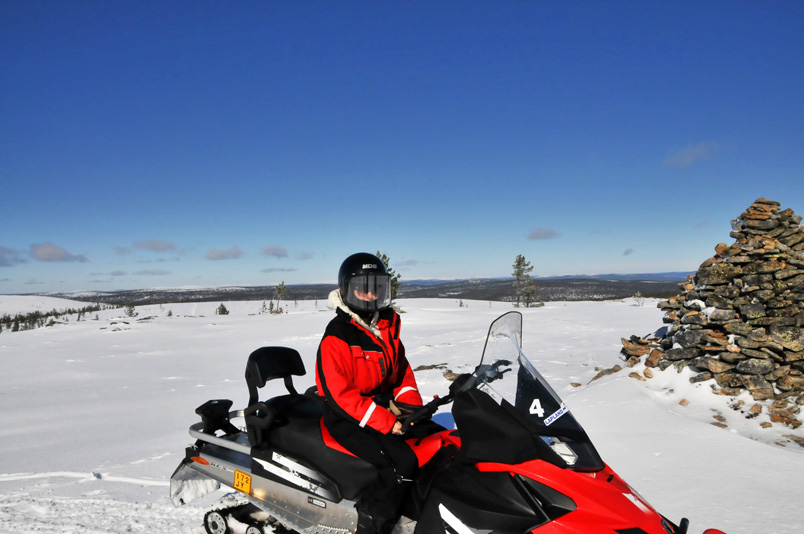 I soon became addicted to the bumps and turns, and only wanted more. I would aim the nose at anything with elevation while simultaneously gripping the acceleration as hard as it would go.
On stretches of straight trail, I would hold it down until the very last minute, testing to see how fast I could really go. I was able to reach speeds of 80 km/hr, before having to decrease speed for the next turn. I'm pretty sure if anyone could have seen my face, they would have thought I was crazy, because I was laughing the whole time.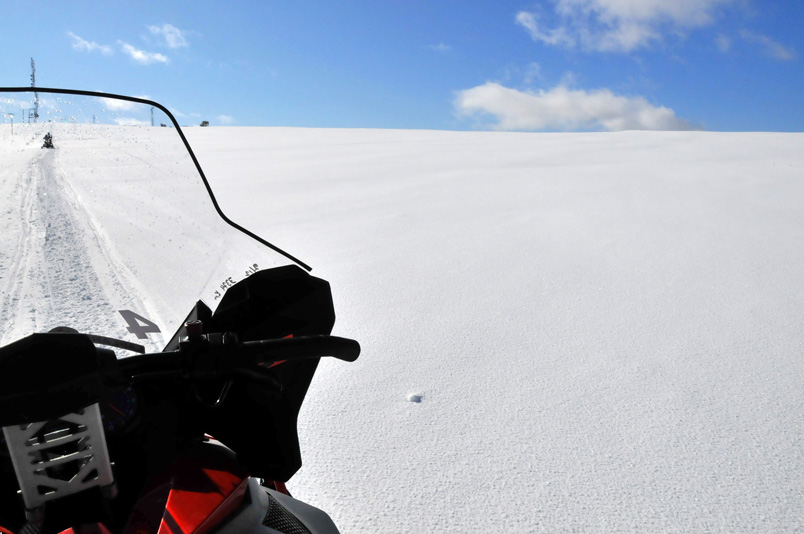 There seems to be a network of snowmobile trails all throughout the woods, as if they were highways and roads. They have stop signs and trail barriers, as well as turning lanes and ditches.
there are even special rope doorways to keep the reindeer out of certain areas. It's like a secret world of transportation that you would really never know about until you got on a snowmobile.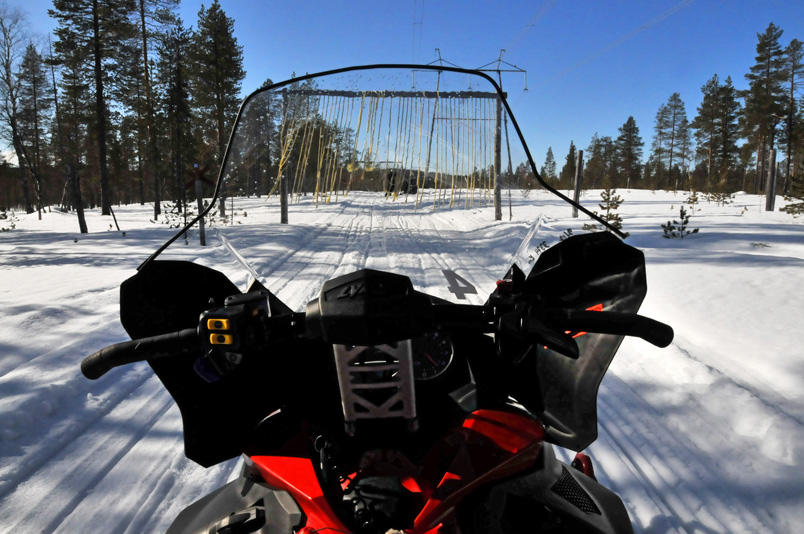 With these sorts of tours, I usually face the urge to overtake whoever is driving in front of me (that usually being my guide). I was initially feeling this on the drive, until my guide realized that I was able to keep up with him quite well.
One thing that I love about the Finns, is that they are not going to baby you, if you don't need it. He started to pick up speed.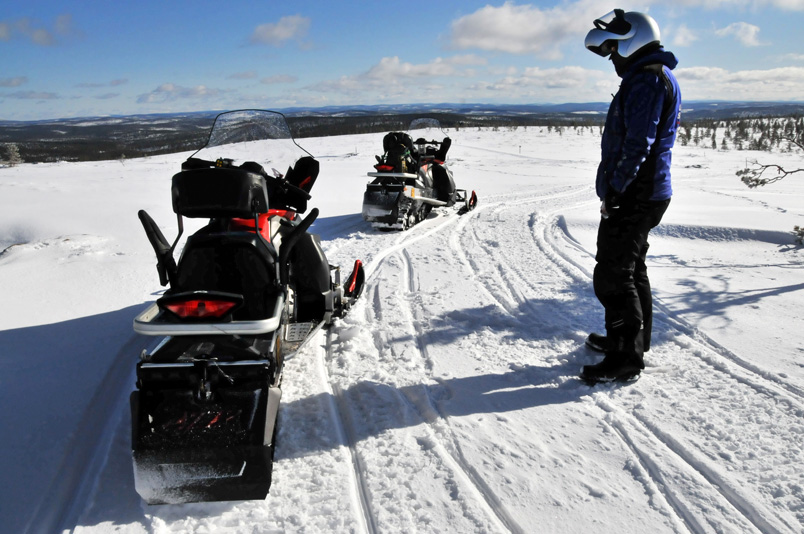 After about an hour of driving, we came to a point on the top of a shallow mountain, and climbed a tall wooden lookout tower. My guide pointed to a snowy spot in front of us, and said, "that is Russia".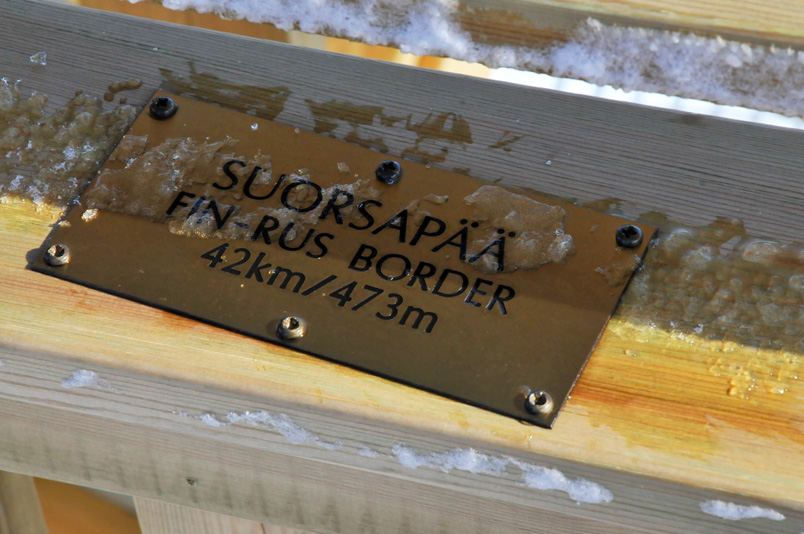 I was a bit taken aback, but soon became excited. As a traveler, I love borders, and get intrigued by the thought of a whole new country being within view of my very eyes. When he turned in the opposite direction and said, "Oh, and Norway is that way," my eyes almost popped out of my head.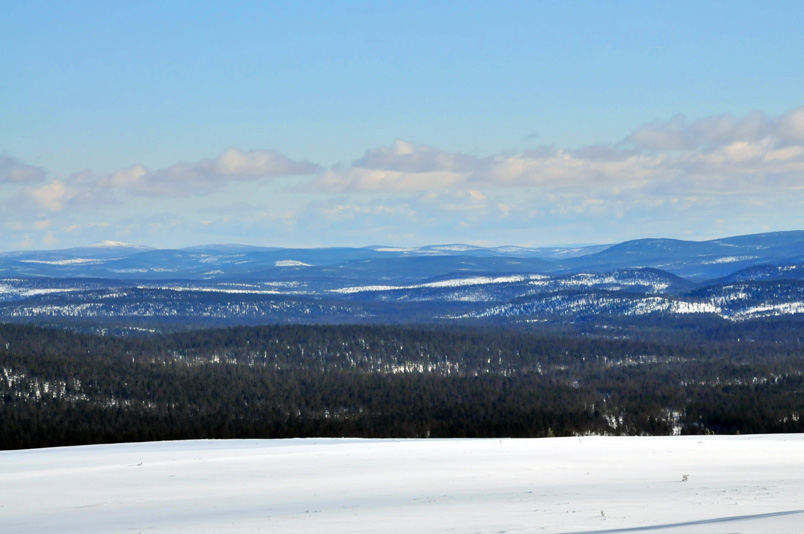 We continued to drive through the trails for another hour; taking different turns and hills. We passed a frozen lake that hosted a team of huskies, and even ran into (not physically!) some reindeer. They were quietly grazing on the greens beneath the snow, and didn't even seem to notice our presence.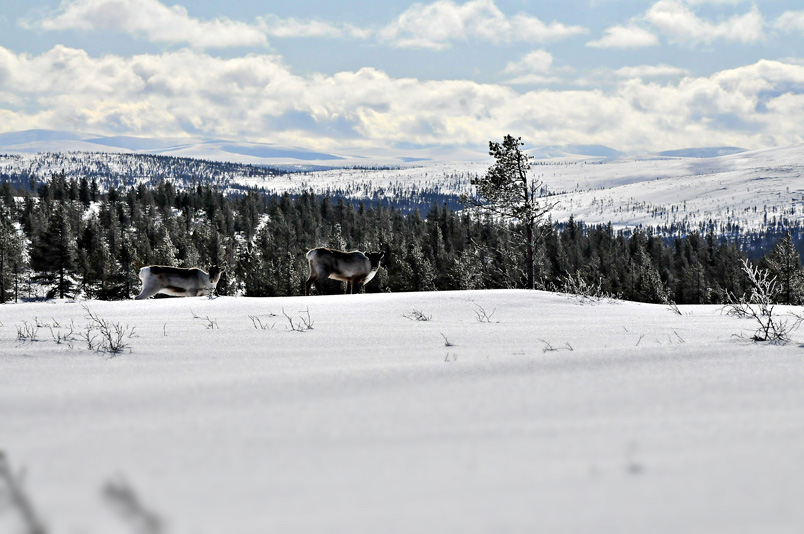 By the end of the tour my arms were a bit sore from gripping the handles, but I could have stayed on those trails for another two hours. We pulled into the parking lot and I hopped off the snowmobile, still excited from the drive. I told my guide that I officially needed my own snowmobile, and he laughed.
I will go snowmobiling in Finland again, if it's the last thing I do!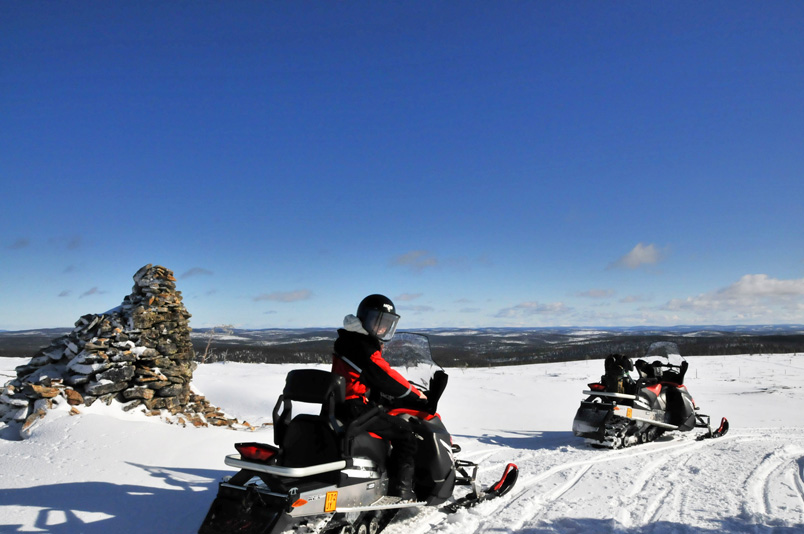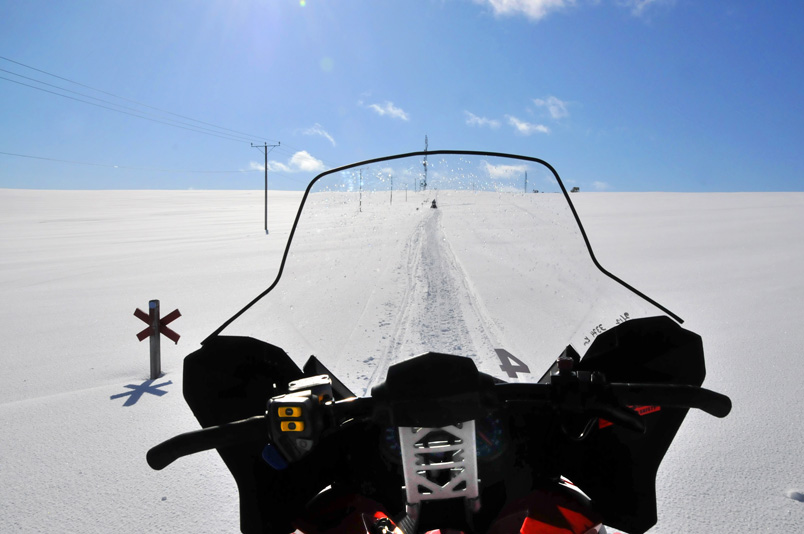 — 

This trip was made possible by Visit Finland.
All thoughts and opinions are my own.