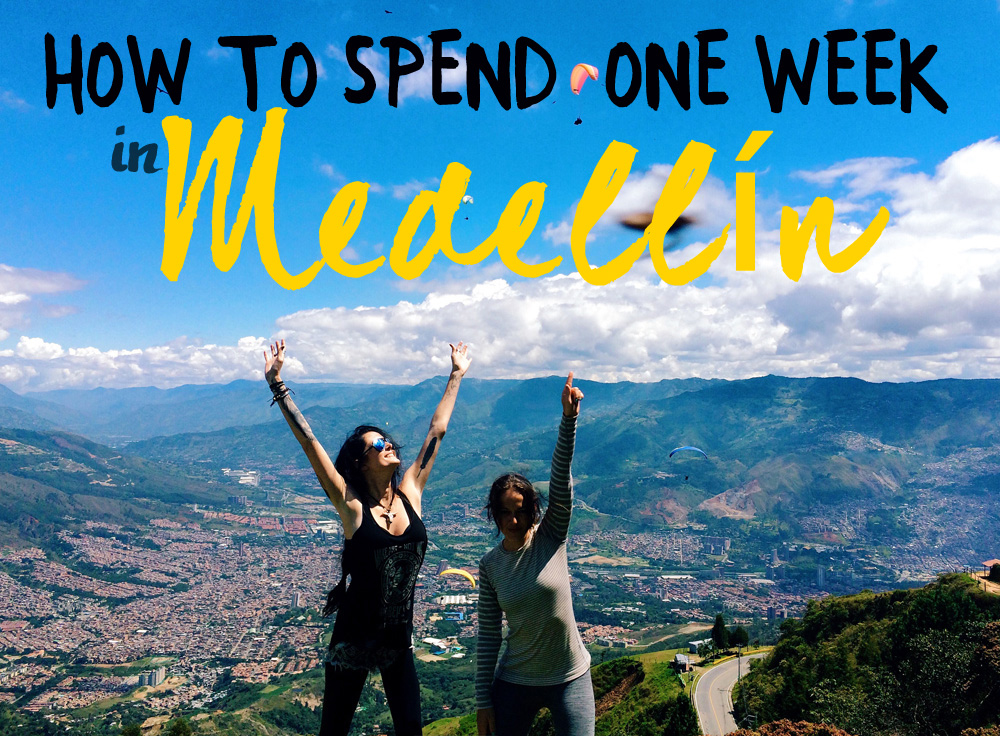 Medellin is Colombia's second largest city, located in the central north-western region of the country, deep within the Andes Mountains. Somewhere between the towering skyscrapers along the narrow valley floor and the house-layered mountainsides that disappeared in the clouds, it felt like the largest city I had ever been in. With a population of only 3.7 million in the metro area, it hardly compares to booming Bogota, but the layout gives it a false magnitude.
Most foreigners know Medellin for who locals refer to as "the famous criminal" (for fear of saying his name out loud in the street) the notorious and wealthy Colombian drug lord, Pablo Escobar. While Escobar certainly gives an interesting history to the city, Medellin is about so much more.
Medellin is a city of rebirth and strong innovation, put back together by those that are so proud to live there and wish to share their home with the rest of the world. While the streets of El Centro may have been a wasteland of crime and corruption ten or more years ago, it now boasts a inspiring resurrection suitable only to the Paisa people.
If you find yourself in Colombia second guessing whether or not you should add Medellin to the itinerary, let me do you a favour. Do it. You will thank yourself (and me) later, and find yourself calling Medellin one of your new favourite cities.
When to Go
While Medellin is situated quite near the equator, its altitude of 5,000 ft (1,500 m) above sea level makes it much cooler than other cities at its same proximity. Because of this, is can get unexpectedly chilly during winter months and rainy season, and even more shocking if you're travelling down from hot & humid Cartagena.
The dry season runs approximately from December to February, and this is the best time of the year to visit. The time of year that may give the best value for your money is November. The weather can be unpredictable at the end of the rainy season, but there are far less tourists in the city at the time and travel prices plummet.
What to Do
Take a Free Walking Tour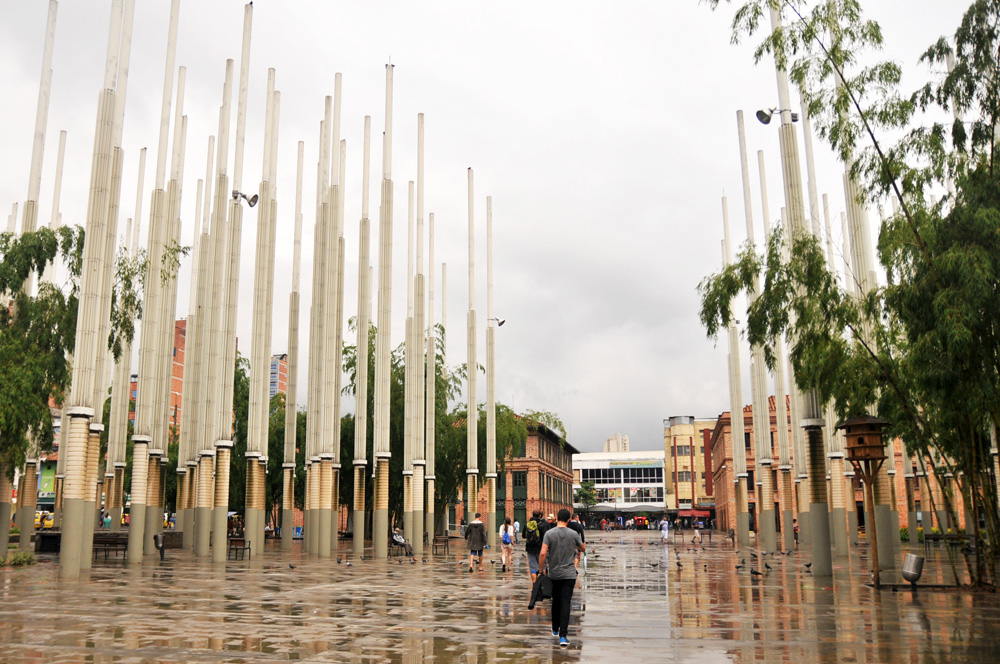 There are several city tours to choose from in Medellin, but few better than the Real City Tours free walking tour. At the price of whatever you feel like tipping  your guide, you will spend four hours exploring parts of the city that you had never even heard of. The tour will take you around El Centro (Medellin's downtown); exploring the historic districts, traditional parks, shopping streets, squares and streets of the city.
My guide caught word of my birthday on our tour and personally bought me a slice of local cake before having the entire group sing happy birthday to me. It's guides like that, that make a great tour.
Go Paragliding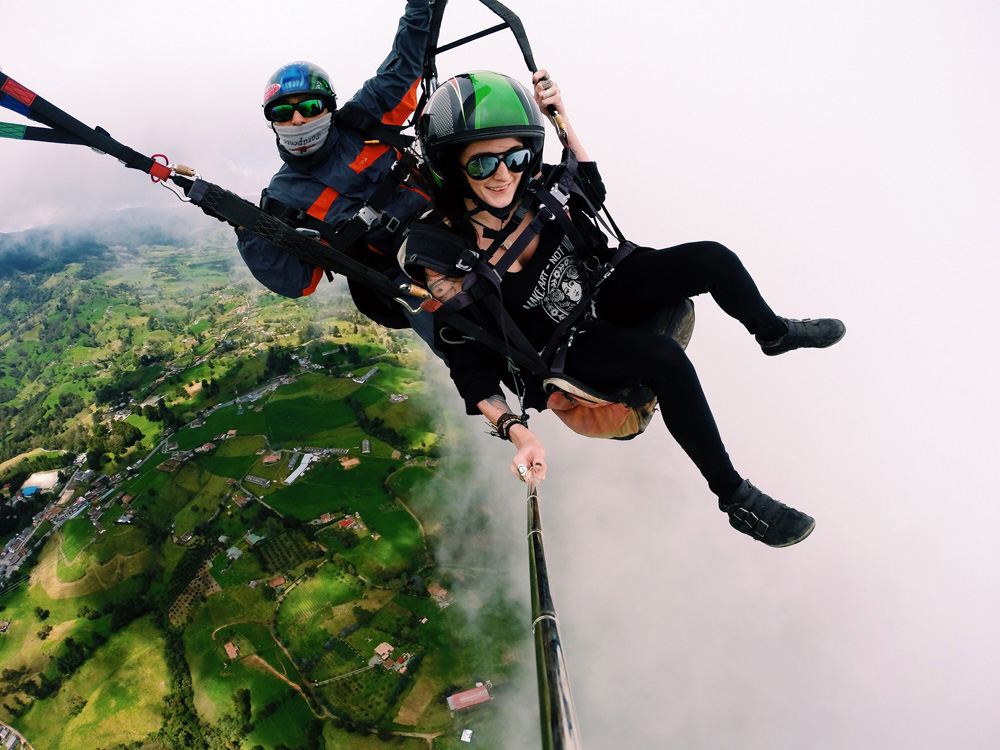 Paragliding was easily my favourite activity in Medellin. It wasn't my first time doing the activity, but it wouldn't have mattered if it was my thirtieth time. The surrounding hillsides and incredible landscape views mixed with the strong valley thermals and sense of the unknown made it my favourite paragliding experience.
Admittedly, the idea of strapping myself onto a man that I could barely communicate with, on some random mountain slope before running off the side of a cliff within mere moments of arriving was all quite unsettling. But, it was this sense of the unknown that thrilled me in every way. The cherry was added to the proverbial cake at 8,000 ft when my pilot flew us through a cloud. Literally. For a minute I could see nothing but whiteness all around me. The strings of the chute lead to nowhere, and at times, the end of my GoPro pole faded in the density. I had flashbacks of watching Jurassic Park when the pterodactyls emerged from the mist, and thought that another glider was going to collide with us.
You can choose your own time to depart, but it is best to leave between 7-9am in order to catch the morning thermals before the winds die down. The taxi ride is approximately 40 minutes each way, and you should be back in the city by noon. I booked my glide with AeroClub by showing up at Casa Kiwi Hostel by 8am, where they arranged it and called the designated taxi for 9am.
Shopping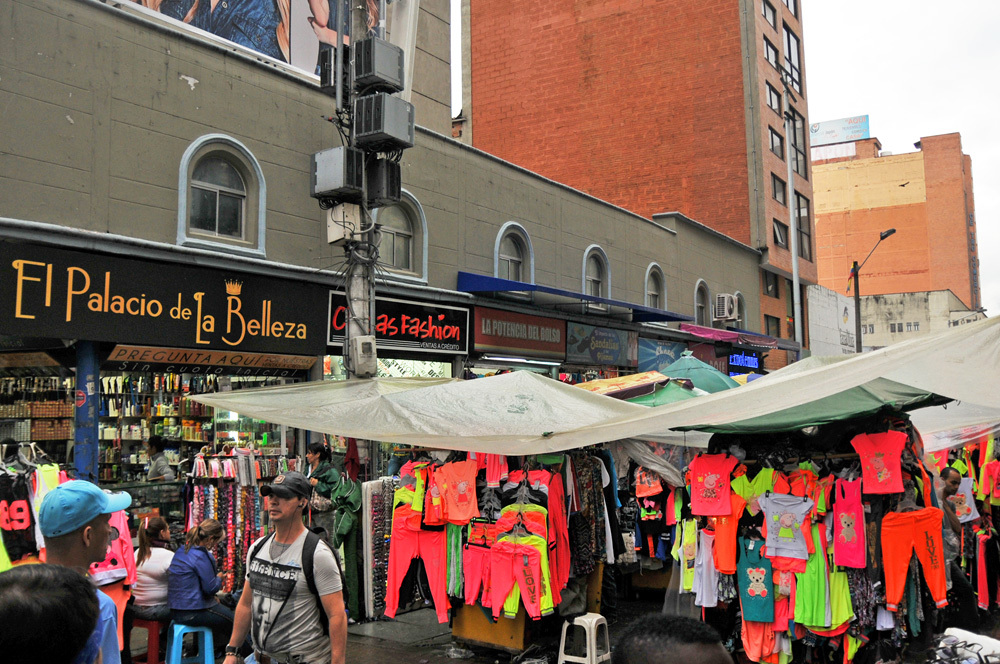 There are plenty of malls in Medellin, but you probably aren't heading half way around the world to hit up American Eagle. The real shopping action takes place in the pedestrian streets of El Centro, specifically along Carabobo and Pichincha, a pedestrian only street where clothing, souvenir and food stalls line the side walks and shoppers fight elbow to elbow for the best deals. Locals call it the realest fake shopping in the city, with great prices on Ray Rans and Charnel. Additionally, head to Plaza Minorista José María Villa for a huge undercover market.
Explore Hillside Neighbourhoods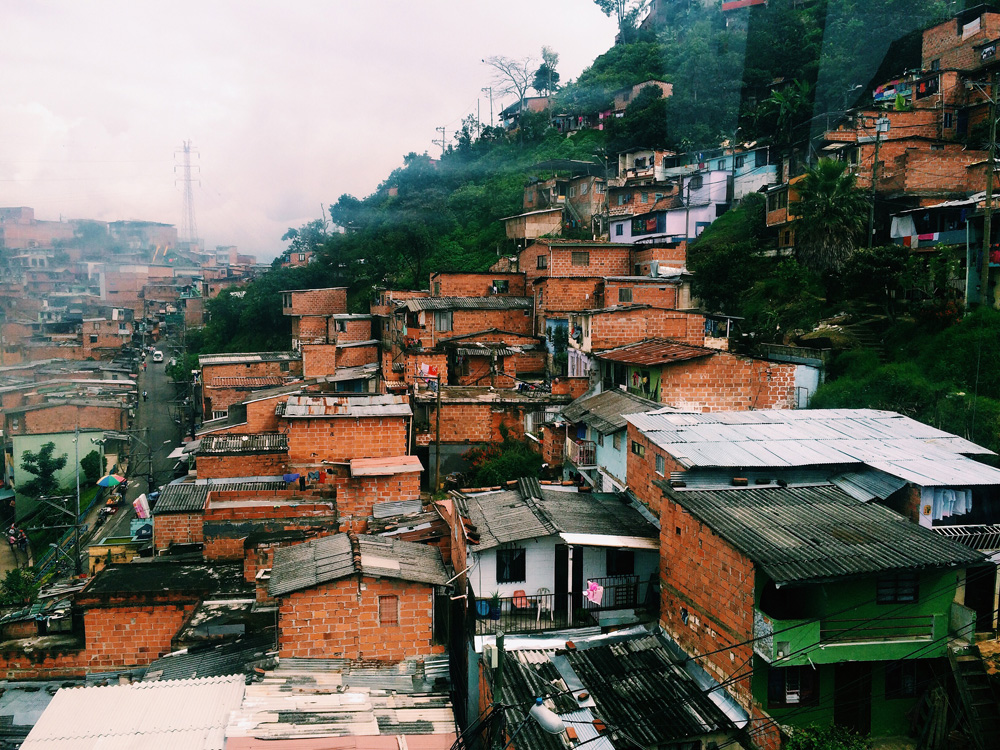 Most of Medellin sits on a hill, it is a city between two large sets of mountains. The main downtown core and other popular neighbourhoods tend to be those on even ground in the middle of the city, but there are so many other areas to explore on the slopes. You can't help but notice the building block style architecture of homes that work their way up the incline, with signature brown cinder bricks and stained tin roofs, stacked impossibly one on top of the other. The spread seems daunting, but once inside, you will see just how unique every street is and finally see the real Medellin.
We happened upon one of these neighbourhoods by accident when the metro cable was shut down due to weather (it was raining). With an unknown amount of time to kill, we cautiously wandered into the tiny winding streets near Santo Domingo station, unsure of what to expect. The hills were shockingly steep, but the local hole in the wall restaurants smelled great and people were super friendly, waving hello and asking where we were from.
Day Trips
Parque Arví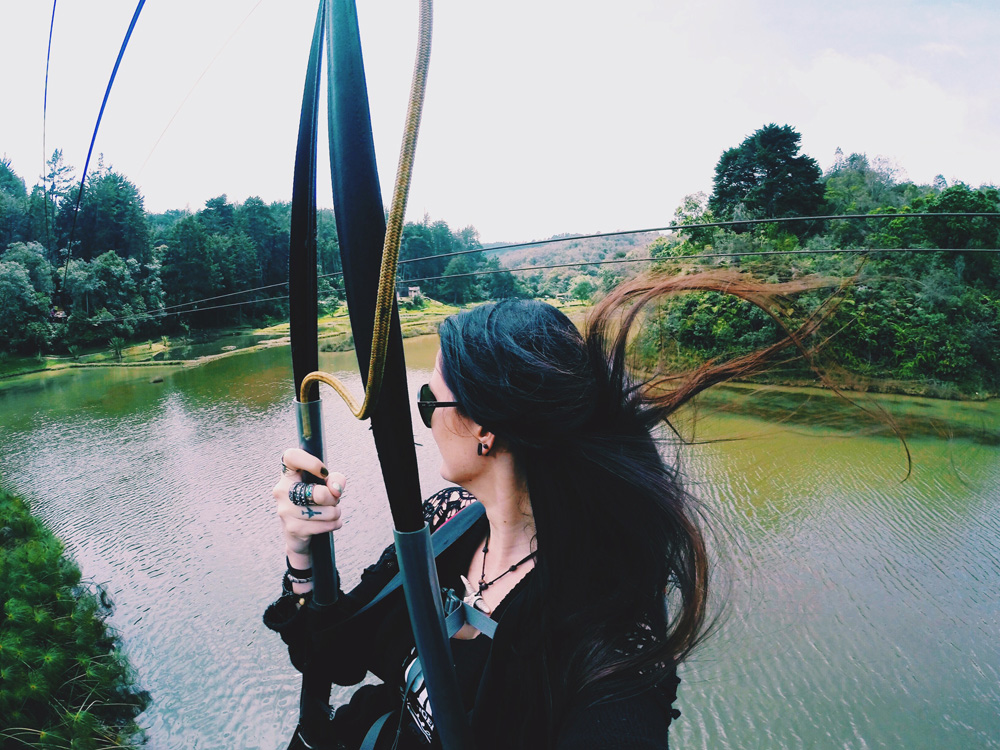 Arvi might be accessible by public transportation, but it feels like it's miles from the city once you're inside the park. As the cable car (at $4600COP) lifts you up and over the final hill through the treetops, you emerge into a forest, without a building in sight. It's a stark contrast from Medellin.
Once inside the park, there are plenty of options. You could simply turn back around and ride the cable cars back down, for the view alone. You could explore El Tambo (the entrance area), sampling goods from the local farmers that set up shop under a tent. You could hike the many trails or ride horseback through Piedras Blancas. Or, you could head to Guarne Lagoon, the lake of Piedras Blancas, the most popular destination in the park with zip-lining ($4600COP), butterfly conservatory, dining, paddle-boating, gardens, insect museum, lounging, and much more.
Guatapé & El Peñol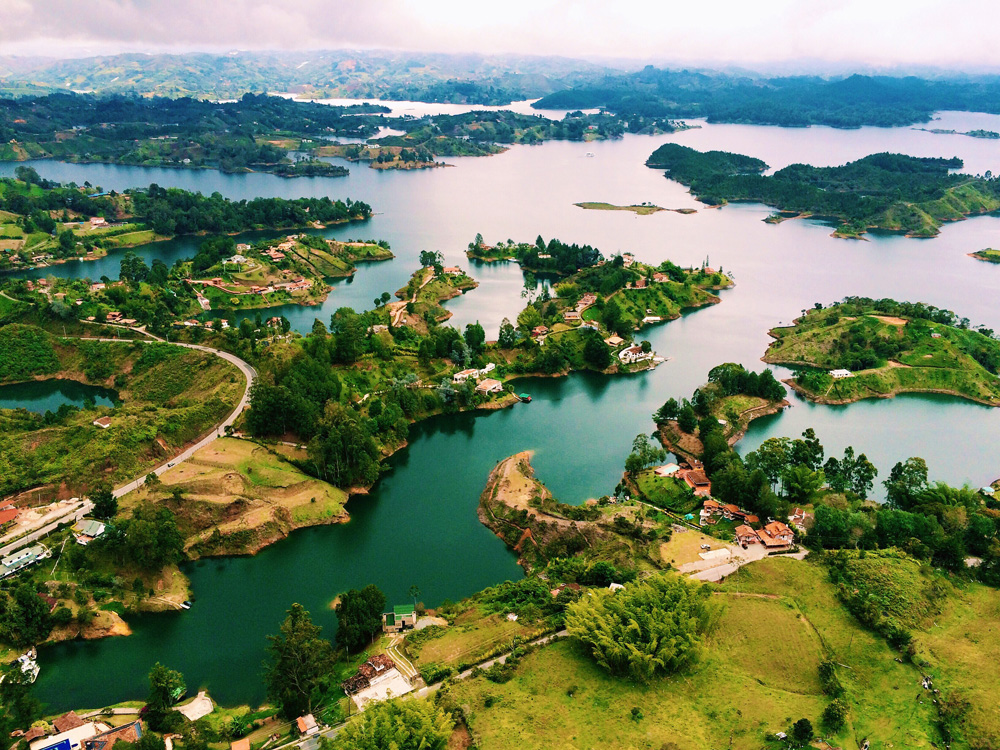 Located about two hours ($60,000COP taxi or $11,000COP bus) from Medellin, Guatapé & El Peñol are one of the best day trip options in the area. Climb the 675 vertical steps up the El Peñon de Guatape for an incredible panoramic view of the surrounding lakes and hillsides. From there, grab a tuk-tuk over to the colourful Pueblo of Guatapé, where you can explore the city by foot. Other activities include paddle-boating, kayaking, canoeing, zip-lining, and countless other water sports.
This day trip is a must do if you have more than a few days in Medellin.
What to Eat
Bandeja Paisa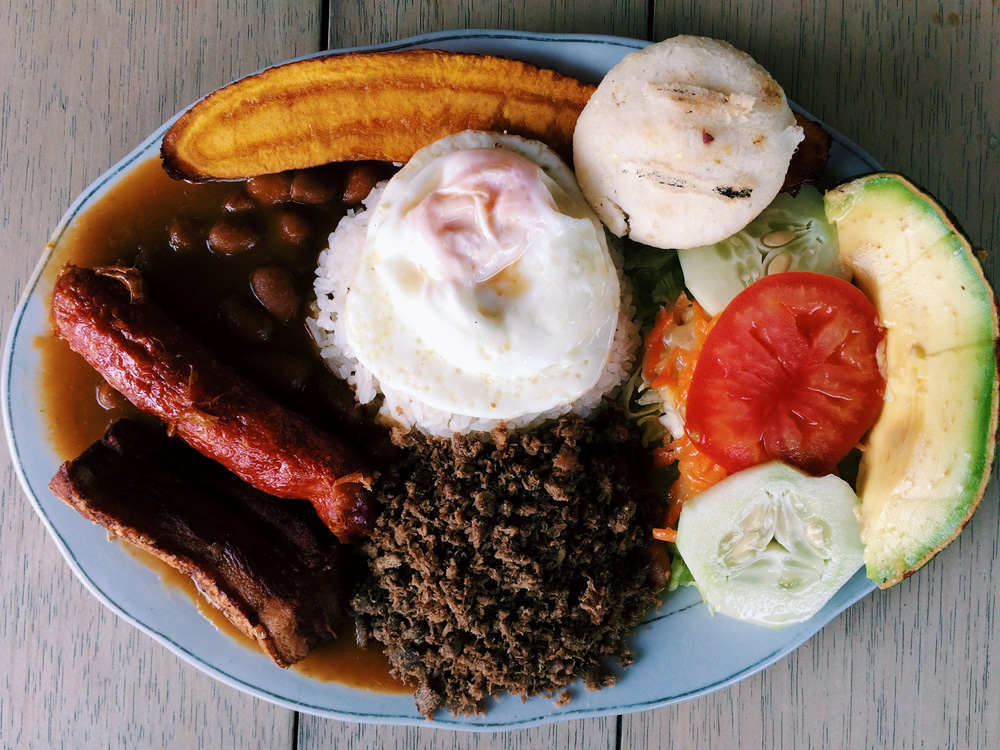 A person from the Medellin area is known as a Paisa. The regional  dish of the same name is made up of red beans cooked with pork, white rice, ground meat, chicharrón, fried egg, plantain, chorizo, arepa, hogao sauce, black pudding, avocado and lemon. It's either a delicious feast, or a heart attack on a plate, and the locals are passionate about it.
Festival de La Chingona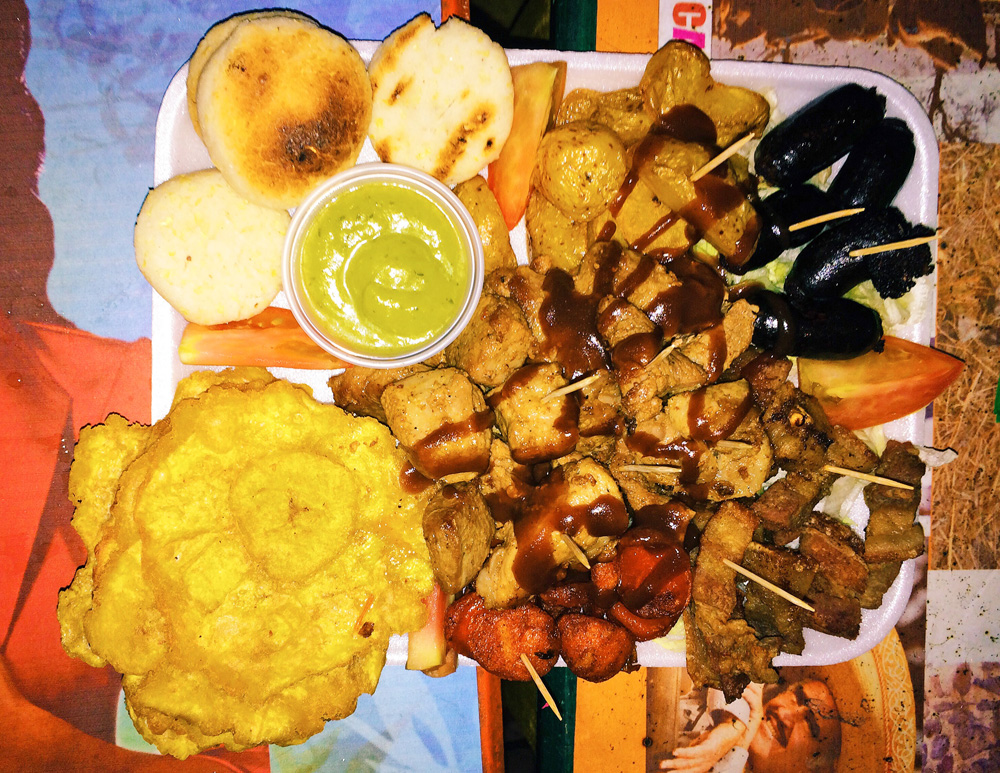 If the Bandeja Paisa is too much for you, head to La Chingona Cantina for a lighter shareable version, with a twist. Good for before, during, or after a night out.
How to Do a Night Out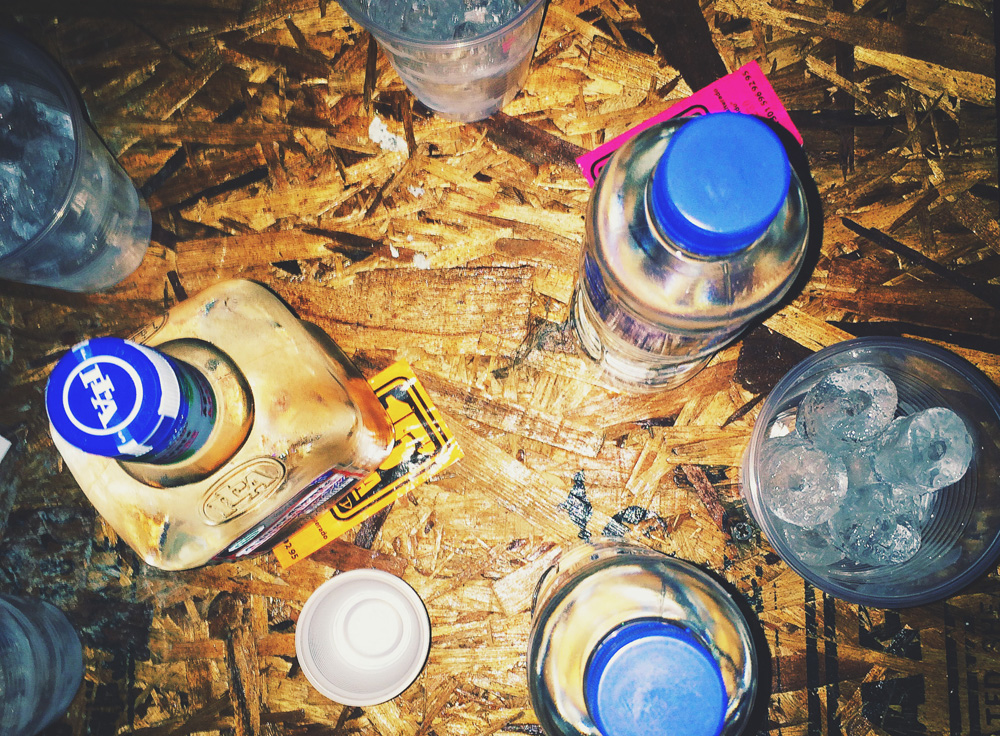 Parque Lleras is an area within the popular El Poblado neighbourhood that is lined with bars, nightclubs and restaurants, which is very busy on weekend nights. There is something for everyone here, whether you like dance music, hip hop, rock, Latin or just about anything else. Barrio Colombia, Laureles and the Bolivariana areas are a bit less touristy, according to locals.
Wherever you choose, make sure to order a bottle of Aguardiente, and anise/licoricey liquor that burns the throat and makes the night a little fuzzy. Another popular drink in Medellin is a Mojito, and of course Aguila and Club Colombia beers. Bars don't close early, so you can expect a late night, or early morning. After only one week we had made friends with plenty of locals, and they helped us find the best places to go on specific nights. Just ask around.
Where to Stay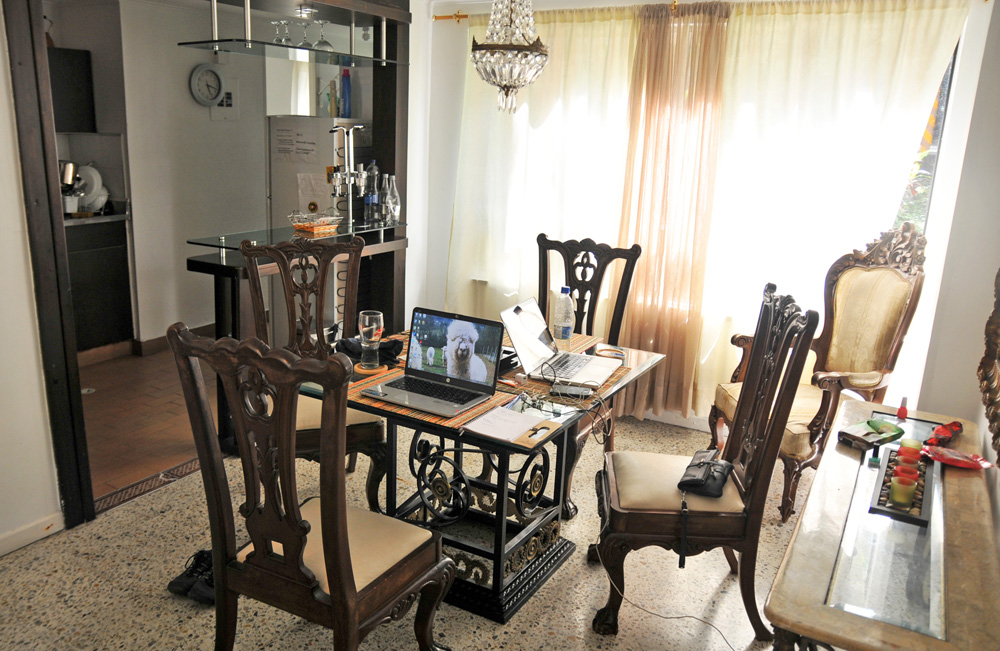 While there are plenty of great hostel and hotel options around the different neighbourhoods of Medellin, the safest and most comfortable option that will give you the best value for your money is a FlipKey vacation rental. The apartment and condo choices seem endless as you narrow down your accommodation needs (location, wifi, extra bedrooms, laundry, etc.), and the hardest part will be actually choosing one.
My own rental in Medellin was located in the popular El Poblado neighbourhood; a quick taxi ride to the metro and walking distance to shops and restaurants. With gated grounds and 24 hour security, I felt completely safe to be home alone during the day or night. It was easy to come and go as we pleased, and we saved a lot of money by cooking our own meals and doing our own laundry. We had 3 bedrooms, 3 bathrooms, a stocked kitchen and lots of seating areas between the dining and living rooms.
One of my favourite nights in Medellin actually ended up being a night in at our apartment. With store-bought spaghetti, rose wine, mud masks and nail polish, it nearly topped a night out at the bars. I'd take my own room over a dorm bunk any day.
How to Get Around
 Metro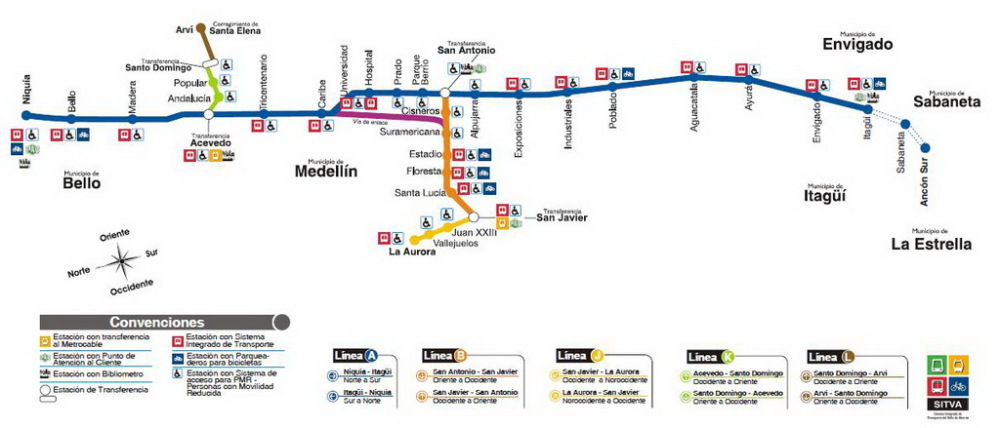 There are four main lines in the metro, including three trains and one cable car. The four main lines can be accessed for $1900COP (including transfers to other lines and the first cable car), but the fifth line cable car into Parque Arvi is an additional $4600COP. Line A runs from one end of the city to the other, and hits the main neighbourhoods. Riding the metro is the best option during rush hour, and certainly safe if you use common sense with your belongings.
Metro Cable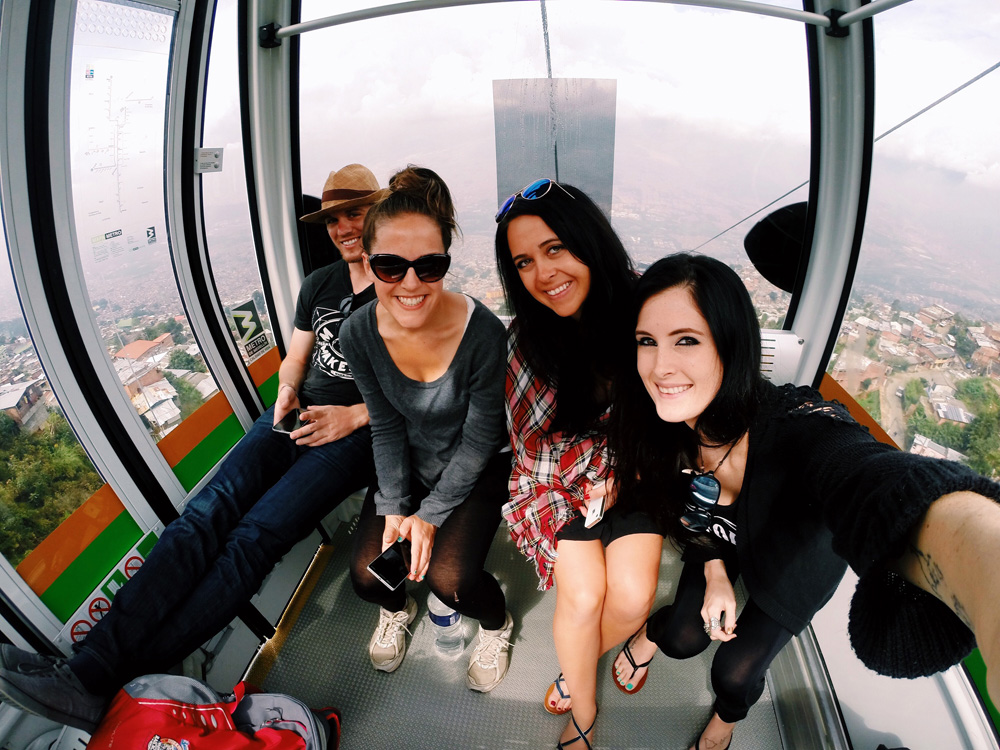 There are two metro cables, including line K & L. The first Line K can be accessed at the same price as the main metro lines ($1900COP), but the second line L has an additional cost of $4600COP. Head to Acevedo station to grab the first cable car and set off above the city.
The cable car is probably the cheapest way to go sightseeing in Medellin. It's like an aerial tour of the city for the price of about 90 cents. The cable car will give you a birds eye view of the entire valley, and a closer look at the hillside neighbourhoods below the line. Line L will take you into Parque Arvi.
Taxi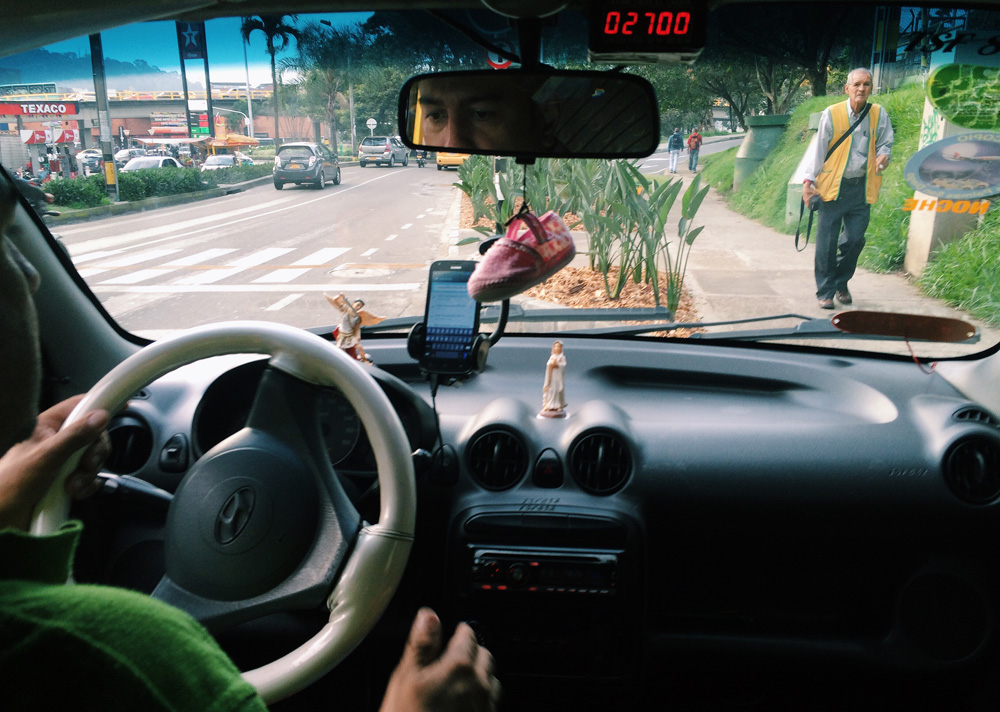 The safest approach to taking a taxi is calling a company, rather than hailing off the street. Ask around for a local taxi number, use the Uber app, or try out Easy Taxi. These methods will all register your trip in the system, making it much safer.
Taxis are very cheap compared to North American standards, for both short and long haul trips. Trips to different areas of the city will usually equal no more than a couple of dollars, and two hour rides to the countryside will round up to about 60,000 COP.
Be sure to check for a meter when getting in, and ask for it to be turned on when the ride starts.
What to Pack
Umbrella
Rain coat
Warm jacket
Small day pack
Lace up shoes
Camera with strap
Pick-pocket-proof clothing
Water bottle with filter
Keep in Mind
All international flights arrive at Jose Maria Cordova International Airport, rather than Enrique Olaya Herrera Airport, which is actually located either a 30 minute and 60,000 COP or 1 hour and 8600 COP ride outside of the city.
More Medellin Photos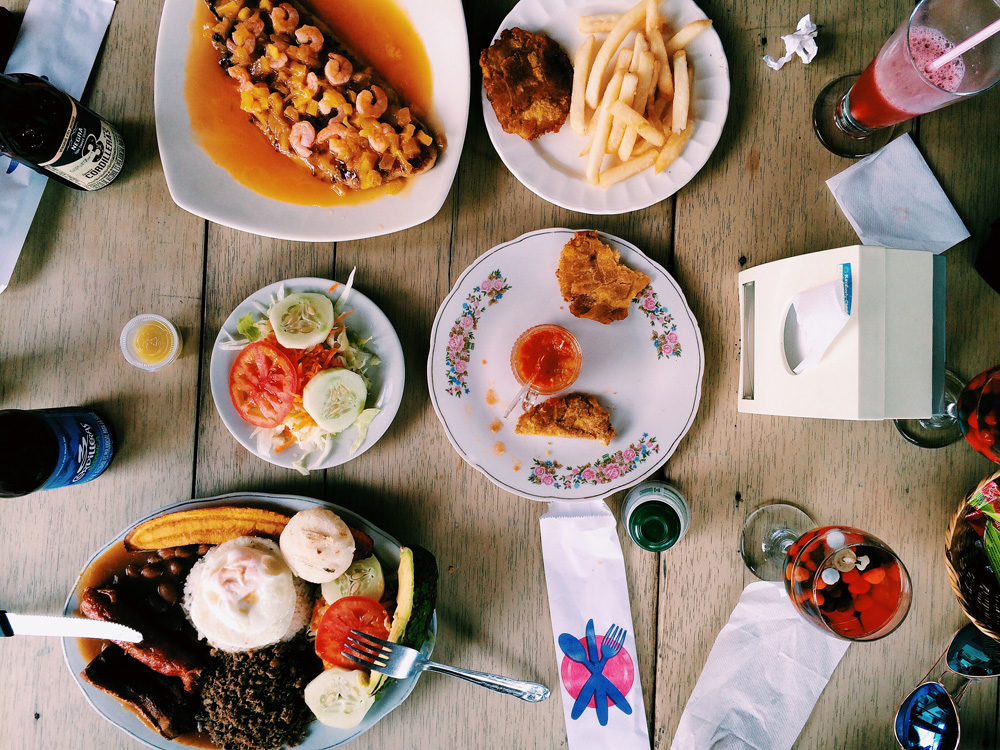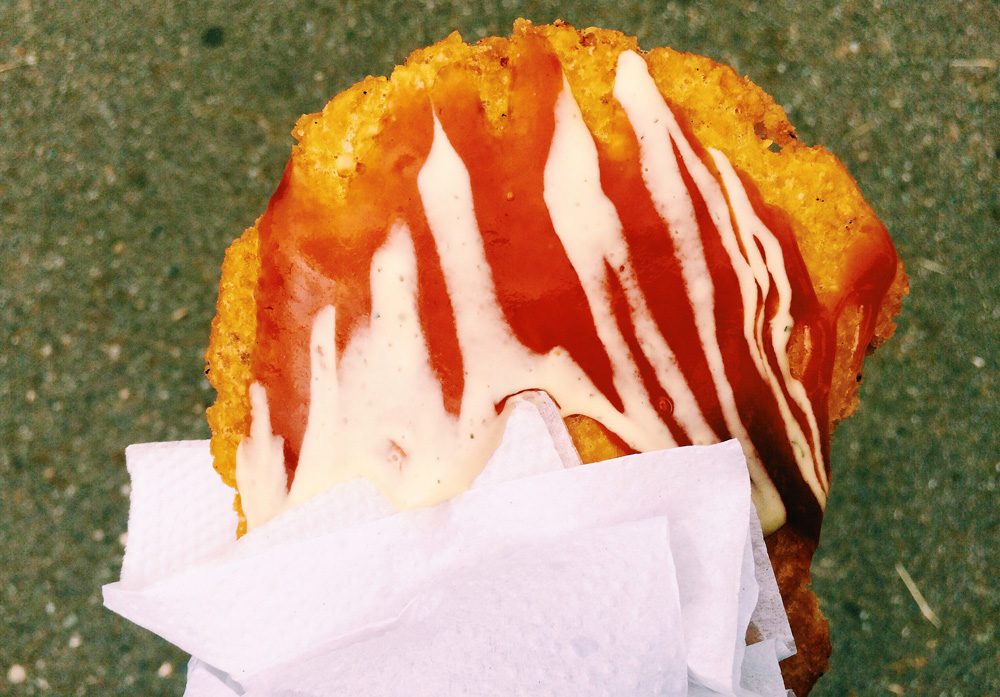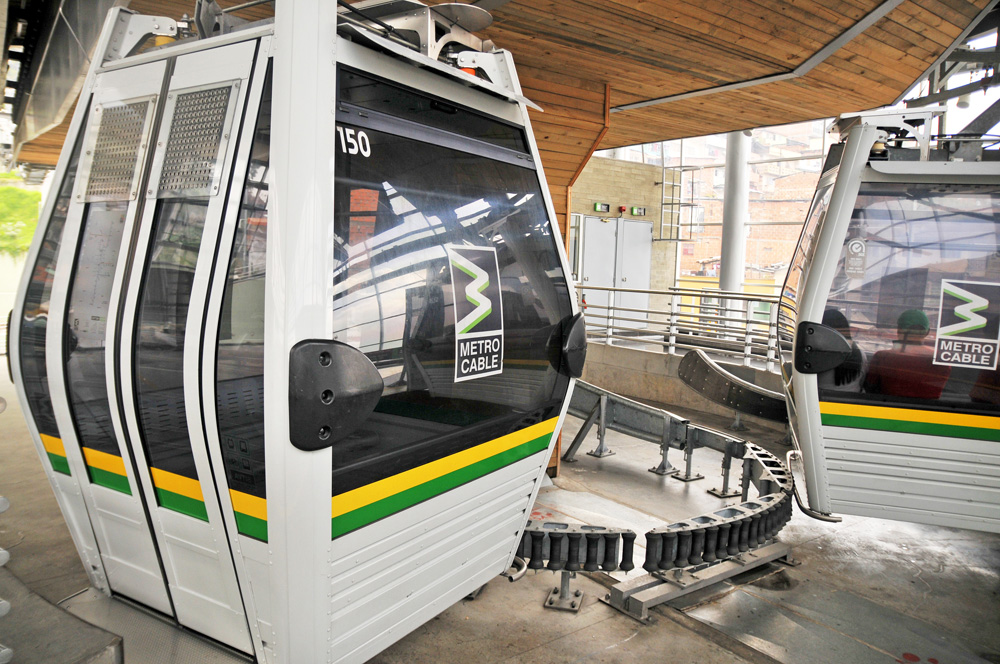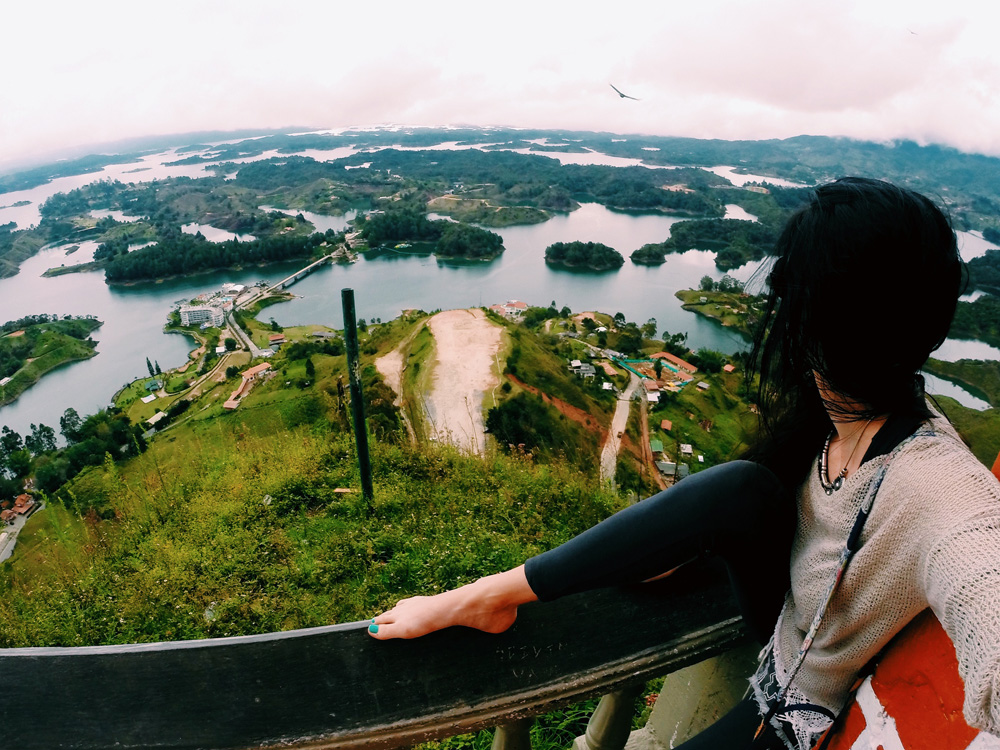 Have you been to Medellin?
Anything to add?