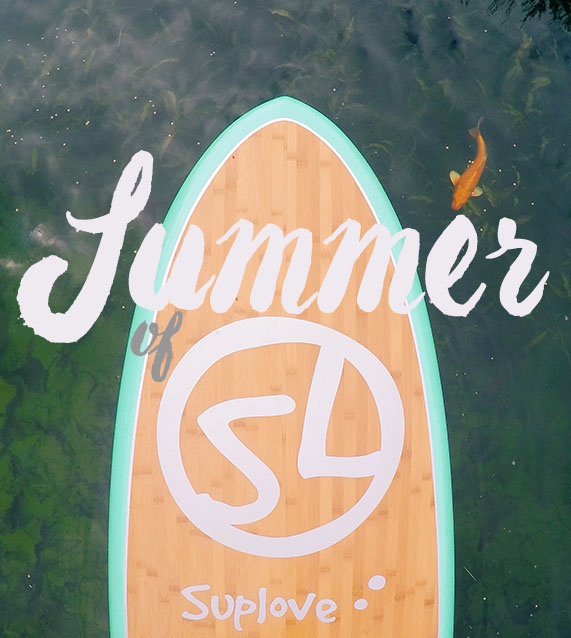 This summer I became the proud new owner of my very first Stand Up Paddle board–and, not just any old Stand Up Paddle board, but a beautifully custom designed Suplove SUP board.
I'm lucky enough to live in Southampton, ON, which is right beside Port Elgin, ON, and the home of SUP Boutique; the Canadian dealer of all thing Suplove (along with SUP Port Elgin & SUP Sauble Beach). So, this summer we partnered and customized an 11'2″ Adventurer board with an aqua coloured rail and tribal pattern traction pad, made with a solid foam core, timber stringers, and a bamboo sandwich construction.
It's hands down the most beautiful SUP board I've ever laid eyes on.

I couldn't wait to paddle, so I began floating around the pond in the backyard, feeding the Koi fish and getting to know my new board. After I got myself a paddle, I managed to pull my back (at a wedding, of all places) before I had a chance to actually get out on the lake.
So, I started slow by taking a few leisurely paddles around Horseshoe Bay, along the Shore Road between Southampton and Port Elgin.
This gave me a chance to get to know my board, and really learn how to keep my balance, steer, and paddle right. But, to be honest, I think just about anyone would be able to stand up on this board.

Horseshoe Bay soon became my favourite place to paddle, and I spent most of July frolic-floating around the shallow bay, spotting everything from geese, to fish, and even a couple of small painted turtles.
It was also the perfect way to escape the stifling July heat.

But, of course, I eventually made it out to the open waters of Lake Huron, and my trusty Suplove board didn't let me down.

By the time August rolled around, it became a regular thing for either myself & Wade, or a group of friends to head down to the beach for sunset, to paddle, swim, swing in hammocks, or just hang out on the beach.

I mostly enjoyed sitting on the board with my legs dangling in the water, and simply relaxing and watching the sun dip into a glowing Lake Huron. I found that there was no better place to watch the nightly show, than from the softly swaying seat of my Suplove.
There's something about the shorelines of Lake Huron, that I just can't get enough of. From the clean and impossibly clear blue waters with endless horizons, to the backdrop of white sand dunes, rocky outcrops, or thick pine forests. There are few things more peaceful than paddling out to your own little secluded paradise, looking down at the mesmerizing pattern of ripples in the sand, that you can still see several meters beneath the surface.
The first day that Wade tried SUPing for the first time, was basically the day that I lost my board. He became addicted to paddling, and it was at least a week until I could manage to steal it back for myself. 
He wanted to paddle every day, and even insisted that we go to the beach on the rainiest of days.
He was hooked.

Of course, I didn't mind this. I was glad that he enjoyed it as much as me–but he might have to get his own next year 😉
With summer nearing an end, we tried to bring the Suplove board with us, everywhere we went.
First, was a weekend camping trip at Cypress Lake Campground in Bruce Peninsula National Park.
We rented a campsite right next to the lake, so we could easily walk it over for paddles throughout the day. When it wasn't being used, I just leaned it against some trees near the tent.
During one of our paddles, we decided to attach my giant pizza floatie to the SUP board, so wade could tow me around the lake, rather than us floating around separately.
We definitely got some weird looks, but I couldn't stop laughing the whole time.

Later the next week, we decided to head back up to Tobermory, and took the paddle out from Big Tub Harbour Resort, into Big Tub Harbour itself.
If you haven't heard of Big Tub Harbour, I insist you google it right now, because it is home to one of the most interesting and visually stunning attractions of Bruce County–the Sweepstakes Shipwreck.
There are boat tours that allow you to see the shipwreck from above, and even though a glass floor, but nothing quite compares to the experience of physically paddling yourself right overtop of the haunting mass of wood and history.
If you take a seat on your board, your feet will literally hover mere inches away from parts of the wreck, or you could even swim down and touch it.
Even though we went on a cloudy and windy day, it was easily not only one of my favourite experiences on the Suplove board, but of the whole summer.
Soon after that, summer started to draw to an end. The days became shorter, and the Lake became a bit too chilly for someone who didn't yet own a wetsuit.
I was sad to think that I wouldn't be able to get out on my board until next summer–when I was surprised with an unusually warm day in November. 
Yes, November.
As you can imagine, I wasn't going to let this opportunity pass by, so I strapped my board to the roof of the Jeep and headed straight for Arran Lake (a long lake between Southampton and Tara, that I often visit with my hammock).
It was still a bit cold, but totally worth it in my opinion, and brought me a little closer to paddling again next summer.
This year, I plan to get a wetsuit so I can paddle earlier in spring and later in fall. 
Until then..
Here are some additional photos from my Summer of Suplove:
If you're planning to come visit my beautiful little part of Ontario,
you haaave to rent a Suplove board from SUP Port Elgin, or nearby SUP Sauble Beach.
Rentals start at $10 for sunset paddles, $23 for SUP yoga, or $25 for free paddle.
Mabye we can even SUP together.
You can purchase my exact aqua rail with
tribal pattern traction pad custom board here.