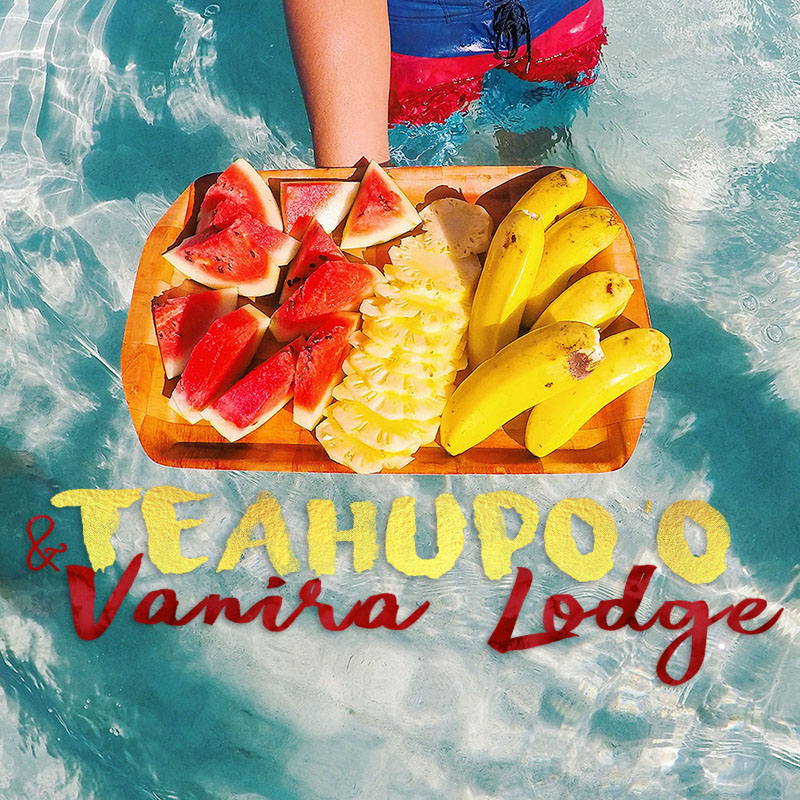 "Can we move back now?", I asked nervously, gripping the bench beneath me.
The boat rose up once again as another massive swell moved in, and my heart seemed to mimic it, ending up in my throat. It felt like we were getting closer and closer to the break, and all I could imagine was this little boat toppling over the edge to be swallowed up by the angry ocean beneath.
I shook my head and took a deep breath, as I assured myself that I was in good hands with the Surfari team, and reluctantly stood up for a better view.
This was Tahiti's raw Mana at it's finest.
Vanira Lodge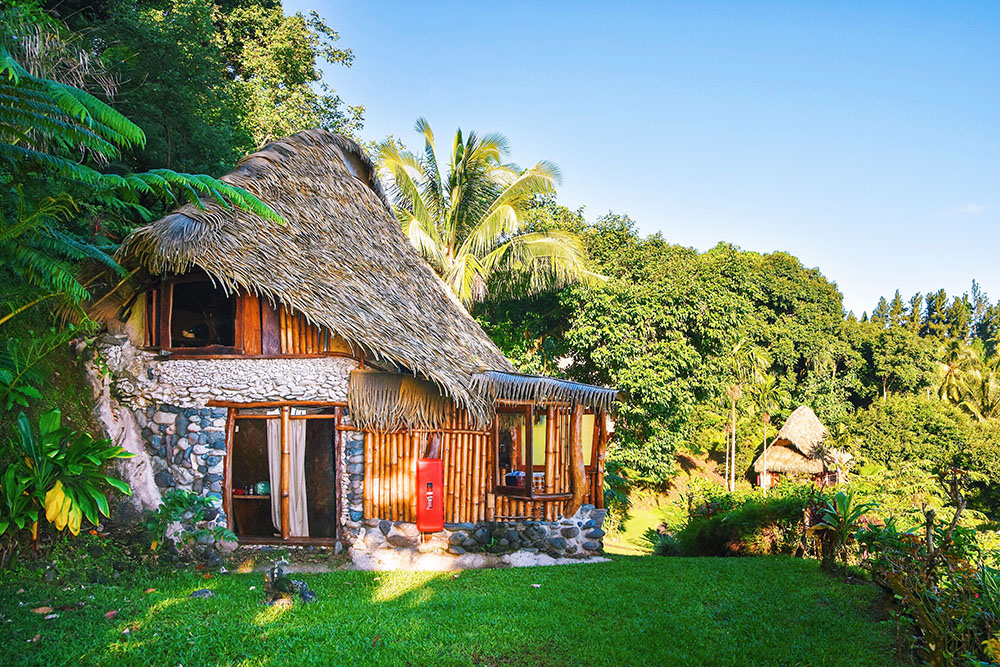 That morning I awoke to the sounds of the jungle itself waking up around me, as a dim blue light started to trickle in through the bamboo walls beside me.
I stretched my legs, wiggled my toes through the mosquito net that surrounded my bed, and sat up to look out the large round window of my treehouse bedroom.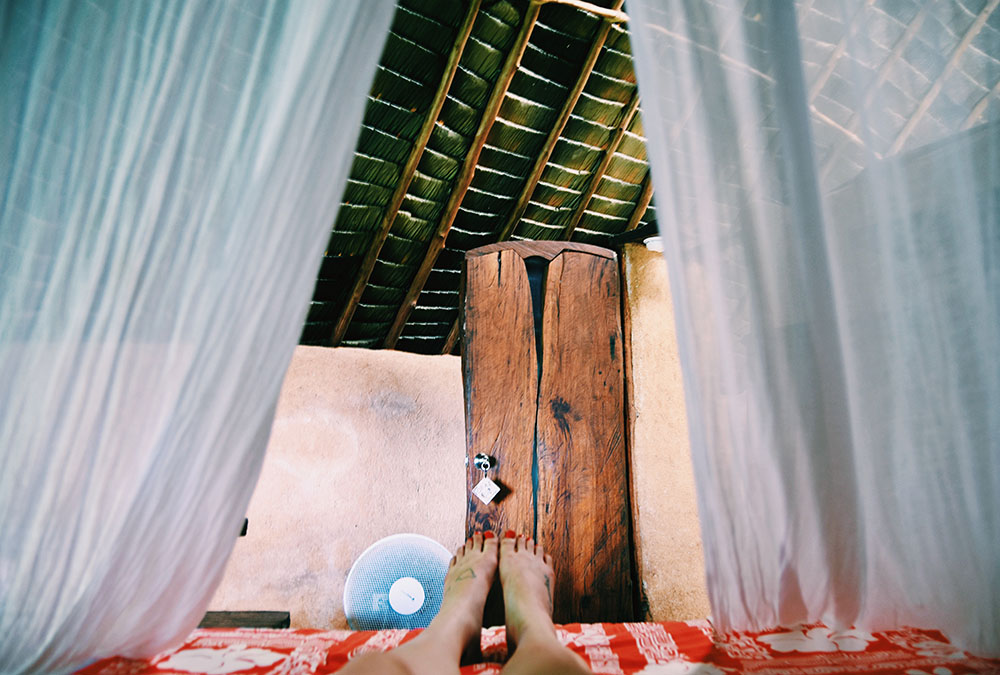 Excited that day had finally come, after a jet-lagged early-rise, I jumped out of the bed and made my way down the two sets of stone stairs, into my open face kitchen, to make a cup of coffee.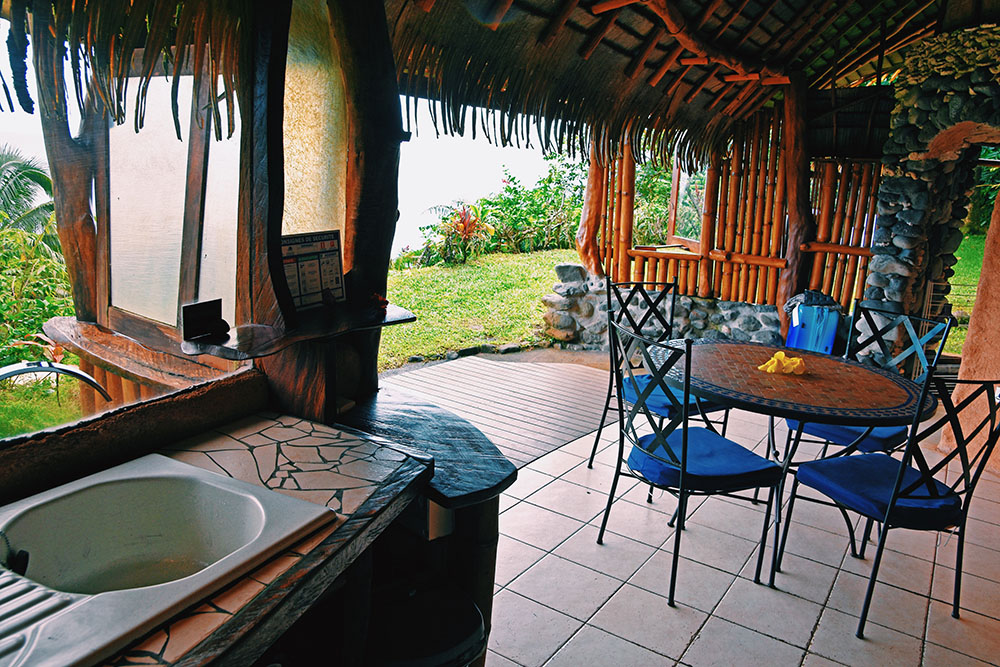 There are three types of bungalows at Vanira Lodge, and mine was that of the "Nature Fare"–meaning that it is open to the outside world, for guests to live in harmony with nature.
Raw materials are tampered with as little as possible in each bungalow, made with natural branches with their bark removed, sawn solid wood, and walls made of river-rolled stones.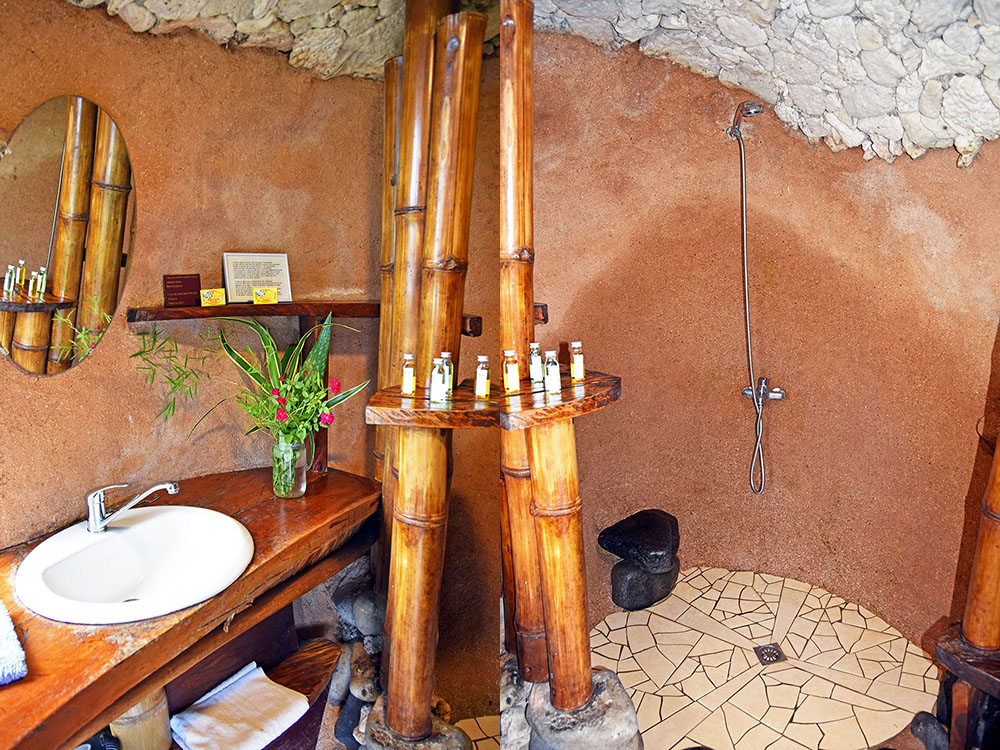 With soft lines and curved walls, the limit between the inside and the outside is deliberately blurred, with missing walls and wide gaps.
It's a nature-lover's dream.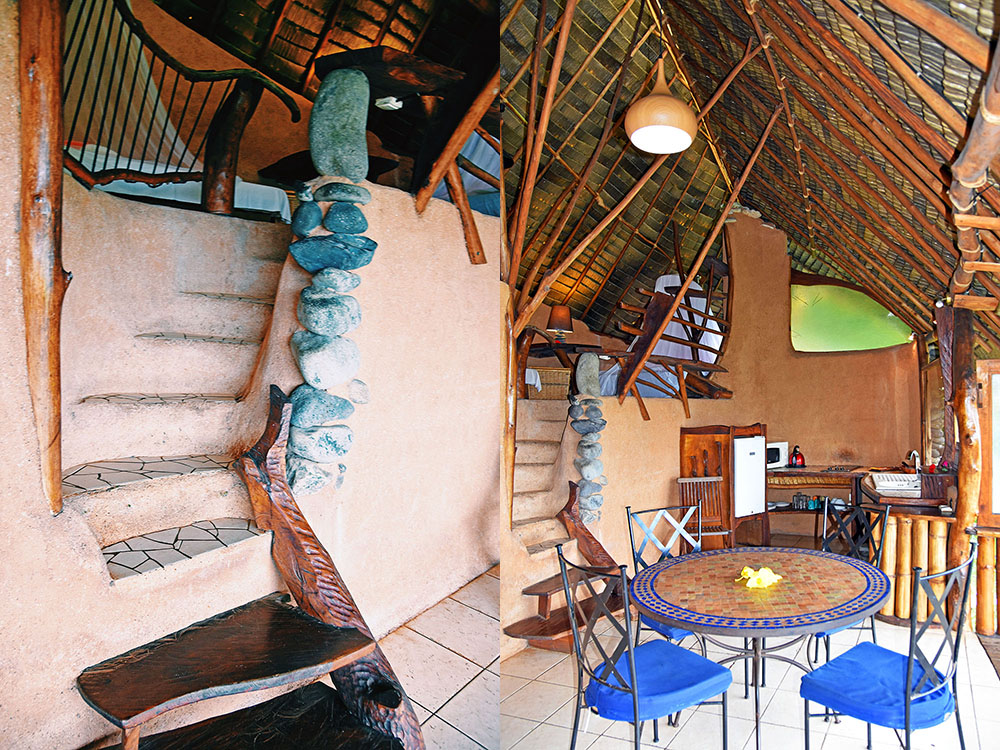 Each bungalow is unique with different floorplans and facilities–all tucked away into private parts of the hillside bush, and made from materials found on the site, or sourced nearby.
My bungalow, named Ofai, flowed from the front porch into the kitchen, up a set of stairs into the second floor with two beds, and finally onto the third floor master alcove bedroom.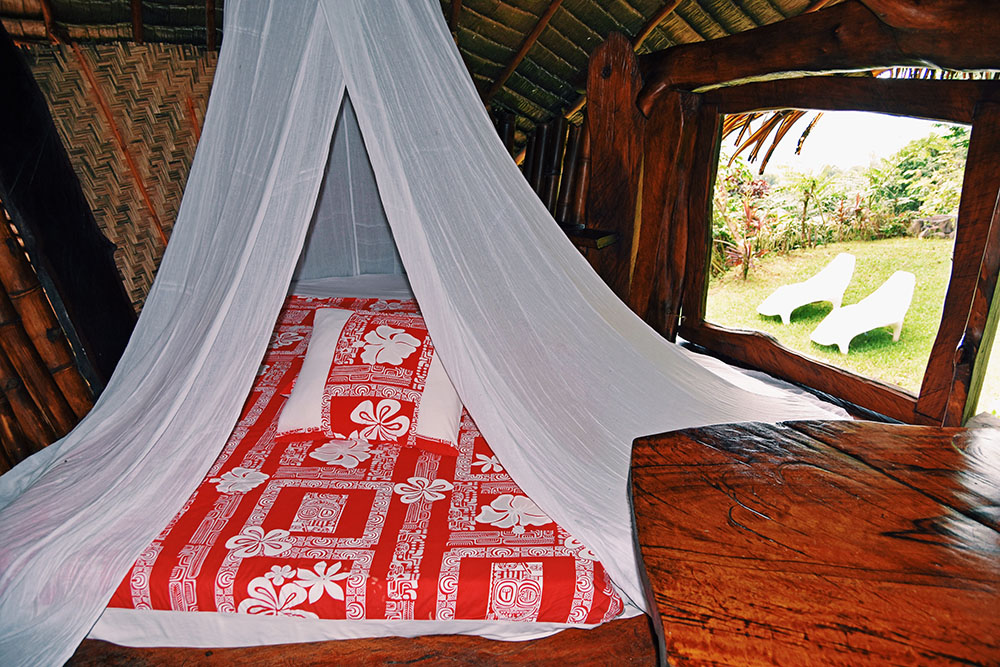 The entire structure blended into the jungle behind, crowned by the turtle shell shaped roof, making way to a grassy platform over-looking the entire property below.
It felt like something between a set from The Flinstones and The Hobbit, in a treehouse.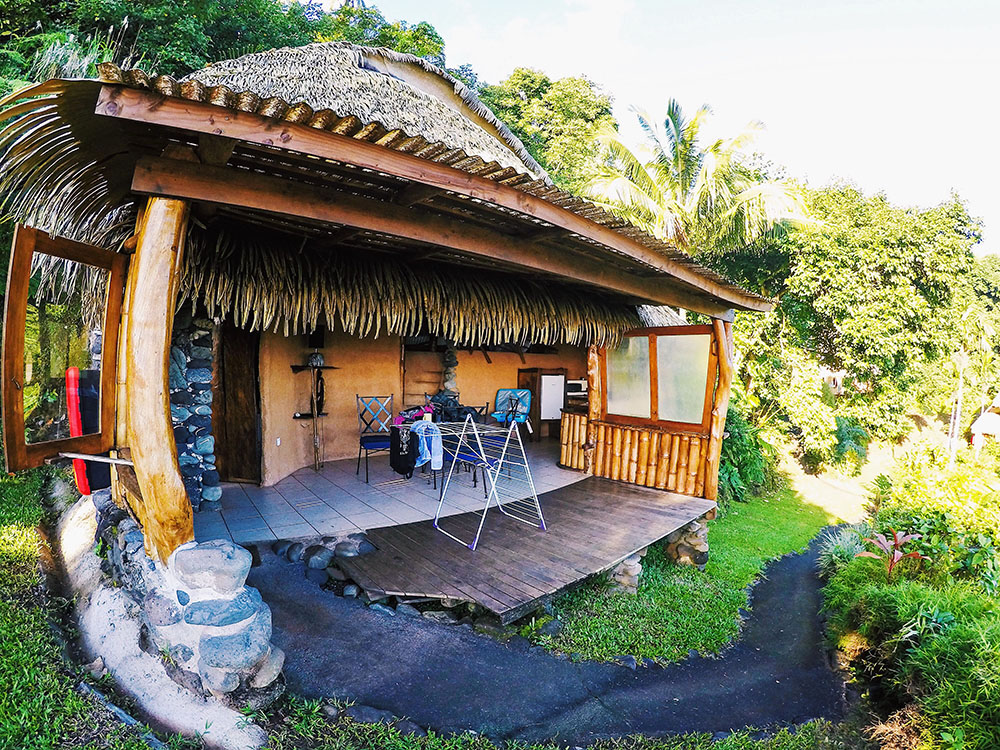 Bungalows are equipped with hot water, tea & coffee, a safe, sheets, towels, laundry drying racks, blankets, hair dryer, and a fan.
There are also mosquito nets draped over the bed, a fridge, stove with electrical burners, a microwave, coffee machine & kettle, soaps, and electrical plugs.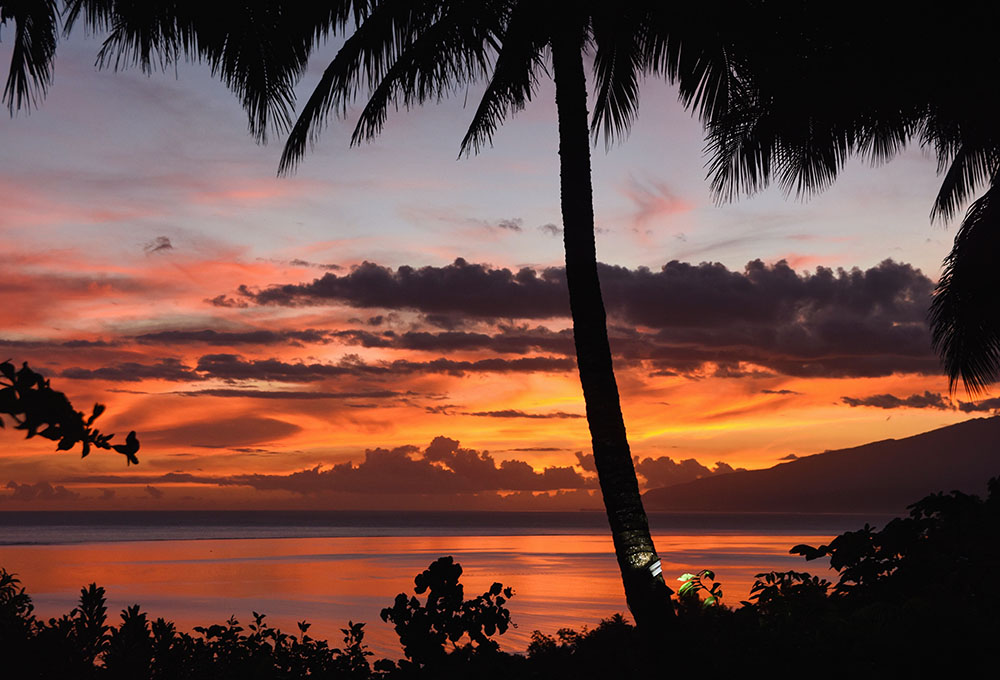 Of course, there are more nature-secure options with AC and jacuzzis, if jungle-luxe is more your style.
Wifi is available at the main lodge and restaurant, and the property features a pool, gardens, and a new yoga bungalow.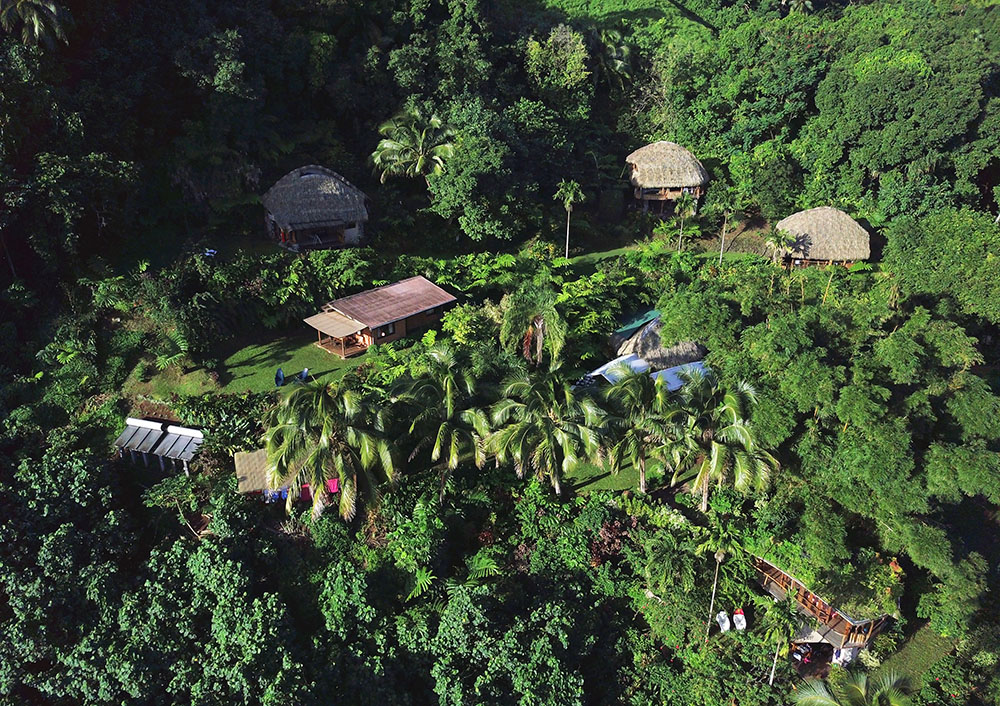 The best part of Vanira might just be the kitchen. With a small but daily changing menu, the restaurant boasts a surprisingly upscale assortment of local Tahitian and French cuisine that are sure to impress.
A deliciously sophisticated meal enveloped in fresh tropical air, with the backdrop of a fiery Pacific sunset, might just be the epitome of Tahiti.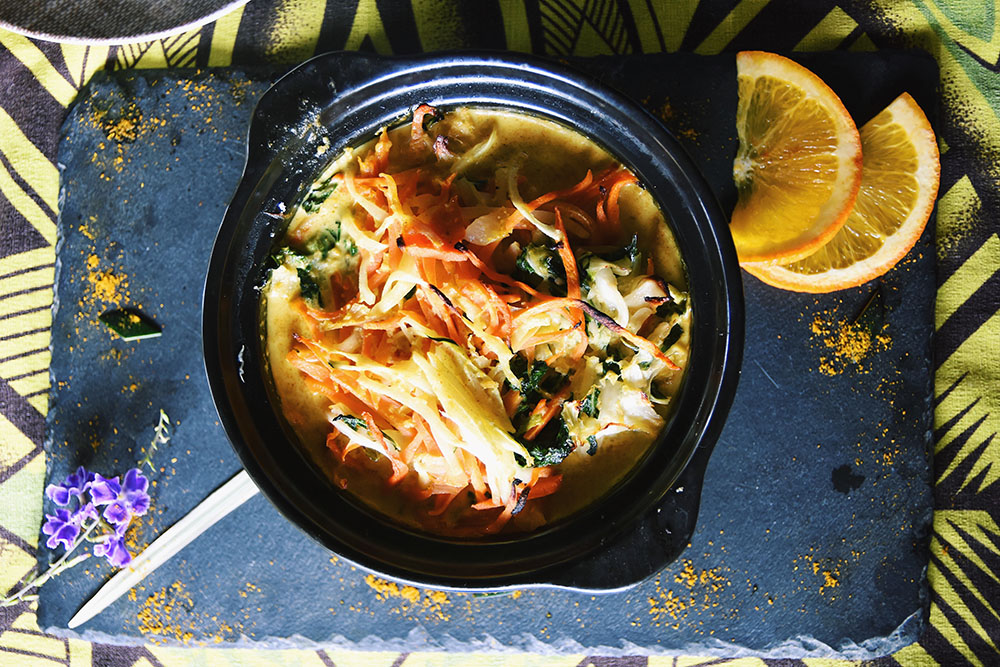 As I sat at the table drinking my morning coffee, the wallless kitchen opened up to an impressive 180 degree view of the mountainside, valley, and coast below–leading to the lagoon and endless ocean beyond.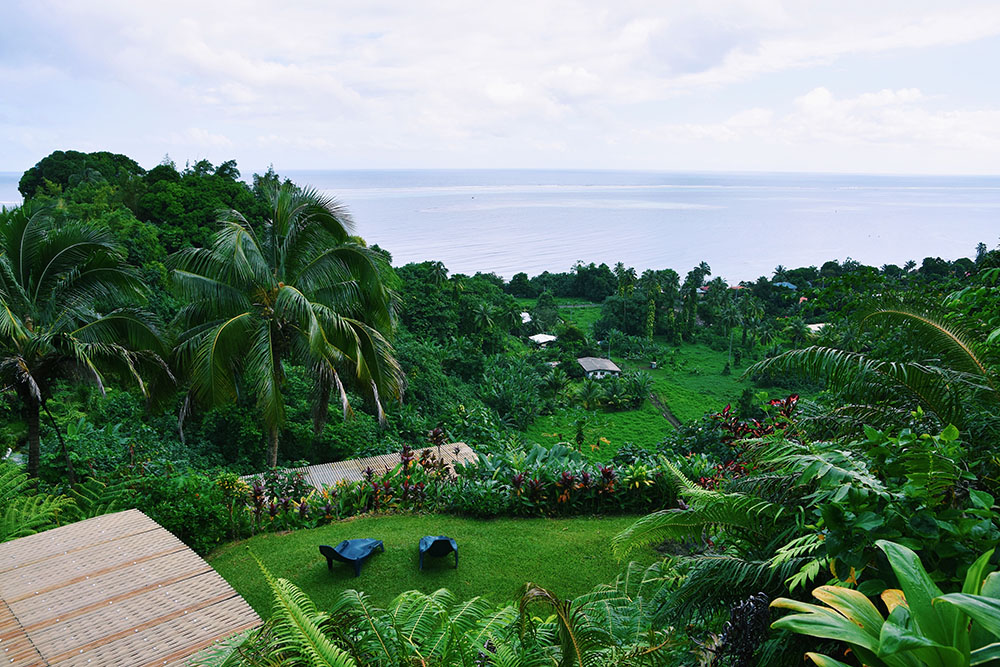 With a refreshing rinse in the stunning coral ceilinged shower of the private bathroom, and light fresh fruit breakfast down at the restaurant, it was the perfect start to my first full day in Tahiti.
Teahupo'o Surfari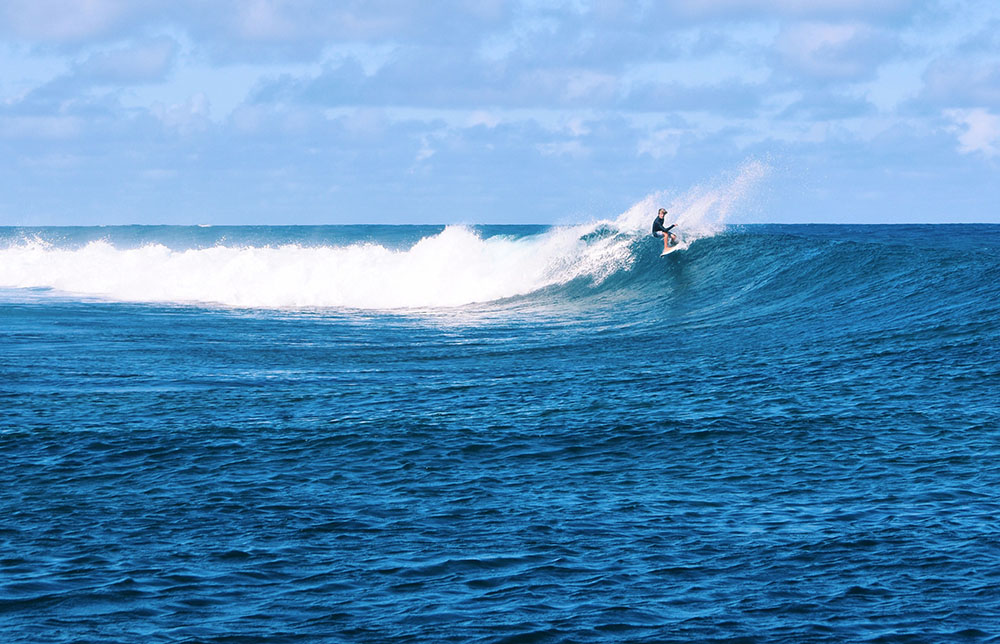 Whether you realize it or not, you've probably already heard about Teahupo'o on television, and seen it's legendary swells. Teahupo'o is a village on the south-east coast of the island of Tahiti Iti, French Polynesia–and home to one of the world's largest waves and best surf spots.
Teahupo'o Surfari is a local tour company that shares this wild region with visitors through unique excursions and adventurous charters. We enjoyed the half day Fenua Aihere tour, which explores the uninhabited side of the island that is only accessible by boat.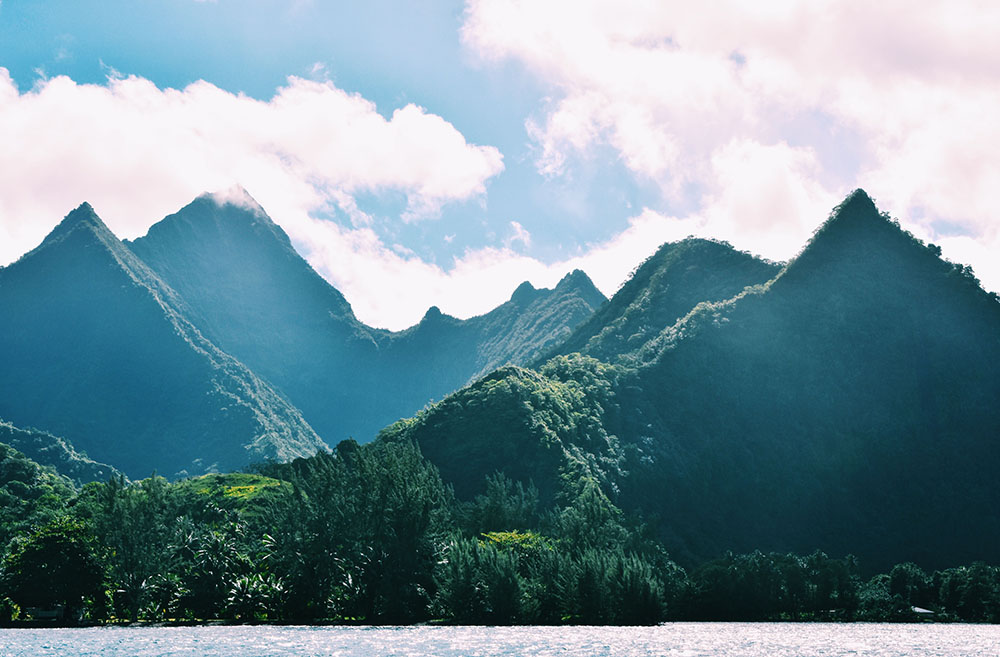 Our day began in the very Lagoon that I had stared at as I drank my coffee from the mountainside above. The boat pulled into the thigh deep crystal clear waters that felt like one great big swimming pool.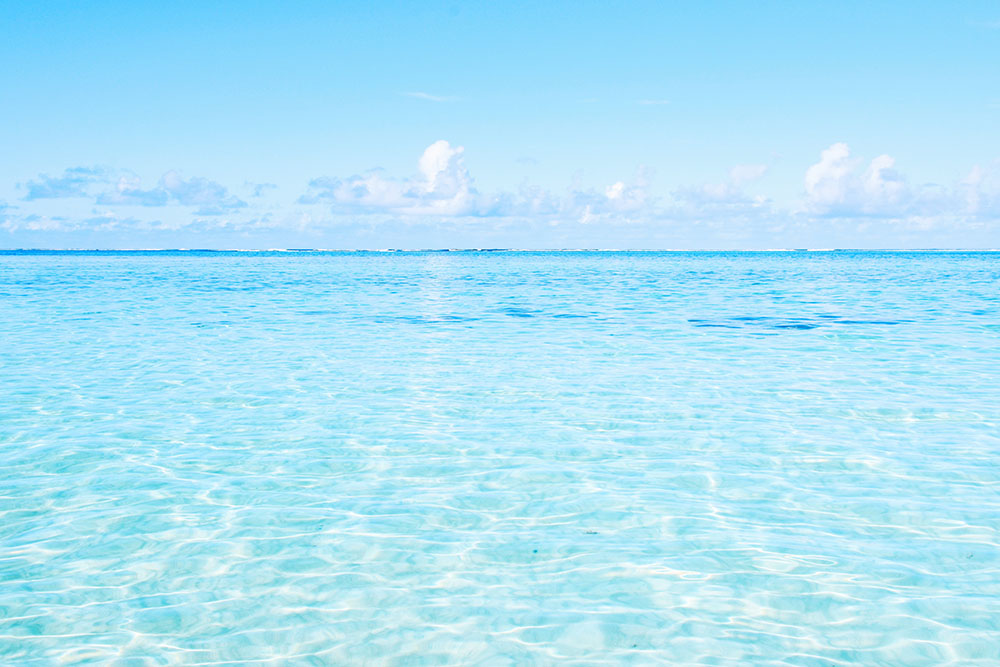 In the Lagoon we walked around on the soft white sand, discovered dozens of sea cucumbers & shells, snacked on fresh fruit, and looked back at Vanira Lodge and the lush mountains behind.
It was paradise.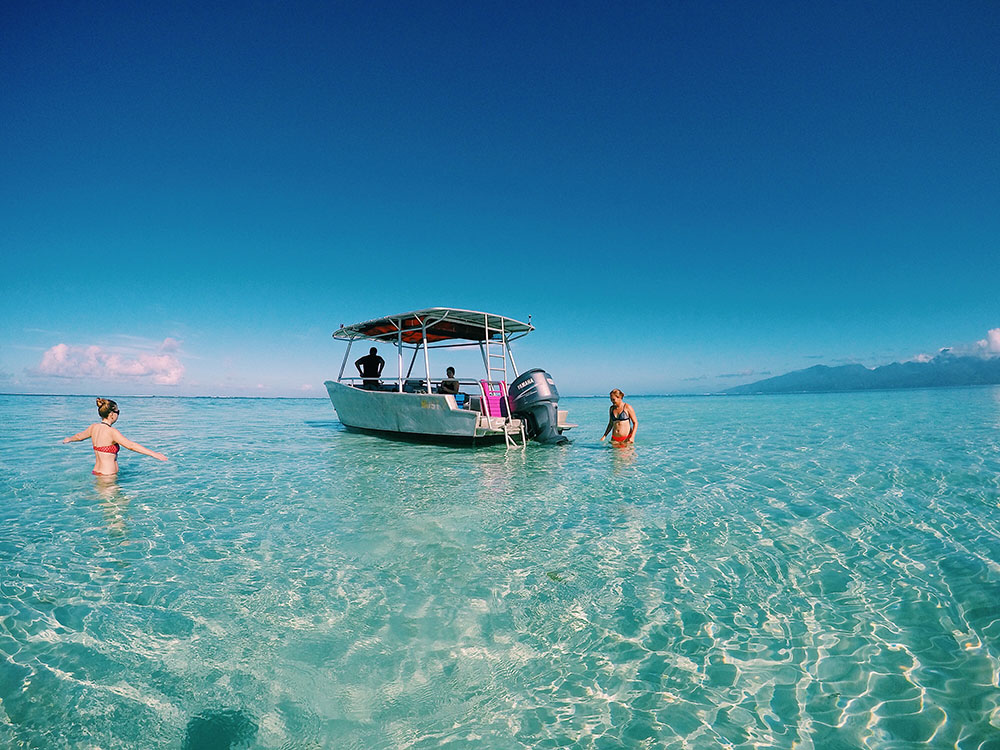 From the Lagoon we headed straight for the famous Teahupo'o wave, where I would have to face my fear of the Ocean, as we dropped off a family of surfers behind the swell.
Given that the three generations of surfers included two very young boys, I decided that if they were brave enough to actually get on that wave, I should be able to handle sitting in the safety of the boat.
After a few white-knuckled moments of panic, I eventually started to relax and enjoy the adrenaline of it all.
Not many people can say that they've been to one of the world's largest waves.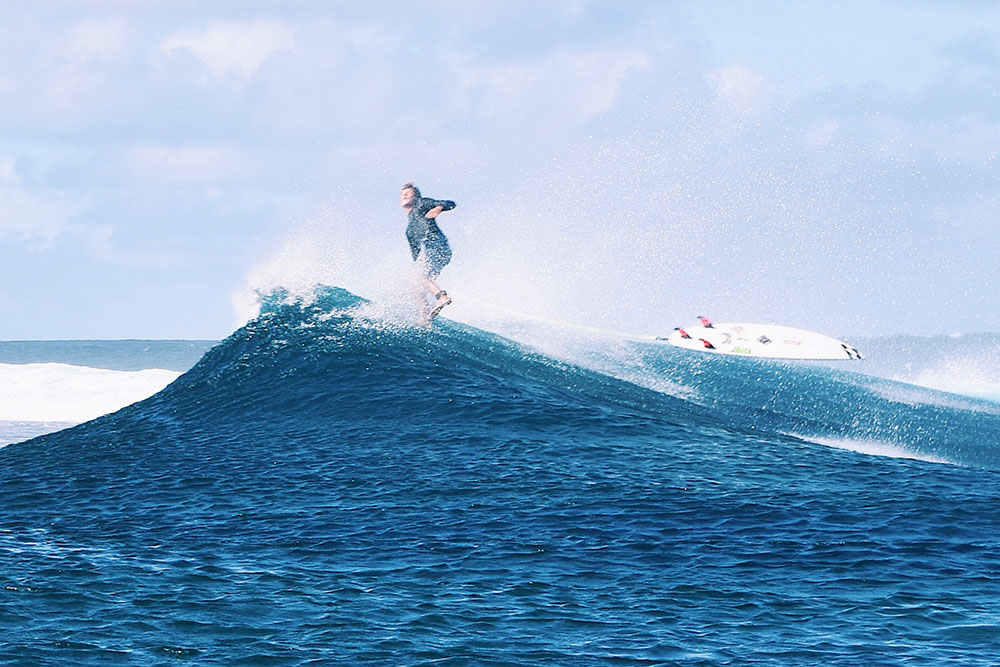 As the morning rolled on, we explored more of the coastline and uninhabited areas of Tahiti Iti.
The highlight of the tour consisted of fording into the mouth of river and trekking deep into the jungle to find a cave called Vaipoiri Grotto.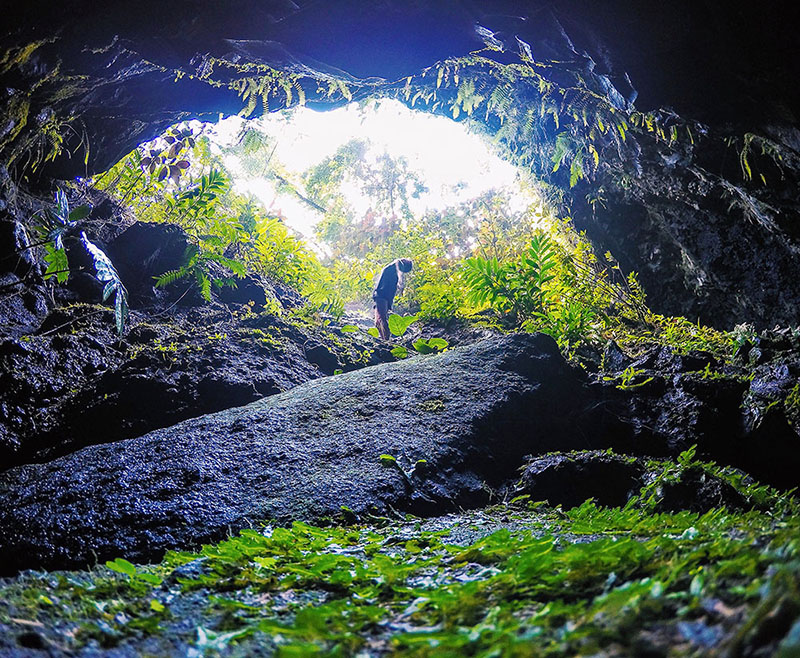 Upon descending into the cave, chilled water trickled down all around us from a small waterfall above, that was a welcomed relief from the humid rain forest. It felt like a scene out of some sort of Polynesian Disney Movie, and I was half expecting someone to break into song.
To top off the beautiful environment, our guide surprised us when he swung off a hanging vine and dove into the river.
After we arrived back at the boat, we had another quick coconut snack & beer, before heading back to the Marina.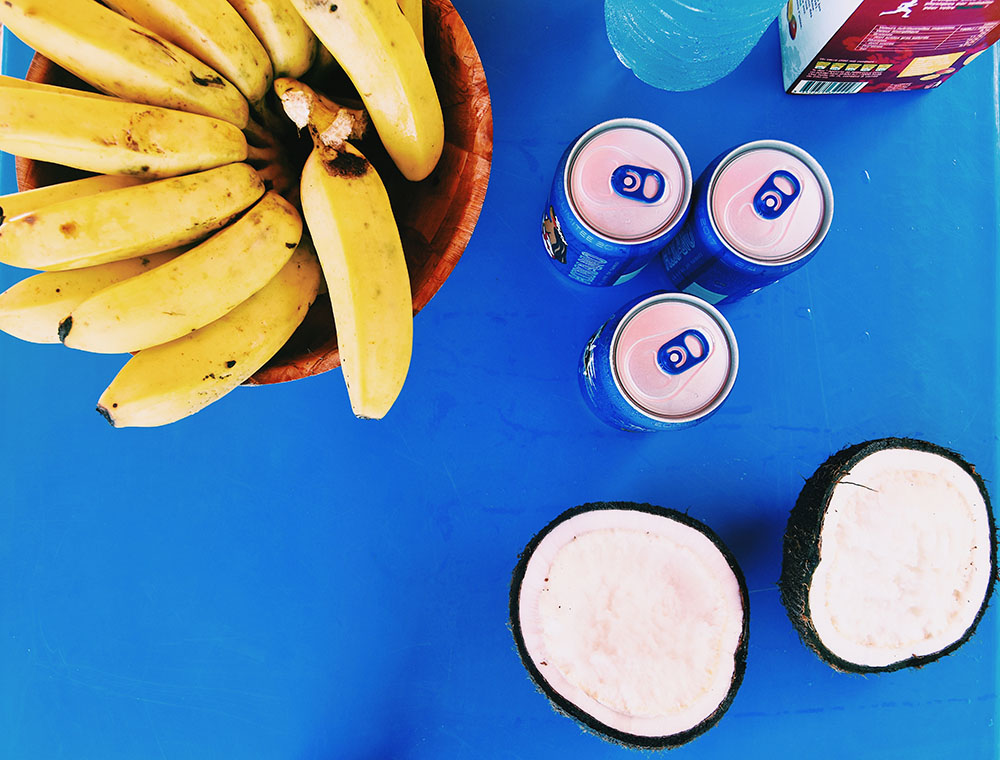 La Plage de Maui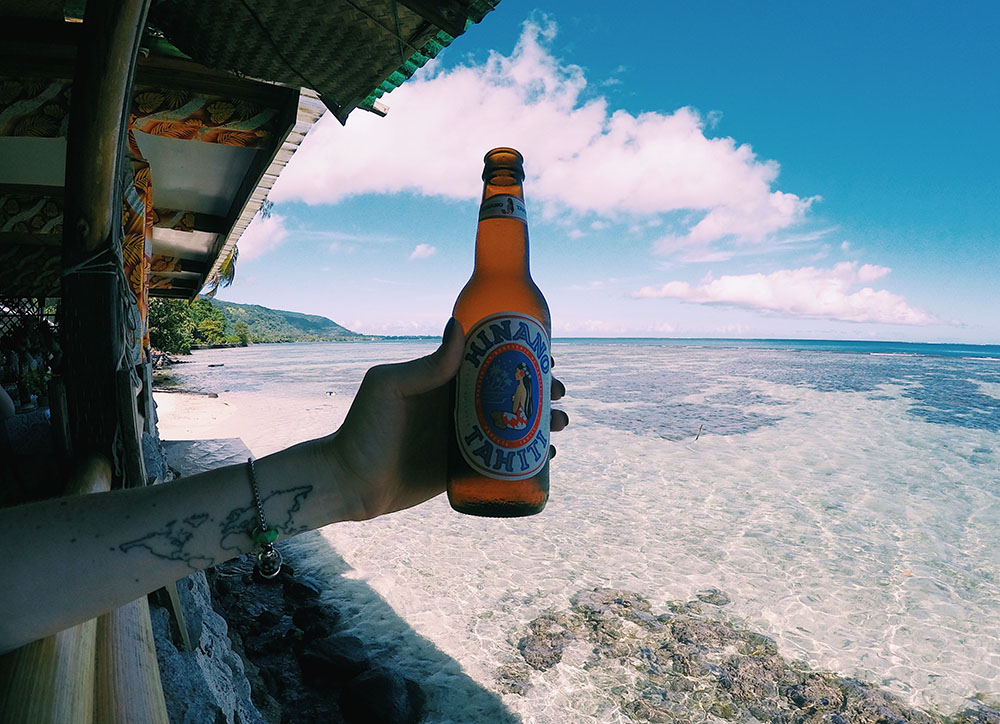 After a full morning of swimming, boating, jungle trekking, and cave exploring, we wanted nothing more than a full mean and a cold drink.
That's exactly what we got at La Plage de Maui (Maui Beach) Restaurant–a quick drive from Vanira Lodge.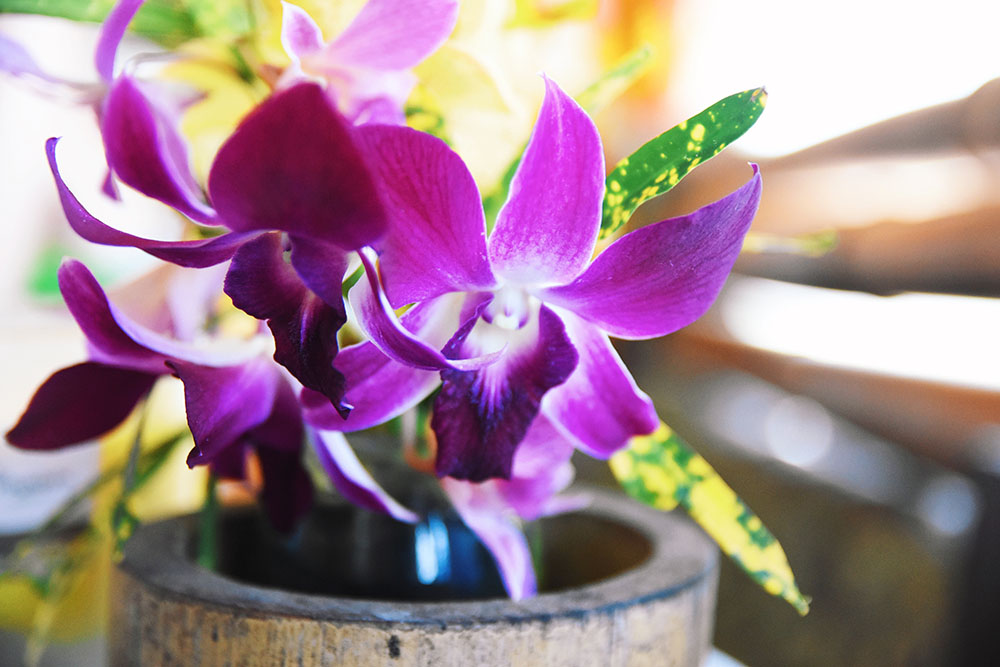 We walked into the Sea-front restaurant, took a table right beside the water, and immediately ordered some Hinanos.
After spending some time admiring the view and watching the schools of fish right below our table, our food arrived and we feasted until we couldn't eat one more bite.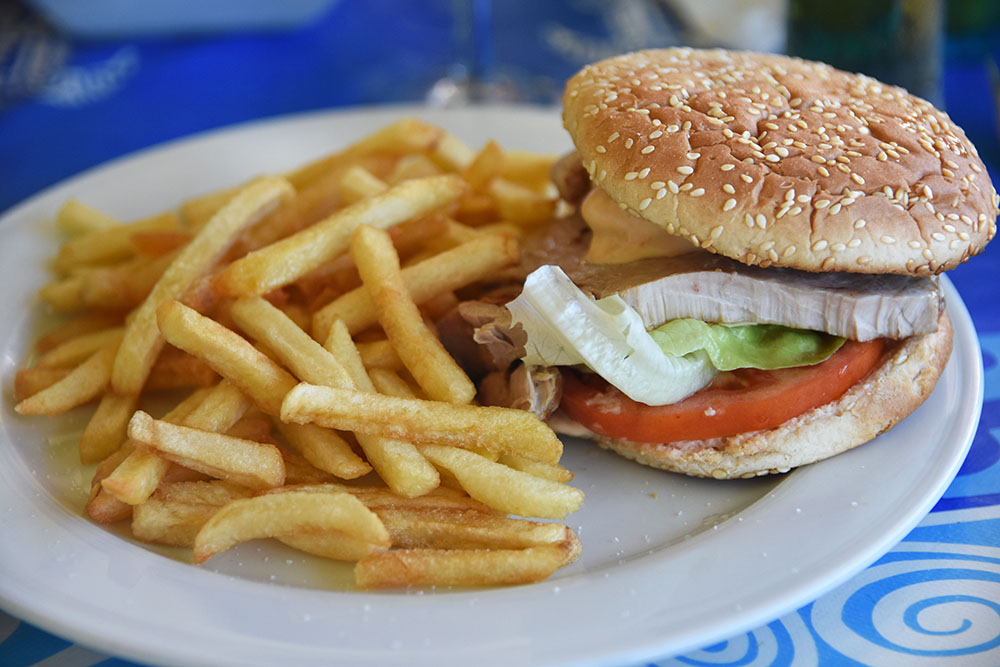 It was the perfect end to a day of adventure, and it was time to head back to my treehouse on the hill for a late afternoon nap.
More Photos
Thanks to Tahiti Tourism for making this trip possible.
All views & opinions are my own.