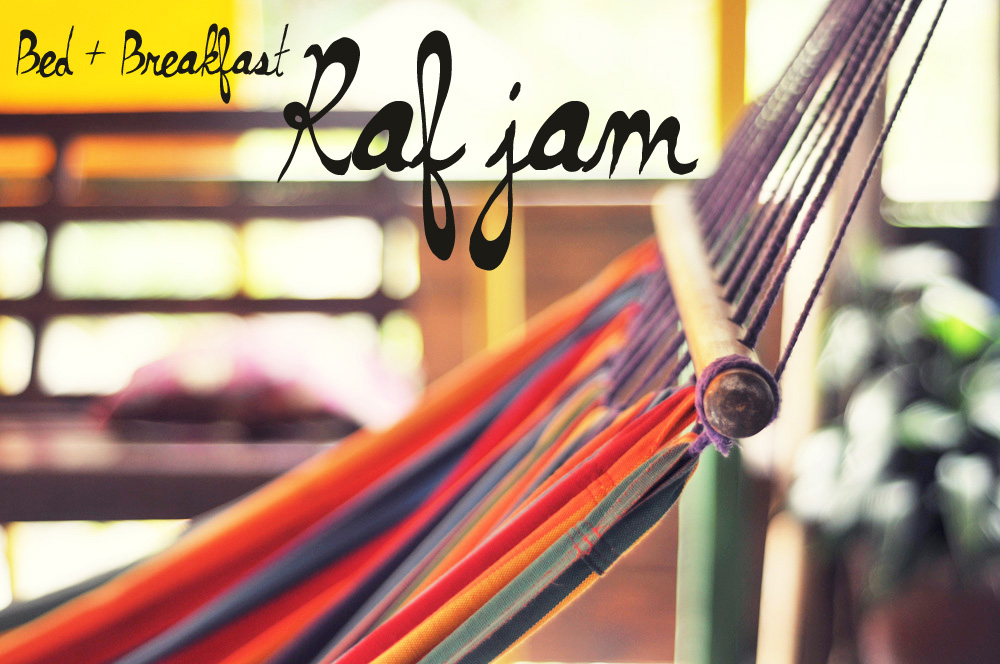 After a winding drive up the Blue Mountains, we began to descend into the jungle valley that cradles Rafjam Bed & Breakfast like a secret tropical garden. I questioned whether our simple van would even make it to the end of the dirt road, nevermind if it could make it back up again. I decided to hold on, lean back and enjoy the ride.
Rafjam owner Susan says that "the road in is where the adventure begins–it's different than anywhere else".
The best word that I can use to describe Rafjam is relaxing.
It was relaxing to swing in the hammock with a Red Stripe beer. It was relaxing to dip my toes in the cool water of the hidden waterfall after a short hike through the jungle. It was relaxing and fun to play with a litter of playful puppies in the Rafjam garden. And, it was relaxing to walking through the lush natural flora and look up at the green mountains surrounding Rafjam, to the sound of trickling water and singing birds. Did I mention the puppies?
Rafjam was a place that I could see myself spending a significant amount of time at.
Born and raised in Springdale Cove, Susan, after a few years spent somewhere else in the island, decided to return to her parent's house and refurbished it. Anxious to give a taste of paradise to everyone, she decided, with the help of her husband, to open Rafjam Bed & Breakfast in 2009.
Here are some of my favourite shots from around Rafjam;

This trip was made possible by Visit Jamaica.
All thoughts & opinions are my own.