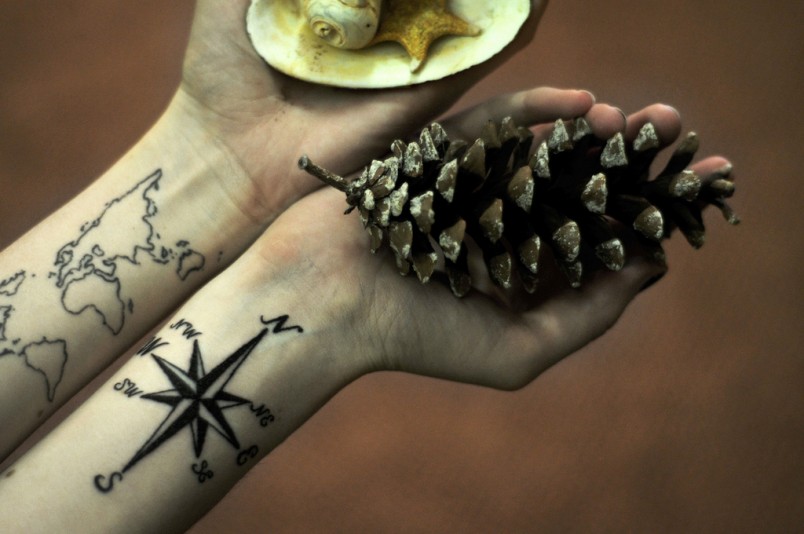 I find myself searching this tag a lot, "travel tattoos", looking for inspiration and ideas for new tattoos.
My current tattoos are not ONLY travel related, but I have to admit… most of them are.
This is a post of not only my own travel related tattoos, but a number of images, from other people, that I really like.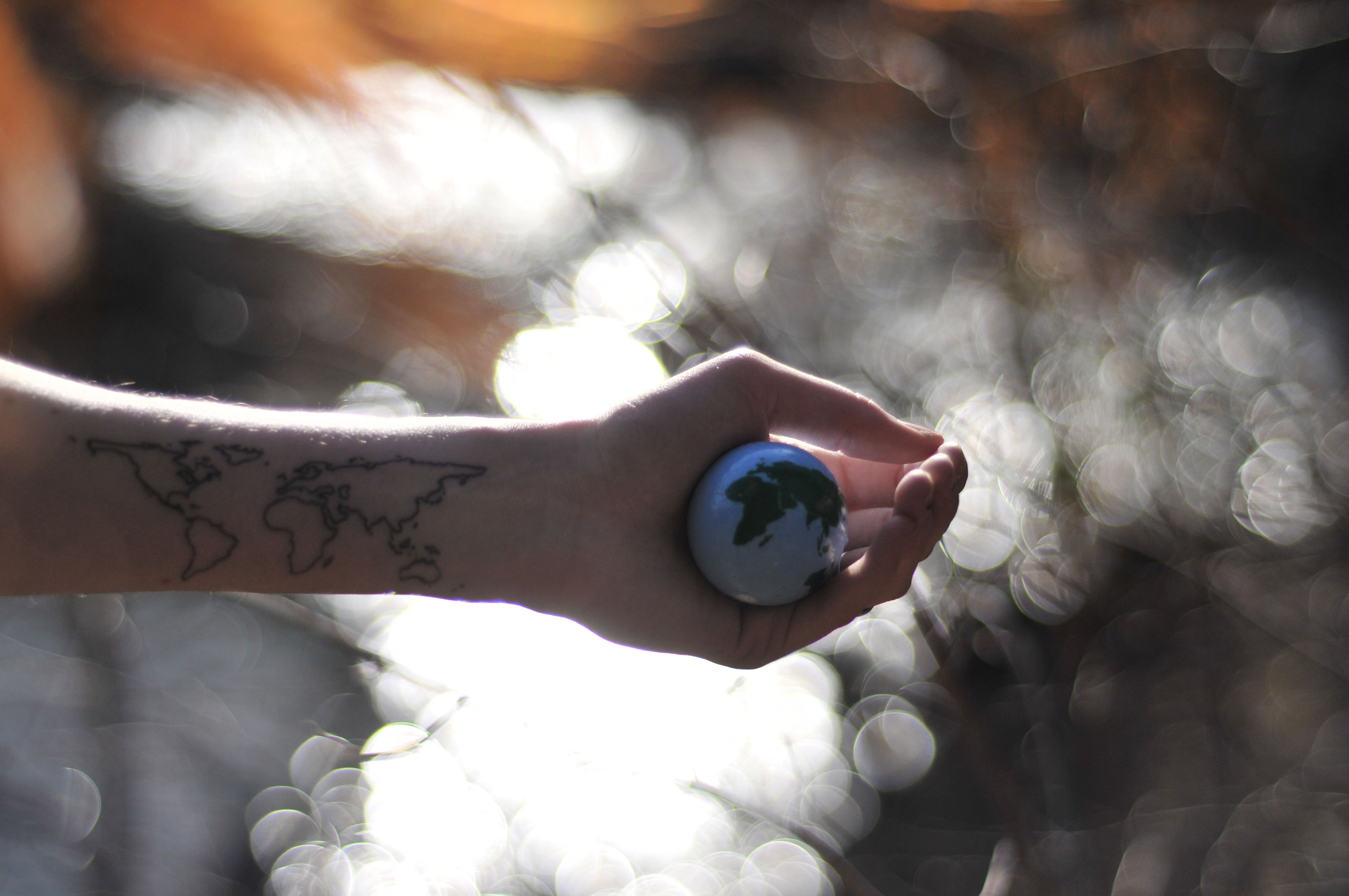 My first travel tattoo was a map of the world on my left wrist. I got it in Vancouver, during the 2010 Winter Olympics. It is also my favourite tattoo.
Sometimes I regret getting it so small, because I would love to have a larger version somewhere else on my body. But, I love that I can easily see it.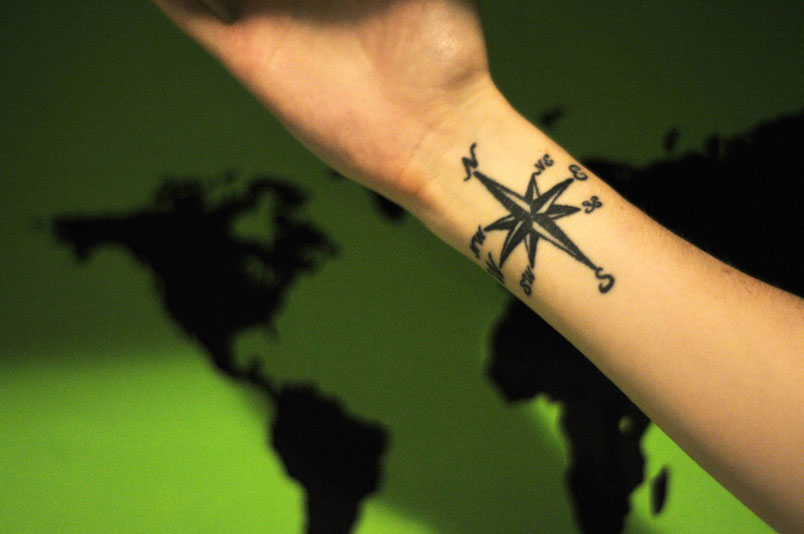 My second one was a compass rose on my right wrist.
It was meant to tie together with the map, and started the whole travel theme. I got it in Keswick, ON.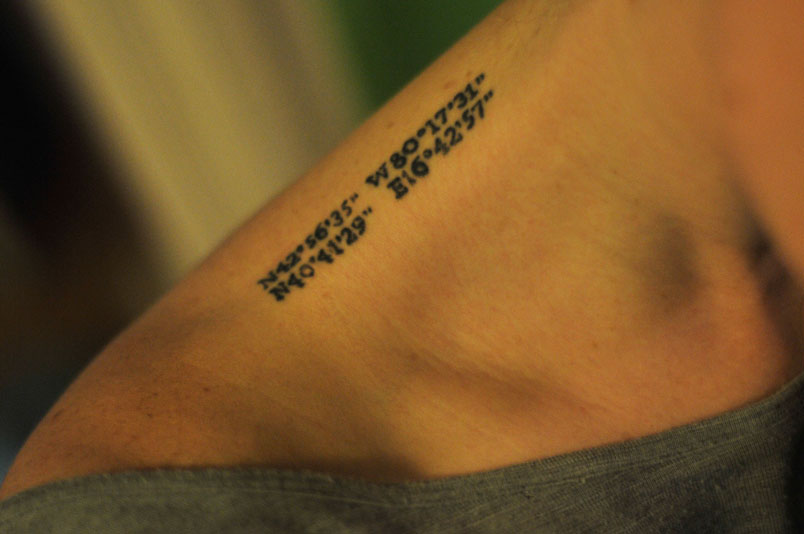 My third were GPS coordinates. Cliché, right? Whatever, I was a geography major in University, and specialized in GIS. I live and breath maps and geography, so it made sense for me.
To make it more personal, I localized the coordinates as the house that I grew up in, and the first place that I ever traveled overseas (Italy). I got this one done in Niagara Falls, Canada.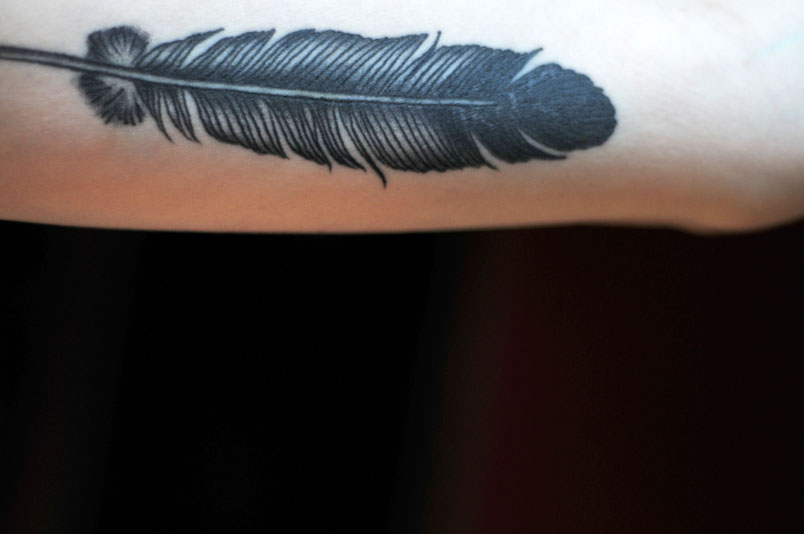 Another one that I have, is a feather under my arm. It may not come off as travel related, but to me it does.
Originally, I was trying to decide between an airplane and a feather, with the same meaning behind them, and representation of my favourite quote. This probably sounds cheesy too, but I always have the urge to simply fly away (on an airplane–I know I'm not a bird) when I become bored of the place that I'm in.
There are also some other meanings for me, behind this one, but I'm not giving away all of my secrets. I got the feather done in Sydney, Australia.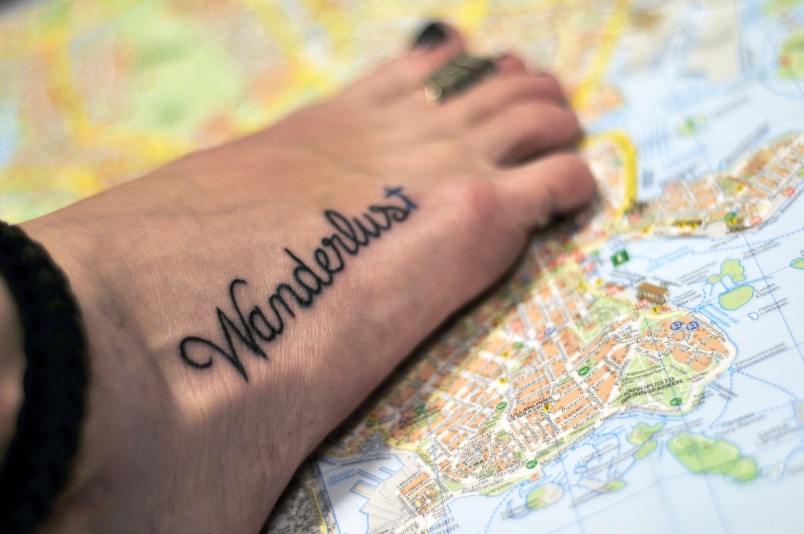 My latest travel tattoo is the word Wanderlust, on my foot. I had always wanted the word tattooed on myself, somewhere, but it took me awhile to decide where. I chose my feet, because they are the things that often seem to be itchy with wanderlust.
Since I got this tattoo done in Helsinki, Finland.. I wanted to customize it a little, to represent where it was done. I had the "t" done in blue ink, to resemble the Finnish flag.
—
Without getting into it, I'll just say that there was something that has kept me from getting
more tattoos
over the past several years.
But now, I can't wait to get more, and hopefully continue the travel theme. I also plan to get one in each new place that I travel.
Until then, here are a bunch of travel tattoos that I really like, that I found online. I wouldn't necessarily get all of these done myself, they are just pieces that I find interesting.
Want to see where I found them? Just click through the images to find their sources. Enjoy.
More on Travel Tattoos: