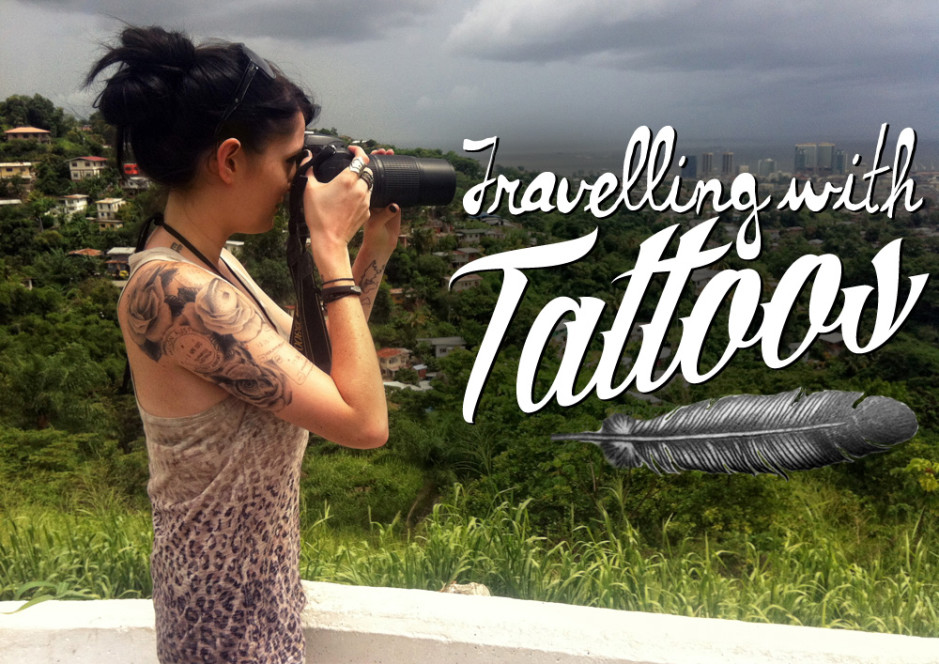 As someone who travels frequently with–shall we say–a somewhat inked-up exterior, I can't help but take notice of varied reactions in different regions around the world.
I've written about getting tattooed while travelling, my own travel tattoos and other travel themed tattoos that I like. But, I've never talked about what it's like to actually explore the world being quite obviously partially covered in tattoos. After a recent trip with a few more stares than usual, I decided to finally make it into a post.
No, I don't have a full body tattoo by any means–but I've got a sleeve in the works, several noticeable designs on my wrists, arms, hand, back and feet, as well as a rather prominent thigh piece (and who knows how many more to come)–so it's safe to say there's no hiding my ink, unless I'm fully covered, including gloves.
I don't personally feel like I'm too heavily tattooed–I know plenty of people with way more ink than me–but as soon as I get somewhere that they receive a lot of attention–it feels like BAM—tattoos everywhere.
My visible ink makes for some very interesting observations around the world. No two countries are the same; some locals embrace tattoos as an art form and happily approach me to compare mine with their own, while others look down upon ink or are simply confused by it.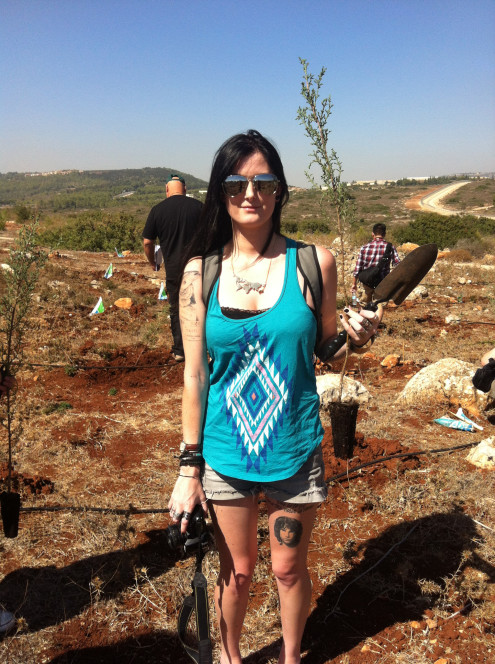 I've grown to expect a reaction and know how to adapt to it in each location, but I'd like to give my fellow tattooed readers a heads up of what to expect before your next big trip.
Below I am going to start an on-going list of the reactions I get, personal experiences (which could vary from your own) and feelings that I have after each country that I visit around the world. The list will be updated frequently, so please come back occasionally for new stories;
Aruba
The people of Aruba didn't seem to pay too much attention to tattoos. Some of them had some, I noticed a few tattoos shops around the Island, but it didn't seem to be a big culture. I certainly never felt singled out for having them, even when walking around with all of them on display in a bikini. There are plenty of tourists there with ink, and it is an accepted lifestyle.
Just make sure to put lots of sunscreen on them!
Canada
Oh Canada, my beloved home country. We Canadians are becoming increasingly inky and are going to be one very tattooed generation of old people come 2050. Tattoos are very popular here and you are likely to see at least one person with more tattoos than you on a daily basis. Everyday feels like a walking art show in the big cities, and I am just one of the instalments.
In Canada, I have gotten tattoos at Seven Crowns Tattoo in Toronto, Sacred Heart Tattoo in Vancouver, Immortal Impressions in Keswick, Dawg Pound Tattoo in Niagara Falls and New Tribe Tattoo in Toronto.
Colombia
Colombians seemed to accept tattoos pretty well. There were a few looks here and there, but never any negative interactions. There was a bit more of a tattoo culture in the larger cities, but I didn't notice too many tattoo shops around myself. I heard of some great artists in Bogota and Medellin, so I will try to set aside some more time for that on my next trip.
Costa Rica
While I didn't come across that many Ticos with tattoos themselves, they were very accepting of my tattoos. They never stared or took a second glance–the most attention they received was in the remote village of Tortuguero–and many people even complemented them. I did see more tattoos in Jaco than anywhere else, but more so on non-local surfers. I got a tattoo at Anchor's End in Jaco.
Czech Republic
Prague is home to some of the world's best tattoo artists–like abstract artist Musa–so it's no wonder that much of the country wears them proudly. No one bats an eye in the big cities, and only offer a slightly drawn glance out in the countryside. I got my Jim Morrison tattoo at Tribo Tattoo.
Dominican Republic
While I was surrounded mainly by North Americans on the resorts, the locals were intrigued by my tattoos when I travelled from Punta Cana to Puerto Plata by public transportation. There were no frowns thrown my way, but definitely a few second glances. I never felt the need to cover up and could dress with comfort.
Finland
It was hard to tell if tattoos were accepted in Finland, as I spent most of my time heavily clothed in winter gear. But, during the times that any of my ink was showing, it didn't feel like anyone paid much notice. There are a lot of tattoo shops in Helsinki and I got my Wanderlust foot tattoo at Paradise Tattoo + Piercing.
Guatemala
I went to Lake Atitlan with a group of friends, and several of us have many tattoos. Lake Atitlan is a fairly touristy area, so no was one too put off, but we certainly got a lot of looks. On the other hand, many locals stopped some of us to ask about our ink, requesting to hear the stories behind them and to learn more. They were curious and inquisitive, but not judgmental.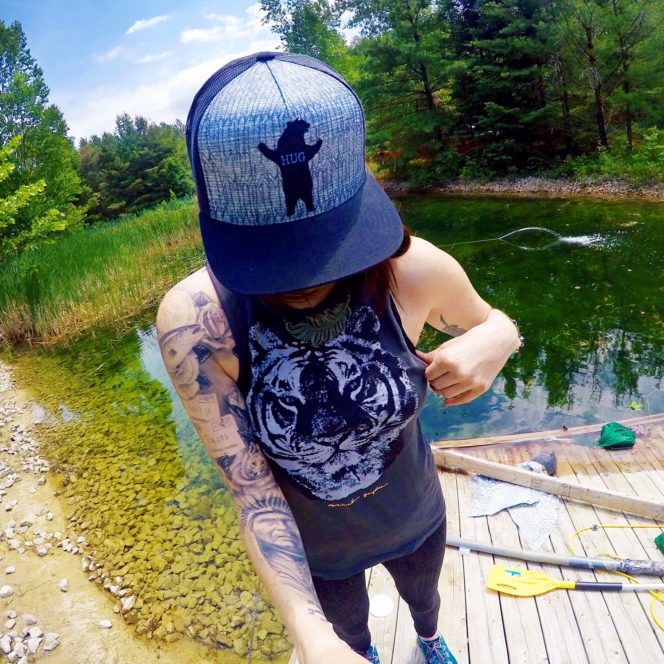 Hawaii
While Hawaii is not a country, it differs from mainland USA. Hawaiians have a very strong tattoo culture and a long history in the art of tattooing. In my experience, it was rare to meet a Hawaiian without a tattoo, and they were all excited to check mine out. While some countries treat you negatively for ink, I felt like I was put ahead of other non-tattooed visitors just because I had tattoos. It was a really interesting change to experience. Perhaps this is why Maui is my second favourite destination in the world. I got my Hawaii foot tattoo at Island Ink in Paia, Maui.
Show those tattoos off as much as possible in Hawaii!
Iceland
Iceland is another one of those cold countries where you will probably cover your tattoos up on most occasions because of the weather alone, but ink is proudly displayed inside a warm house or bar. There are plenty of great tattoo shops in Reykjavik, and I keep meaning to get some work done each time I visit. Next time–I swear.
Vikings.. tattoos.. it just fits ;]
Israel
After my experience in Jordan (read below), I fully expected Israel to look down on me for my tattoos. But, I was happily surprised to learn that Israelis are quite accepting of ink. I initially covered up when travelling around the country (more so out of respect at religious sites), but found that it was perfectly fine to wear shorts and T-shirts in general public areas.
Pack to cover knees and shoulders for religious sites, but regular clothing for the rest.
Jamaica
Locals seemed to have mixed reactions of my tattoos; they didn't look displeased–more so incredibly curious and many people literally wanted to touch them while asking several questions. Once we spoke, they expressed how much they liked them, although no one seemed to know who Jim Morrison was, which made my thigh difficult to explain. Someone even asked if it was me 😐
If you want to avoid the attention, I would advise to pack lightweight long sleeves and pants that you can wear in the heat.
Japan
I arrived in Japan expecting to be judged and ridiculed for my tattoos. Everything I have ever heard or read has pointed to the fact that tattoos are looked down upon in Japan. You can imagine my surprise when quite the opposite happened during my two weeks in Okinawa.
Not only were locals quite interested in looking at my ink, and asking questions about it, but I noticed many people with their own tattoos. There were plenty of tattoo shops in Naha, and there wasn't much of a stigma against them.
There was only one incident (not involving myself), when the guys that I was travelling with were turned away from a public gym for having tattoos. It was interesting to note the differences between old traditions and new.
Jordan
Unfortunately, Jordan is the place that I felt most scrutinized for my tattoos, especially from other young women. I understand that it is disrespectful for a woman to show a great deal of skin in this region of the world, and I would never dress inappropriately because of this. However, I felt pretty bad about myself on the day that it was 35C in Jerash, I was wearing long sleeves and pants, with only my feet showing (in flip flops) and a group of school girls surrounded me, talking about my feet tattoos. Some of the girls looked at me from my eyes to my feet with a look of disgust, until I smiled, got up and walked away. I absolutely love Jordan–it's one of my favourite countries–but it is definitely not a place where tattoos are readily accepted.
Do your best to cover up completely, even if your tattoos are on highly visible areas.
Kenya
I felt some stares in different parts of the country, from Nairobi to the National Parks, but nothing highly judgemental. People were inquisitive but never lingered. I wouldn't even suggest covering up too much, only dressing how you feel comfortable.
Mexico
I never felt out of place, even in small town Mexico. Plenty of Mexicans have tattoos of their own, so wouldn't give yours a second glance. Mexicans also seem to have a huge love to Jim Morrison, so I got countless compliments on my thigh piece. Dress conservatively if you plan to visit a Church, but regular dress is fine otherwise.
Morocco
Morocco may be in north western Africa, but it has a Middle Eastern culture and you should always dress respectfully. While tourists aren't expected to fully cover themselves in public areas, it is always advisable to cover your knees and shoulders, whether they are tattooed or not. I felt a few more eyes on me the days that I didn't wear leggings under my shorts, and always felt more comfortable when I had more layers. The locals weren't too swayed by the presence of ink, more so briefly curious.
Pack to cover shoulders and knees.
Norway
Norwegians seem to like tattoos, but love piercings just a little bit more. At first I thought that it might just be the preference of my friends, but after observing strangers around the city, it was obvious that they had a lot of piercings. Tattoos were certainly popular, just not as popular.
Thailand
Thailand has been perhaps the best country (outside of North America) to travel with tattoos, so far. The Thais have a very rich tattoo culture and many are heavily tattooed themselves. I felt completely comfortable walking around with all of my tattoos on display in even the most rural areas and big cities alike, and never felt any judgement from a Thai person. Of course, I was respectful to religious sites and covered my legs and shoulders, but was free to dress as I pleased in public. I got a Sak Yant tattoo from a Monk at Wat Bang Phra.
Pack pants or a long skirt for temple visits, as well as a T-shirt or shall.
Trinidad & Tobago
Trinis seem to love tattoos, and have plenty of their own. I've been to Trinidad four times now–from having one tattoo the first time, to more than a dozen on my last trip–and have felt no more attention than each previous visit. Sure, I get a few stares as the tall pale girl strolling through a town void of tourists, but it has nothing to do with the tattoos. I tend to cover them up a bit, just to downplay my differences, but it's certainly never necessary.
*Update* After my fifth visit, I travelled with my boyfriend who is heavily tattooed with a full sleeve and large chest piece. It was much more noticeable this time (I also had some more myself), and it seemed like every other person wanted to see and compliment his tattoos–starting from the moment we walked out of the airport. Trinis sure do love their ink :]
USA
The US is much the same as Canada when it comes to tattoos, though possibly more diverse in different regions. On a whole, the country loves ink, but there are also some regions that are a little less accepting than others. There are highs and lows, but it's a great country for tattoos nonetheless.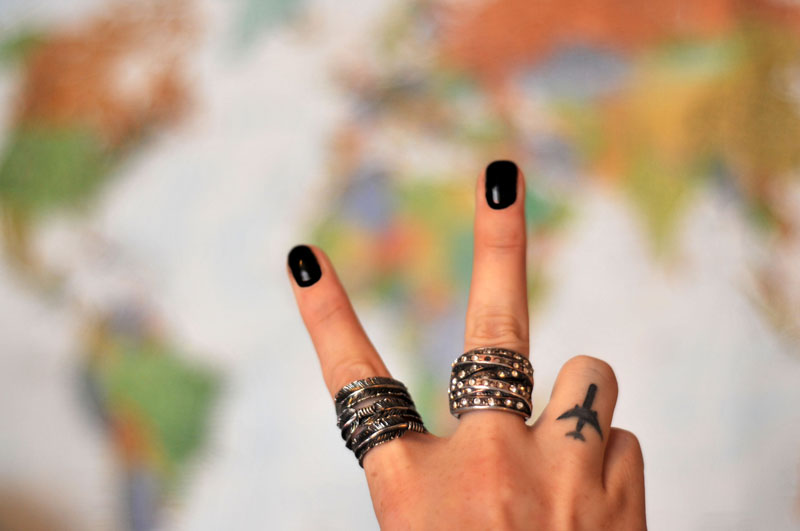 In the end, I love my tattoos no matter what other people think. But, I will continue to be respectful of other cultures and traditions around the world by keeping covered when I need to. I am a visitor in these countries, and I would never expect them to change their beliefs or opinions just because I see tattooing as an art form. I hope that this list will help you in planning what to pack and what to wear on your upcoming travels.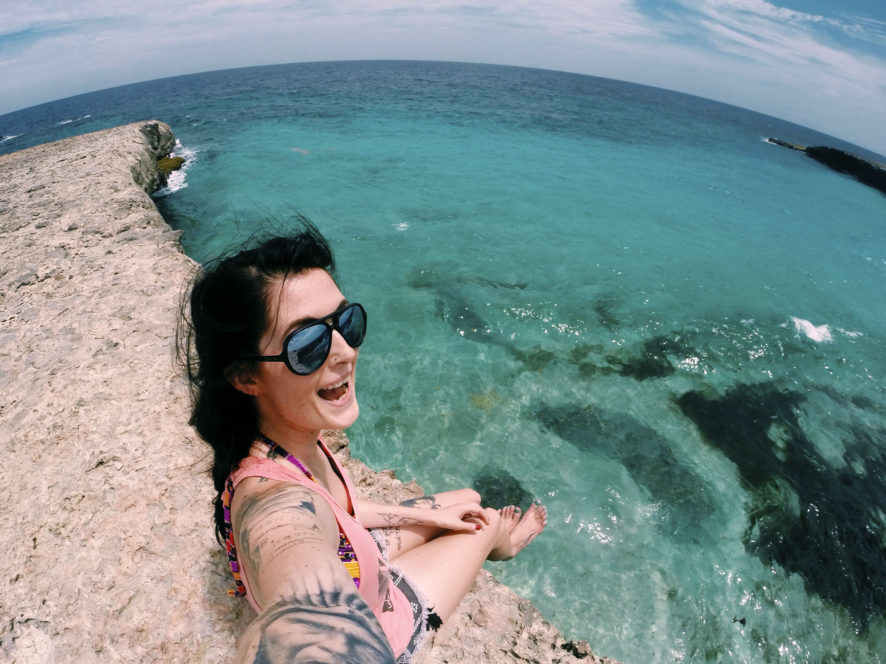 Have you had different experiences in these countries?
Have any countries/experiences of your own to add?
Comment below…