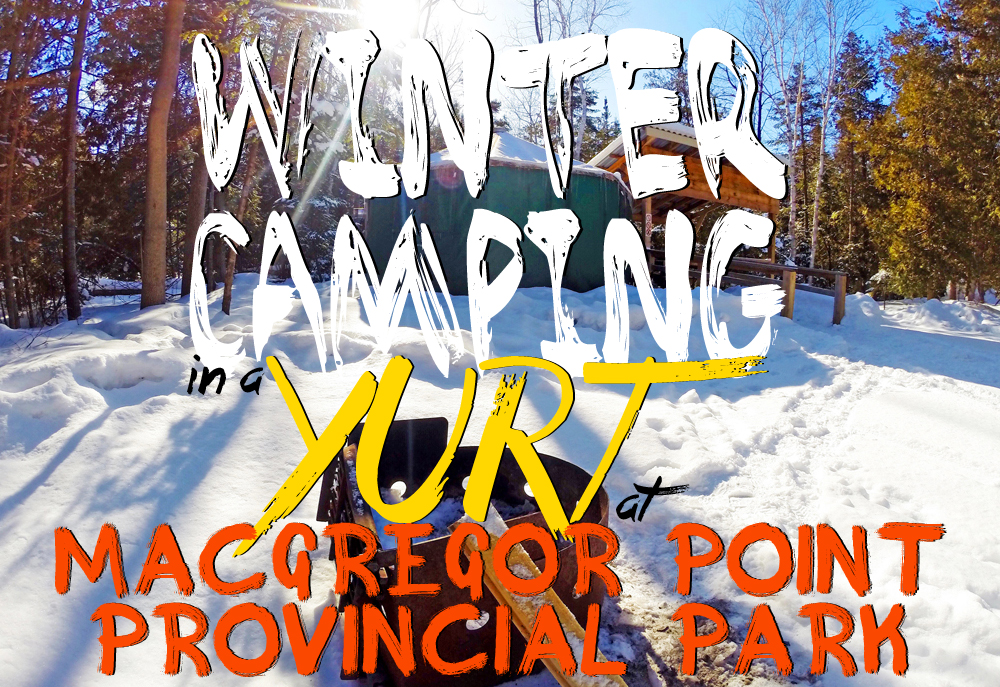 I've always loved yurts, so when I heard that there were some available to rent just outside of Port Elgin, Ontario, I couldn't help but immediately make plans for some winter camping. MacGregor Provincial Park has a total of 360 campsites in the park, including 16 comfortable heated yurts.
Just in case you're not familiar, a yurt is a round tent-like structure based on the tents used by the nomadic people of the plains of central Asia. Ontario Parks has modern yurts located in a number of parks across the province.
The 16 yurts at MacGregor Point are located in the Birch Boulevard section of the camp ground, each sat atop wooden platforms with a large roofed-in deck area serving as the kitchen shelter. The sides of the yurts are insulted to keep heat in during the winter, and have windows to let in lots of natural light and fresh air in during the summer.
Each yurt sleeps six people, on two sets of bunk beds with a single bed on top and double bet on the bottom. Beds do not come equipped with beddings or pillows, so be sure to bring your own. Inside the yurt campers will also find a table and 4 chairs, a shelf, shoe mat, a salt bucket, ceiling lighting, an electric stove and an electrical outlet.
On the deck is a fully functioning propane barbecue with side burner and picnic table.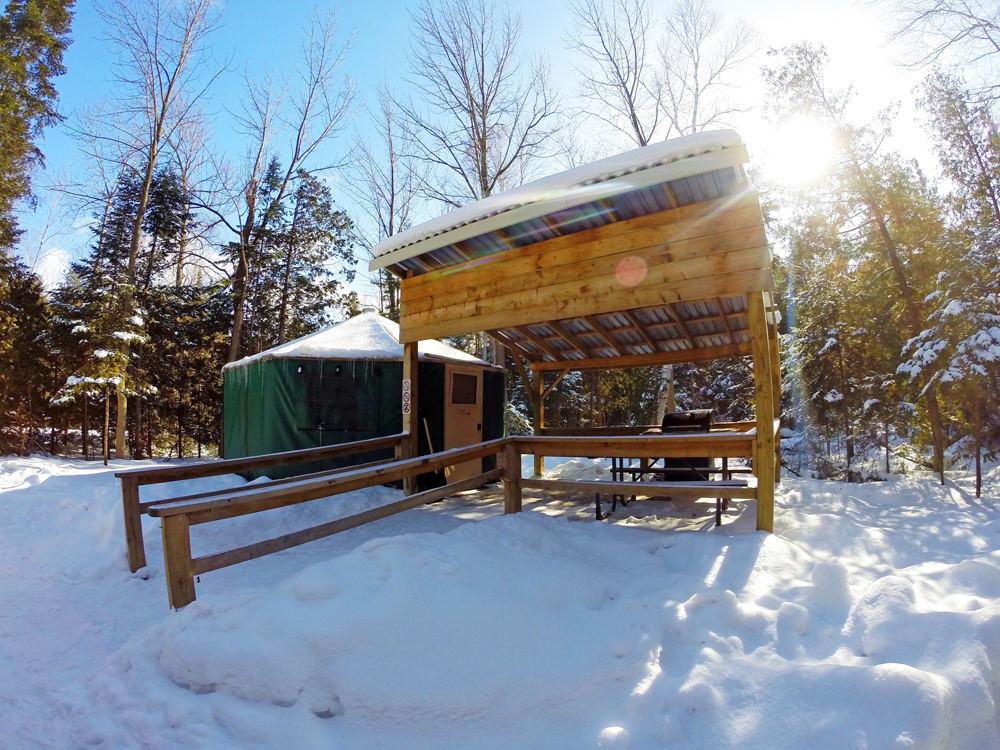 MacGregor Point is a complex ecosystem that consists of wetlands, former beach ridges, sand dunes, forests, swamps & marshes, ponds, fens and bogs. In the summer, there are a network of hiking trails to explore, including a seven-kilometre stretch of coastal paths along the shores of Lake Huron. You can also swim, canoe, kayak, fish, bird or bike in the Park.
Even in the depths of a Bruce County winter, there is still tons to do and the Park is always teeming with activity. Visitors can cross-country ski and snowshoe along miles of groomed trails, or take to the ice on the 400m long Skating Loop.
The Skating Loop winds through the camp ground in a full circle, with a small change room at the start, and fluorescent lighting all along the way for night-time skating. I took a lap around the Loop and felt like I had been swallowed up in a winter Fairy Tale, surrounded by nothing but snow-covered pines and bright shining sunlight. As the trail bends, it feels like the rest of the camp ground completely disappears, and you're skating in the middle of a wild forest.
It was one of my favourite parts of the MacGregor Point experience.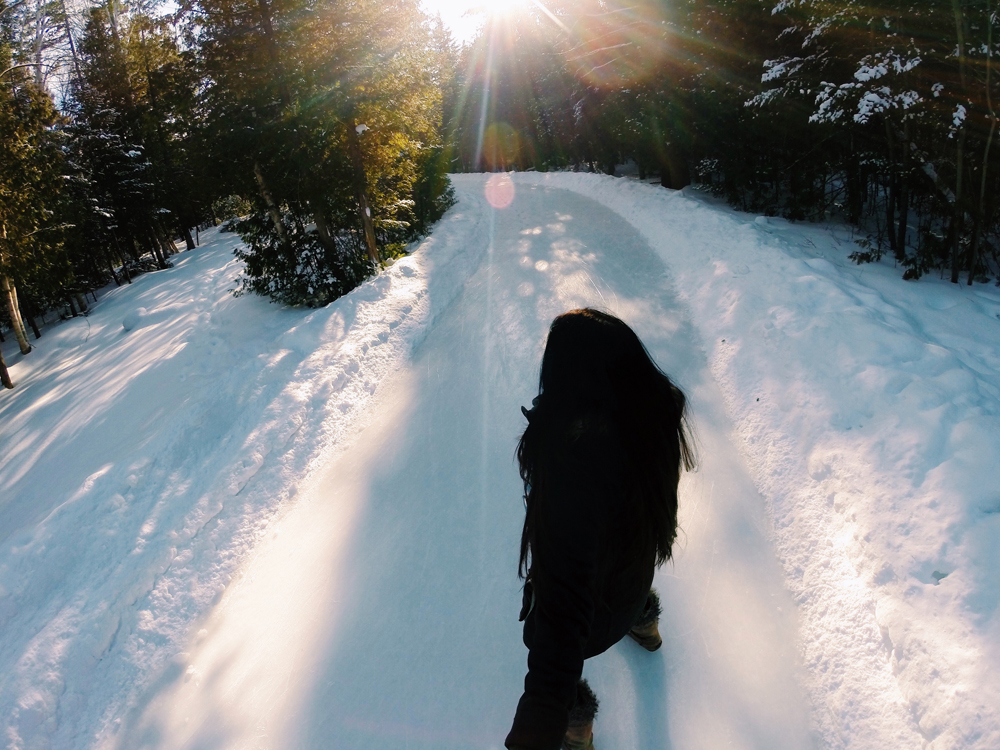 There are several flush toilets located through the camp grounds, including sinks and lighting. These are not heated, but good for a quick run from the yurt. Showers are located at the comfort stations which are centrally located in each of the three camp grounds. Comfort stations are heated and have space to do laundry or grab a drink/snack from the vending machines.
We had been planning a camping trip with a few people, but as the others had to back out at the last minute, it ended up as just my boyfriend and I. It certainly would have been an awesome trip for a group of friends, but we ended up having a great time by ourselves, cooking a delicious meal and exploring the Park.
We brought along tuna pasta salad, hot dogs, chicken & veggie shish kebabs, Rolos to roast inside of marshmallows, and drinks.We stretched hammocks across from the bed frames, lounged in front of the fire, and stayed warm in the cozy little yurt during the night, and went on the Skating Loop and snowshoe trails during the day. Even though there was no television, laptop, or internet, the night flew by and I never felt bored for a minute.
I could have easily spent a weekend at the yurt, and plan to do just that next winter.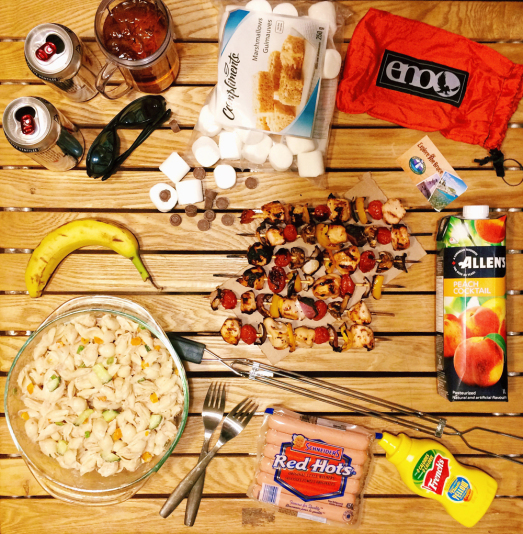 What to Bring:
Sleeping bags/pillows
Fire wood/matches
Food to cook on BBQ/fire
Dishes/cutlery/cups
Flashlight or headlamp
Skates/snowshoes
Warm clothing/Extra socks
Radio/speakers for music
Here are some more photos from MacGregor Point: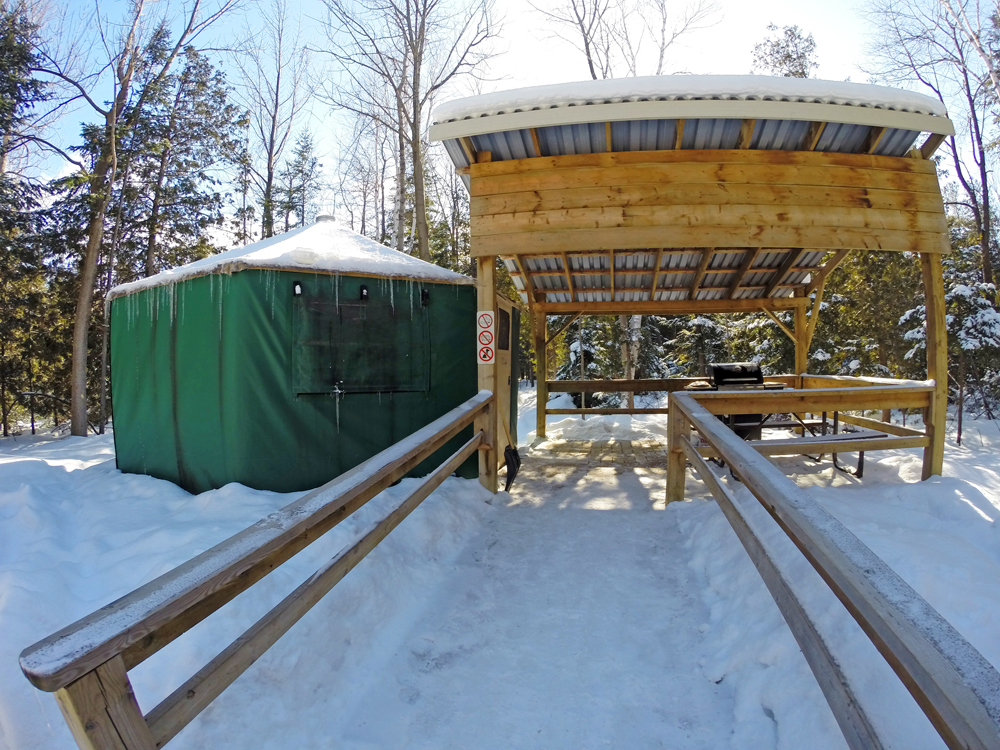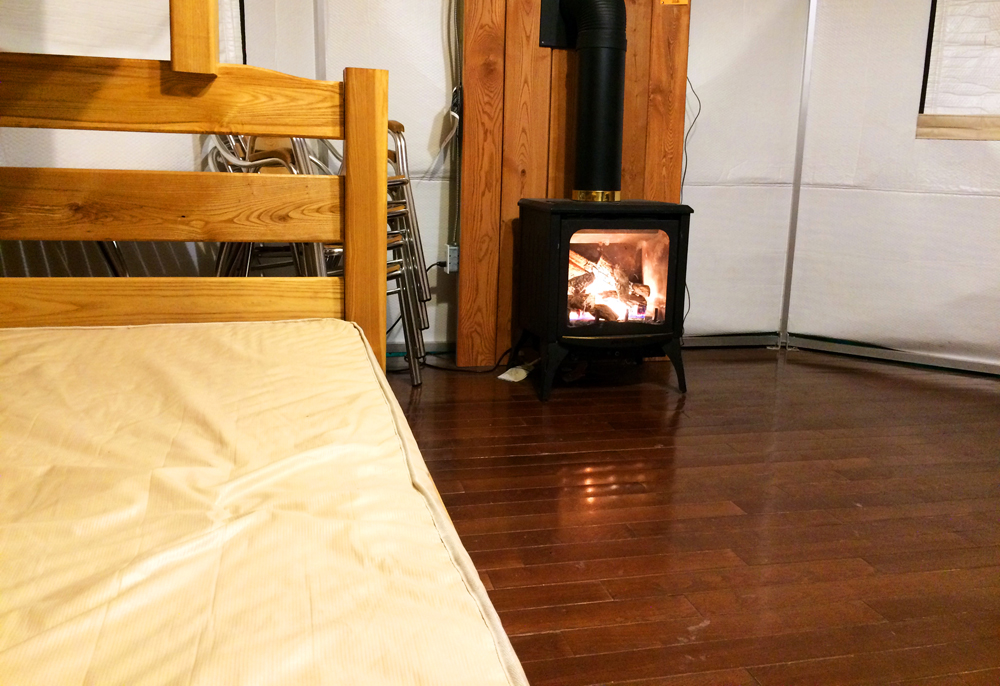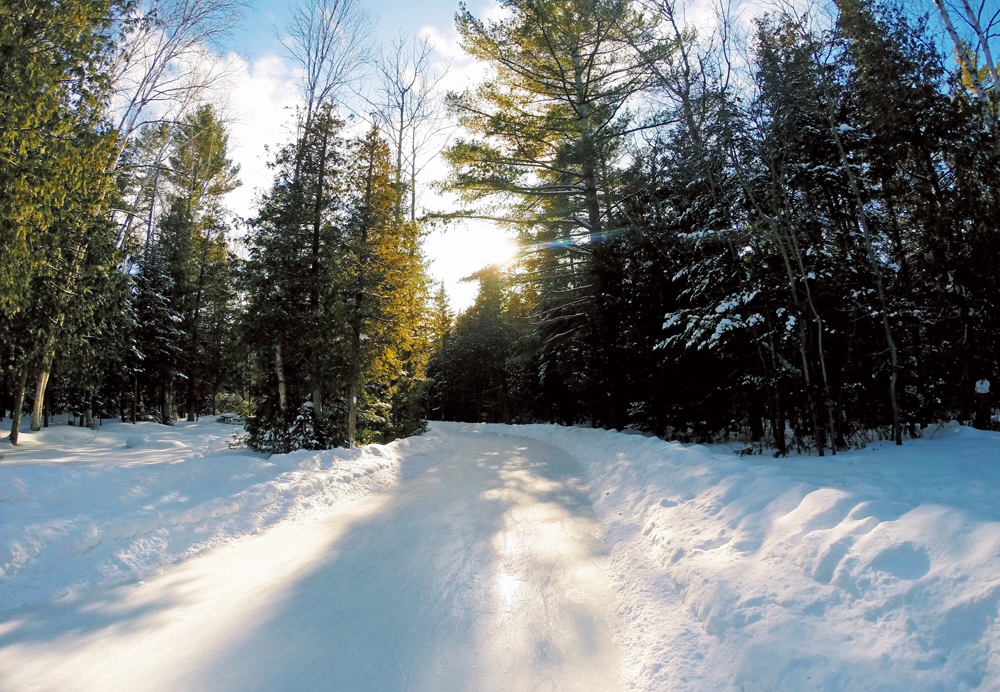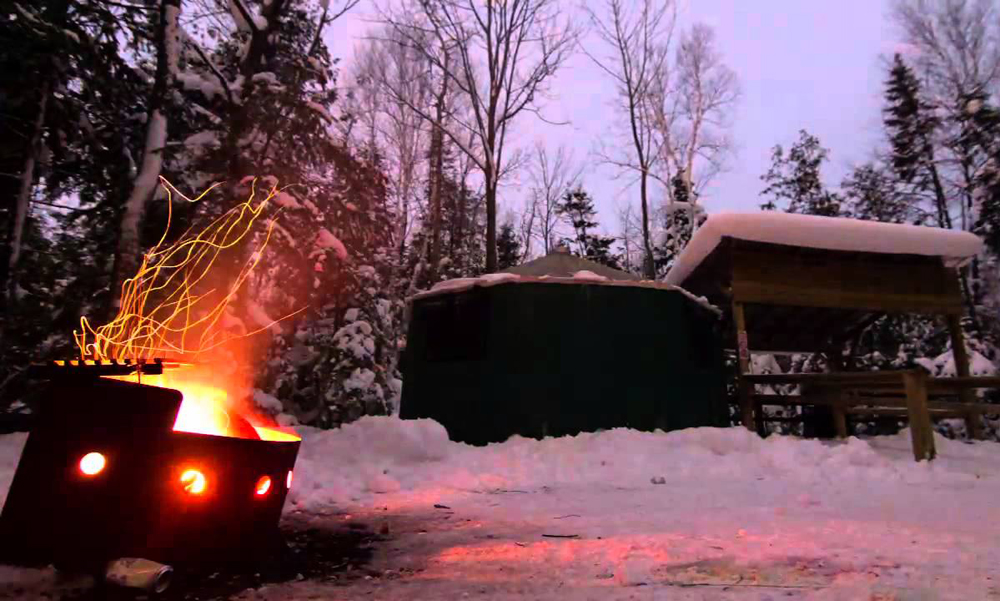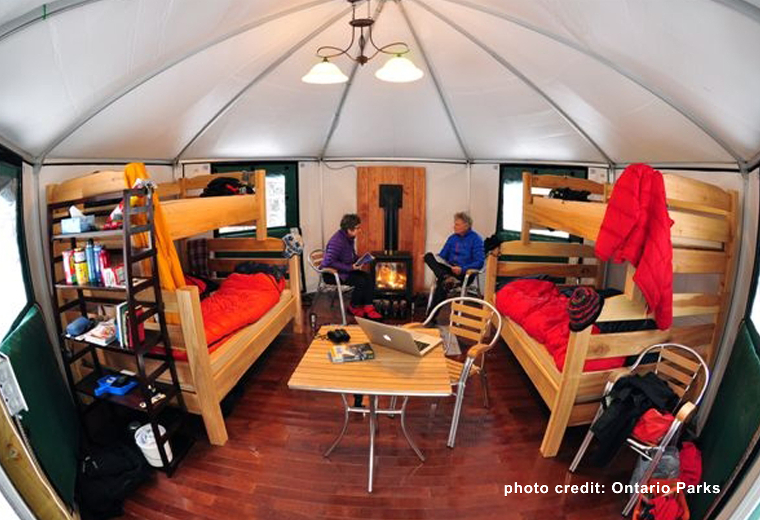 Yurts can be rented for $97.17/night by booking at Ontario Parks.
Have you ever gone winter camping or stayed in a yurt?