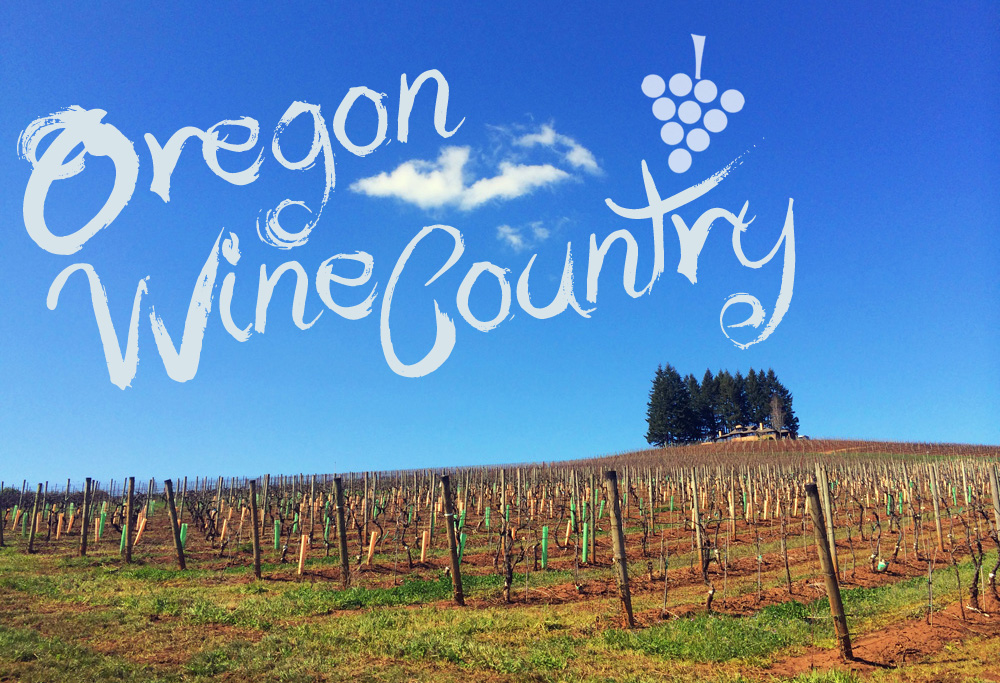 Oregon wine country? That's a thing?
These are the questions I found myself asking when the region was first introduced to me. I knew that neighbouring California was known for it's wine, and had heard of a few particular wine-friendly climates in nearby interior BC, but for some reason it didn't phase me that the State of Oregon could have its very own wine region.
But, why not? The Willamette Valley has a mild climate with warm summer days and cool summer nights, and winters that never drop too bar below freezing. It's a happy medium for healthy grapes and perfect growing conditions for a good Pinot noir.
Oregon is secretly Tuscany.
Okay, maybe not really, but there is a point outside of Dundee where you drive over one last hill and suddenly you find yourself wondering, "how did I get to Italy?"
A series of perfectly rounded hills lined with neatly spaced grape vines separate the swaying golden wild flowers from the perfect bluebird skies. the hills are topped with picturesque vineyard villas that are surrounded by towering Douglas Fir trees that closely resemble the iconic Italian Cypress trees that are so common in Tuscany.
It feels like a completely different country.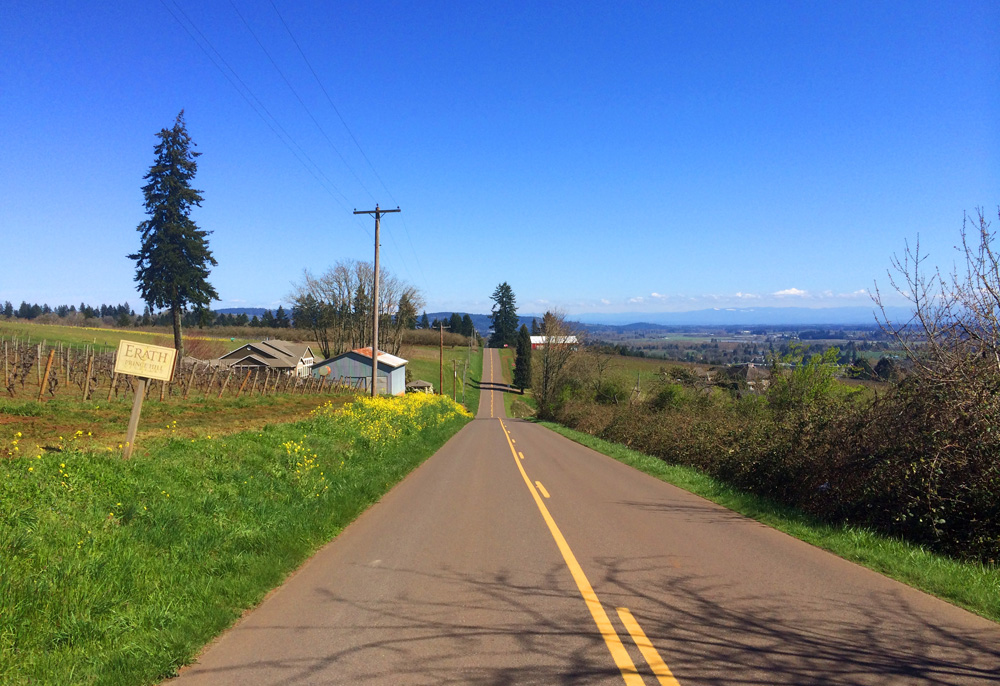 I couldn't help but stop the car. Get out. Stand there in awe. And, then take photos.
This happened several times over the course of one small strip of road, as the views just kept getting better and better. I could hardly believe how beautiful it was and even more so, that I was still standing in Oregon.
 Here are a few of my favourites places in Oregon wine country…
The Allison Inn & Spa
After a long drive from Hood River in the Columbia River Gorge, through Portland and all the way down to Newberg, I had worked up an appetite by the time I walked into The Allison's Jory Restaurant.
My cravings were soon suppressed with Windy Hill Farm chicken breast with creamy mascarpone polenta, grilled squash, braised eggplant and puttanesca.
I didn't spend the night at the Allison, but I sure wanted to. From the pool, to the spa, to the rooms.. it seems like the kind of place that I could relax for a few days.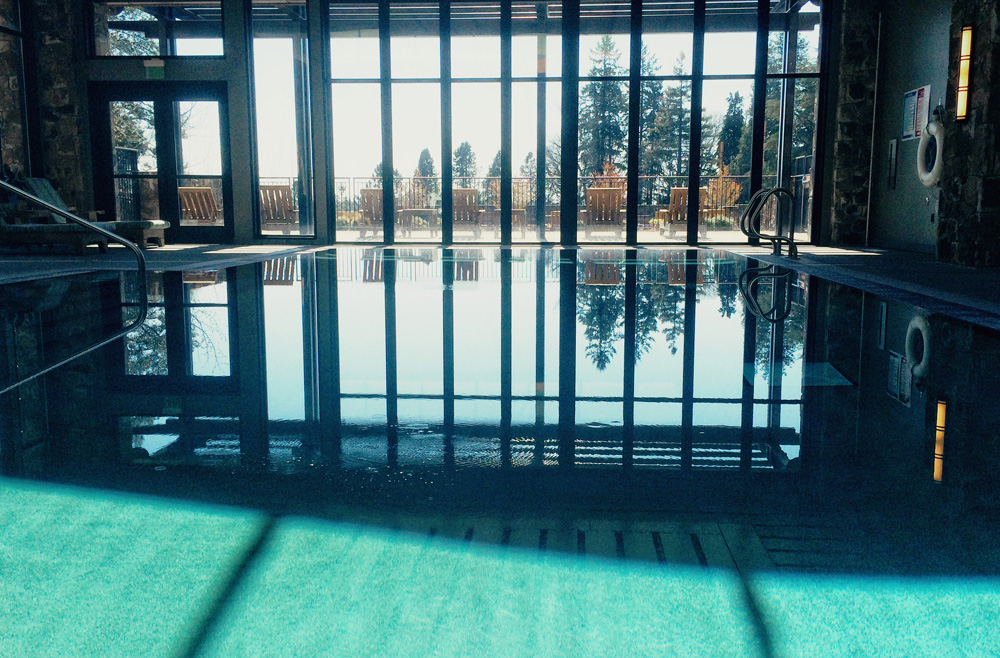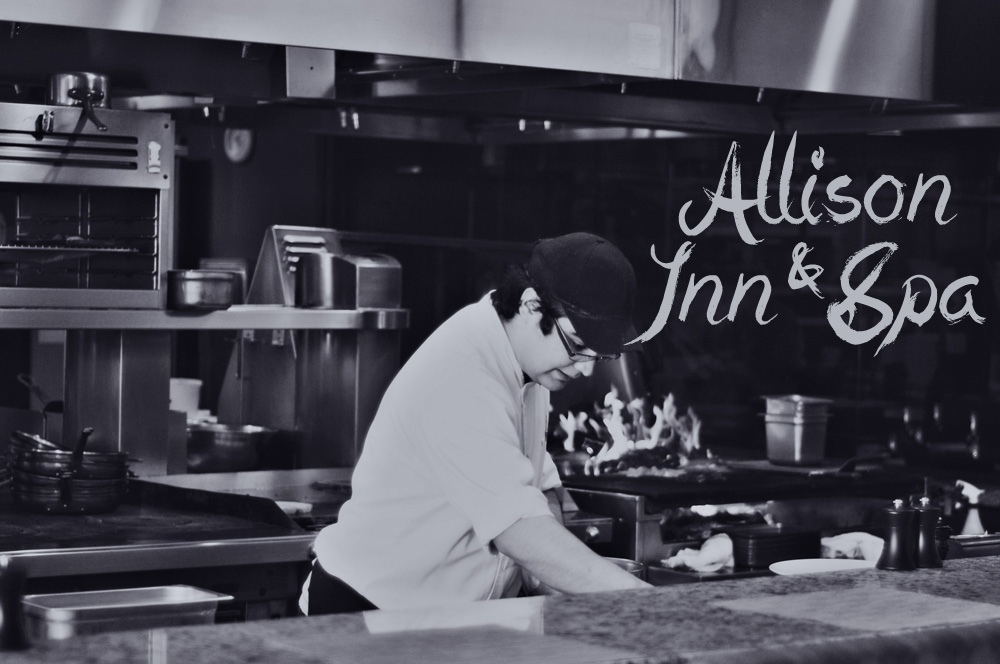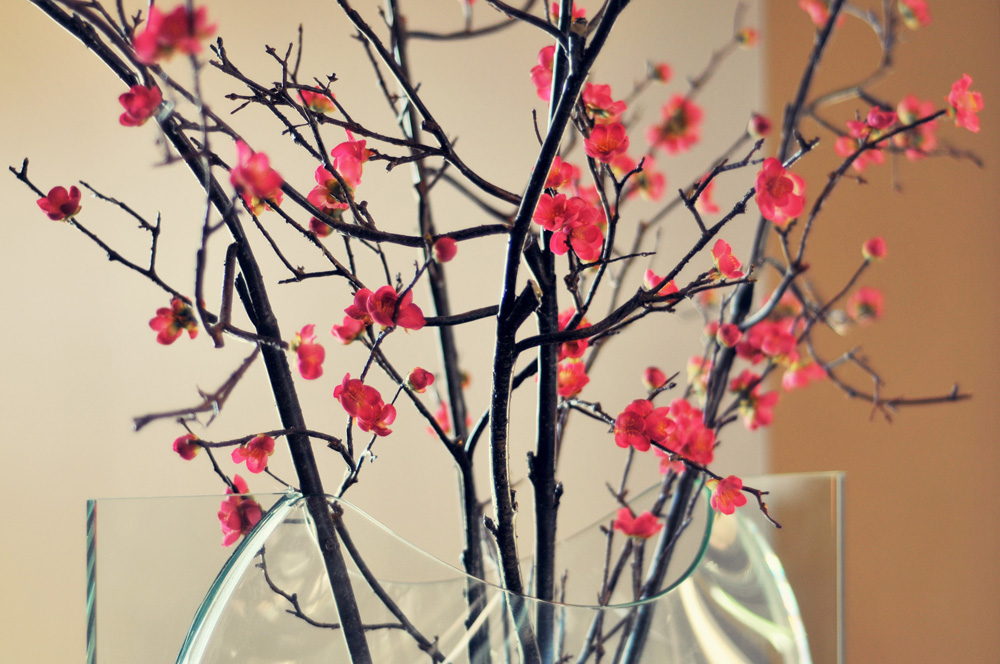 The Black Walnut Inn & Winery
The Black Walnut was, hands down, my favourite place in Oregon wine country.
After driving through the rolling Red Hills of Dundee, with my jaw down, I pulled into the front lane way of the Walnut. Without realizing that it was located so far back from the road, I wasn't expecting the long drive up the path that followed. There was something about the way the light was shining through the forest canopy, beaming through the thin mist and glistening off the damp moss that made me stop the car (yet again) at least three separate times to stare in disbelief. I hadn't even arrived at the Inn, and already I was blown away with the grounds.
I pulled out of the forest and stopped the car once more. In yet another Tuscan dream-scene, the Black Walnut waited above me, gently topping a vine-layered hill. As I drove closer it began to look more and more like a classic Tuscan Villa, as the mid afternoon sun shone warmly on the deep yellow walls and the crimson tiled roof contrasted against the crisp blue sky.
The interior was no less impressive. Though I was there alone, the best word I could think of to describe my room (the "Rapture" room) was romantic. The light from the now dipping sun through the wide French doors was cast across the dreamy king bed and reflected across the charming room by an antique full length mirror. Whether you sit on the bed itself, or in the two-person soaking tub, you have a clear view of distant Mount hood and the surrounding Willamette Valley.
And, let me tell you… there is no sunrise, like the sunrise over a volcano…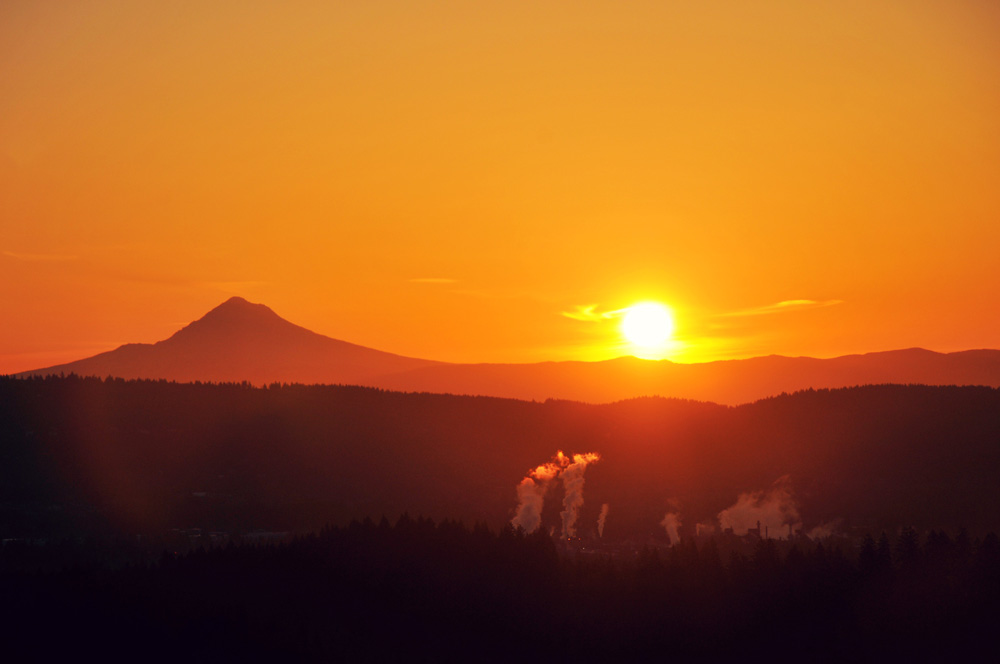 As if my night in wine country luxury weren't enough, the next morning I was served what I deemed to be the best sounding breakfast of my life.
It's easy to see why the Black Walnut was my favourite place in Oregon wine country.
Winderlea Vineyard & Winery
Right after I checked in at the Black Walnut, I took the two minute drive over to Winderlea for a short tour of the winery and tasting at their ultra modern tasting lounge.
Winderlea is a boutique winery specializing in the limited production of Pinot noir and Chardonnay from Oregon. I chatted with owners Bill and Donna about why they decided to move from Boston, MA to rural Oregon and what made them choose this particular spot for their winery.
It turns out that they had travelled all across the country, and decided that this was the region that produced their favourite wines. Along with ideal soils and a unique microclimate, it felt like the perfect place to make a home.
The wines were great and the view was definitely the best I've ever seen from any wine tasting room.
The Painted Lady
After my visit to Winderlea, I headed to The Painted Lady for dinner.
Set inside of a restored Victorian home in Newberg, the fine dining restaurant has a tasting menu of Northwest fare paired with local wines, and spoiled me with the best meal of my entire trip. I enjoyed selections from the Chef's Trio menu:
Creamy Chestnut Bisque with creme fraiche, savory crumble, and shaved truffles.

Potato gnocchi with wild mushrooms and parmesan.

Cardamom scented crepes with roasted vegetables, cous cous and red wine Soubise sauce.

Meyer lemon souffle with huckleberry coulis and honey & Lavender gelato.
King Estate Winery
King Estate is Oregon's largest winery with 1,033 acres, a French château encompassing approximately 110,000 square feet and a total production capacity of 400,000 gallons of wine.
That's a lot of glasses…
It was a completely different experience from the rest of the wineries that I visited, and provided the quintessential winery tour through the working production facility and underground barrel rooms.
I also enjoyed a tasting and light lunch.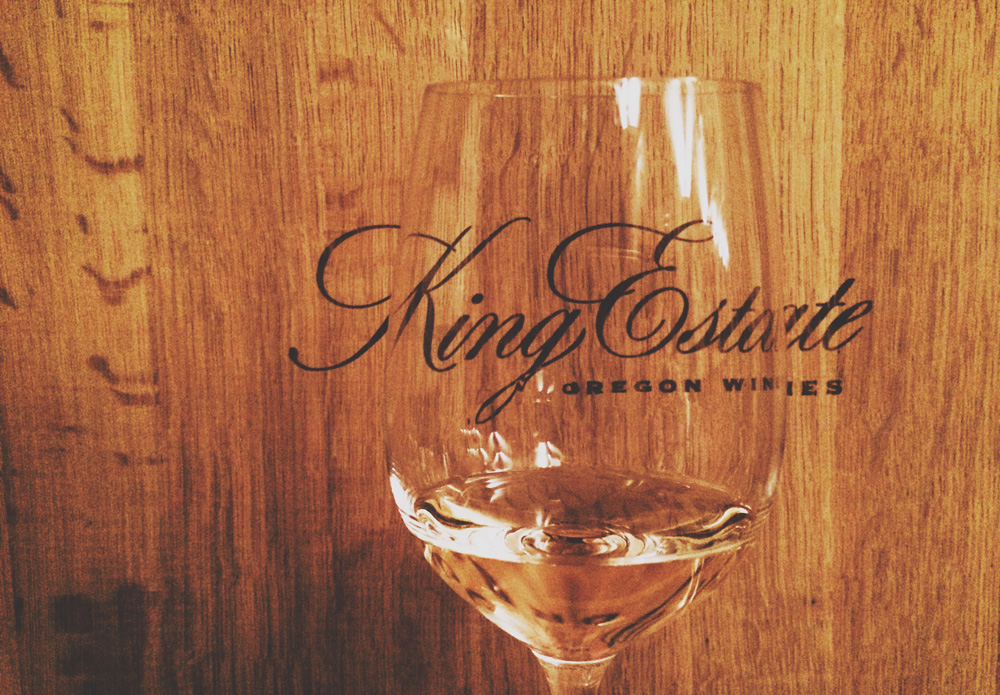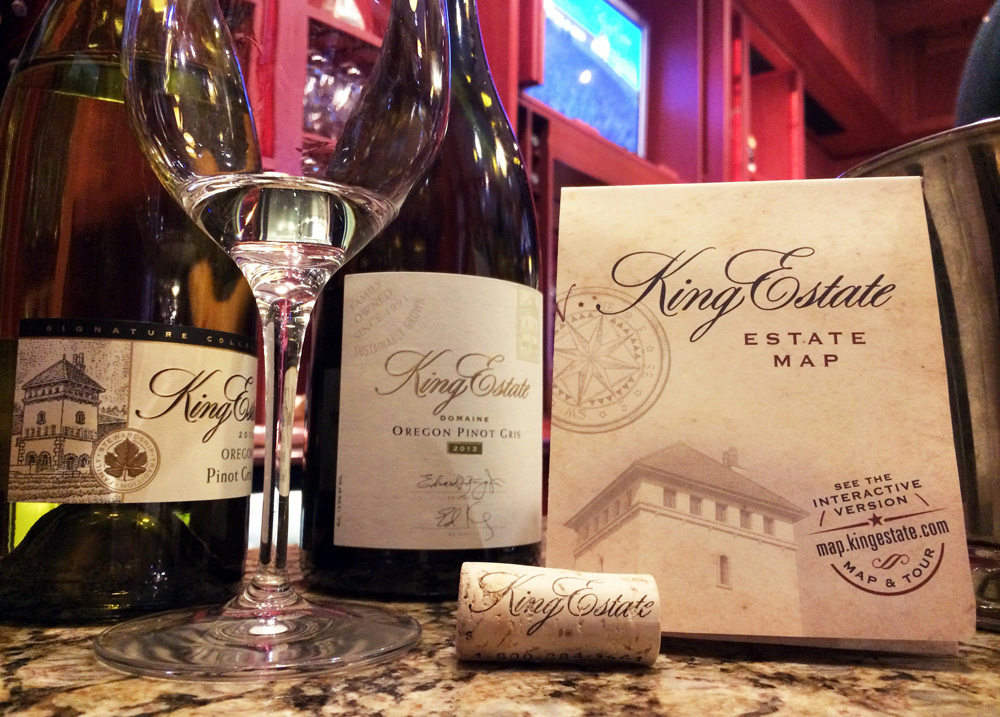 __
Sweet Cheeks Winery
I only had a quick stop at Sweet Cheeks Winery, but the name alone was enough to make an impression.
The vineyard got its name because of "the curious swell in the hillside that was noticed as the soil was being ploughed to plant grapes".
Though I'm not usually a fruity wine drinker, I actually quite enjoyed the "Rosy Cheeks", fun cuvée of their Pinot Noir, Tempranillo, Syrah, Merlot and Pinot Gris pressings. Rosy starts with a beautiful strawberry bouquet, tingles the tongue with a delightful acidic balance and ends with a soft creamy finish. It was certainly unlike any wine I had ever tasted before.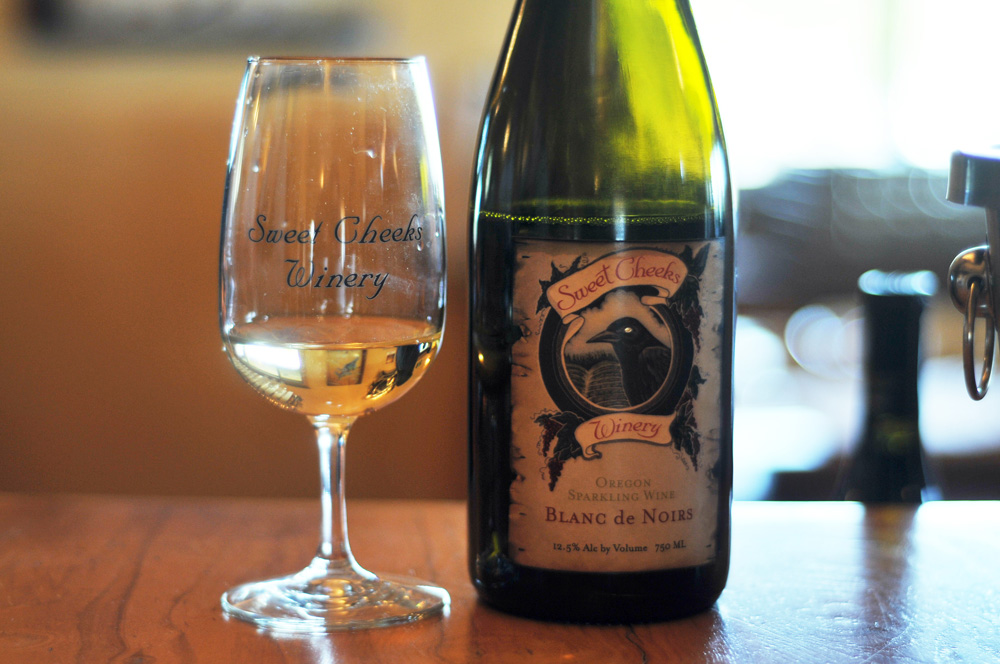 Oregon Wine Lab
The Oregon Wine Lab was the last stop on my wine tour, but a great way to round it out.
The Lab is is an urban winery and tasting lounge and home for local artisan brands and winemakers, interestingly set in the centre of Eugene, OR. It has a laid back atmosphere and an incredible hand crafted bar.
Experimenting with flavours at the @OregonWineLab ???????? (might have taken a bottle home myself) #traveloregon pic.twitter.com/hCAfoI1K2L

— Seattle Dredge ? (@SeattlesTravels) March 23, 2014
 —
Oregon may not currently be known worldwide for it's incredible wine region, but this is something that needs to change. Even as someone who is far from being a wine expert, I had an awesome time in the Willamette Valley and would highly recommend it to wine drinkers of any level.
This trip was made possible by Travel Oregon.
All views & opinions are my own.