In summer 2013, I visited the Ivy at Verity Hotel in Toronto for the first time (and wrote about it here) and immediately declared it as my favourite hotel in the city, and possibly even the world.
So, you can imagine my excitement when they invited me back for an anniversary visit.
I eagerly anticipated hanging out in the spacious room, lounging on the comfortable bed, dining at the delicious George Restaurant, and having a few drinks from the bar table.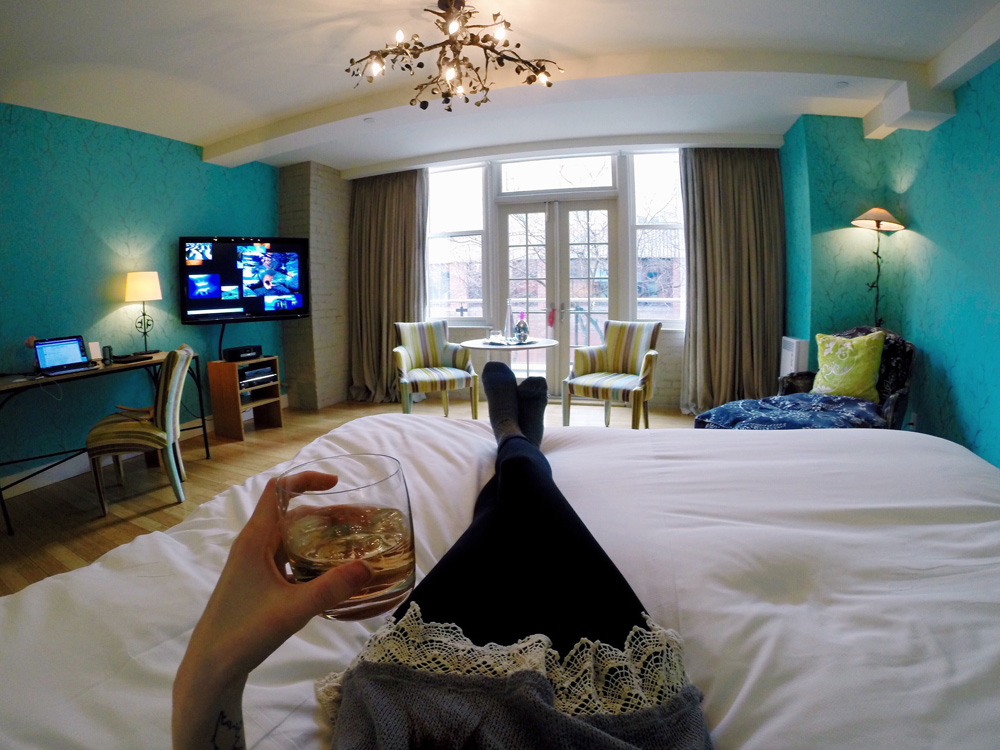 There were a few difference this time, inducing the fact that I was now in room #3 instead of room #4.
As there are only four rooms in the entire hotel, you might not expect great variance between the rooms, but they couldn't be more different.
Each room is beautifully decorated with colourful furniture & statement pieces, like the large Victorian chairs that are back by bold wallpaper and intricately handmade light stands.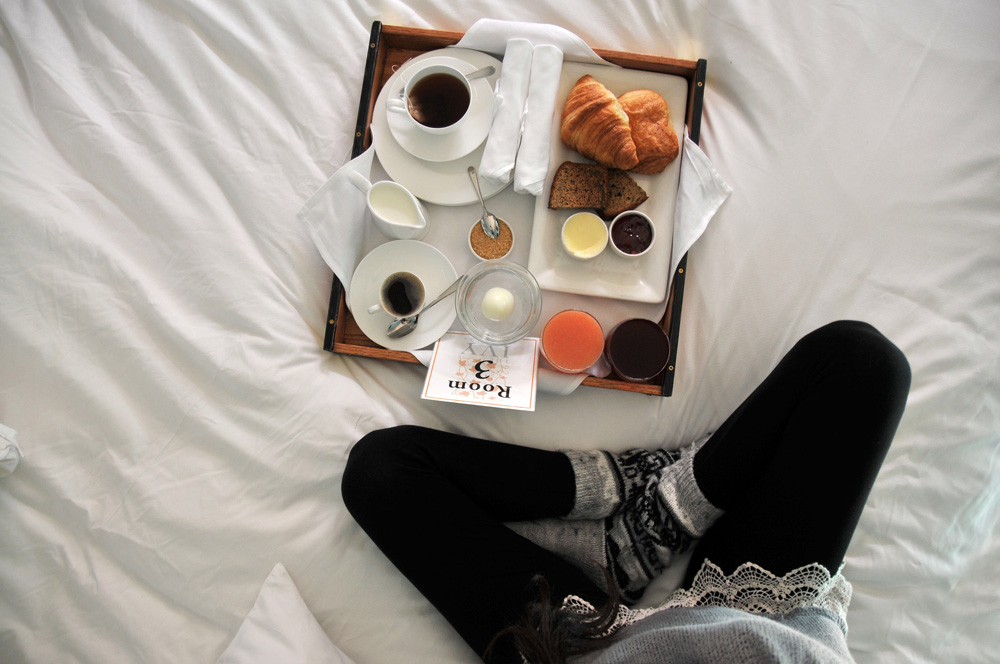 The wide Hästens beds are made with world's finest hand crafted mattresses and Italian linens, with trendy patterns on the stud-lined headboard.
The headboard in my room featured a black and white Japanese village scene of temples, bridges, Bonsai trees and fishing boats. It contrasted perfectly with the blue walls, that almost appeared to be covered in pencil drawn floral patterns.
Another new item was the Apple TV. I had never actually used one before, so we ended up watching a movie before going to sleep, to try it out. It was kind of like Netflix, but better.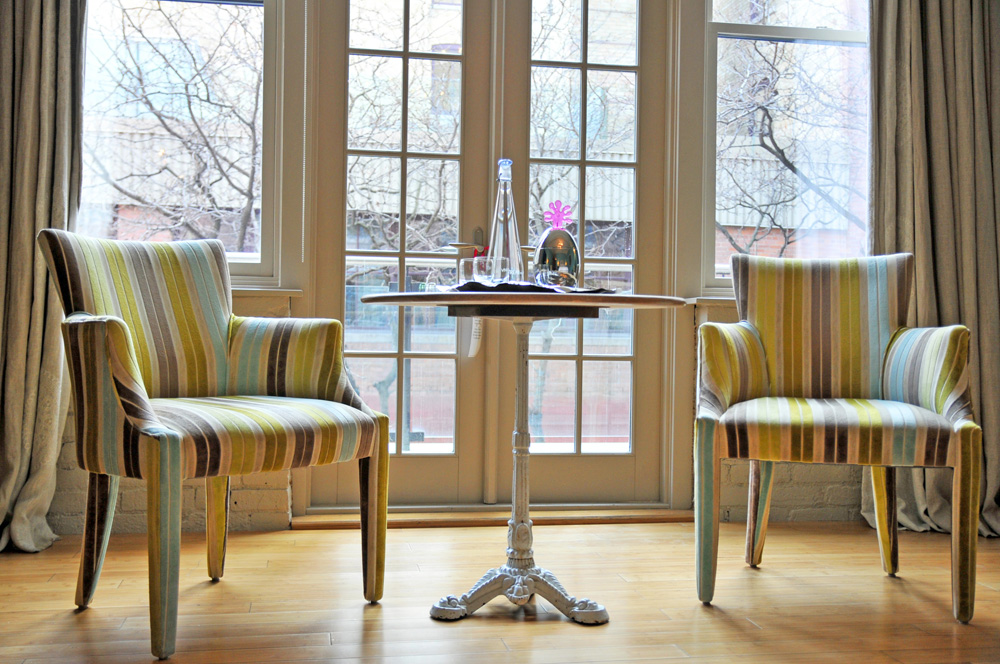 The Verity complex is made up of not only a hotel, but also an award winning restaurant and women's only spa.
George Restaurant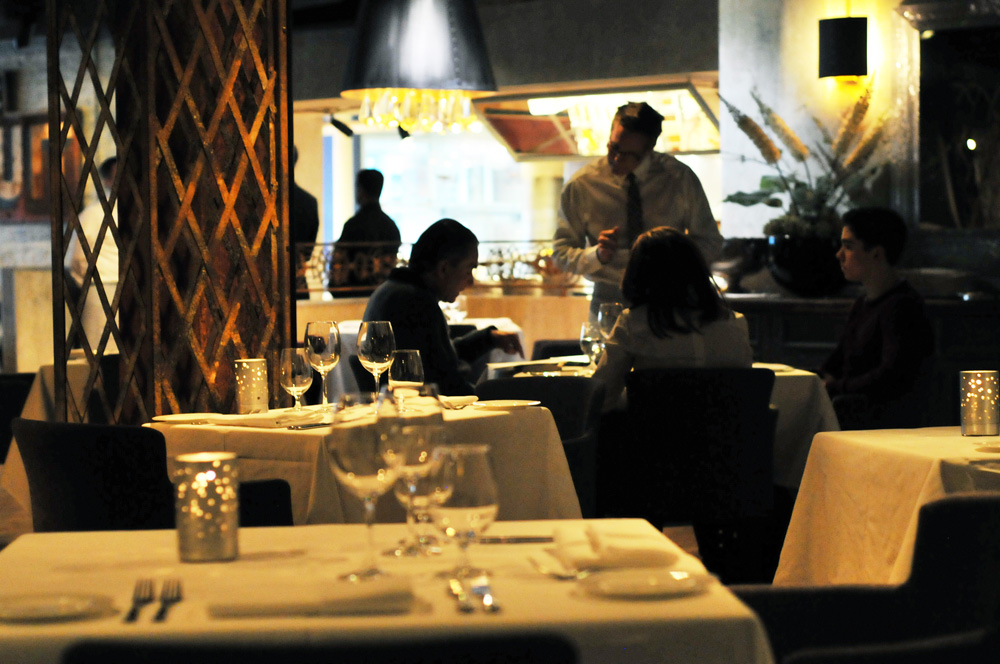 On my previous visit to the George Restaurant, I decided that it was the best meal I had in Toronto, and couldn't wait to come back to dine from the kitchen of Chef Loseto once again.
This time around, instead of sitting up in the front window, we were lead to the very back booth table in the far corner. It was nice to get a new perspective of the restaurant (as I hadn't even seen this side last time), and have a little more privacy.
I ordered a 'Don Draper's Old Fashioned'; with muddled mascara cherry, lemon slice, orange slice & a raw sugar cube soaked in angostura aromatic bitters, topped with Crown Royal (my fave) Special Reserve rye & soda. Wade had a 'Deep Freeze Martini"; with No. 3 Gin poured into a frozen glad with distilled water at -20C, Vermouth, olives and lemon/lime twists.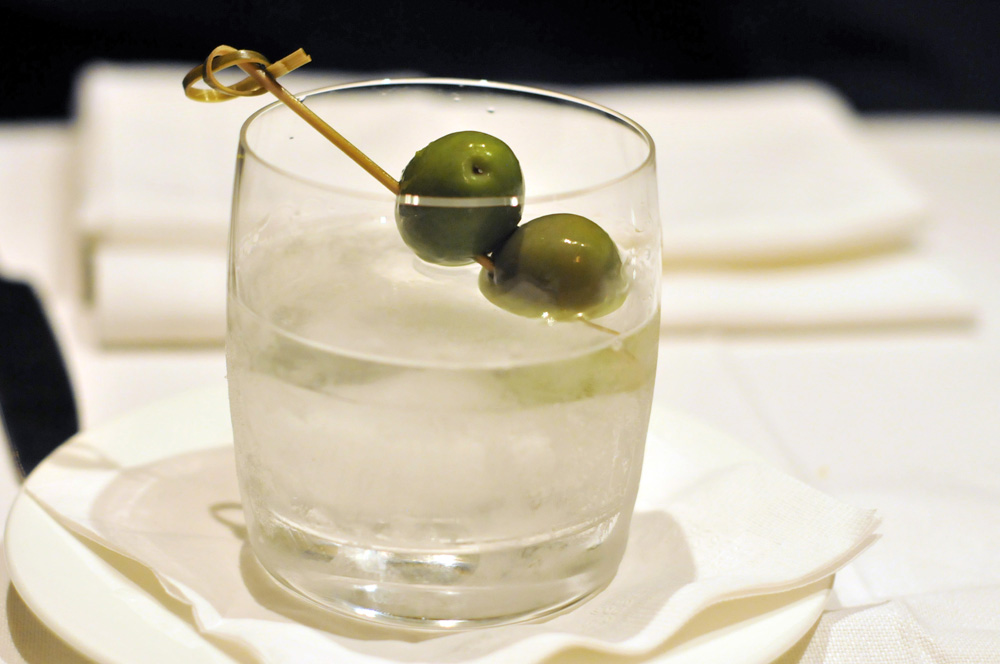 We were sitting for the five course dinner tasting menu, which ended up being seven courses with some complimentary dishes from the Chef, and feeling more like like twenty, as we shared and essentially had fourteen to taste from. Food started coming out, and I wanted to try everything.
Each exquisite tasting menu experience features fresh and sustainably-sourced fish, local produce, seasonal game, artisanal cheeses and beautifully-crafted desserts.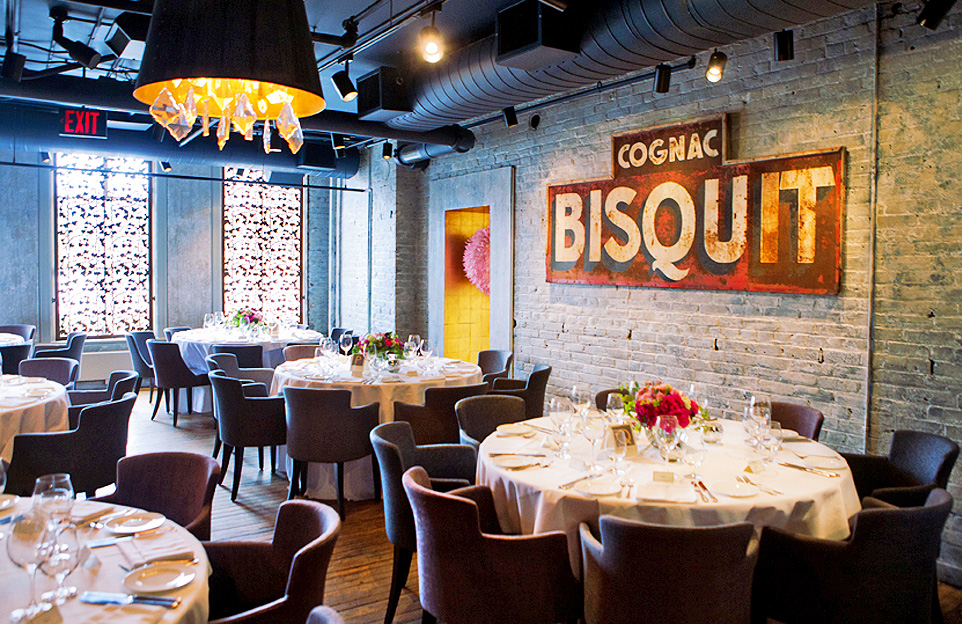 Chef Loseto places an emphasis on seasonal and natural food. He created the a la carte tasting menu to encourag guests to order many courses to fully explore the bold flavours and textures of his cooking.
The Amuse Bouche' were Mushroom Duxelle with Duck Skin, and orange; and a Short rib dish with Jelly, and Miso Mustard.
The First courses were Trout with Anise sticks, quinoa, and Pomegranate (probably my second favourite dish); and Cobia with Winter Vegetables, and Botargo.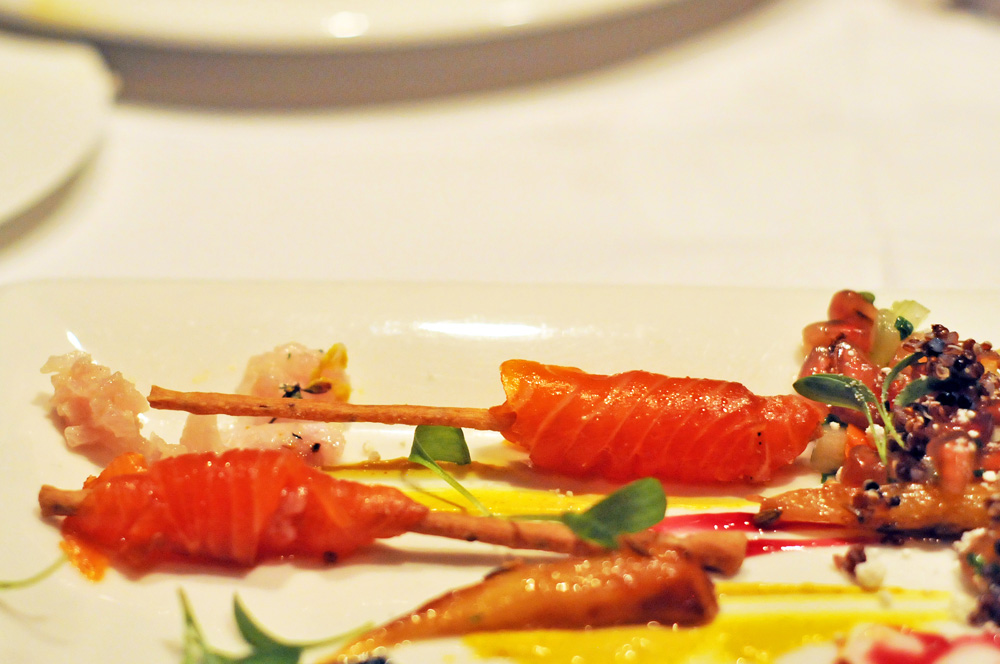 Next were the Crab with Navy Bean, and Truffled Peach; and Tuna with Roast Carrot, and Pistachio.
Then came Bison with Smoked Potato, and Sunchoke; and a Hen plate with Olive Relish, and Goat Cheese.
After that we had Beef Tenderloin with Sweet Potato, and Ricotta [BEST DISH] ; and Lamb Rack with Parsnip, and Ableskiver.
It took a brief moment of staring with wide eyes and slowly chewing with a stunned excitement, to shove the plate across the table to share. I couldn't believe how incredible it tasted and we both agreed that it was the absolute best steak we had ever eaten. Anywhere. And, we both eat a lot of steak.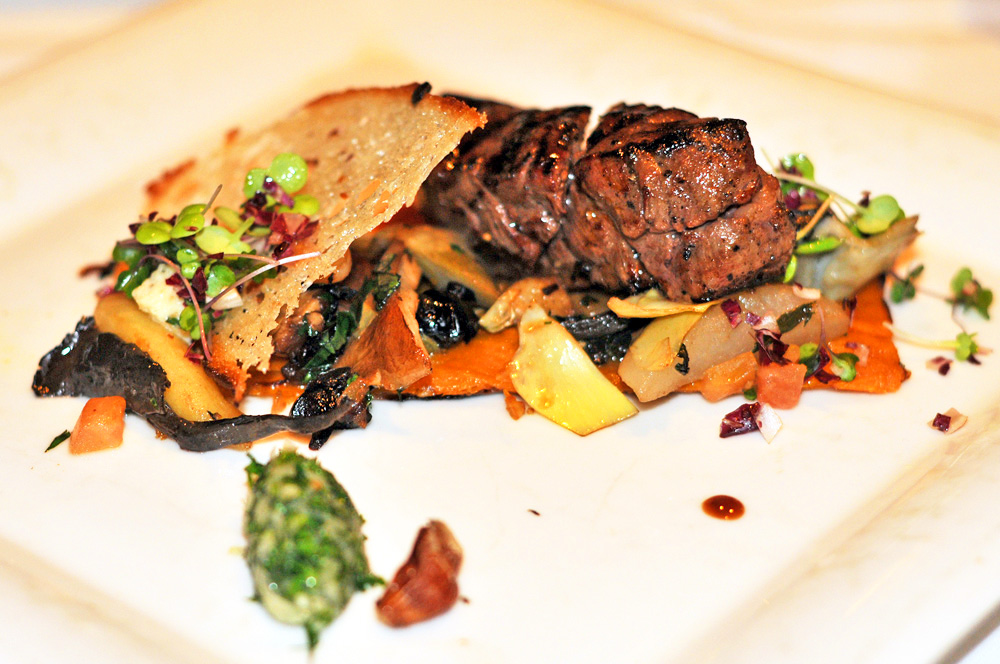 The Tenderloin was cooked so perfectly rare, in a juicy, that its slightly crisp outside and moist juicy inside, just melted on my tongue.
I've accepted the fact that I will never find a steak as good anywhere else again, and we are already planning to head back to the George for that dish next year.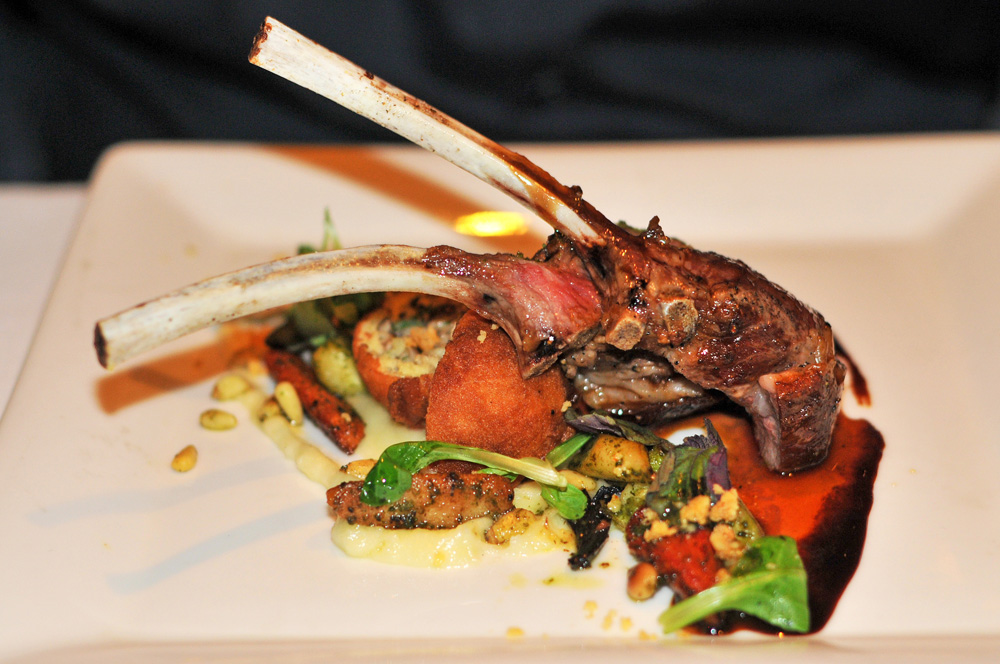 The last courses were Blackburn cheese with Beet, and Persimmon Jam; and Chamble Cheese with Pear Butter, and Shallot Confit.
Finally, dessert was Apple Sponge Cake with Raisin Olive Oil, Caramel, and Pistachio; and Caramel Custard, with Meringue, and Banana Tempura.
Of course, everything was created to fit my lactose intolerance.
Even though each plate was quite light, I filled up so much that I struggled to get more than a couple of bites from the last few dishes. Luckily, we were trading bites back and forth, so Wade got to take care of what I couldn't eat :p
Sweetgrass Spa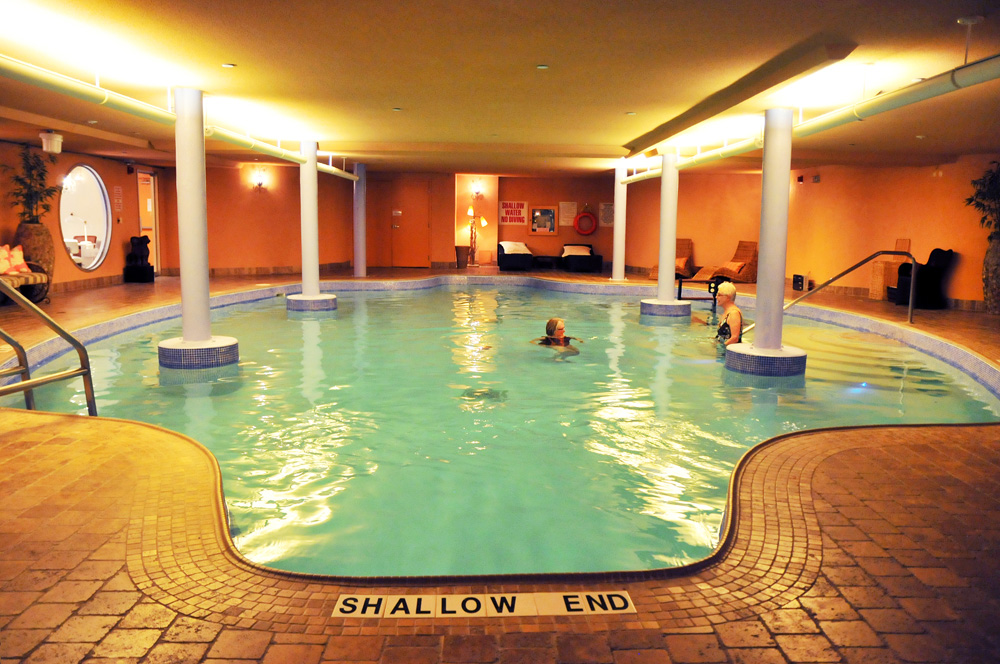 During my last visit, I never even had a chance to take a look at the Sweetgrass Spa facilities–but this time I was lucky enough to enjoy a relaxing Lomi Lomi massage.
My massage took place in a small dark room, where I chose the scents for both the oil and a small towel that rested under my face.
The Lomi Lomi (a.k.a. "Loving Hands") massage originated in Hawaii, designed to treat the body and mind as a whole. Lomi Lomi works gently yet deeply into the muscles with continuous flowing strokes that imitate the waves of the ocean, using the entire forearm to nurture and coax your body.
I usually prefer a strong hand when it comes to a massage, but the Lomi Lomi was the perfect amount of movement and pressure to make my body completely relax and un-tense.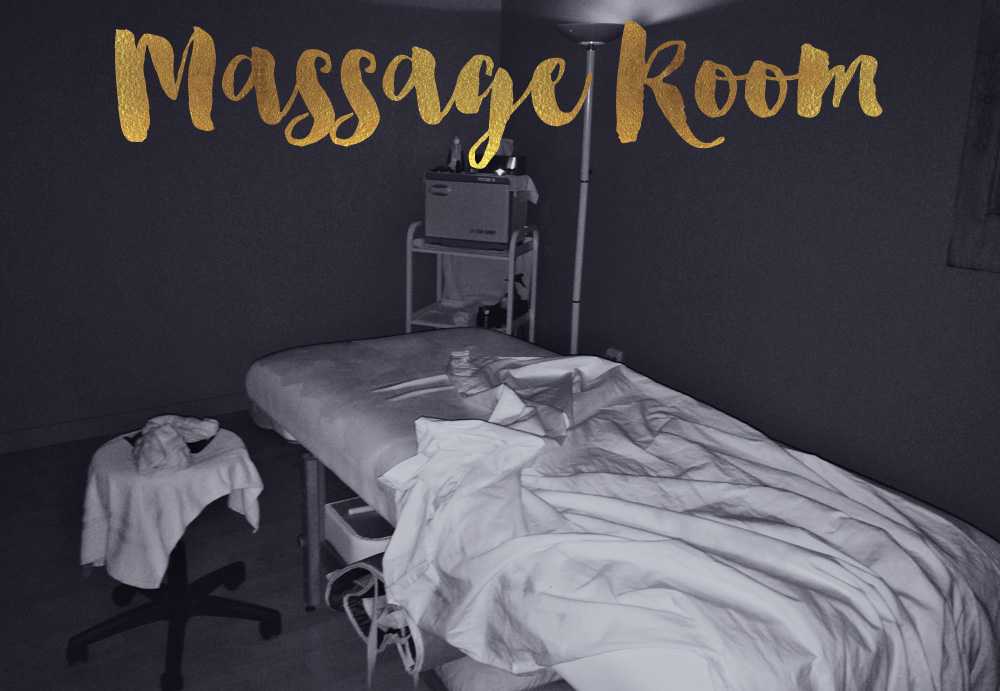 The spa itself is a relaxing getaway in an urban oasis. Set in a lower level, the spacious indoor pool is situated in a large warm-hued room, surrounded by lounging sectionals that invite you to unwind in your own little space.
In the far corner is a hair & nail salon, while the massage and treatment rooms are straight across from the main entrance. The modern change rooms sit next to the front lobby, next to the waiting area.
Breakfast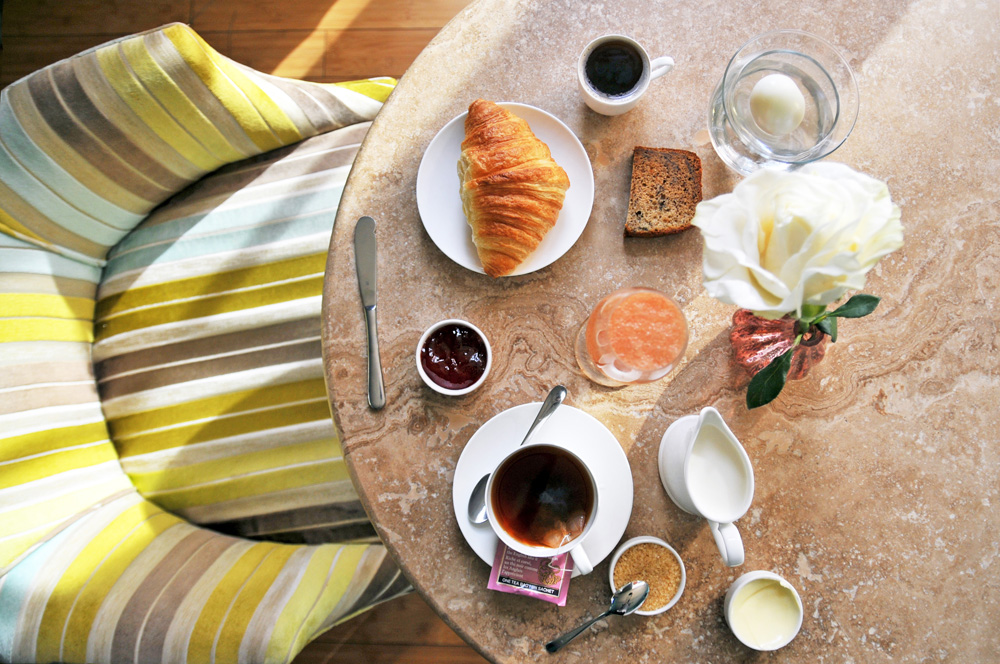 In the morning, breakfast was delivered outside the door to pick up at any time I liked. It consisted of a large wooden tray full of Danishes, fruit, juice and assorted jams.
We also had tea and espresso from the coffee station in just outside the room door. I enjoyed a tea in bed, and then nibbled on the breakfast at the table in front of the window while I got ready for the day.
I also had a chance to sit down in the Member's Lounge to use a bit of wifi after checking out. The room was as beautifully decorated at the hotel rooms, and was a perfect spot to get some quick work done before heading home.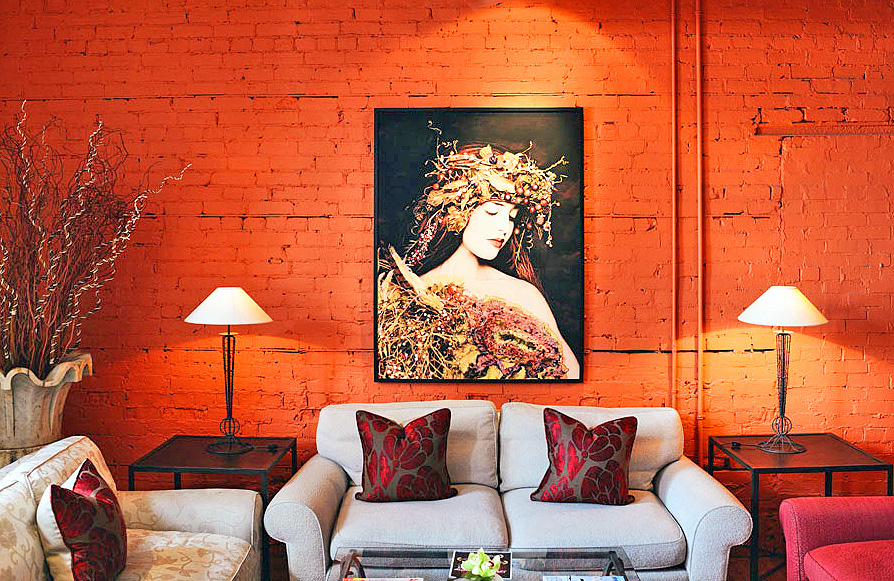 More photos: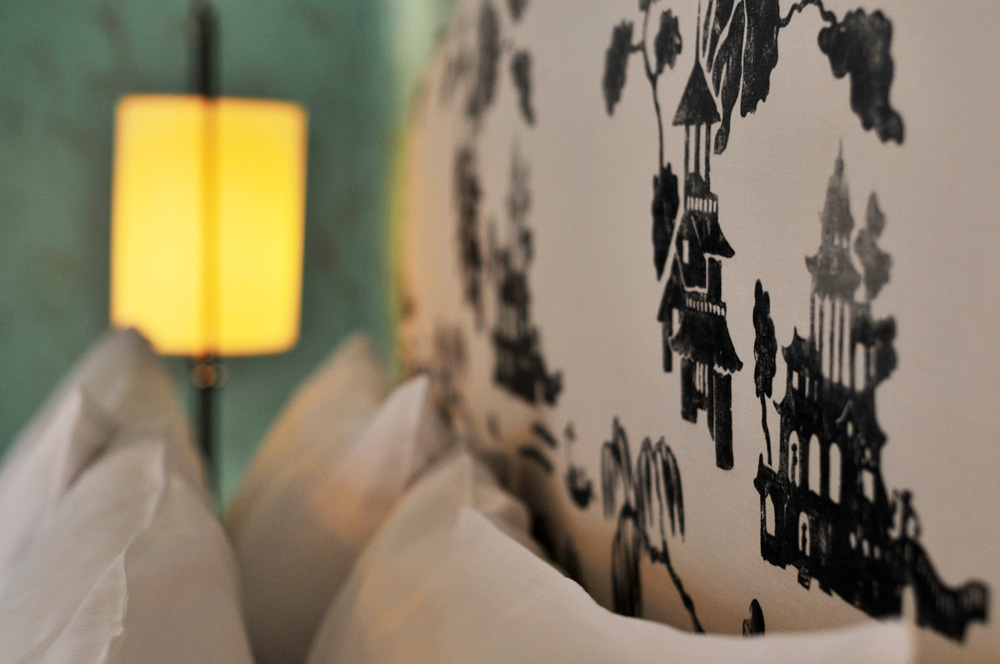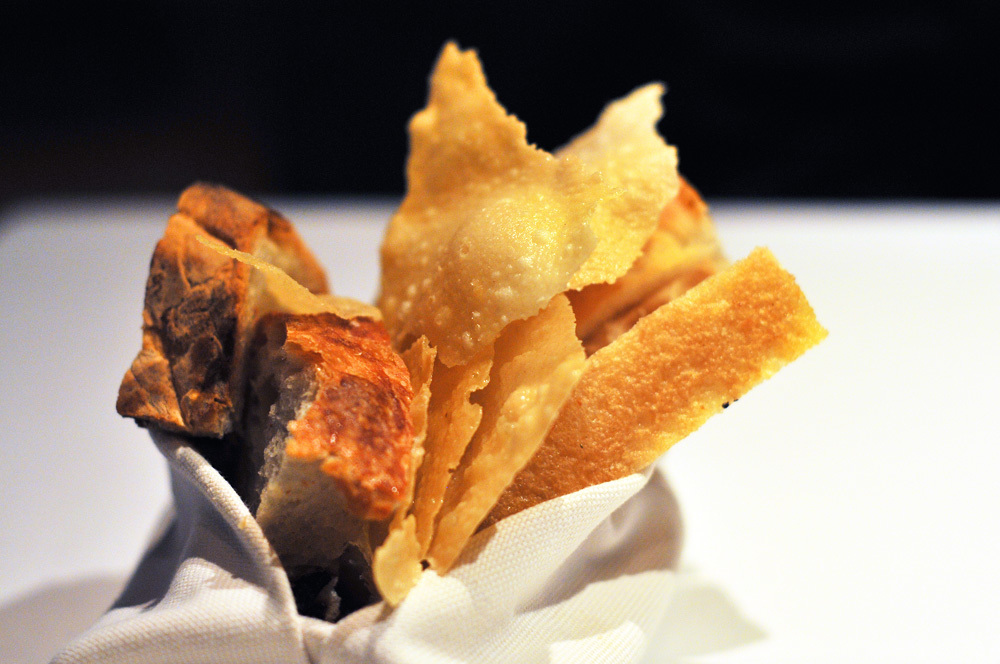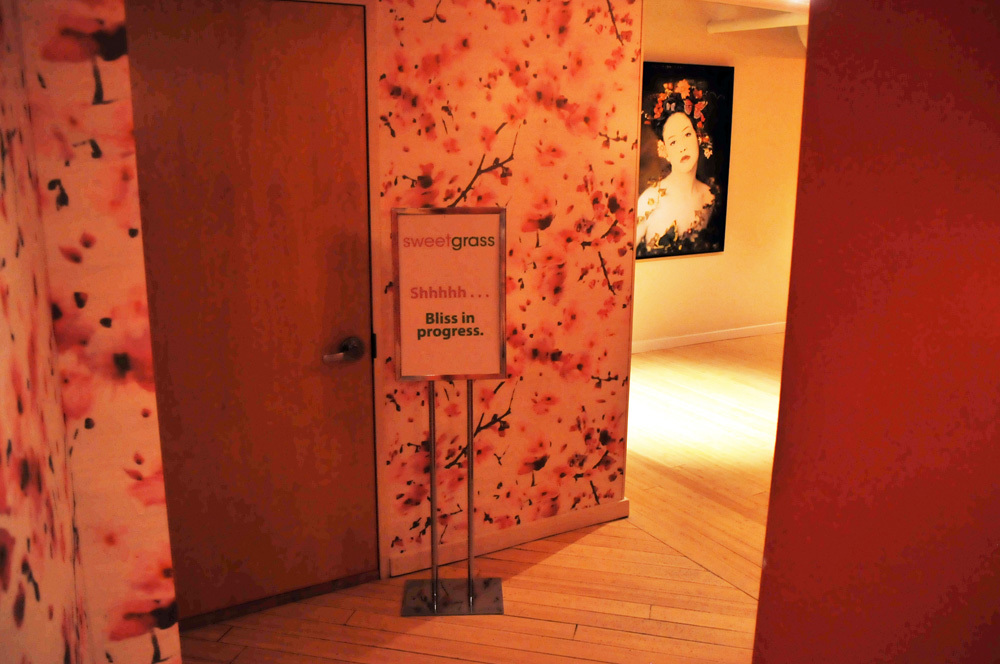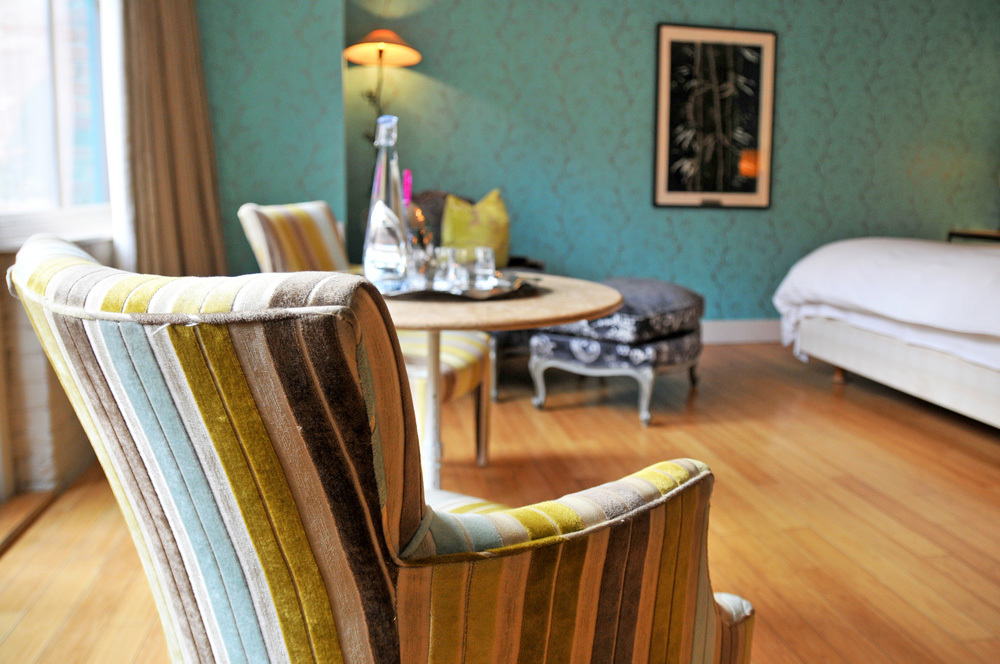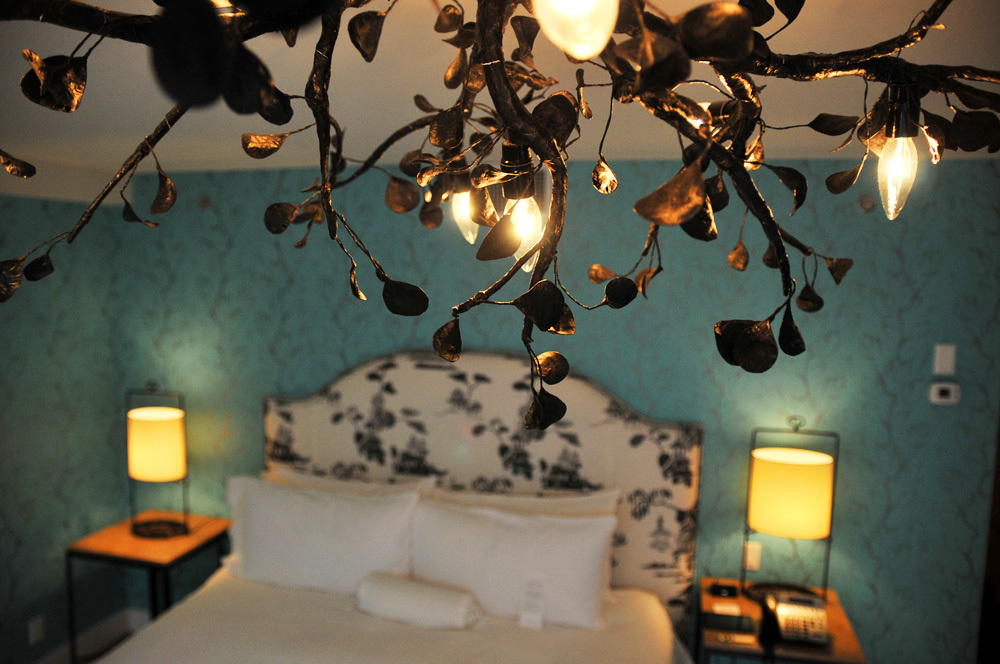 With one night at the hotel, a five course dinner tasting menu for two, a sixty minute Lomi Lomi masssage, and continental breakfast for two, I enjoyed the 'Urban Retreat' package:
URBAN RETREAT
Package Includes:
1 night accommodation at The Ivy at Verity, our luxury boutique hotel in Toronto.
4-course dinner for 2 at George Restaurant*.
Your choice of one "Lomi Lomi" or "Sweetgrass Swedish Massage" or a "Sweetgrass Spa" Manicure. (Massages for men are in-room only; women may have their massage in-room or at Sweetgrass spa).
Rate $549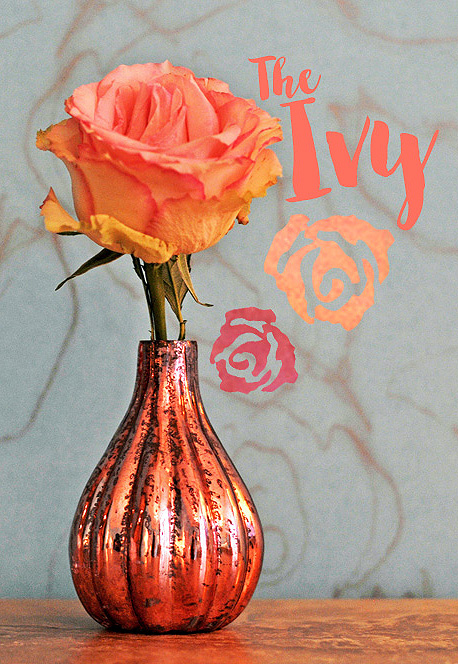 I was invited as a guest by Verity
All thoughts & opinions are my own
It's REALLY my favourite Toronto hotel 😀