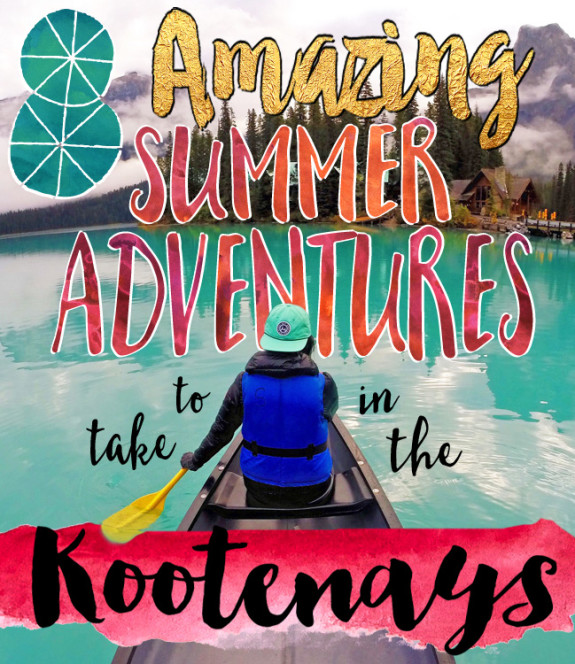 I've been to a lot of off the beaten track, and rugged locations on my travels, and experienced some pretty crazy adventures–but my trip to the Kootenay Rockies in British Columbia had to be the most intense one yet.
Each day consisted of, not one, but two adrenaline pumping adventures–most of which I was trying for my first time. Each one pushed me further past my limit than I've probably ever been before, and left me wide-eyes in disbelief after each one was complete.
Most people head to nearby Banff when visiting the region, but the Kootenays are more raw & natural, less commercialized, surrounded by a more remote wilderness, and has much fewer crowds to deal with.
From soaring over mountain valleys and scaling rock cliffs, to conquering rapids on a board and backcountry hiking; here is my list of the top 10 amazing adventures to take in the Kootenays:
8. Hike to the Burgess Shale Fossil Beds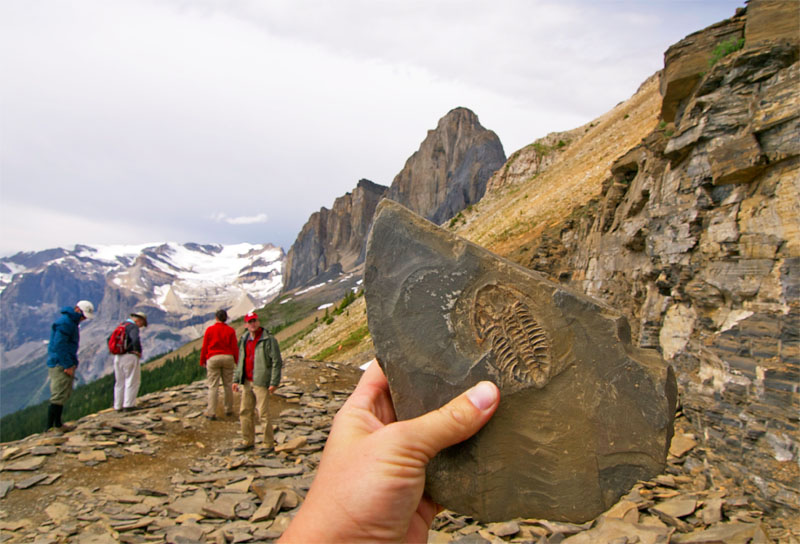 This adventure is not for the feint of heart, or the feint of lung–but it's a truly impressive one. You are going to need strength, stamina, and a whole lot of mental will power to hike the 11 hour, 21 kilometer (13 mile) round trip, 825 meter (2,710 feet) in elevation trail to the Burgess Shale Fossil Beds in Yoho National Park.
Since its discovery in 1909 by paleontologist Charles Walcott, the Burgess Shale has been widely regarded as one of the world's most important animal fossil sites. These fossils' are the remains of half a billion year old sea creatures so exquisitely preserved that scientists can actually tell what they ate for breakfast.
Take the guided hike with Parks Canada for a once in a lifetime experience, with incredible views of Emerald Lake & the surrounding areas, and you will leave with a huge sense of self accomplishment.
This is a classic adventure in the Kootenays.
7. ATV Paradise Ridge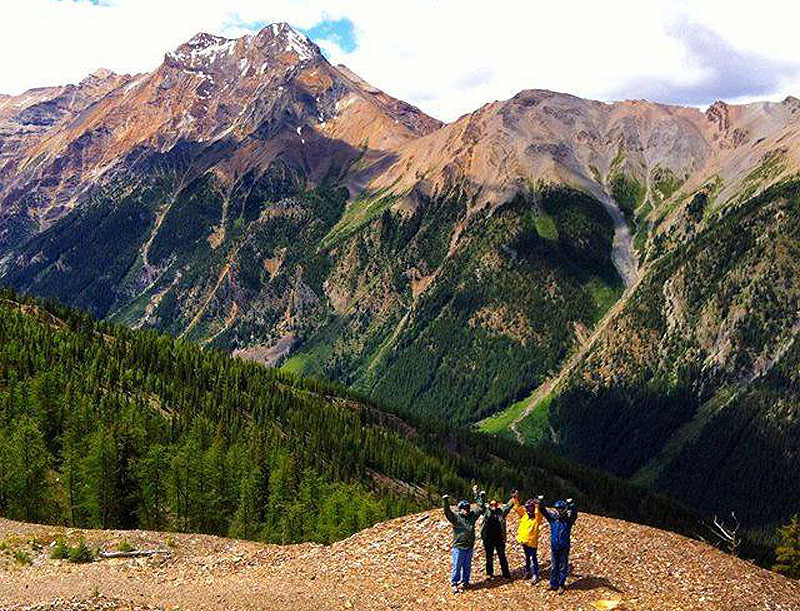 ATVing is always one of my favourite adventure activities, no matter where I go. I always love the thrill of speeding along rough terrain, controlling the power of the vehicle, and taking it into the remote and beautiful wilderness.
Riding an ATV with Toby Creek Adventures in Invermere, BC is no different, as it provides a completely raw and rugged environment, fresh mountain air, cool clear streams and waterfalls, breath-taking huge views of a thousand peaks, the historical remains of a former silver mine, carpets of alpine flowers, wildlife in their natural environment, and an intricate system of forest and mountain trails for exploring.
Prepare to immerse yourself in our mountain wilderness, and leave behind the busy towns and highways for an amazing day that you will never forget. This is the authentic mountain experience that takes you to the top of Paradise Ridge, revealing one of the best views you will probably see on your whole trip.
6. SUP down the Kicking Horse River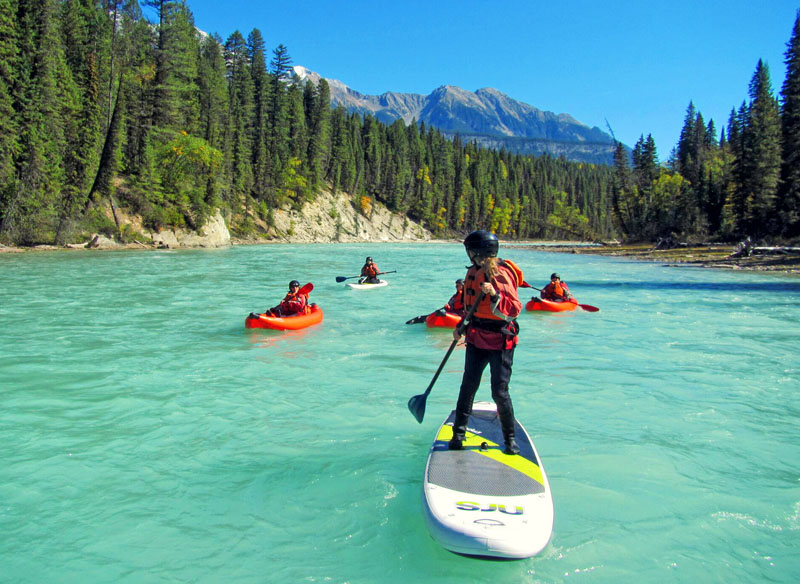 I hadn't been Stand Up Paddle-boarding on flat water that many times before, and have only been white water rafting a few times, so the idea of SUPing down an infamously raging British Columbia River both frightened and thrilled me at the same time.
With the help of Alpine Rafting, two of us were one SUP boards, and the others were in inflatable kayaks, as we navigated from the Beaverfoot River to the Kicking Horse River. Between each river, you have to portage your board or kayak up and over the mountain, to get around Wapta Falls, before continuing on to your pickup point.
?River rodeo thrills at the meeting of three mountain ranges. Water so winding and wild you'll never forget it. Vistas so epic you'll wish you'd brought a better camera.
The best part of the trip is truly immersing yourself into the middle of backcountry BC, and being surrounded by nothing but raw nature. The closest you get to civilization, is by Wapta Falls, where people on the other side of the river have taken a 15 minute hike from the highway, and look at you in disbelief and confusion as to how the hell you got down the waterfall.
Another highlight is taking a quick stop above the Falls, and wading across to be able to stand right at the top of a waterfall. It's pretty exhilarating.
This is a brand new adventure being offered in the Kootenays–get on it to be one of the first!
5. Sky Dive over the Rockies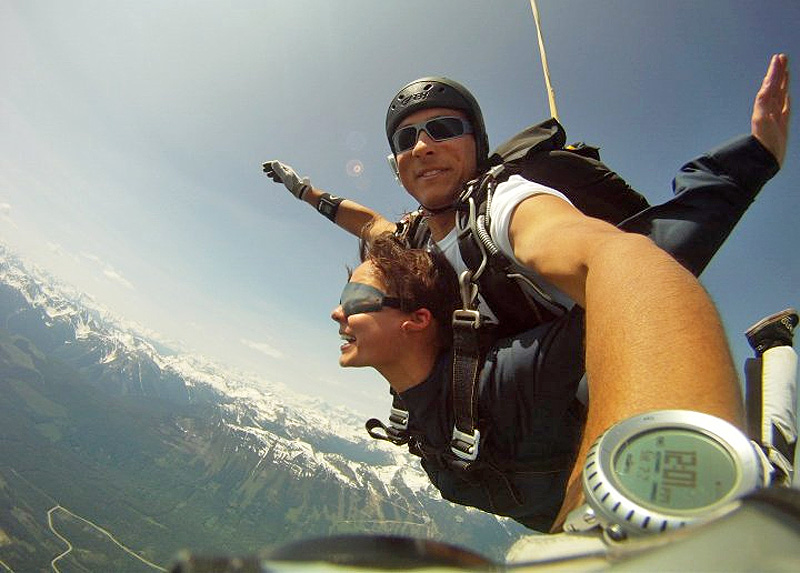 Sky Diving is hands down the most intense adventure that one can embark upon, and doing it over the Canadian Rockies and the Selkirks is the cherry on top of the crazy-cake. There is no feeling quite like throwing yourself out of a perfectly good airplane, and falling through the air at 200 km/hr.
What sets Sky Diving with Extreme Yeti over the Rockies & Selkirks apart from doing it anywhere else in the world, is the speed at which the mountains seemingly rush up to you. Jumping over flat land, or ocean gives you a longer fall, and wider view.
Jumping between two large mountain ranges, over the town of Golden, BC, makes you feel like you're getting closer to the ground than you are, and like the mountains are closing in around you as you pass their peaks.
4. Conquer the Via Ferrata at Kicking Horse Mountain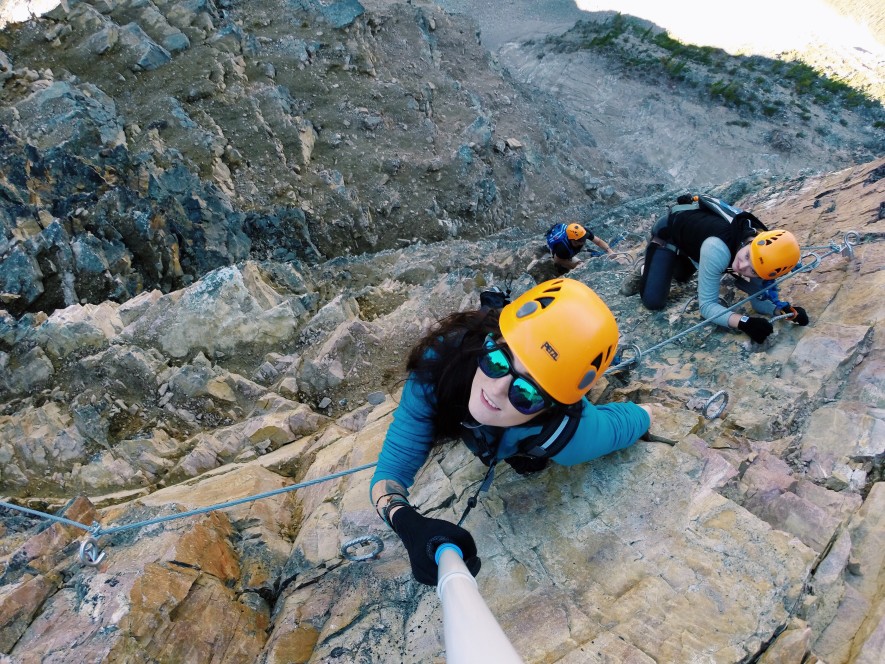 The new Via Ferrata (Italian for Iron Path) at Kicking Horse Mountain Resort is hands down the craziest, and most intense thing that I did in the Kootenays, and possibly my life.
Throw me out of a plane, sure. Get me to jump off a bridge, why not? But, ask me to scale a vertical cliff face, over jagged rocks hundreds of feet below, at the mercy of my own tiny biceps–eep. I love heights, but something about climbing a vertical rock cliff face with nothing to grab onto but a few metal rungs at 7500 feet (2286 meters), makes my legs a little shaky.
That said–I'd totally do it again.
My favourite part of the experience was probably that the only way to even access the course, was to cross a 200 foot (60 meter) swinging suspension bridge, no wider than my two own feet, over a vast gorge of nothingness below. And then, as they say, it's on to 465 meters of pure bliss, to soak up the majestic views of the Rockies.
Step out of your comfort zone, and get vertical on the Mountain. People don't go to Kicking Horse Mountain Resort to tackle the same old thing. They go for the differences, and they have plenty.
This is a brand new adventure in the Kootenays, and one of the first of it's kind in Canada.
3. Go Heli-Hiking in Revelstoke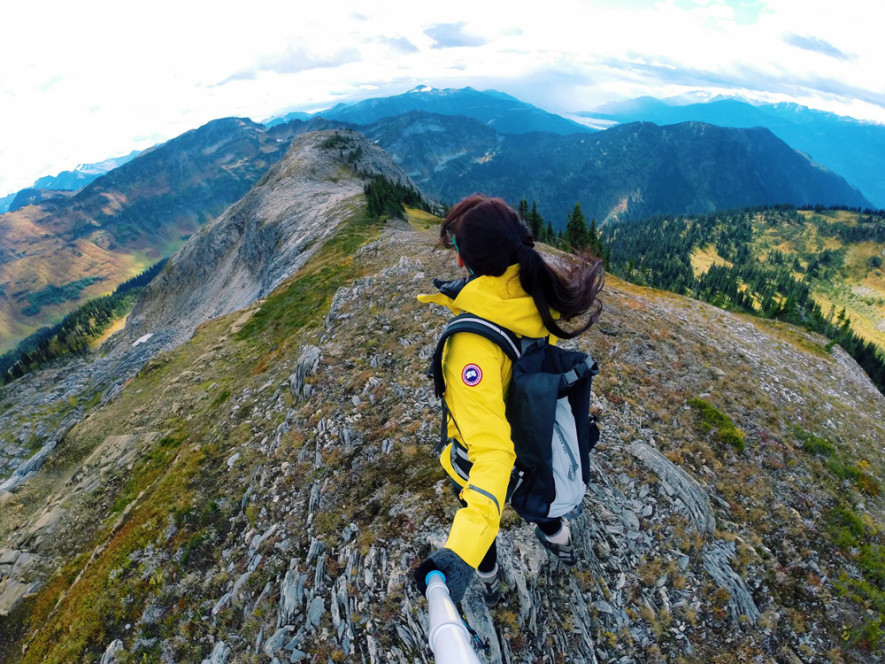 Heli-hiking is probably one of the coolest things I've ever done–it involved boarding a helicopter with Selkirk Tangiers from Revelstoke Mountain Resort, flying it up to a mountain peak, hopping out, and then hiking down to an alpine valley all in time for a movie scene getaway. How do you go back to regular hiking after that?
It was also one of the most difficult things I've done, as every moment required focused concentration, physical determination, and above all else, a strong sense of mind over matter.
The hike takes you on a total of 6 kilometers at 7500 feet (2400 meters) up and down a narrow mountain ridge, in the raw and untouched landscape. The ground ranges from large flat rocks, to glacier ice, tiny round pebbles, to steep grassy valleys, to what could only resemble the surface of another planet.
You can read more about my experience here.
2. Canoe Around Emerald Lake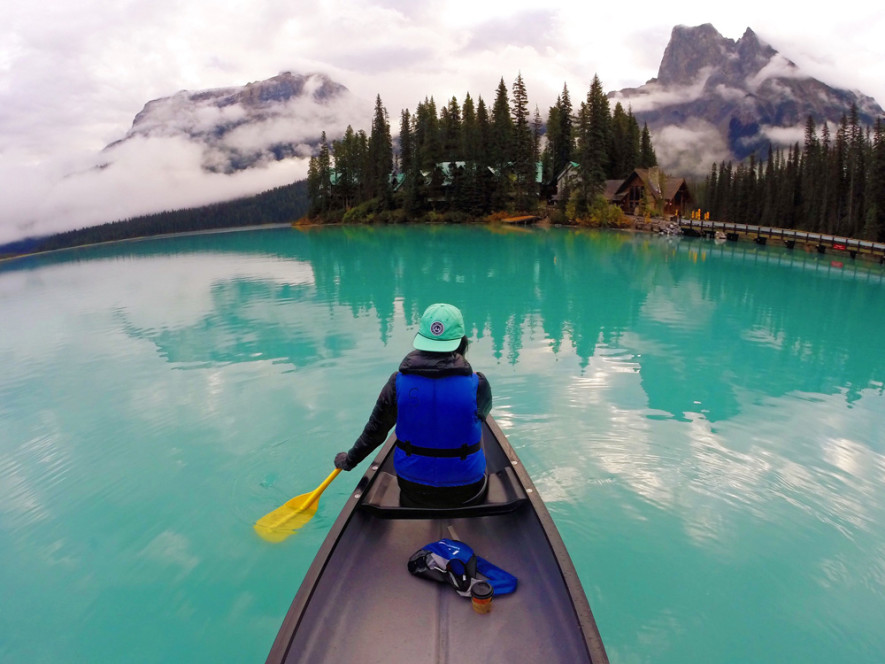 It seems that the majority of people visiting the area head to the nearby Lake Louise, over on the other side of the mountain range in Alberta–but, I think they're missing out–Emerald Lake is absolutely stunning.
Simply strolling around the Lake is a great experience on it's own, but the best adventure is to rent one of the many canoes from Emerald Lake Lodge's boat dock, and paddle out onto the Lake.
It feels like you're paddling through a big tub of milk with blue food colouring, and there is a certain silence to the air, as you glide along the smooth surface. The water is cold to touch, and the paddle disappears into the cloudy haze, and you push forward.
I truly enjoyed my experience at Emerald Lake Lodge, and wrote about it here.
1. Paraglide over Golden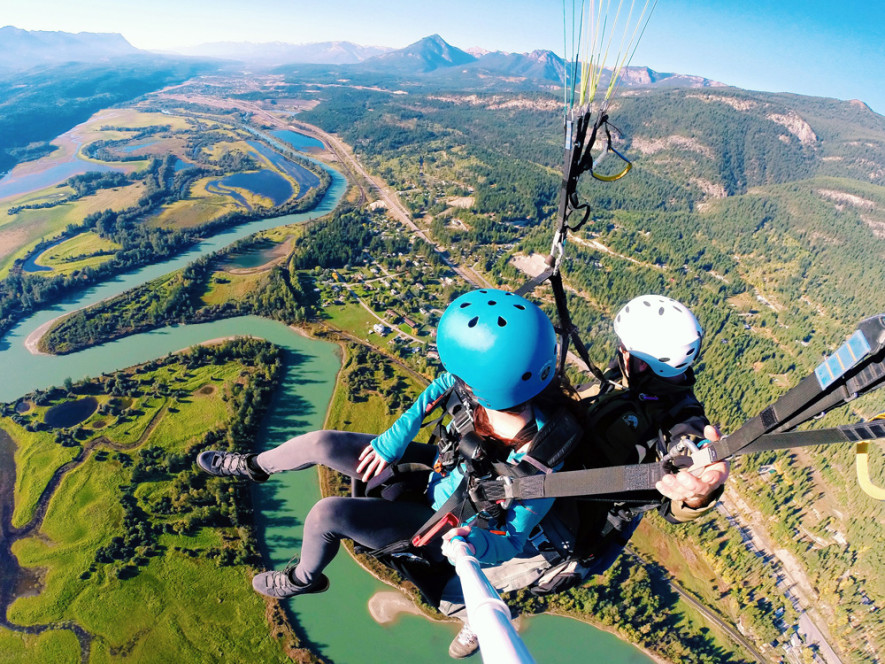 My number one favourite adventure in the Kootenays was paragliding with Parapete Tandems (in fact–I wrote a full post about it, here). Standing on the top of Mount 7 alone, was a rush, but running off that mountain, watching the ground disappear below, and soaring above the Columbia wetlands, the Columbia River, and the town of Golden, BC was an exhilarating experience, that I would love to take again and again.
It's the best seat in the house.
The Mount 7 launch is one of the highest vertical sites in Canada, which means it has some of the best thermal updraft potentials around. Peter can offer you a relaxing, gentle scenic flight, a longer thermal soar, or an exciting rush of adrenaline with spiral dives and g-force drops–it's entirely up to you.
One of the best parts of flying over the snow-capped scenery, is the opportunity to see some of the local wildlife. From the sky you can fly alongside Bald or Golden Eagles, look down at elk, deer, or moose in the wetlands below, or maybe even spot a bear in one of the open fields. I saw a few local humans, paddle-boarding down the river.
You can also hang-glide from a wooden platform, right beside the paraglide launch point.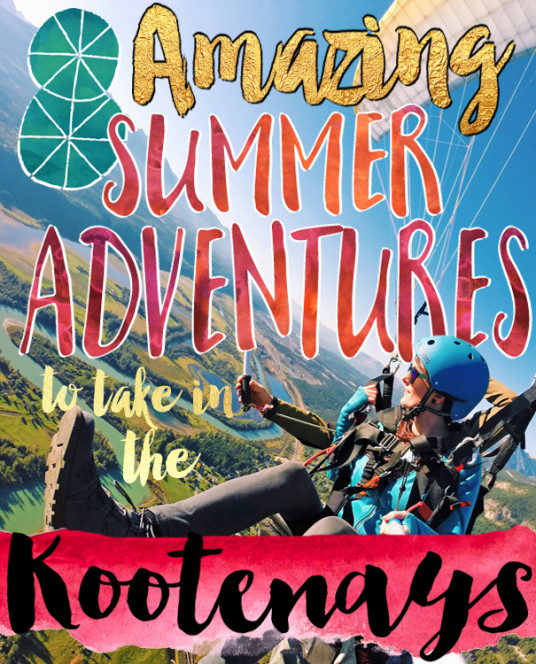 What is your Favourite Summer Adventure in the Kootenays?