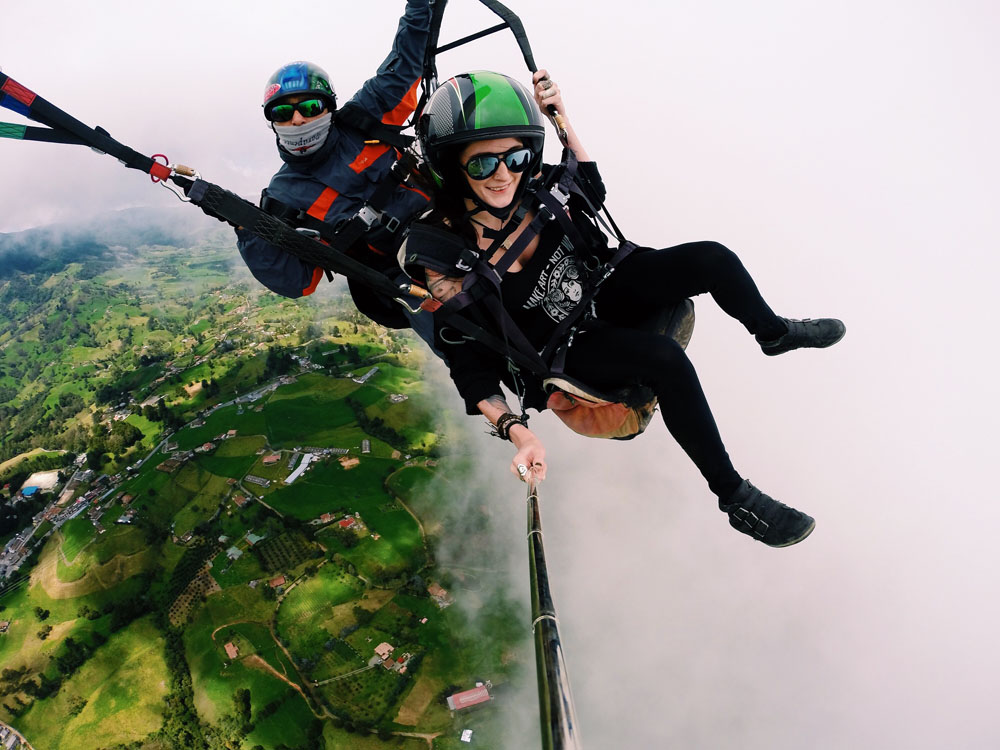 I've been slacking on blogging lately. And by lately, I mean for like, the past two years. So, here's a photo essay from the time I went paragliding in Medellin, Colombia.
We had one week in Medellin, and wanted to do something a little different. We had explored Parque Arvi, walked most of the city, rode the metro cable, seen the hillside neighbourhods, done a day trip to Guatapé & El Peñol, eaten our weight in food, visited all the bars & clubs, and just about everything in between–so, what was next?
Jumping off a mountain, of course.
Jessie, Liz & I purchased our tickets to Aeroclub Paragliding from Casa Kiwi Hostel, and took a taxi ride from the hostel up the mountain to San Felic. Once there, we signed waiver forms, listened to some safety jabber, and then hiked for 10 minutes up a rough staircase to the launching hills. It wasn't my first time doing the activity (I've also paraglided in Maui & BC), but it wouldn't have mattered if it was my thirtieth time. The surrounding hillsides and incredible landscape views mixed with the strong valley thermals and sense of the unknown made it my favourite paragliding experience. Soon, I found myself flying trough the skies high above Medellin.
Admittedly, the idea of strapping myself onto a man that I could barely communicate with, on some random mountain slope before running off the side of a cliff within mere moments of arriving was all quite unsettling. But, it was this sense of the unknown that thrilled me in every way. The cherry was added to the proverbial cake at 8,000 ft when my pilot flew us through a cloud. Literally. For a minute I could see nothing but whiteness all around me. The strings of the chute lead to nowhere, and at times, the end of my GoPro pole faded in the density.
It was like something out of Jurassic Park, and I half expected a hungry pterodactyl to burst out of the mist just in time for a Canadian breakfast.
After a few deep breaths, I couldn't help but stare in awe at the whole scene.
The rest of the time we watched others soar off into the open sky, lounged on the grassy hillside, played with local pups, sat on the fence we weren't supposed to sit on (no sentarse en la mesa? Si), and enjoyed our morning before heading back down into Medellin.
Info:
Price: 80,000 COP (roughly $28US) each
Taxi: 70,000 COP (roughly $24US) share with other passengers
Rent GoPro: 15,000COP (roughly $5US)
Flying time: 20-30 minutes
Wear shoes & dress warm
You can choose your own time to depart, but it is best to leave between 7-9am in order to catch the morning thermals before the winds die down.
The taxi ride is approximately 40 minutes each way, and you should be back in the city by noon.
Many of the guides do not speak English
Don't worry, there weren't actually any pterodactyls.