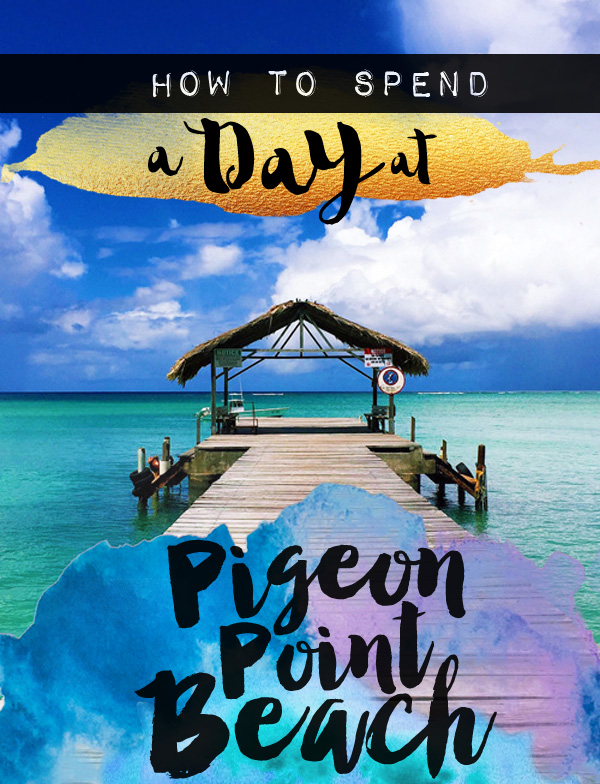 I had been to Tobago's Pigeon Point Beach a couple of times before, but never really got to spend a full day just hanging out at the beach.
The first time was just a quick visit, where I quickly declared it as the most beautiful beach I've ever been to. The second time, I basically just hopped onto a boat for a tour around the Island, without getting to truly enjoy the beach itself.
But, this time, I actually got to spend an entire full day (well, multiple days, really) just hanging out, exploring, relaxing, and checking out some of Pigeon Point Beach's most popular attractions.
And, I got to bring Wade along for his first visit.
Pigeon Point Heritage Park is a 125 acre nature reserve, and a serenely idyllic beach, at the southwestern point of Tobago, where the rough waters of the Atlantic coast give way to the calm bathwater sandbars of vibrantly turquoise shores.
Lined by a tangle of blowing palm trees, colourful shops, and numerous shacks, featuring restaurants, bars, and water-sports, the beach itself is the epitome of absolute paradise.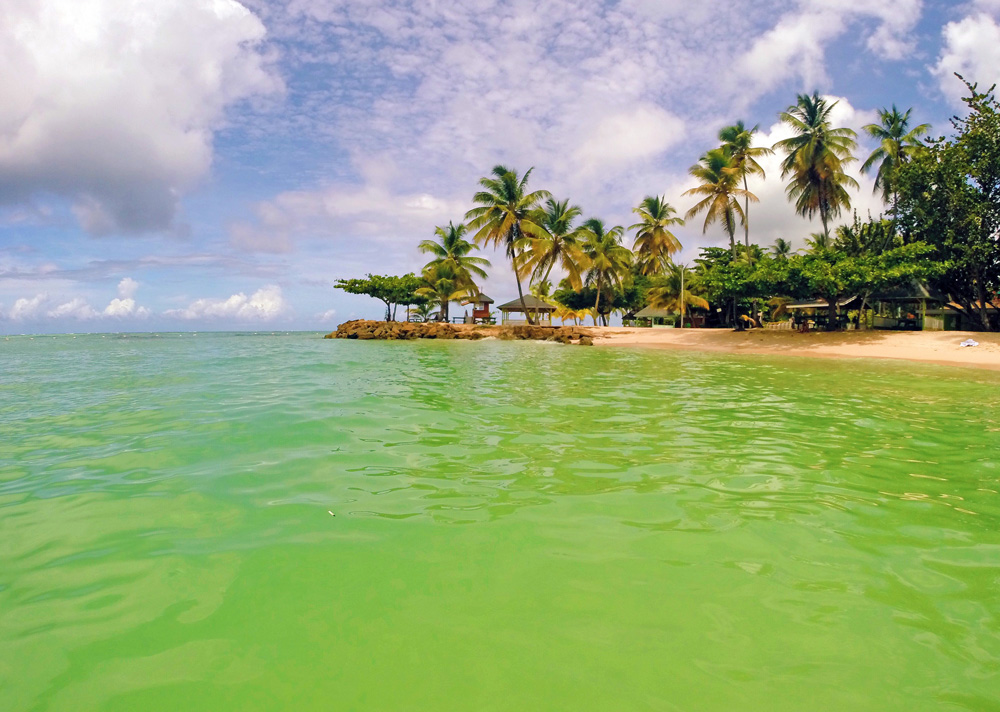 Just look at it.
For our time in Tobago, we based ourselves at the Magdalena Grand Beach & Golf Resort. The Resort isn't only centrally located and a quick drive to Scarborough, but it even provides complimentary shuttle beach service twice daily for guests to nearby Pigeon Point Beach.
In my opinion, it's probably the best location on the Island.
With such close proximity, it was possible for us to visit Pigeon Point each day. But, for those that have only one day to experience the Beach, here are some things you HAVE to do:
Walk Out to the Tatched Roof Jetty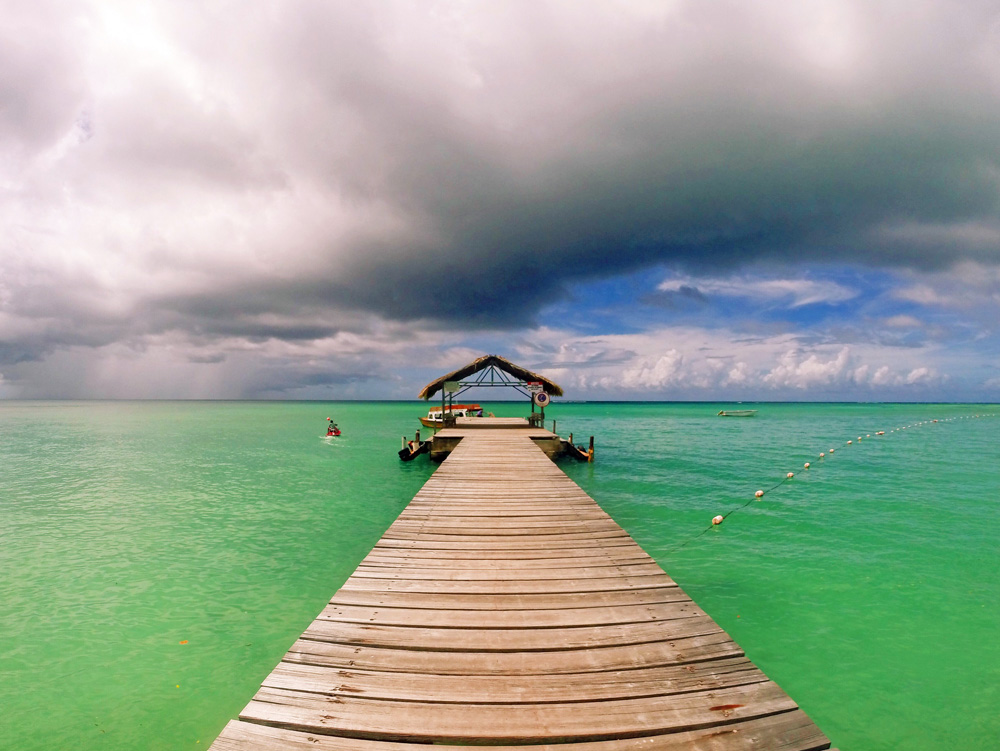 The Tatched Roof Jetty is the iconic and typical view of Pigeon Point Beach.
You will likely have seen it while doing your travel research (it's basically the first Google image of the beach), it's the first thing you see lining the walls at the airport, and it's there to greet you as you arrive at the beach.
So, when you first arrive, head straight for it, and walk out to the end. This will give you some perspective of the beach, and a great view of your surroundings.
Don't forget to look down, hundreds of small fish are constantly schooling around the dock's pillars, with their shiny scales glinting in the sunlight, almost mesmerizing you as they dance in the waves.
Wear sandals–those boards get hot!
Take a Glass Bottom Boat Tour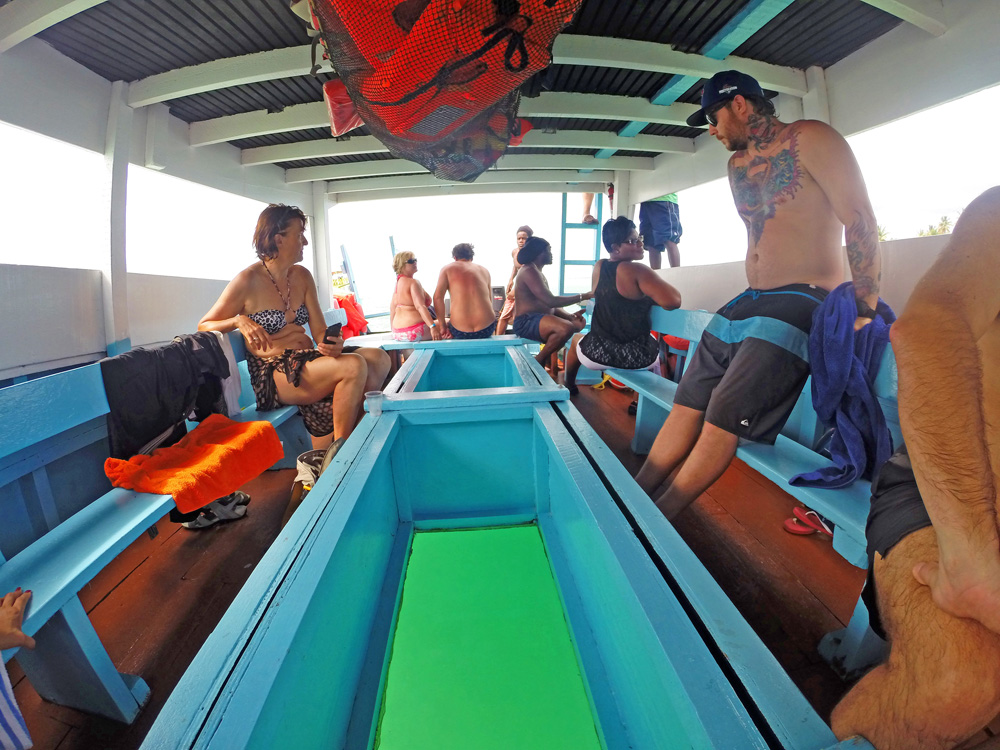 You won't be able to set foot on the beach without being offered a glass bottom boat tour–literally, there is always a small group of men waiting by the entrance, offering tours from each of the different countries that they work for.
The best thing to do is to take your time, shop around to hear the different prices, and then choose what works best for you. Either way, it's pretty amazing to look down and peak in on a whole other world.
Head over to the dock to take a look at the boats, as there are several to choose from. Whether you would prefer a smaller boat with less people, a double-decker with rooftop seating, or a full out party boat with music and dancing.
Another route to go is taking one of the Island party-boat tours, which includes a tour of the coast by speed boat, open bar with rum punch, and plenty of snorkelling stops along the way. These are a bit more pricey, but definitely worth it for the experience.
The regular glass bottom boat tours will pick you up at the thatched roof jetty dock, and take a quick zip over to neighbouring Buccoo Reef and Nylon Pool.
Snorkel Buccoo Reef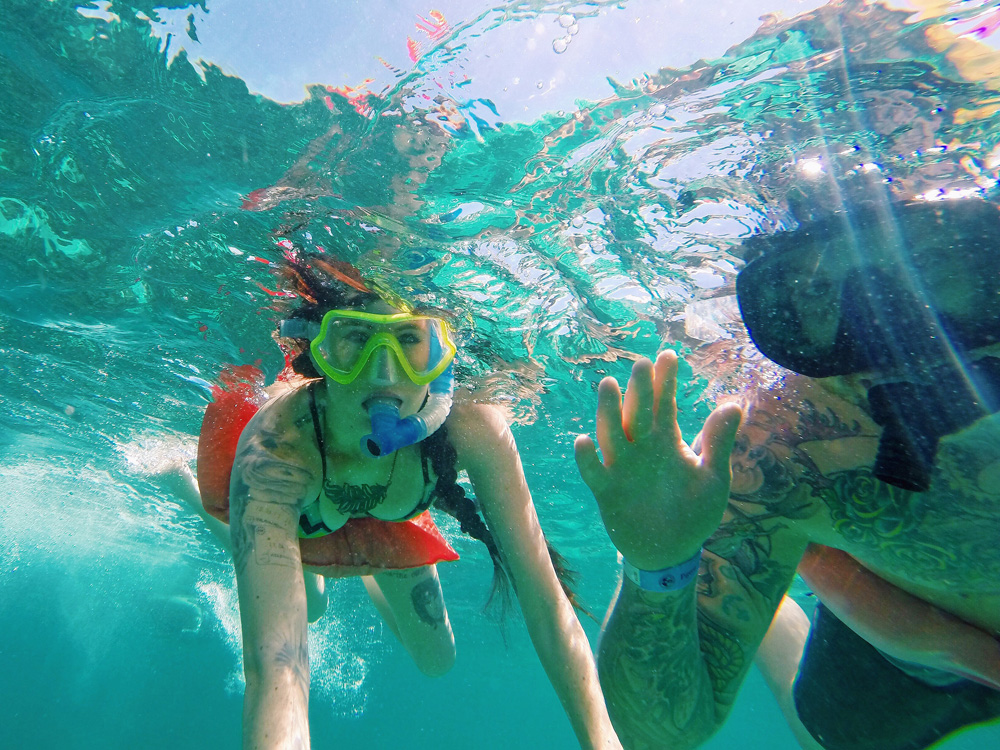 Bucco Reef is a protected marine park located a short distance off Pigeon Point with a fascinating, colourful underwater life, at only 7km² in size.
There are few things I love more than snorkelling (even though it scares me a bit), and Buccoo Reef is one of the ultimate places to do it.
The Reef is thriving with sea-life, from living corals, hundreds of species of fish, and all sorts of other marine creatures.
We saw a lot of shiny blue Parrot Fish.
Soak in Nylon Pool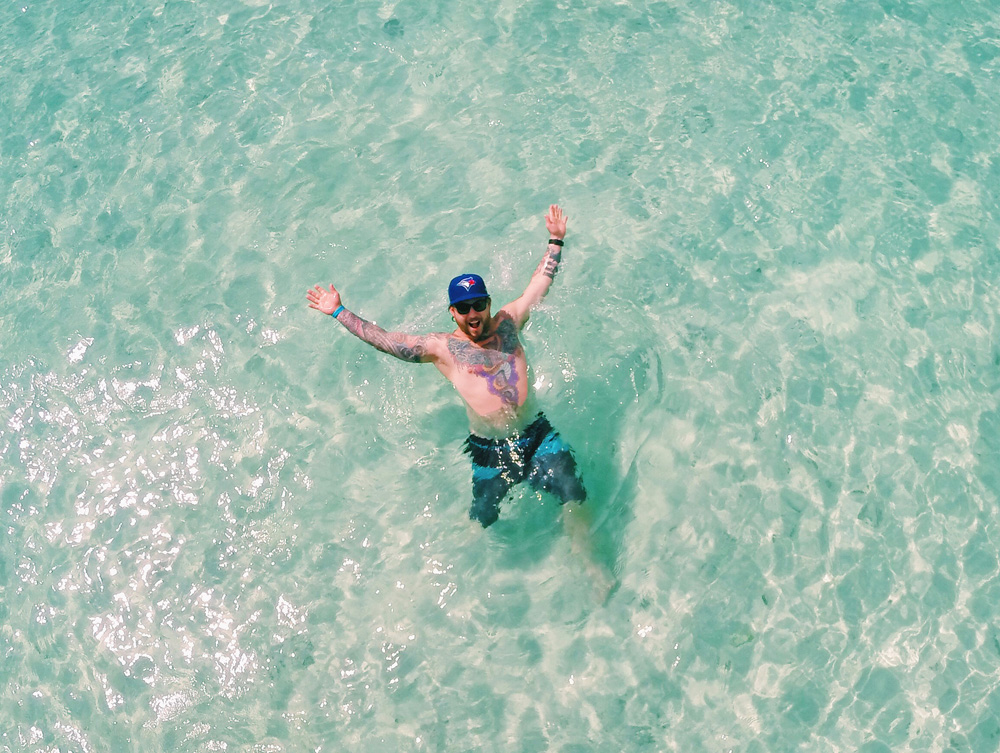 Nylon Pool is an in-sea shallow white ground coral pool, that is surrounded by Buccoo Reef, Bon Accord Lagoon, and the open Caribbean Sea. The white "sand" is actually made up of tiny pieces of dead coral, and the waters range from about 2-5 feet in different sections of the Pool.
But, basically.. it's a swimming pool in the middle of the Ocean.
It was named by Princess Margaret in 1962, for it's resemblance to a swimming pool, and for it's clarity, like looking through a nylon stocking.
Legend says that soaking in the Nylon Pool will make you feel 10 years younger. Wade had a sore leg that he had been complaining about for nearly a week before we went. He said it felt perfectly fine the next morning.
Coincidence, or a crystal blue miracle?
Swim at the Main Beach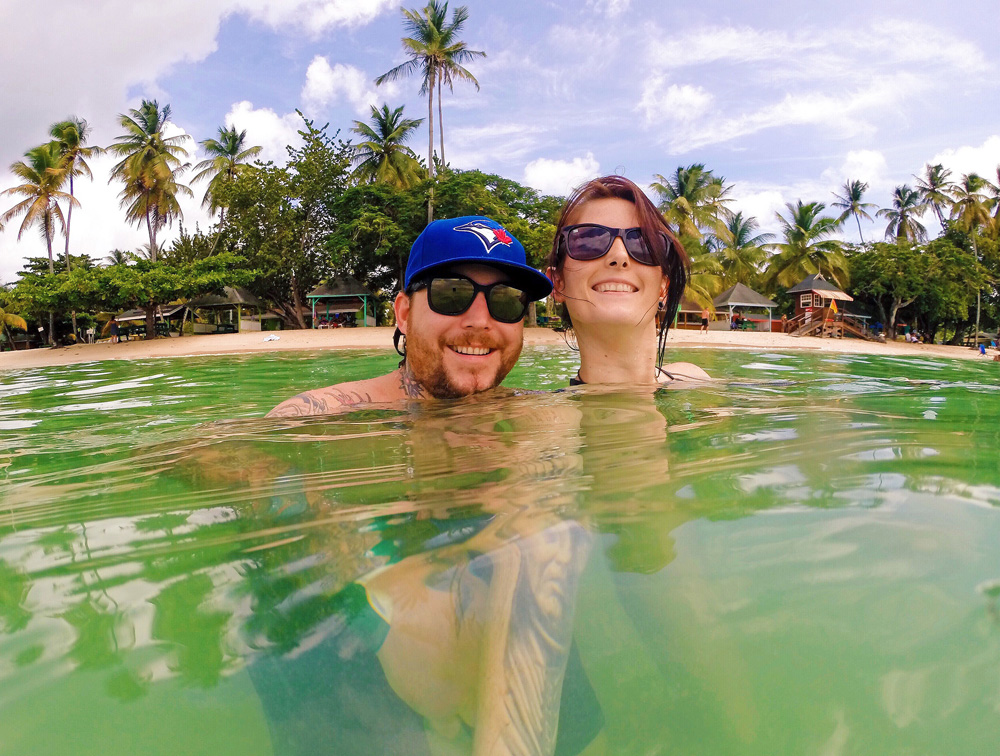 Once you get back to the beach, head straight back into the water. You'll notice a temperature chance, from the open waters to the shallow shores.
The water in the designated swimming areas feels like a warm, inviting bathtub.
We spent a lot of time simply floating around here.
Grab a Drink & a Bite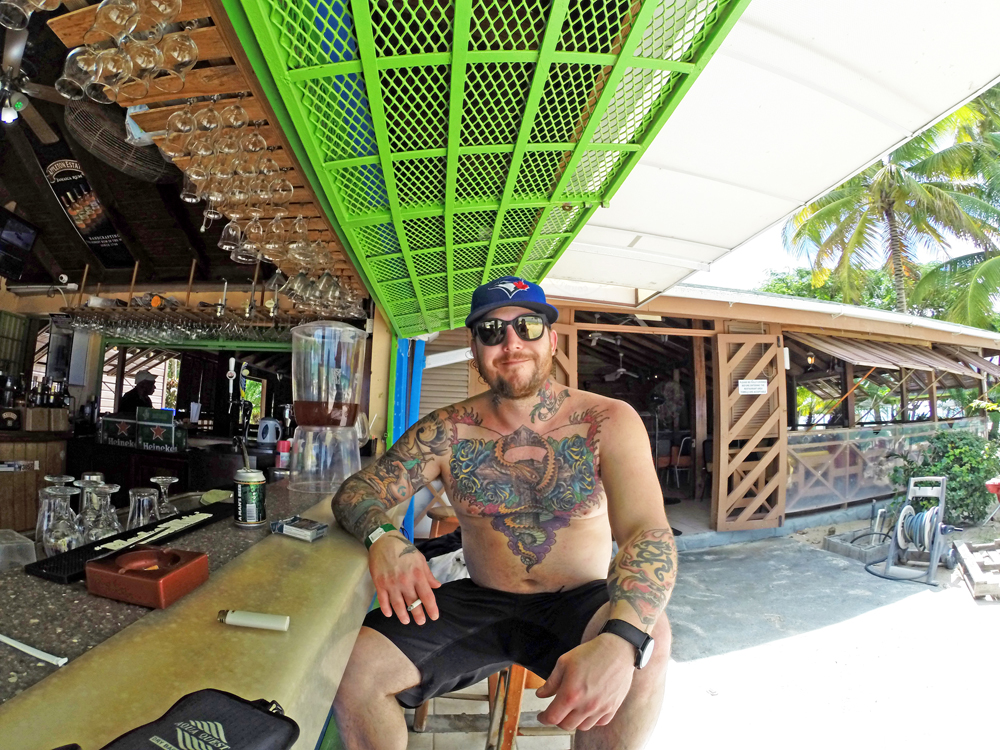 There are a few different restaurants and bars to choose from, so take a walk around to browse each menu. Some are dine in, a couple are buffets, but most offer outdoor seating, right on the beach itself.
Pricing will be a bit higher than other parts of the Island, but unless you packed your own food, they will be your only option.
I suggest eating a big breakfast at your hotel (we feasted at the Magdalena Grand), and either bringing a snack, or just getting a small appetizer until you head back for the day.
We mostly just grabbed Stag beers at the bar.
Relax Beneath the Palms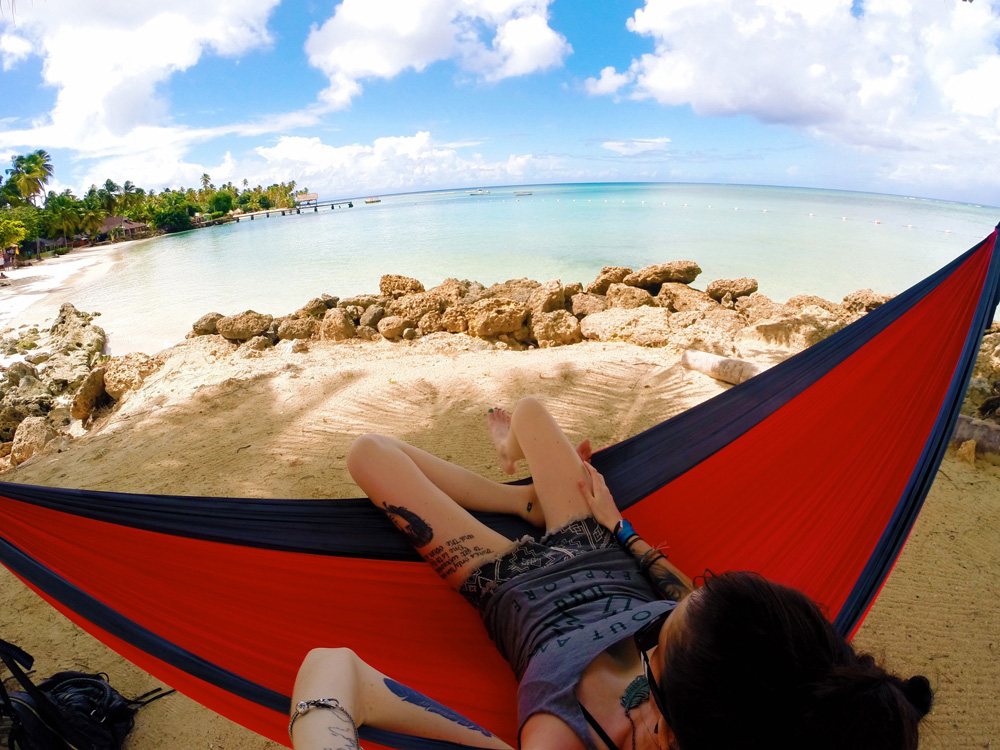 It's no secret, I'm obsessed with hammocks, and bring them everywhere.
Tobago was no exception, and it was arguably one of the best places I've ever hung my hammock.
I highly recommend bringing your own hammock to Pigeon Point, and stringing it up between two of the many palm trees along the shore. It's the perfect spot to take in the views, relax in comfort, and stay cool in the shade.
I saw a few other people with hammocks at the beach, and there was still plenty of space.
Of course, if you don't have a hammock, there are several picnic tables and seating areas to choose from along the beach, all shaded beneath the palm canopy.
Discover Beach Critters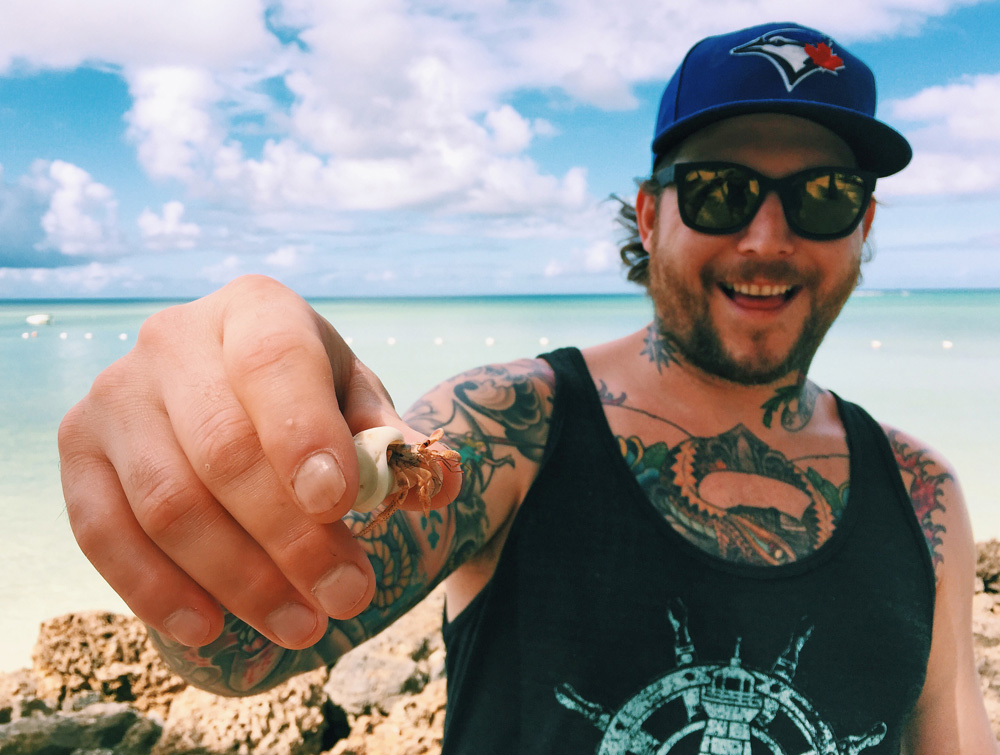 If you wade along the rocky part of the shore (for example, the main outcrop in the middle) you will quickly notice many small movements on the rocks. with closer inspection, you will see dozens of brightly coloured crabs, scuttling along the jagged rocks, almost to the motion of the waves.
If you're brave, you can even pick them up for a closer look–just be gentle so you don't injure them.
Wade definitely had fun chasing them all around, trying to take one as a pet.
There are, of course, many small fish swimming around this same area, so it makes another great spot for snorkelling.
Browse the Shops
Back by the entrance, are a series of brightly coloured buildings. These are filled with different souvenir shops that feature clothing, dishes, local food, decor, beach wear, figurines, and much more.
I didn't buy anything myself, but there were lots of things I wanted to take home.
Go SUP Boarding
After you've had some time to relax and digest, head back into the water, one last time. Or, on the water.
The smooth, calm waters of the main beach, beside the Jetty, are perfect for SUP boarding, and ideal spot for beginners.
At Stand Up Paddle Tobago, you can take lessons, guided tours, or even an incredible bioluminescence paddle (which I didn't get a chance to do personally, but I WILL be doing next time).
Go For a Walk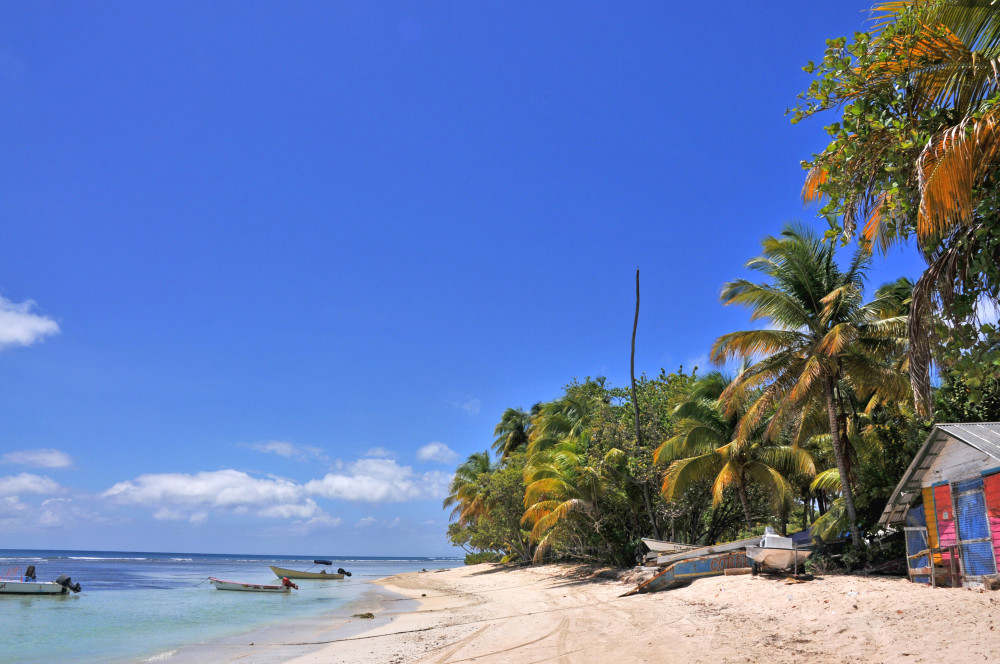 Depending on how you got to the beach (by shuttle in our case), you will likely skip past the long road in along the shore, and be dropped off right inside the Park.
But, you're missing the "real Tobago".
If you want a dose of true Caribbean culture, walk back past the gates, and up along the road, until you reach a line of wooden shacks along the shore. These are where local fishermen sell fish, food, and their other findings from the beach and sea.
It's bustling, loud, smelly, rugged, and real.
In my opinion, the beach along this part is just as beautiful and in the Park.
What to Bring
Towel
Sunscreen
Money
Waterproof camera
Beach bag
Good to Know
There is a $TT20/per person entrance fee, that will need to be paid at the Park gates.
You can purchase a weekly rate for $TT100/per person.
The Park is open from 9am – 5pm daily.
There are lifeguards on duty.
There are several public bathrooms, but they are quite sandy and wet, so wear shoes inside.
Beach chairs can be rented for $TT18 and umbrellas for $TT30.
You can organize your itinerary on the Go Trinidad & Tobago website.
Where to Stay
Some more photos from our day at Pigeon Point Beach: